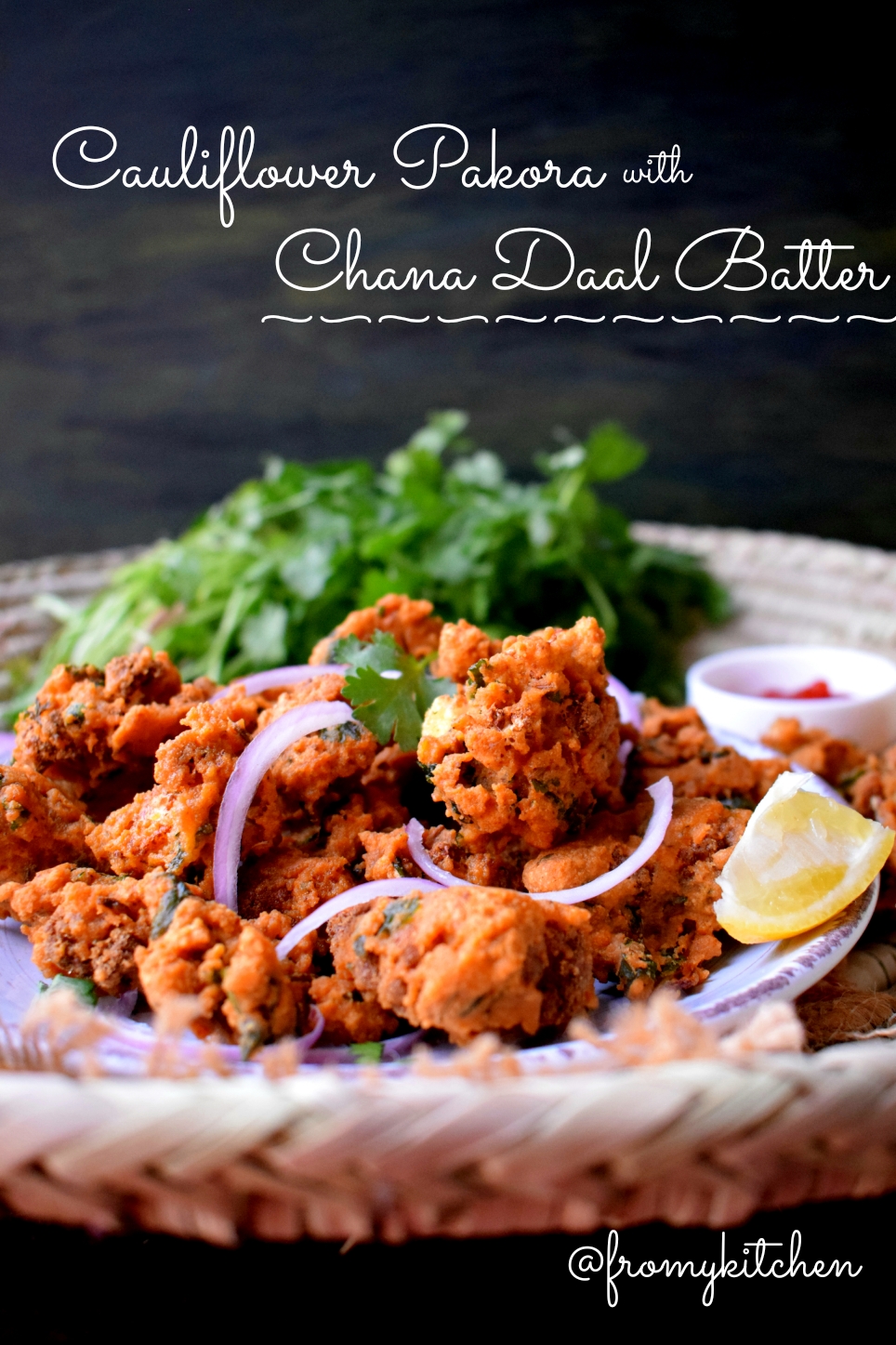 I love cauliflower pakoda that we get from exhibitions and roadside shops!Crispy, crunchy and delicious, but never used to get that texture when tried from home!And now I got a recipe better than that with more healthier version!Yes this is too good to say no!It's crispy, crunchy and flavorful cauliflower pakoda I've ever tasted.I highly recommend you to try this one!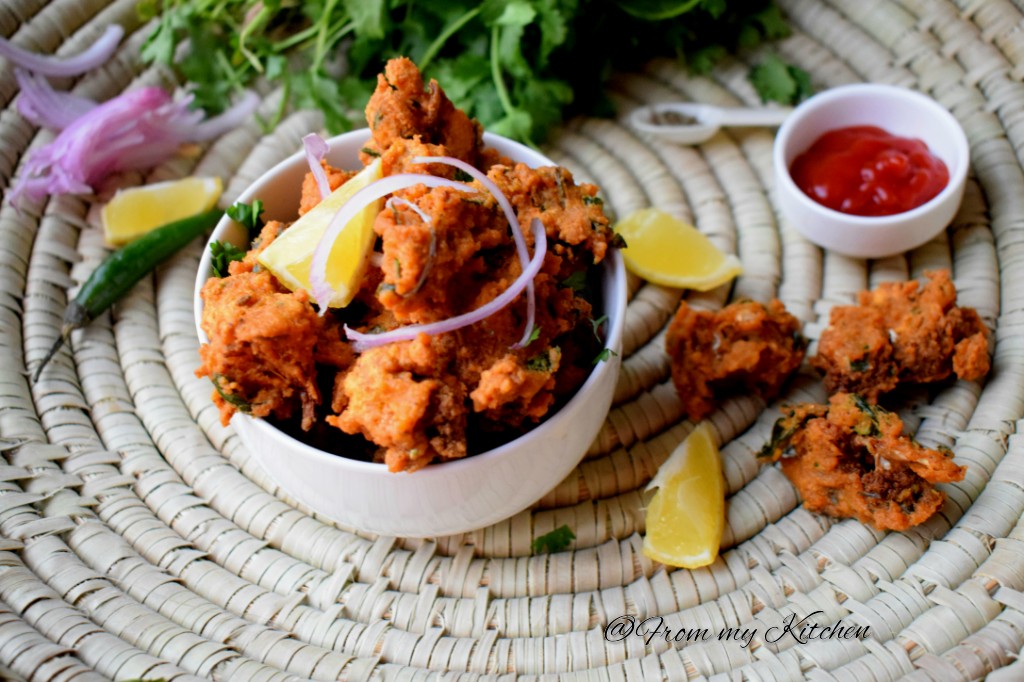 10th of the month and you all know it's time for MFB Challenge.This time its recipe from the blog This Muslim Girl Bakes.Thank you so much dear host Rafeeda for choosing this blog, it has plenty of interesting recipes and bakes.I was totally confused what to make, first thought to bake something, then went to dessert section and when I saw this recipe and cauliflower in my fridge didn't think twice, all I want is to try this one and I'm so glad I tried this one!It's so delicious, please try it to believe it.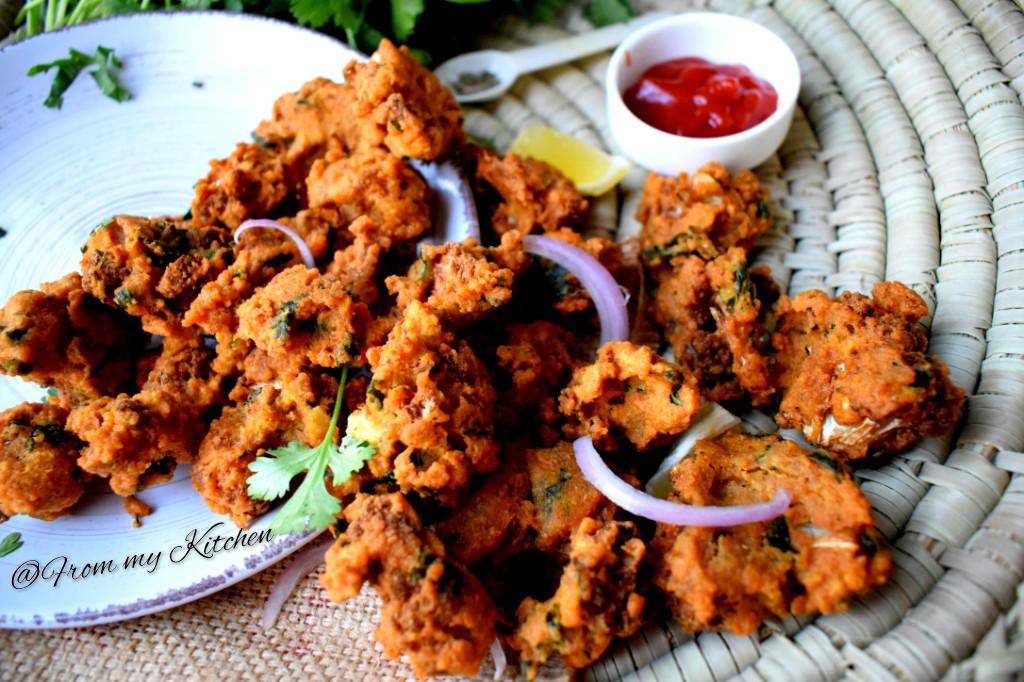 Like she said these pakoras are like the cauliflower version of chicken nuggets. They're bite-sized and will disappear faster than the frying time. Which is just how it should be with deep-fried foods. They're always best piping hot and crisp.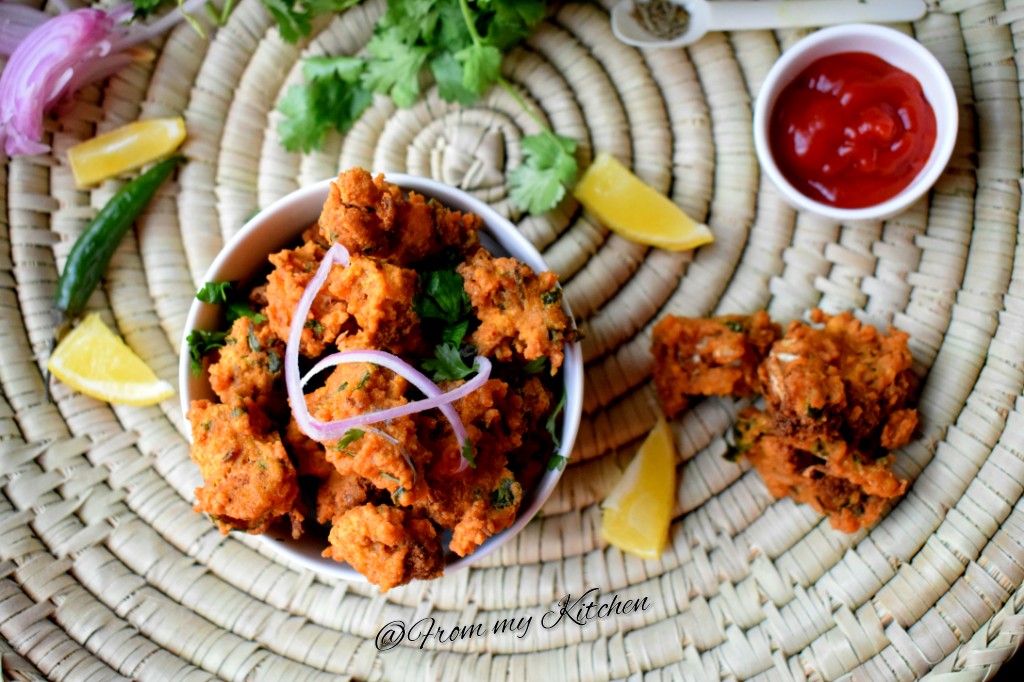 I made teeny tiny changes in spices but the recipe is totally inspired from there.She used moong dal as i don't have moong dal with me i used chana dal .Daal is soaked until soft before being blended up to make the batter. Spices are added, the cauliflower is dunked in and fried until golden. Enjoy them hot sprinkled with chaat masala with lemon to squeeze over and your favorite sauces to dip. The humble cauliflower never tasted so good.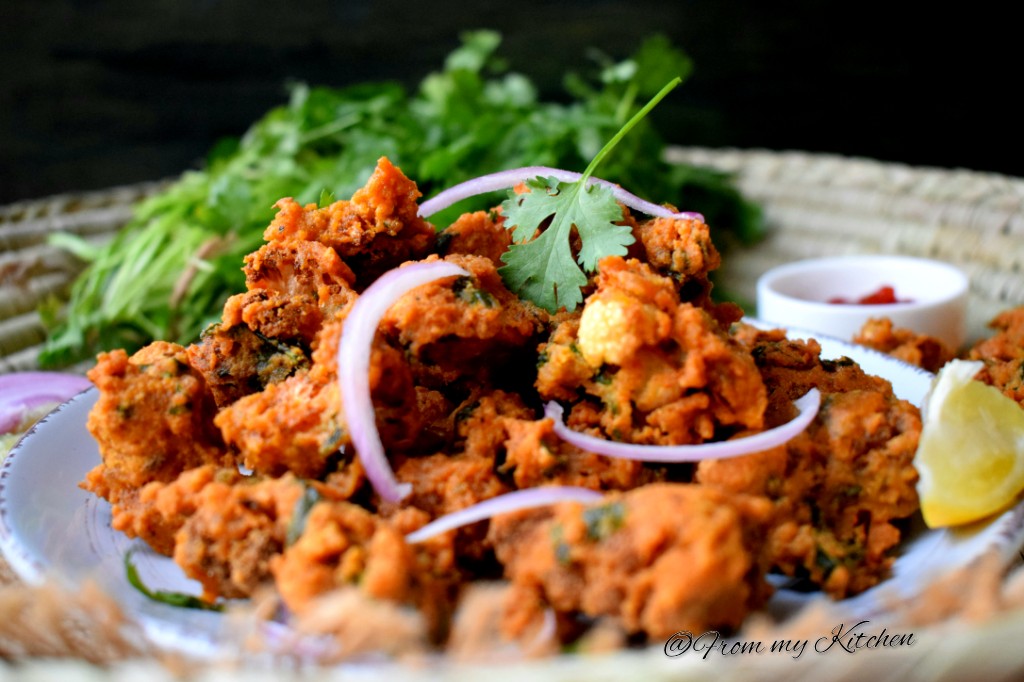 Ingredients
1 cup Chana Daal
Water, as needed
Salt to taste
2 cloves garlic
1 green chilly
1 teaspoon chili Powder
1 tsp Cumin Seeds and 1 tsp cumin powder
1/2 teaspoons Coriander powder
1 teaspoon Chaat Masala
1/2 teaspoon Ground Turmeric
Small handful Fresh Coriander, finely chopped
1/2 Cauliflower, sliced into thin florets
Vegetable Oil, to deep fry
Method
Soak the daal:
Wash the daal. Place in a deep bowl and cover with lots of water. Soak for at least 3 hours.
Blend the daal:
Drain the daal really well. Place it in a blender along with salt, garlic. green chilly and 2 to 3 tbsp water. Blend until really smooth. Add extra water, only if it's really needed.
Make the pakora batter:
Scrape the blended daal into a mixing bowl. Add in the salt, red chili powder, cumin seeds, ground coriander, chaat masala, ground turmeric and fresh coriander. Stir well to combine.If you feel like the batter is too thick to coat the cauliflower add a tablespoon or 2 of water and mix,
Fry the pakoras:
Heat enough vegetable oil to deep fry over a medium heat. Dip each piece of cauliflower into the batter to form a coating. Fry the pakoras in batches in the hot oil for around 4-5 minutes until golden brown and crispy. Remove and drain on paper towels. Continue making the rest.
Serve:
Sprinkle the hot pakoras with more chaat masala. Serve immediately with lemon wedges to squeeze and your favorite sauces to dip.
Notes: I prefer to fry it on medium heat first and then increase the temperature to high to get that perfect crispy texture.
Video Tutorial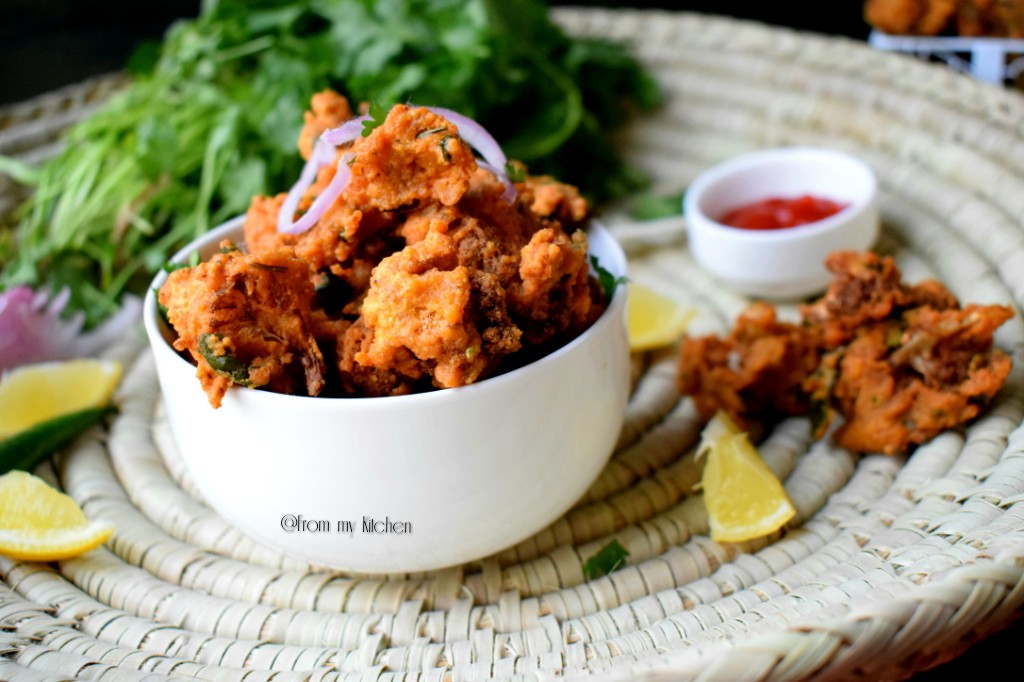 Hope you will enjoy this as much as we did!Perfect with a cup of tea!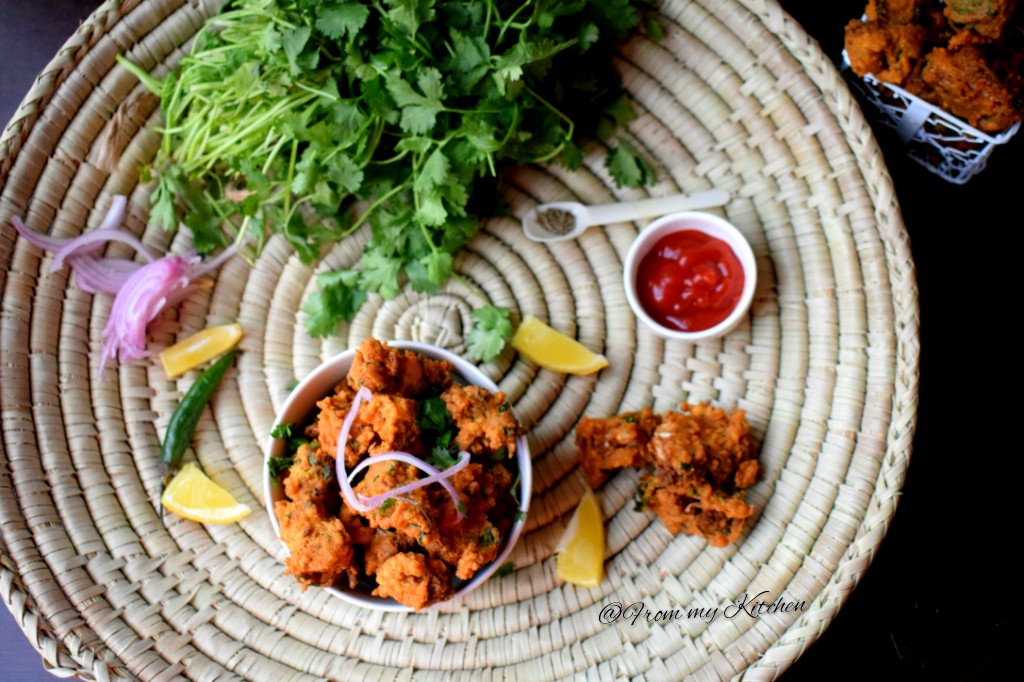 Happy Cooking!!
<!– end InLinkz script">