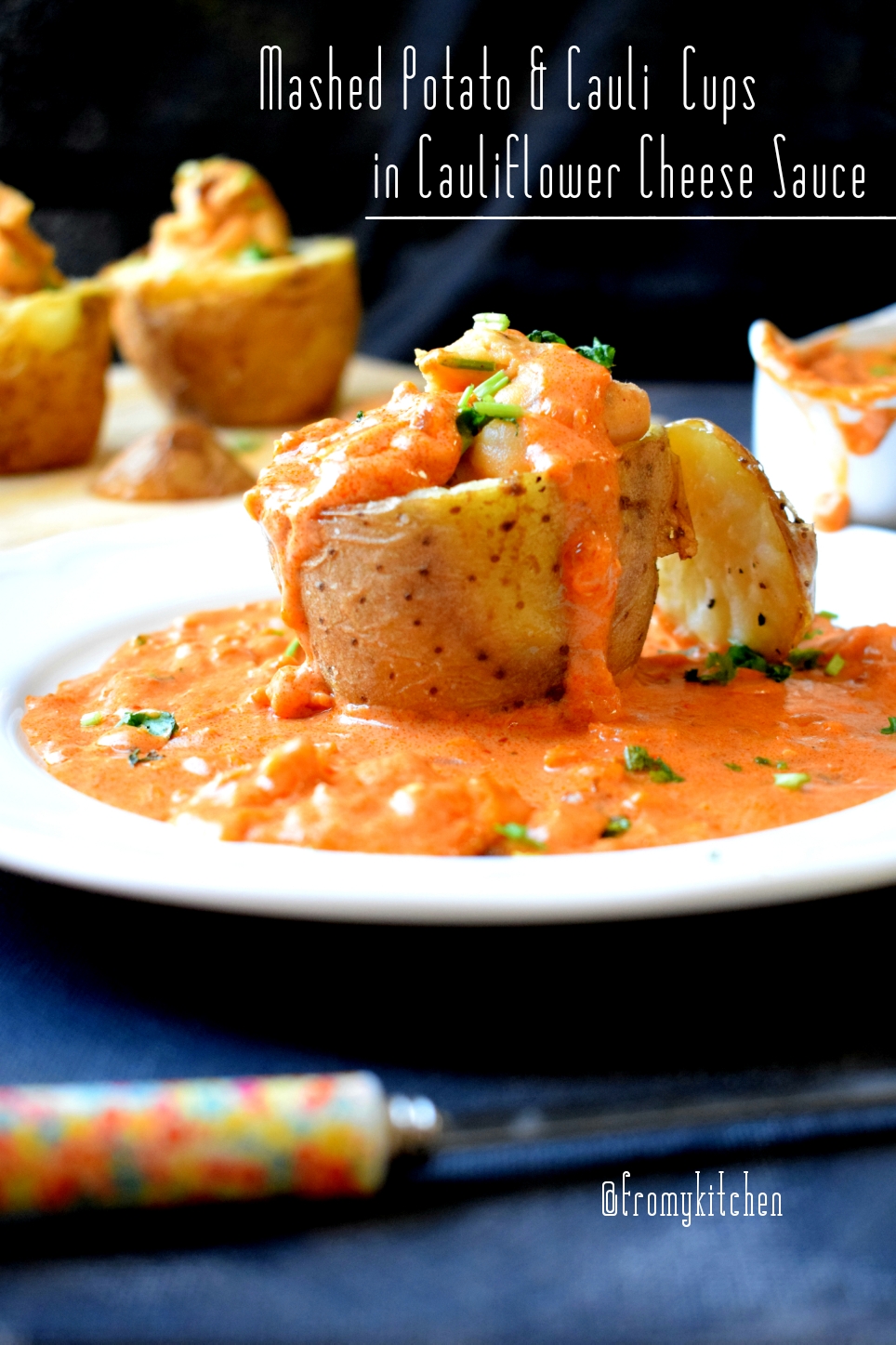 If we serve a simple dish in a stylish and attractive manner, kids will surely try it!Agree or not?This is such a dish!Cute edible potato cup with mashed cauliflower and potato in it with the creamy cheesy cauli sauce.This was yum and my cauliflower hater boy too had it happily!Yay!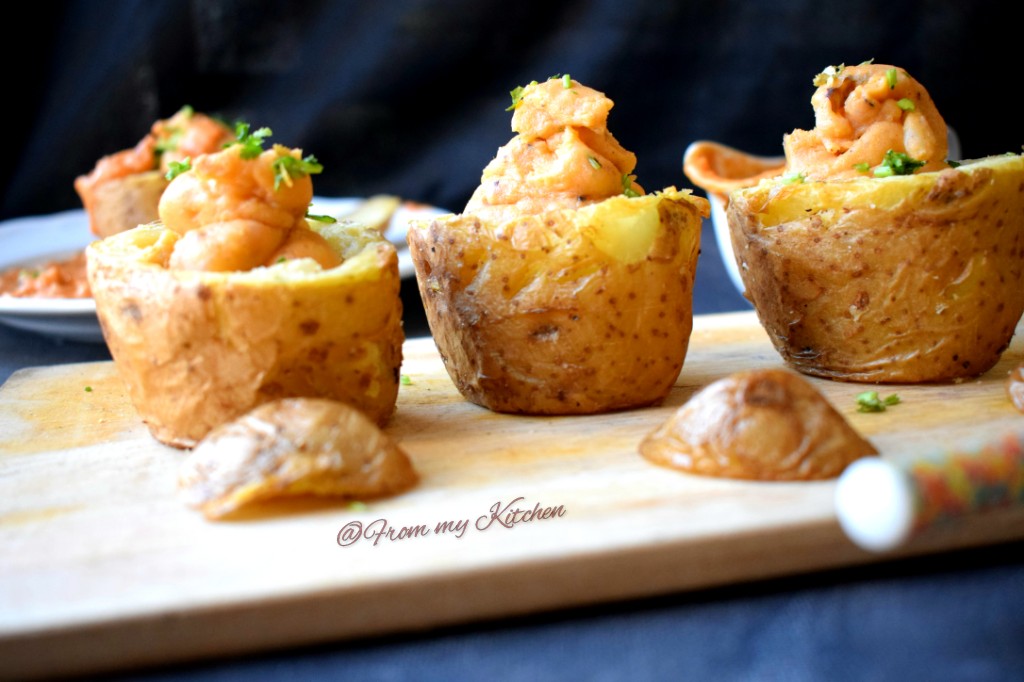 Actually, this dish is the result of a theme based cook along!Three main ingredients are potato, cauliflower and cheese and the entries were mindblowing!I got an opportunity to judge the dishes along with two others, it was a tough time as a judge, where all the dishes were stunningly drool worthy! At last, we judges too need to present a dish with same ingredients and here comes mine.This can be also served without the sauce and have it as a snack or side to any roast.We had it with salad and khubs on side.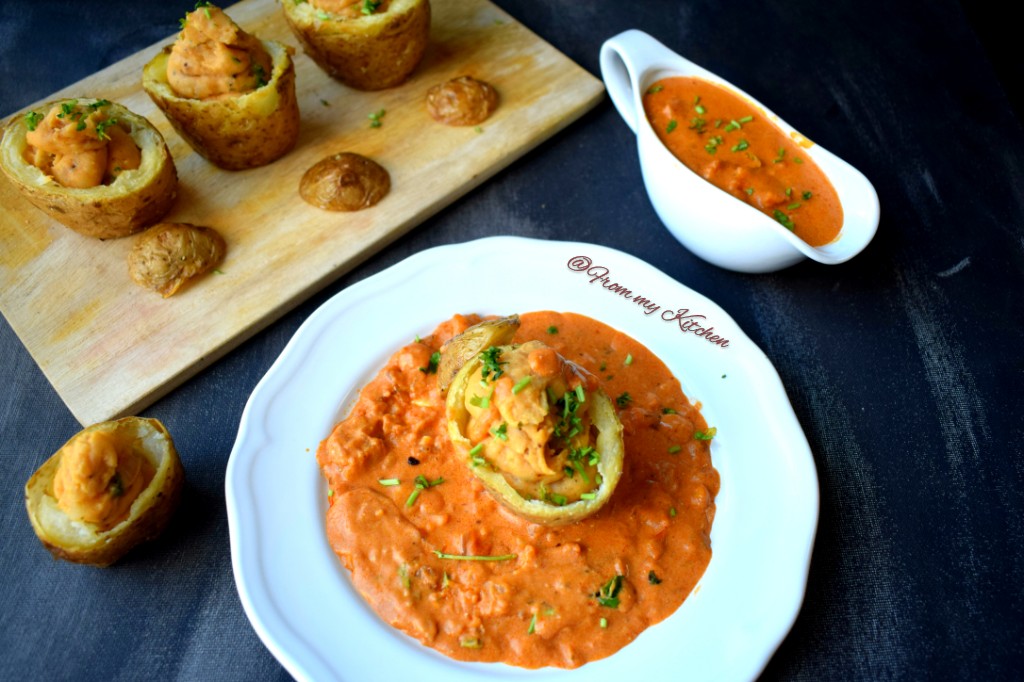 I like some texture in my sauce, if you like it smooth you can grind it to a paste.Potato, cauliflower lovers should try it, I'm sure you are gonna love it.That cheese sauce along with cauliflower is too good.Let's check out the ingredients.You can also replace the cauliflower with minced chicken or lamb.
Ingredients
4 medium-sized potato (parboiled/or half cooked)
Salt
pepper
Olive oil
For Sauce and mash
1 small cauliflower
1 onion
4 cloves garlic finely chopped
1 tsp hot paprika or chilly powder
1/2 tsp pepper powder
Some Italian seasoning
Parsley
Salt to taste
2 tbsp tomato paste
1 tbsp Wheat or white flour
1 cup water
1/4 mozzarella cheese
2 cube cream cheese
Other Ingredients
3 tbsp butter
Some milk to make a smooth potato cauli mash
Salt n pepper to taste
Some cilantro or parsley
Method
For Potato Cups
Boil the whole potato until its half done.(YOU CAN SKIP PARBOILING PART,BUT THIS WILL HELP TO COOK POTATO FAST IN OVEN IF YOU ARE NOT PARBOILING INCREASE THE BAKING TIME)drain it and pat dry.
Preheat the oven to 180 degrees.
Place the potatoes on a baking tray sprinkle some salt, pepper and olive oil rub it well with your hands.Bake it for 15 minutes.
Take it out and let it cool a little and cut small pieces from the edges so that you will get a smooth surface to plate it.Also cut it half and bake it again at 200 degrees for 10 to 15 minutes or until u get a crispy peel.Let it cool for some time scoop out the inner portion of the potato gently with the help of a spoon or melon scooper and keep it in a bowl.
For Cauliflower Sauce
Boil the cauliflower florets until its half done, drain it and chop it finely.
In a pan pour some olive oil, add garlic and onion cook it until translucent.
Add finely chopped cauliflower and fry it along with salt, paprika.Cook it well add some cilantro,(Take out 1/3 of the filling and add it in the scooped out potato mix.)
Coming back to sauce add tomato paste and cook for a while, then add the wheat flour and mix and cook well.
Add water and stir well until its thicken, add cheese and let it melts and boil for few more minutes.Switch off the flame when it comes to a thick saucy consistency.If you want a smooth sauce grind it.
For Mashed Potato
Mash together the potato and the preserved cauliflower filling along with some pepper and salt if needed.
Add butter and milk and mash it to a smooth pipeable mash.Add some cilantro and your mash is ready.Now fill your potato cups with this mashed cauli potato mix and serve it along with the sauce.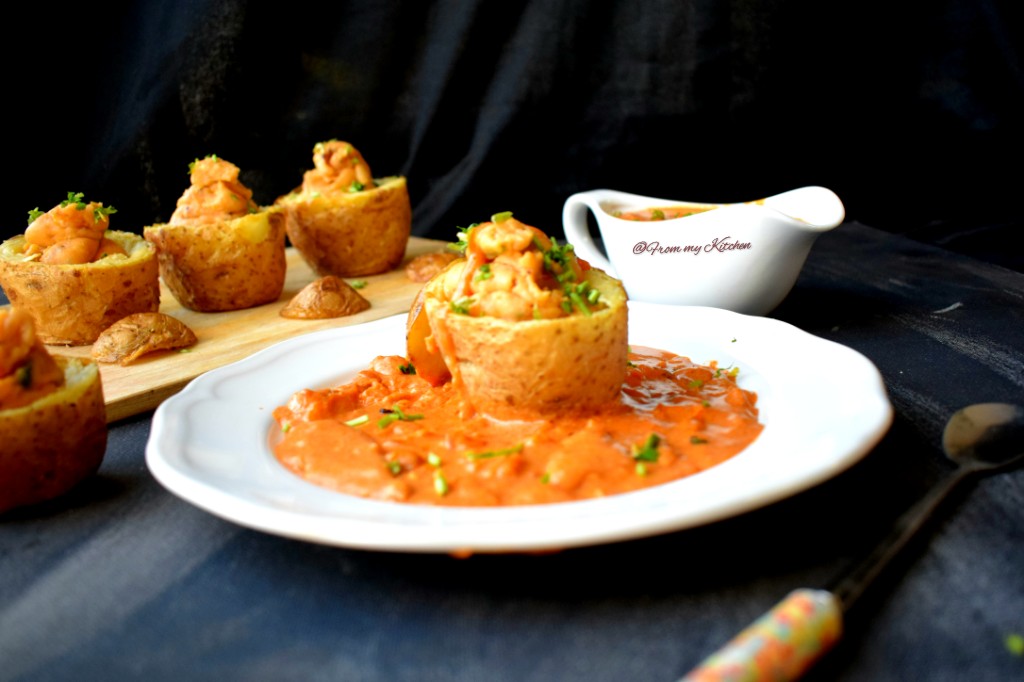 It seems like a long process, but believe me its super simple and complete meal in itself.Perfect for a healthy innovative recipe for kids.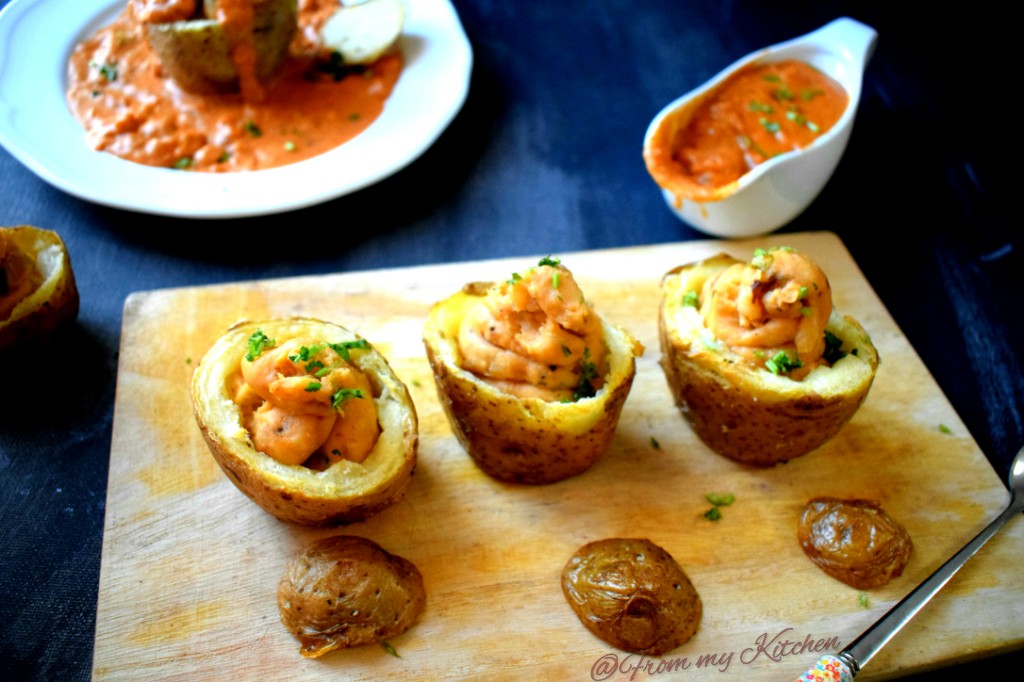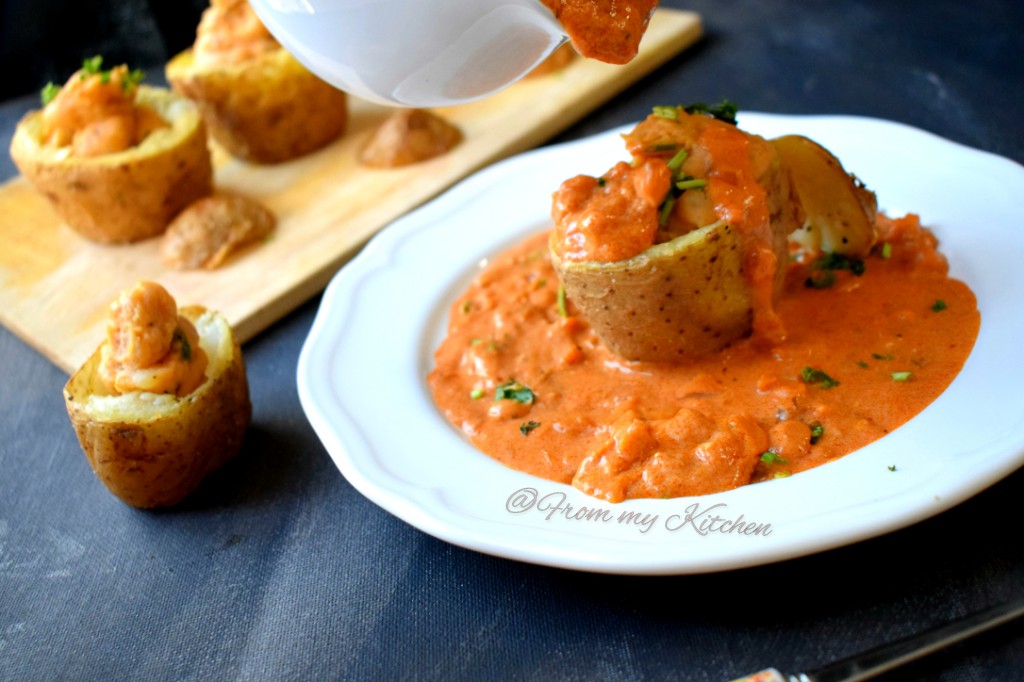 Happy Baking!!