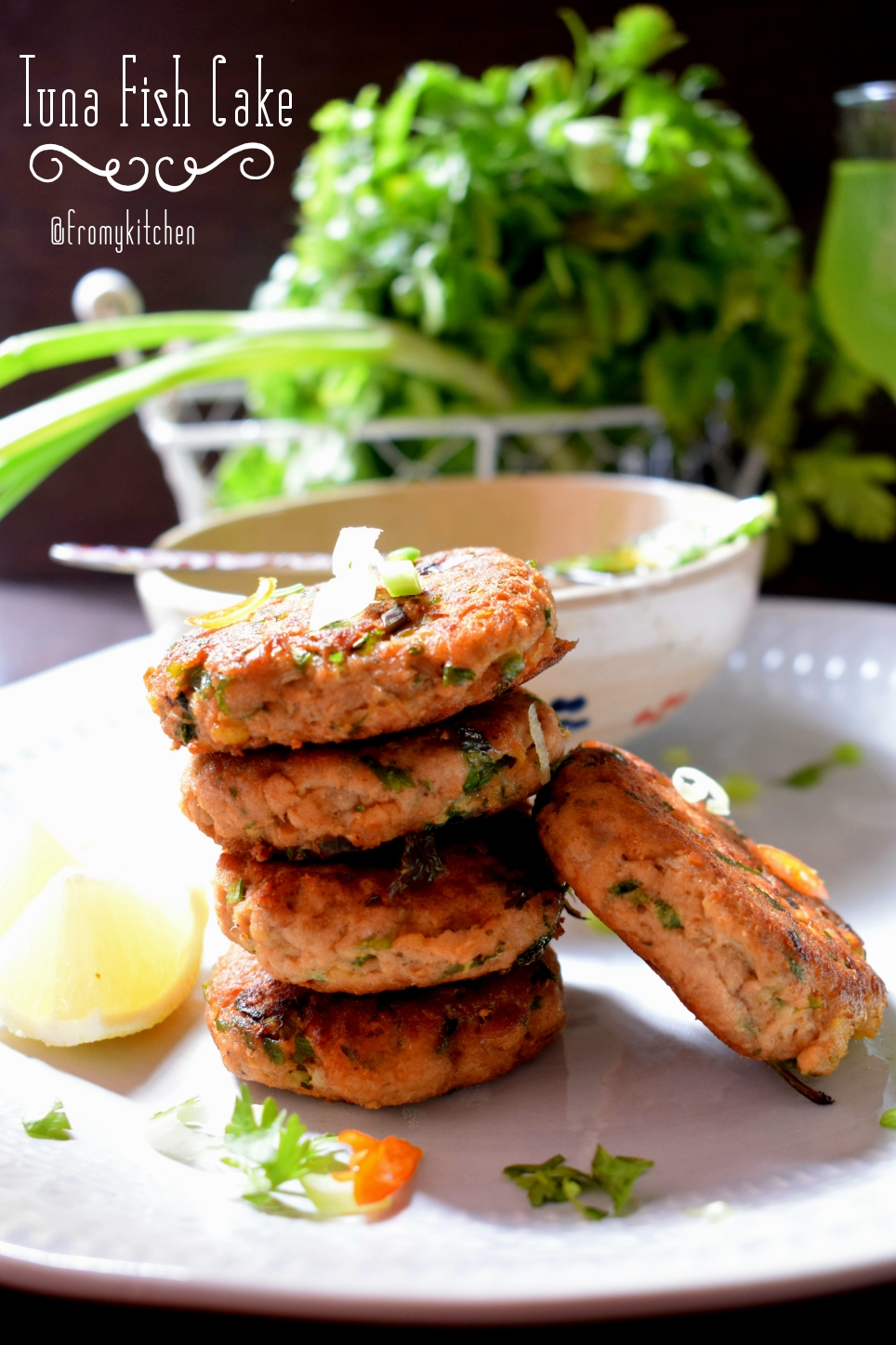 An effortless recipe with bursting flavors!Who doesn't love such foods?If you are in a rush and you want something so simple and innovative with tuna, this is a good one.Tuna Fish Cake prepares in no time, with an amazing flavor!Hearing the name Fishcakes by default Thai comes in our mind, Right? This fish cakes too have similar taste to Thai Fish Cake because of the ingredients used in it!Tang from kafir lime leaves(substitute are given)  and kick from chilies and freshly grated ginger are so good !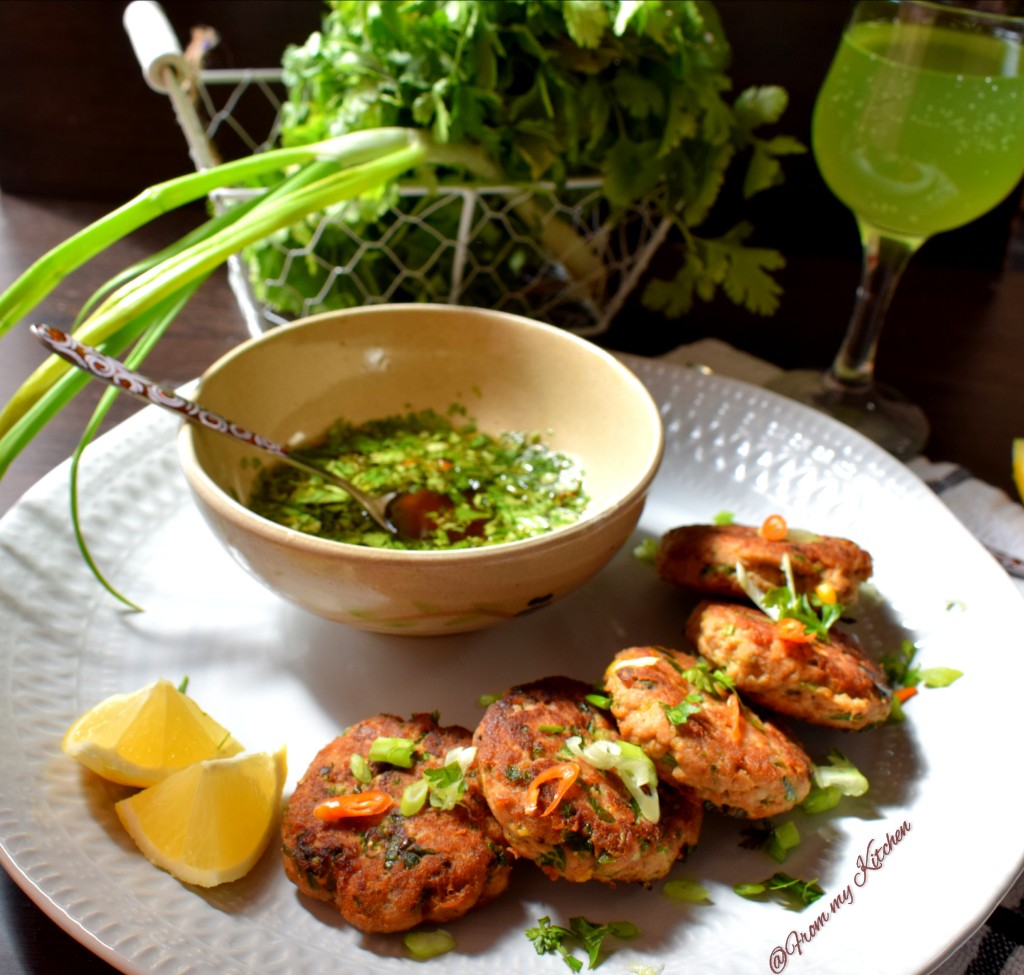 If you like the pungent flavor of tuna you will like this one for sure.Otherwise, you can use any fish fillet for this recipe.Oh my god, and that dipping sauce served with this was a killer.Even if you can't have it alone the dipping sauce really compliment the salty fishy flavor of this cake.This can be served as a burger patty too, Kashif liked it that way,!By the way that was our lunch, or else my fish hater hubby can't even stand the smell!hehe!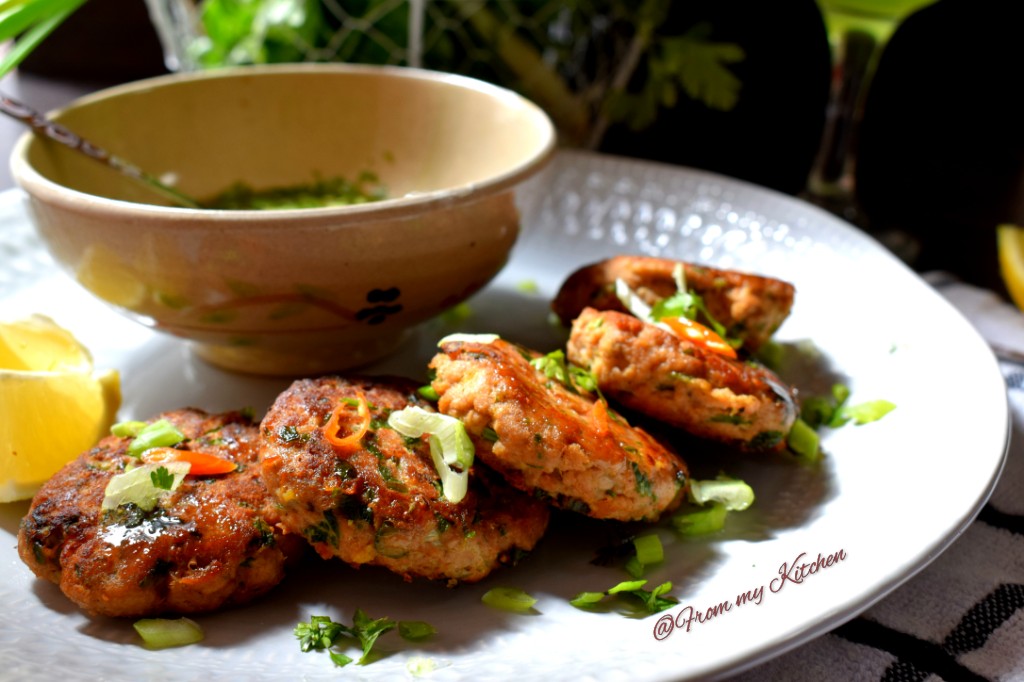 Well, the idea of using tuna for making fish cakes tickled me when i saw the video of Gordon Ramsay, I adjusted it a little bit as per the availability of the ingredients.Instead of kafir lime leaves i used lemon zest and for bird eye chilly our very own green chilly. The lemon zest gives that kick to the cakes.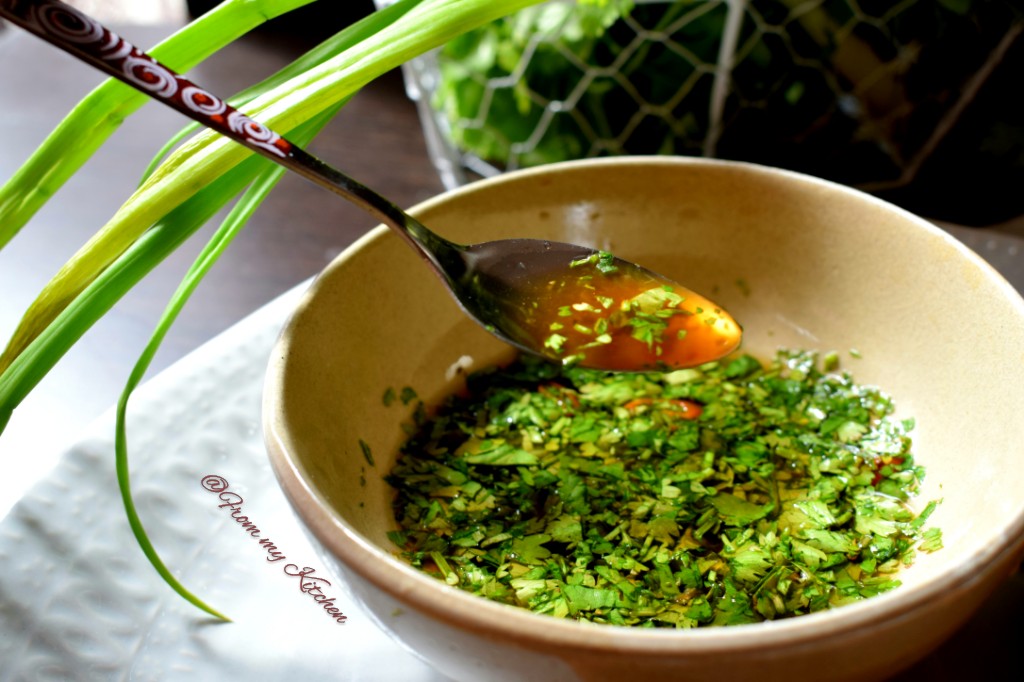 This dip is a must try!Sweet, sour and hot with great flavors from cilantro, wiped the bowl clean.This will be my go-to recipe now onwards!Do try this too if you are making fish cakes, and you will be glad you tried it!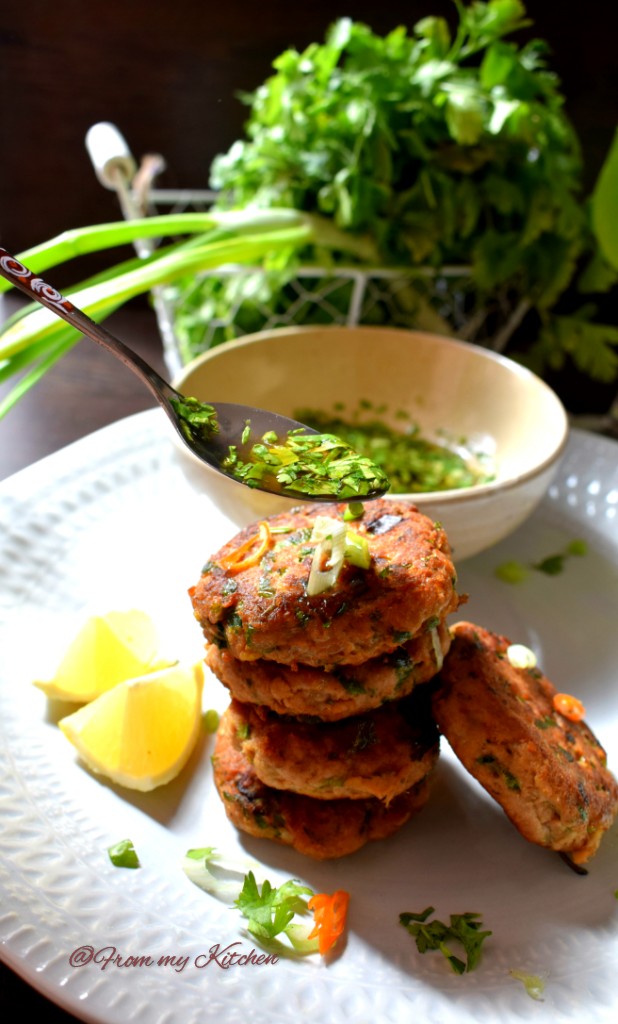 Ingredients
1 can light tuna
2 green chilies
zest of a lemon
2 sprigs spring onion finely chopped
1 tbsp soy sauce
Salt to taste(check and add)
1-inch piece freshly grated ginger
1 egg
1/2 tsp pepper powder
Method
Drain the tuna and mince it along with lemon zest, some cilantro, green chilies, soy sauce, some of the spring onions and salt.
Now dump that in a large bowl and mix other half of the cilantro, spring onion and then add the egg.Mix everything very well.
Give it the shape of fish cakes and shallow fry it in olive oil/any refined oil.
Serve it hot with the dipping Sauce.
For Dipping Sauce
4 tsp vinegar
2 tsp soy sauce
2 tsp sugar
Good squeeze of lemon juice
salt to taste
small chilly finely chopped
Finely chopped cilantro
3 to 4 tsp water
Mix everything very well and use
Video Tutorial!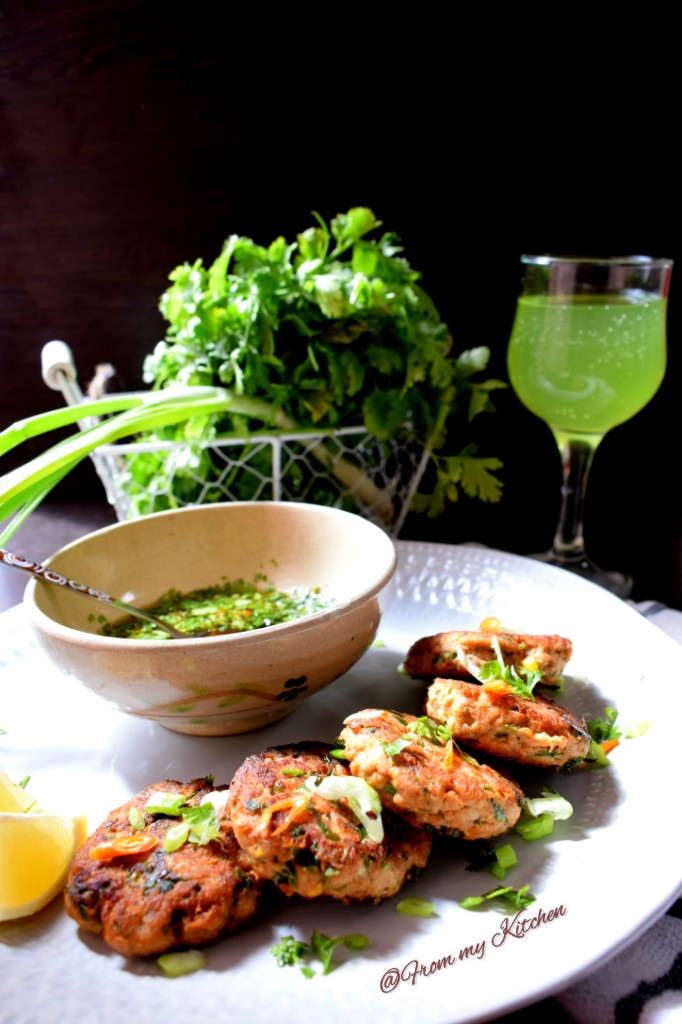 You can also try making it with by including mashed potato, like a fish cutlet!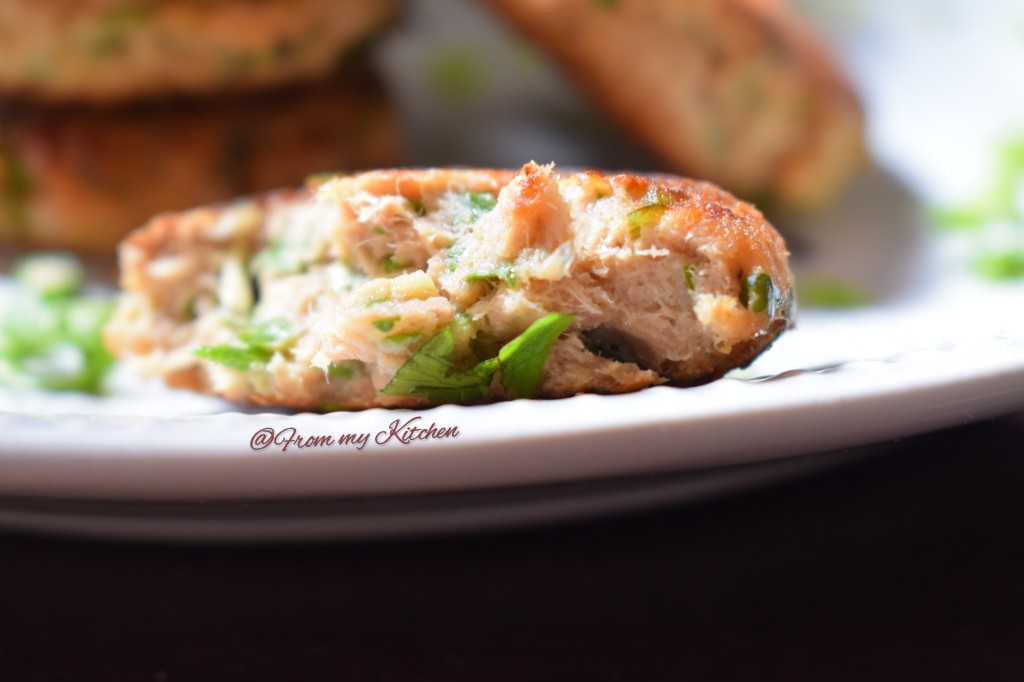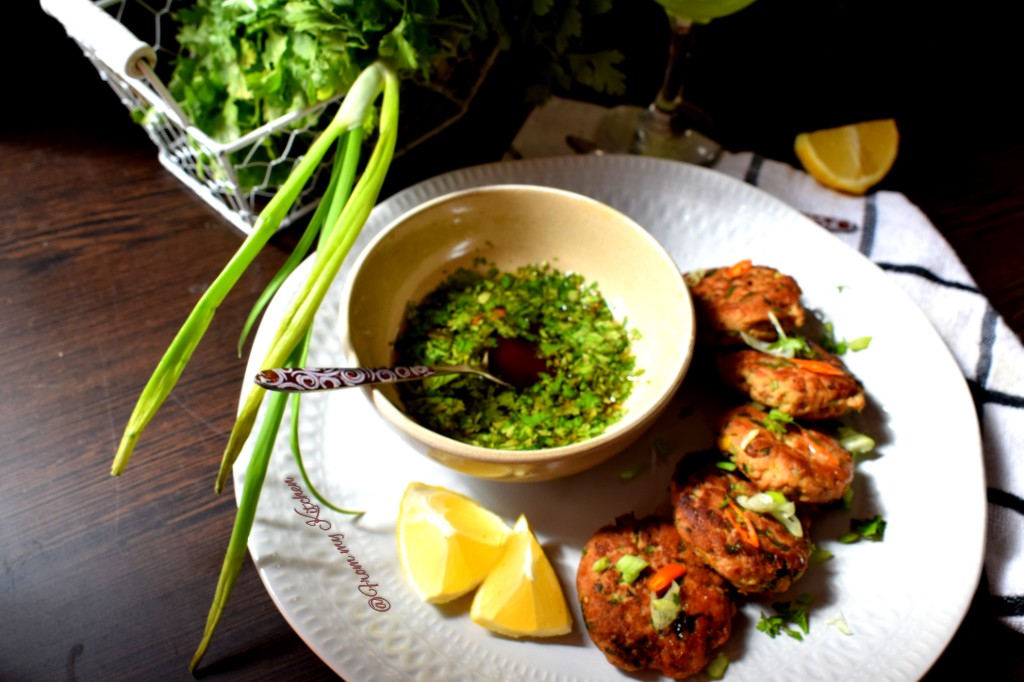 Happy Cooking!!