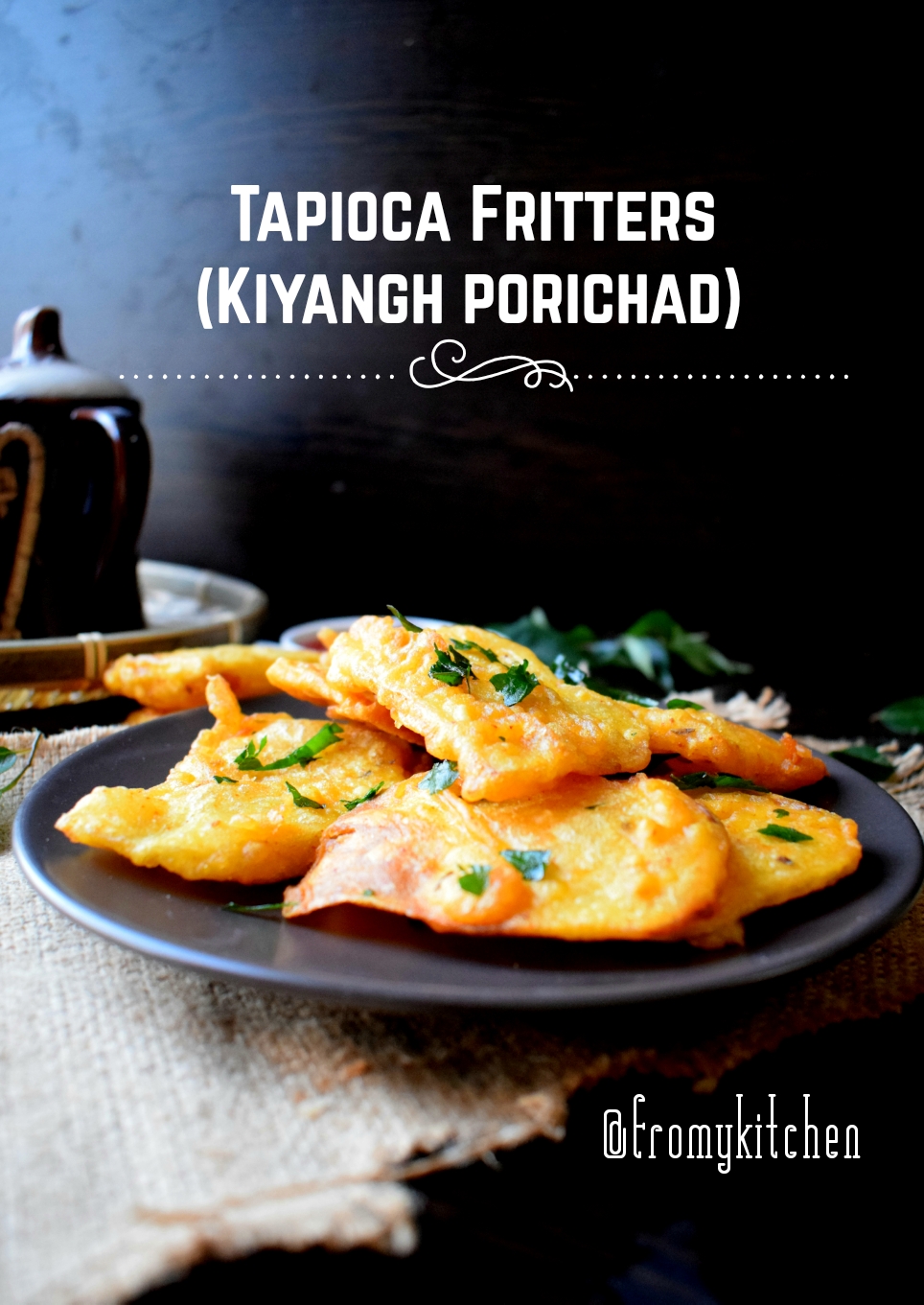 I'm back after a short break with one of my favorite recipe!As promised this time a  Malabar Delicacy!No people would remain in and around Tellicherry (my home town)  who has  neither seen or tasted this famous tea time snack Kiyang Pori!You could possibly see this in every thattukada,(Carts on roadside which sell street food)this is like a staple.Already i have one recipe similar to this known as Kozhikal(tapioca finger fritters).If you are a tapioca lover then this one is for you.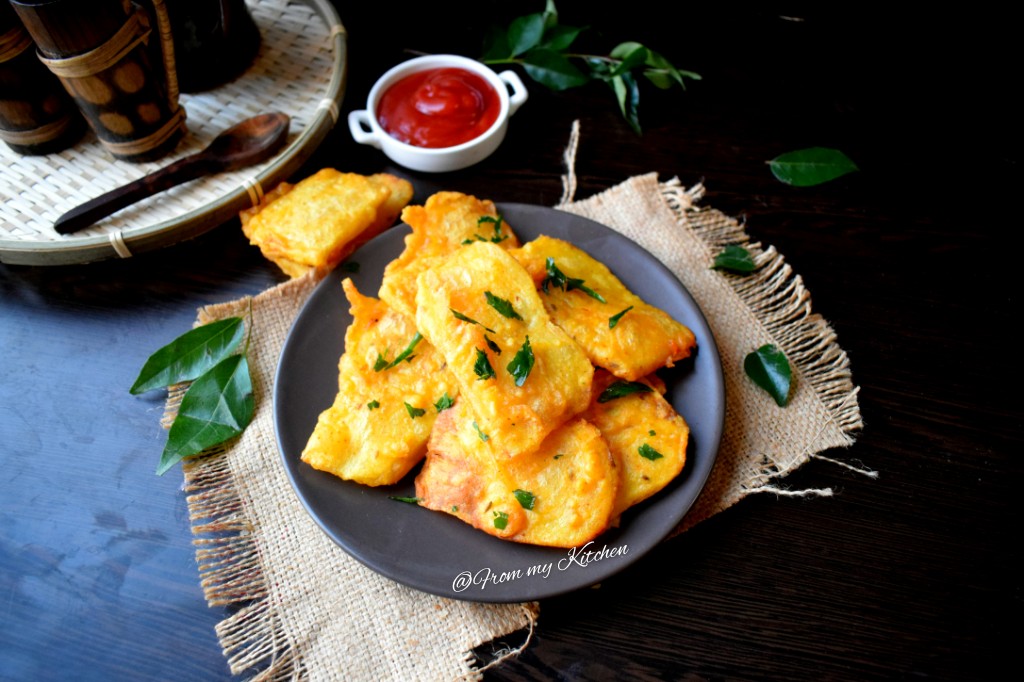 Now i have a sad story to share with you all,the reason behind my disappearance is that i lost one of my childhood buddy,my cousin sister who remains always close to my heart!The time we spend together,the foolishness,fun,sorrows and  memories we 5 cousins created were inexplicable.Despite the fact that she is no more and the death is inevitable for all,i still find it hard to accept ! We pray her to be in highest rank in Jannah,she is such an amazing soul by all means!Just sharing my feelings in my most comfort zone.And i have to tell you that she was the one among those who believed in me and encouraged to kick start my blog. Yes it's her love and support which gave me confidence that i too can start one! Missing you a loot my dear!You will always be there in our heart and prayers!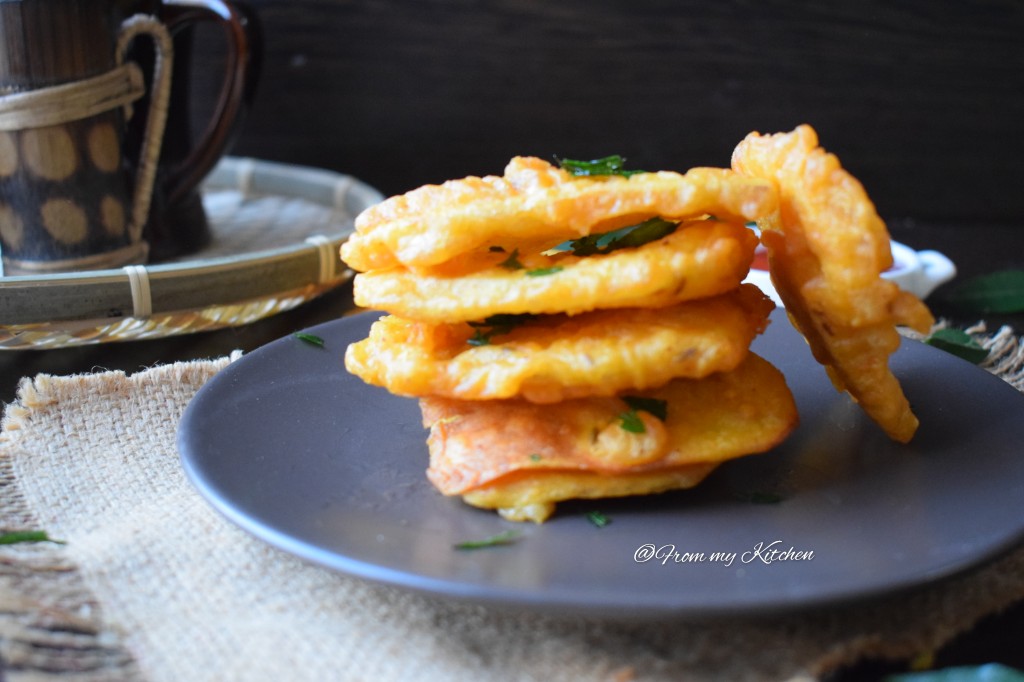 Coming back to today's recipe,It's a thinly sliced tapioca dipped in batter and fried until crispy and golden brown!Nothing can beat the hot kiyang pori and kozhikal with a cup of tea!I like kozhikal the most,because it's crispier!Those who don't know about this yummines go give this a try!
Ingredients
1 medium sized tapioca
Salt,turmeric and some water
For Batter
1/2 cup all purpose flour
1/4 cup chickpea flour(besan)
1/4 cup rice flour
1 tsp chilly powder (or add more if you like it spicy)
1/2 tsp turmeric powder
2 green chilies slits
Some cumin seeds(optl)
Salt to taste
Some curry leaves chopped
2 pinch of asafoetida
1/4 tsp baking soda or 1/2 tsp baking powder
Method
Peel the tapioca.If it's large in size cut from the center and wash it.
Now carefully cut it thinly using a sharp knife.
In a large bowl add salt,turmeric and water put the tapioca in it and let it sit for 1 hour.(My mom always do this,so do i.This step helps to infuse salt in it).After 1 or 2 hours drain it and keep it aside.
In another bowl mix together all the ingredients for batter and make it to a thick batter by adding water.Don't make it too thin or too thick,but the batter should hold the tapioca.
Heat a kadai and pour oil to deep fry it.When the oil is hot enough dip the tapioca in the batter and deep fry it until golden brown and crisp.
Serve it hot and crispy with a cup of chai!
Video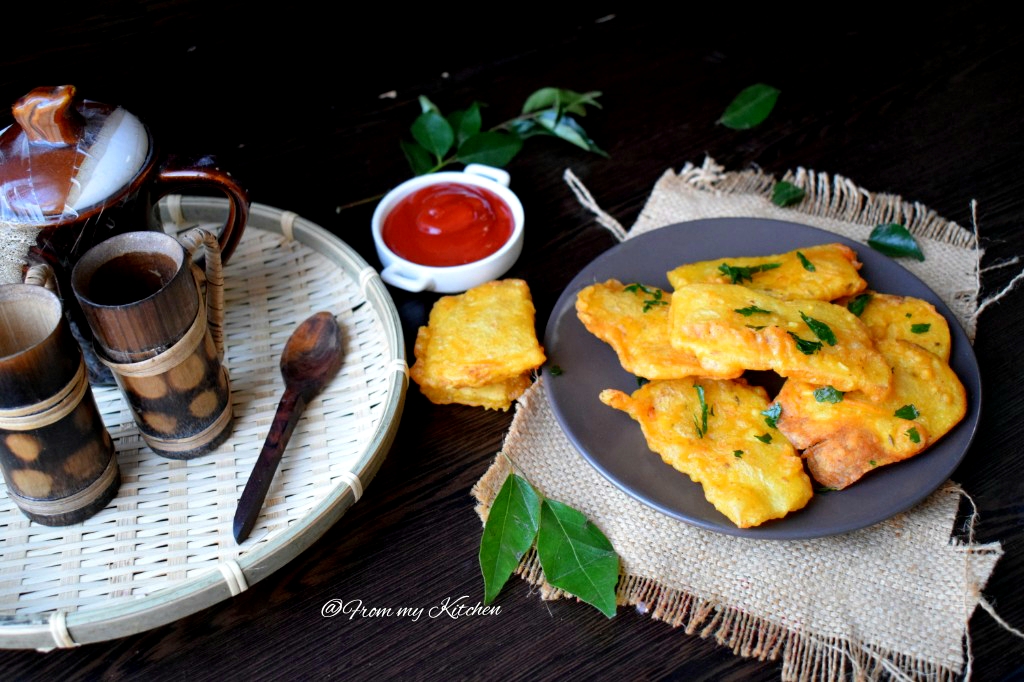 The one we get from outside is big perfect rectangular shape. May be they have machines to slice it or they may parboil the tapioca first and then slice it!Whatever it is,the taste is superb!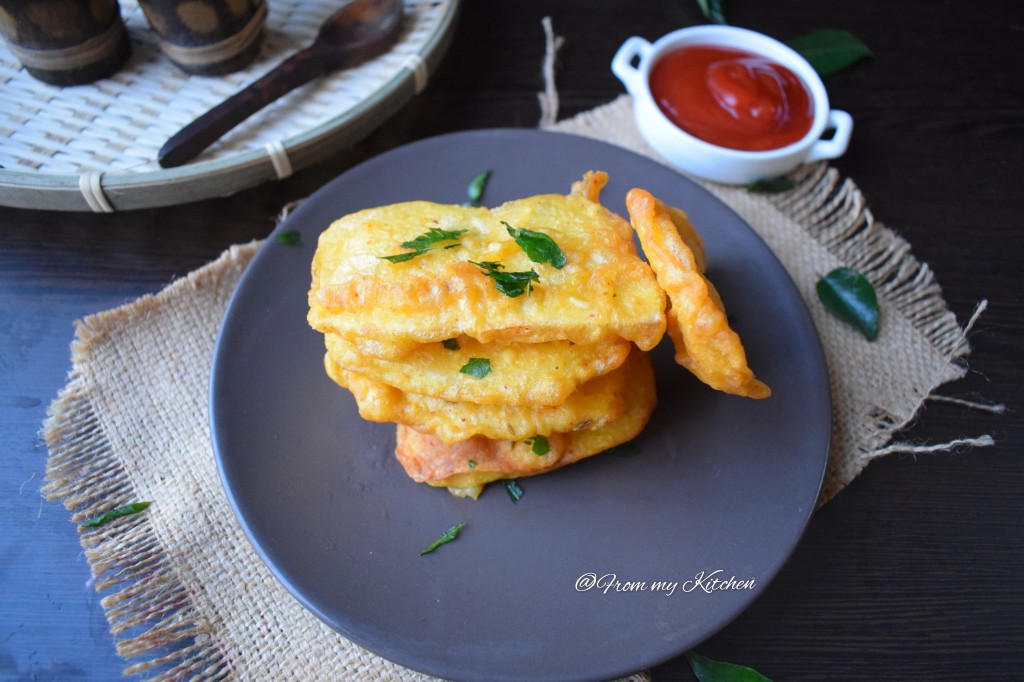 Relish it!Perfect for this weather!
Happy Cooking!