m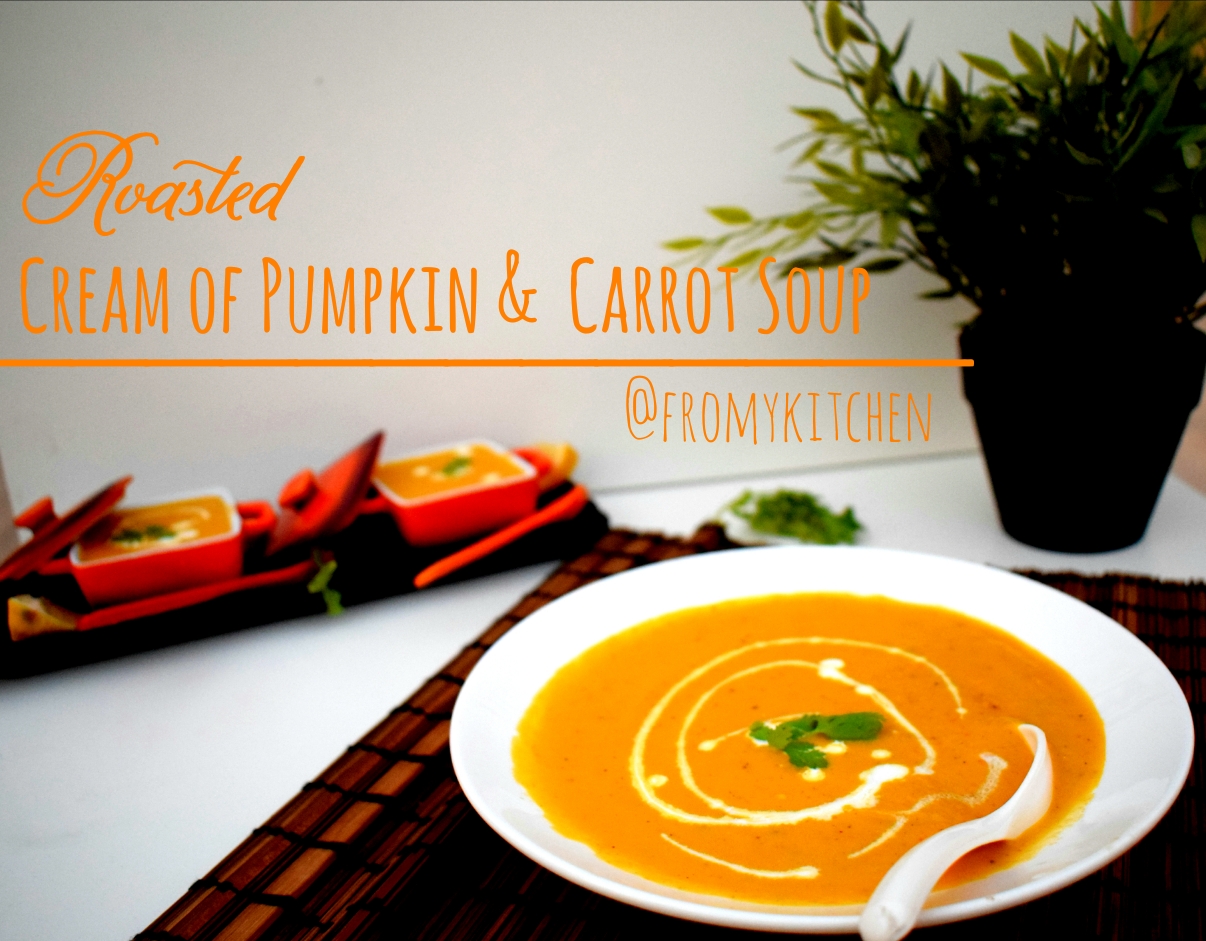 Why not a piping hot creamy soup in this chilly weather ? A perfect combination right ! Yes, this cream of pumpkin and carrot soup is rich and creamy with nice smoky flavor of the roasted veggies!If you feel like skipping dinner just make this and devour it!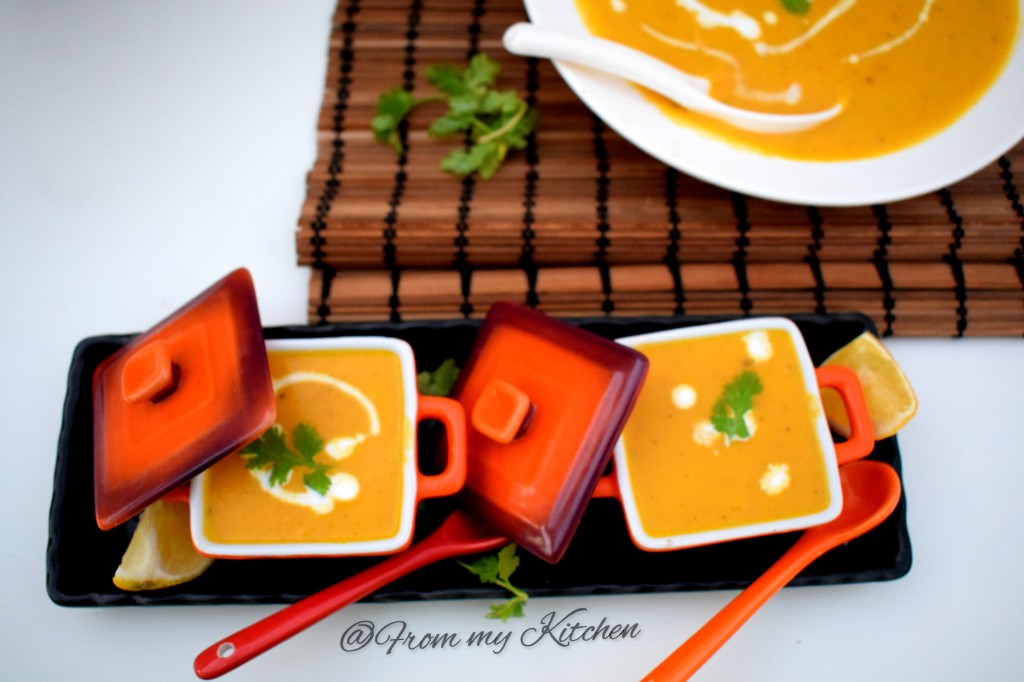 Garlic bread is must with this!Dip the crunchy garlic bread sticks with this creamy soup and enjoy! Even my kids relished it!When Kashif came for second serving i was so glad,that he had some healthy intake! Look at that nice orange color and the smooth texture!This will be a great option as a baby food too ,right?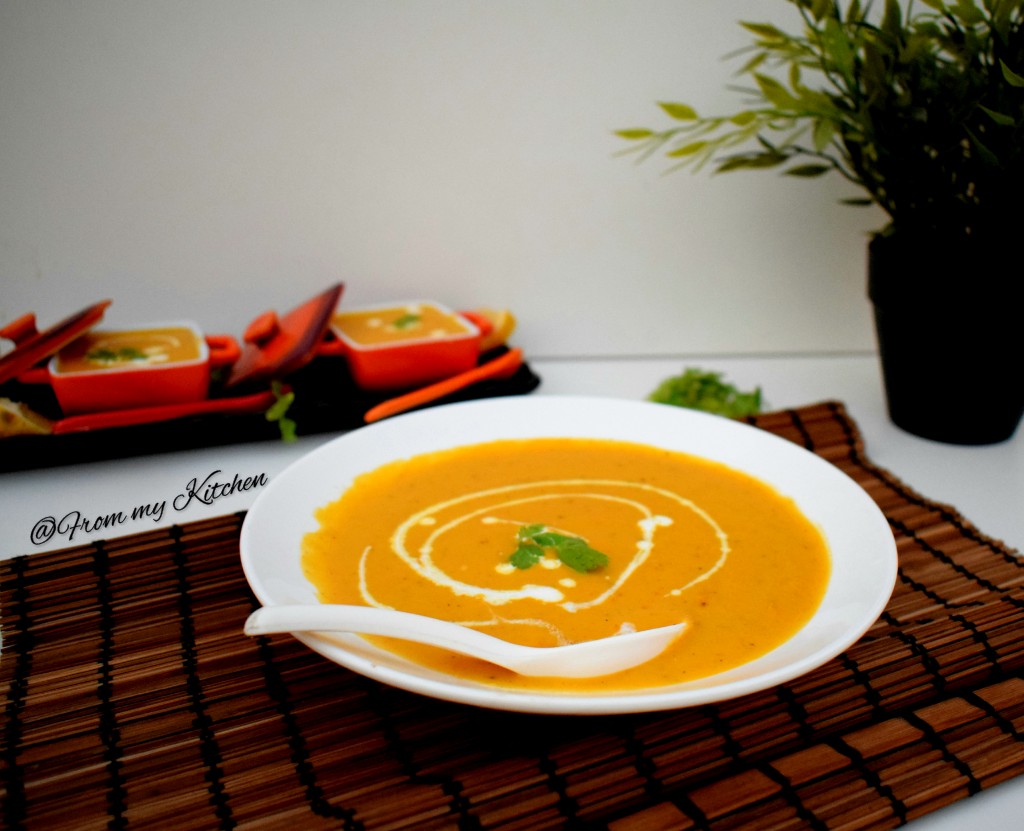 I used a small pumpkin here.You can use water or chicken stalk as needed as how thin or thick you want your soup to be!I like it a little thick so added almost 1.5 to 2 cups water.So lets see how this is made!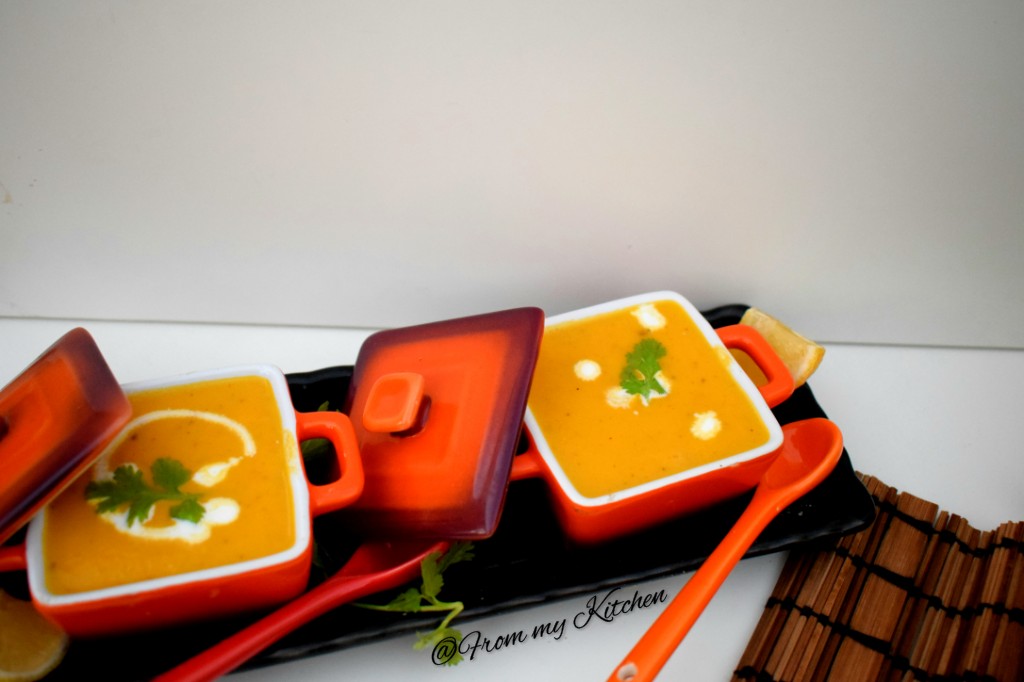 Ingredients
To roast
1 small pumpkin
2 carrots
1 small tomato
8 cloves garlic
1 or 2 green chilly
salt to taste
1/2 tsp pepper powder
some olive oil
Other ingredients
1 tbsp butter
1 onion finely chopped
1 chicken cube dissolved in a cup of water(chicken stalk)+1 cup more water
Some chilly flakes
Some oregano
1/2 tsp pepper powder
Some Italian seasoning(optl)
2 to 4 tbsp fresh cream
Salt to taste
1 tbsp lemon juice
Some parsley or cilantro
Method
Chop all the veggies to cube and spread it evenly on a baking tray.
Bake it on a preheated oven at 200 degree for 1/2 an hour or until the veggies are soft or until it gets some charred marks on them.
Meanwhile in a pan add butter and saute onion in it.Cook it until its soft.
Add the chicken stalk and some water let it boil for few minutes.
Add chilly flakes and oregano.
Now let the veggies and stalk cool a little and then puree everything in a blender to get a smooth paste.
In the same pan pour some water and dump the pumpkin mixture.Mix well and check for the salt.
Wash the mixi jar with some water and pour it in the soup.
Add pepper powder and any seasoning of your choice.I added Italian Seasoning
Add lemon juice and mix well.
Lastly add the fresh cream mix and switch off the flame.
Adjust the consistency by adding more or less water.
Note: You can swap pumpkin with carrot.If you are doing so use carrots and tomato in equal amounts.
I'm sure soup lovers will love this!Apt for the climate!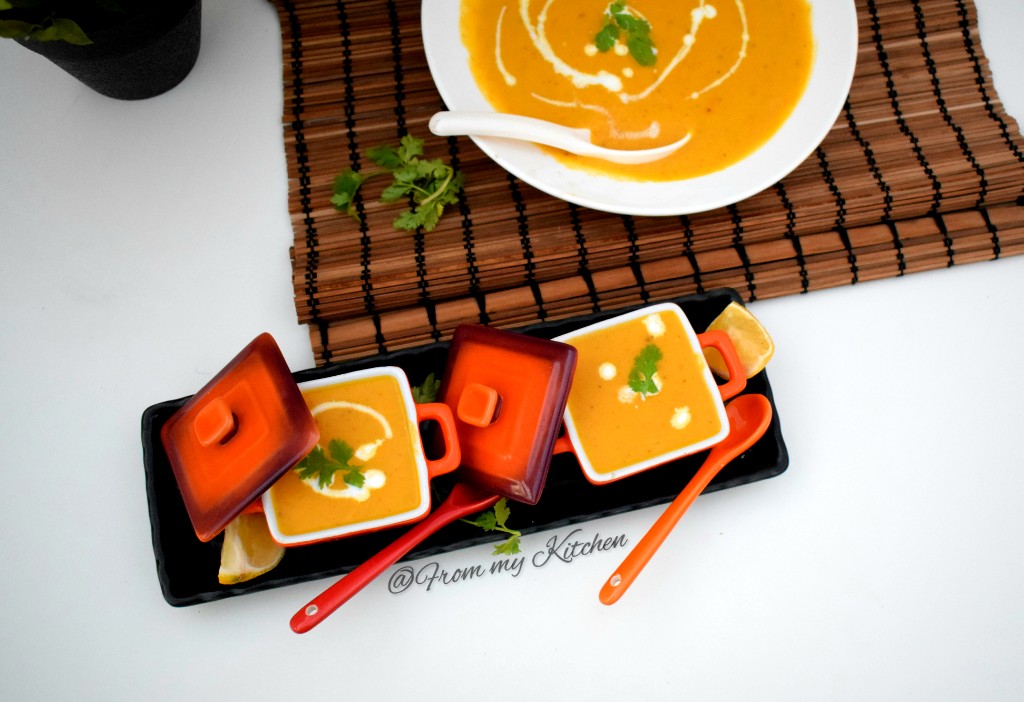 Happy Cooking!