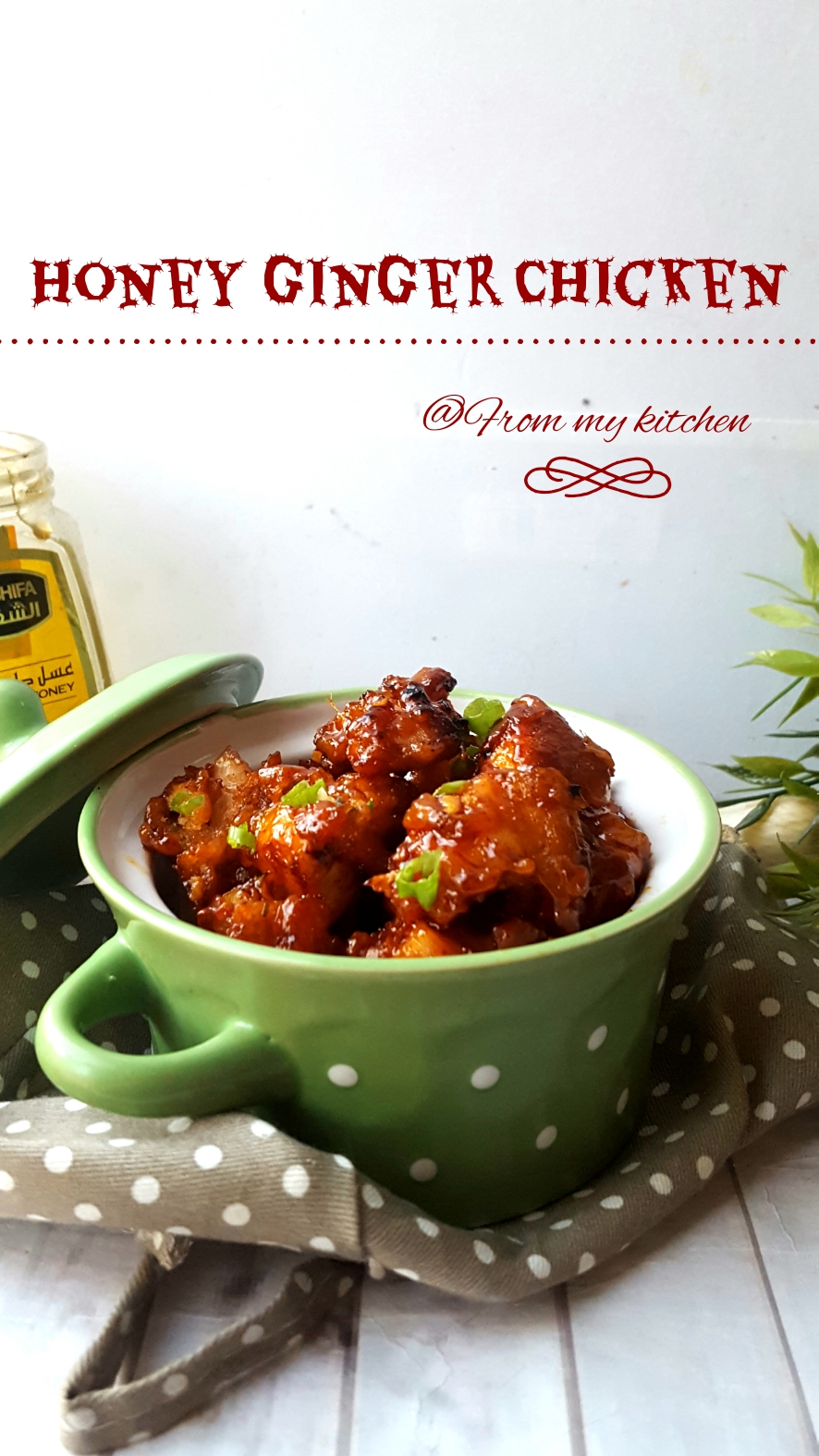 I can't believe its been a year we started MFBchallenge!Its 12th month of the challenge and this time we need to select any one of the previous challenges,that means we will go back to our previous 11 challenges and choose one that you have either missed or would want to repeat.So i thought to cover it up with the missed challenge and selected cooking with honey and cooking with meat(2 in 1)!That's 2 different challenges but i come up with kids friendly honey ginger chicken.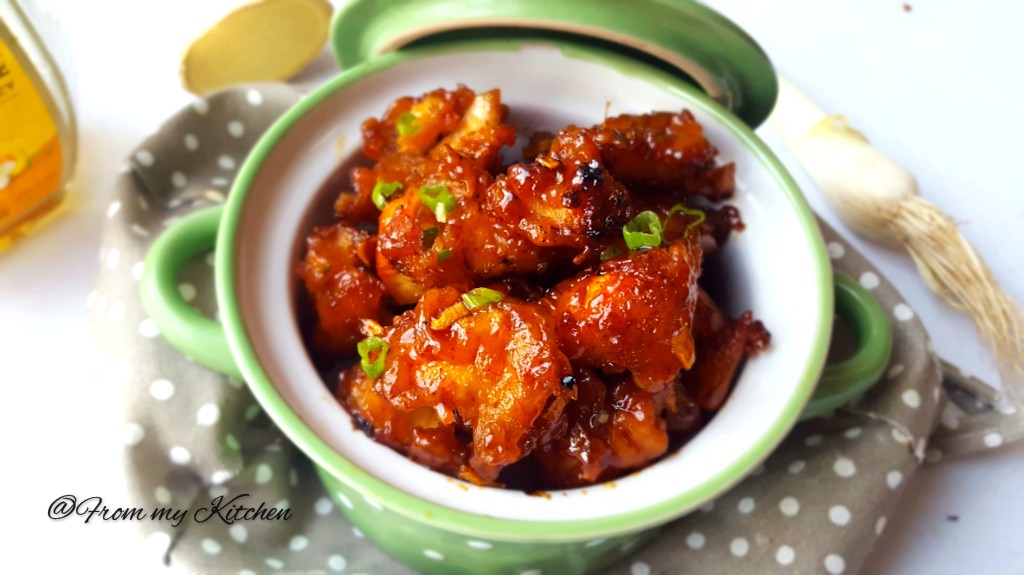 Back to today's recipe it's a crispy fried chicken coated with sweet,spicy and gingery sauce!We are not a great fan of sweet taste in our savory dishes.But kids loved it.Very simple to prepare and a keeper for kids parties!If you like sweet and spicy combination together do give this a try!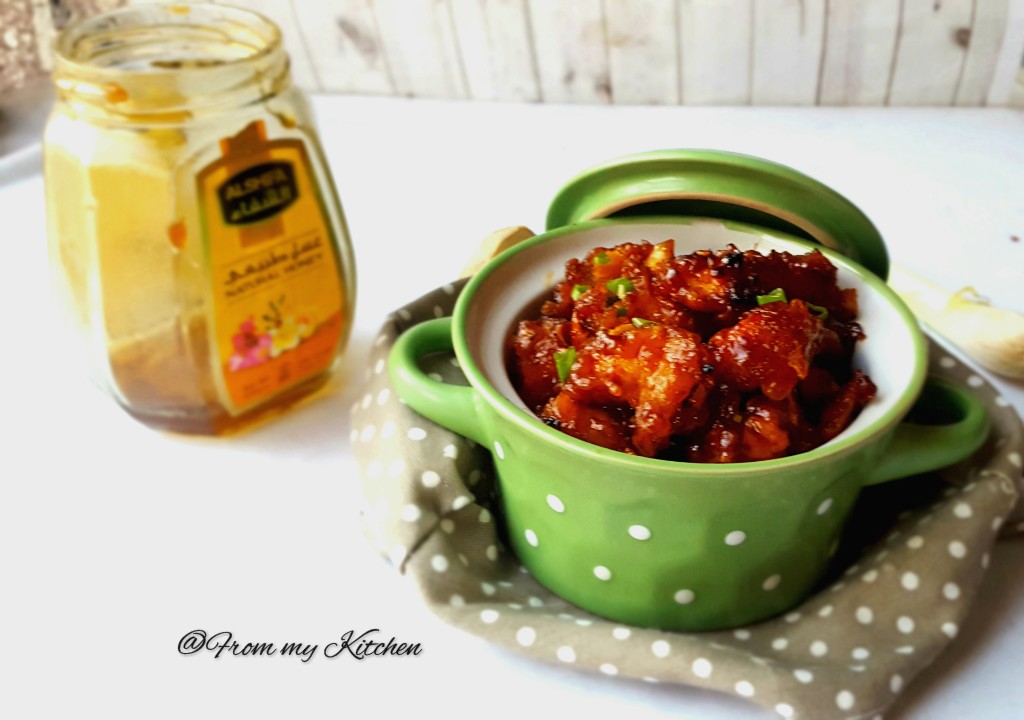 I liked the crispy texture with tender and succulent ginger flavored chicken.But hubby was not so fond of !Left over packed to Kashif 's tiffin box!Over to the recipe.
Ingredients
For Batter
200 gm chicken breast fillet cut into small cubes
4 tbs all purpose flour
Salt to taste
1/2 tsp Italian seasoning
1/2 tsp ginger powder
1/2 tsp oregano
1 tsp chilly powder
Enough water to mix this
Oil to deep fry
For Honey Sauce
1 to 2 tsp levelled honey
1 tbsp finely chopped ginger
1 tbsp chicken fried oil
2 tsp orange juice(optl)
1/2 tsp of paprika
1 tsp vinegar
salt a pinch
1/2 tsp of chicken marinade or cornflour slurry
1/4 cup water
Method
Make a batter from the ingredients listed above.(for batter)
Put chicken pieces and mix well.Keep it aside for 15 miuntes.
Deep fry it until crisp and golden brown.
In a pan pour a tbsp of fried oil.
Add finely chopped ginger cook for few seconds and then add the honey,orange juice mix well and pour water.
Add the preserved marinade and cook for 1 minute.
If u feel like the sauce is too dry add some more water mix and add the fried chicken.Mix it well to coat the chicken throw in some springonion greens and serve!
Video tutorial!
Sweet & hot Honey Chicken is ready to dig in!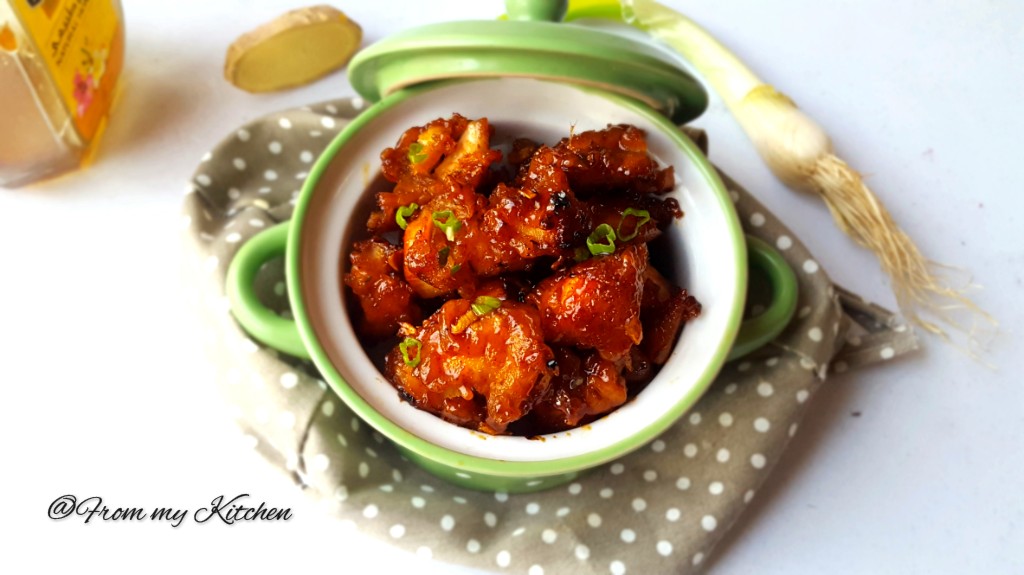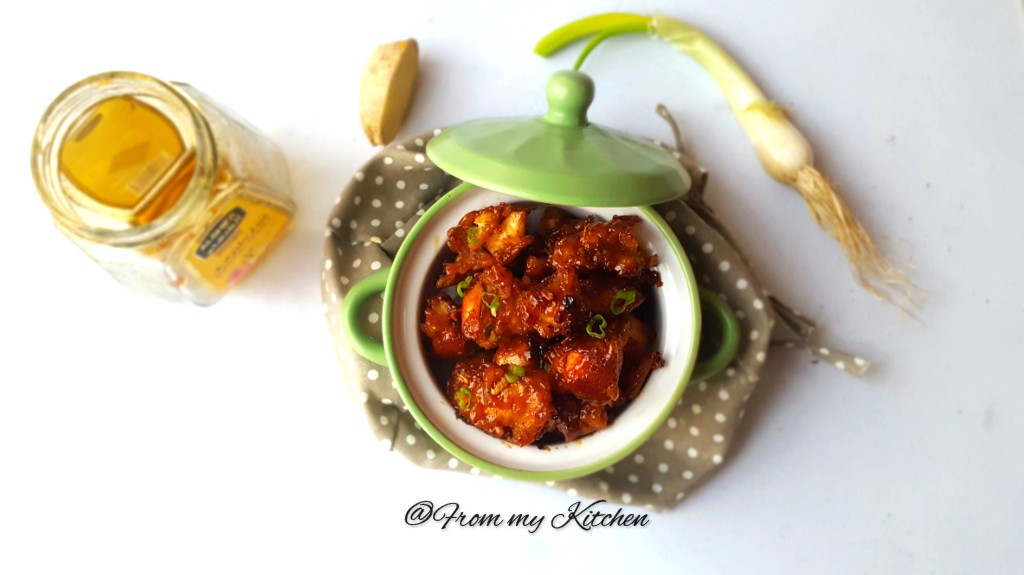 Happy Cooking!
" rel="noopener" target="_blank">