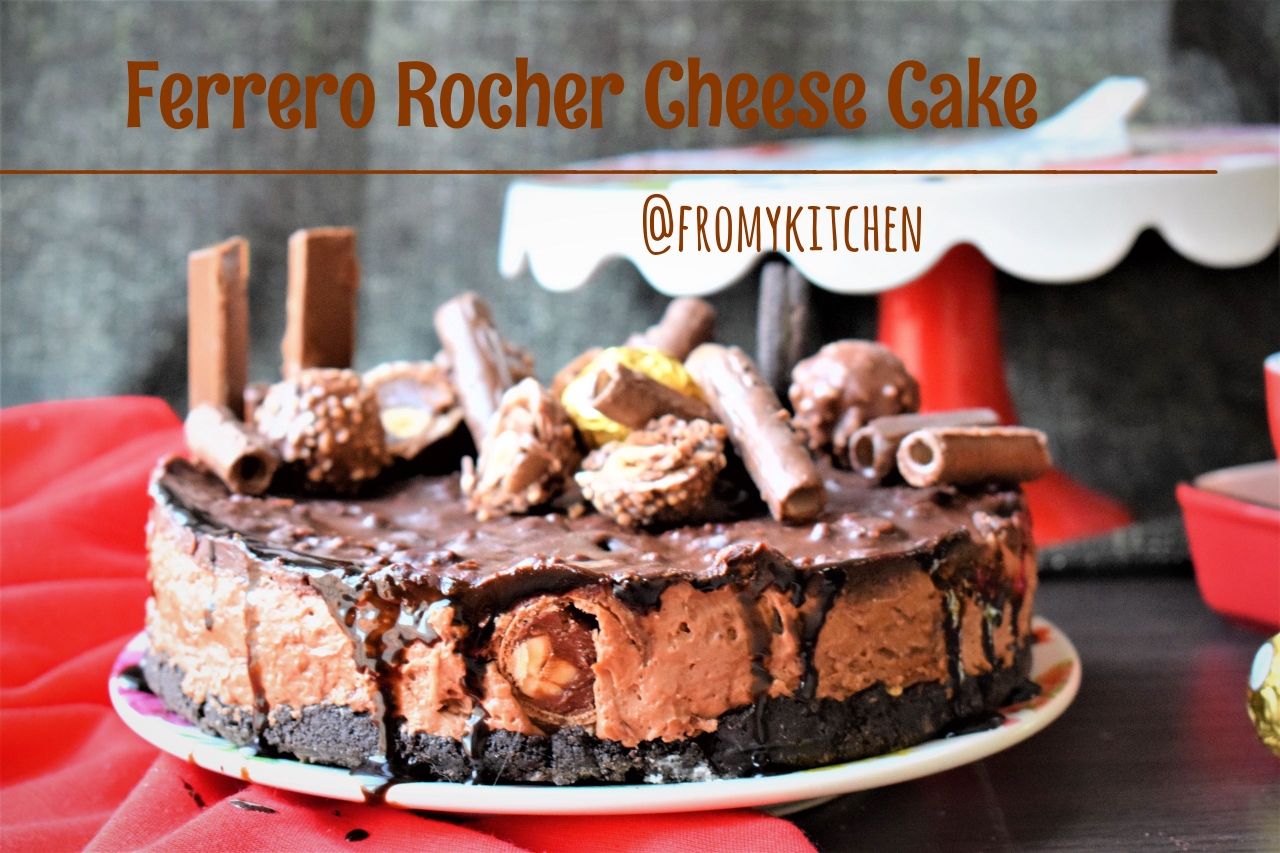 This is a chocolaty,nutty,crunchy,creamy cheese cake !That's like a dream cake for the chocolate lovers with one of the most favorite chocolate the great ferrero rocher!Hehe!3 different layers of chocolates – Oreo and ferrero base with nutella cheese filling mixed with hazelnut wafers and chocolate and then final layer topped with ferrero chocolate ganache!Oh my!! Did i make you drool!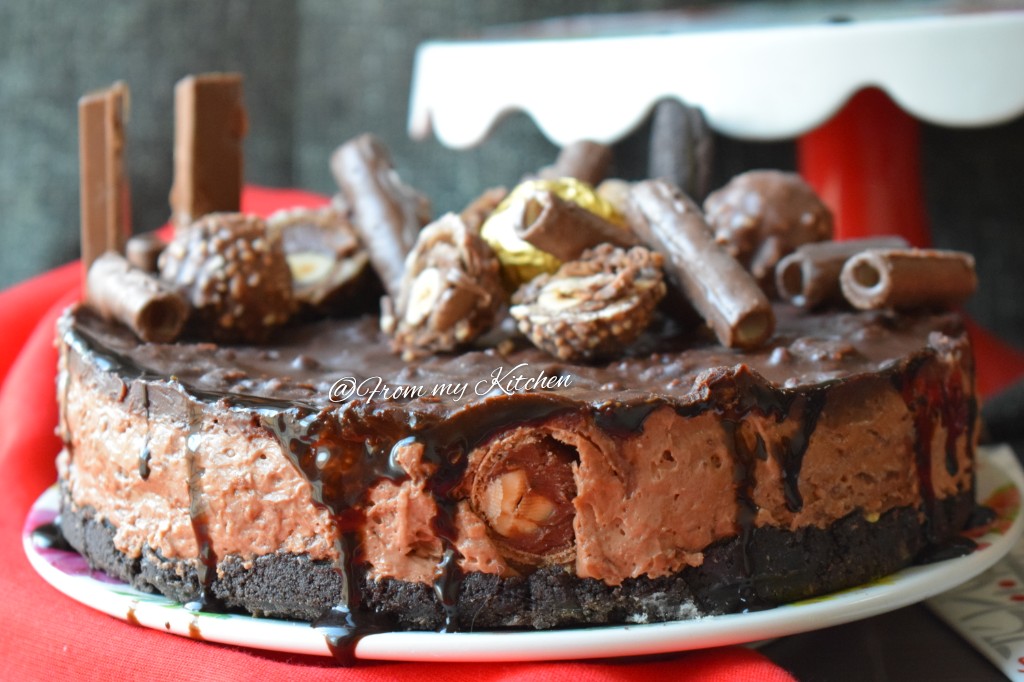 With this chocolate treat i'm celebrating my 2nd blog anniversary which i forgot last month!Yes From my kitchen is 2 years and 1 month with 309 posts in it!I'm so happy for all the love and support from you all!The tried pictures you people shared and the feed backs really means a loot,that makes me to try more!Thank you once again!Do you all remember my first anniversary post??I don't know how but that too was a Ferrero recipe!Chocolate Ferrero Poke Cake many tried and the feedback was amazing!Hope you all will try this too!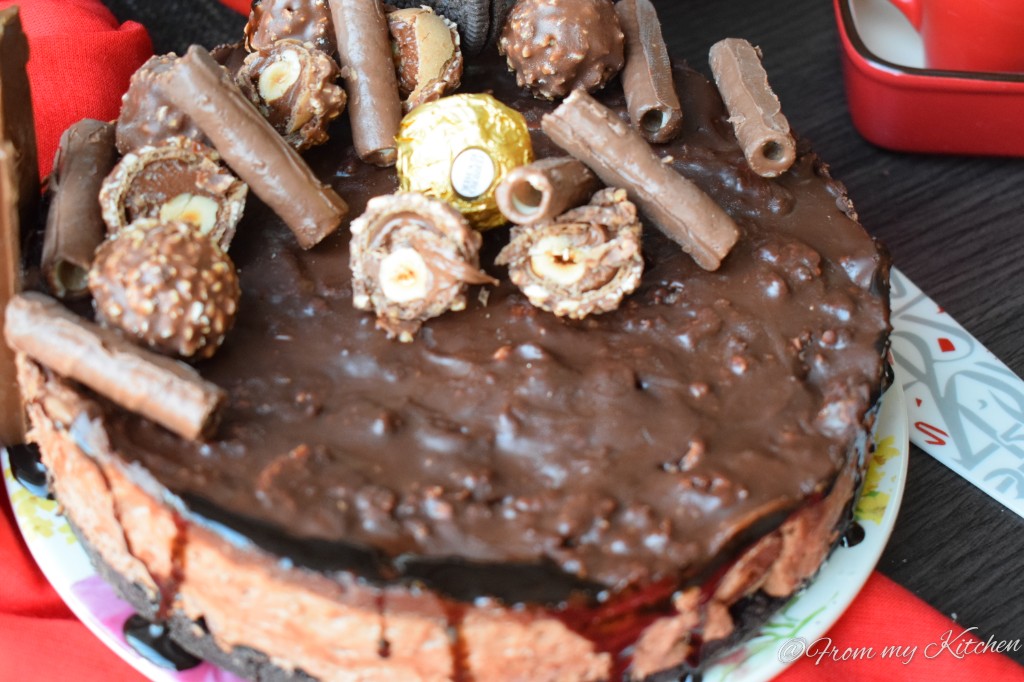 This one was made for a party and everyone just loved it. One of my friend said that Danube serve something like this which makes me so happy,as my cheesecake love starts from there!They serves the best cheesecake.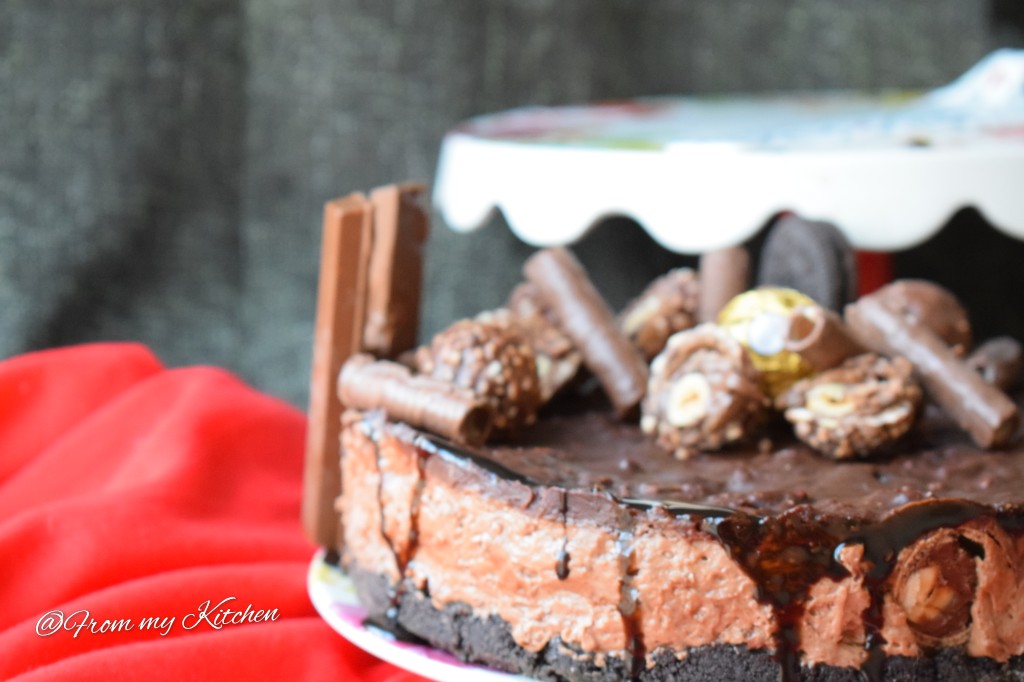 Ingredients
Base
20 to 25 0reo biscuit
50 gm butter
For filling
400 gm cream cheese
200 gm nutella
1/2 cup whipping cream
3/4 cup powdered sugar
1 tbsp gelatin bloomed in 3 tbsp water
Ferrero chocolates some for base and some for filling
Hazelnut wafers(good quality)
For topping
crushed ferrero rocher
50 gm cooking chocolate
Hazelnut wafer
Method
Powder oreo and mix it with melted butter.Set it as base on a spring form pan,Let it chill in refrigerator for 1/2 an hour.
Blend and soften the cream cheese,add nutella and blend well.
Now add the powdered sugar and beat until everything is incorporated.
Add the whipping cream and beat well to mix it.Last add the melted gelatin and mix well.
Chop some of the ferrero chocolate and wafers,mix it with the nutella cheese filling.
Take out the chilled base and place some halved ferrero on it.Pour the filling and let it set for 6 hours or overnight.
Melt the cooking chocolate with 2 tbsp whipping cream.
Crush some ferrero chocolate on the top and pour the melted chocolate and spread it evenly.
Let it set for 1 hour,Then slice and dig in!
Here is the video tutorial
Note:You can half the ingredients!
Dig in with your kids and be a kid with them!