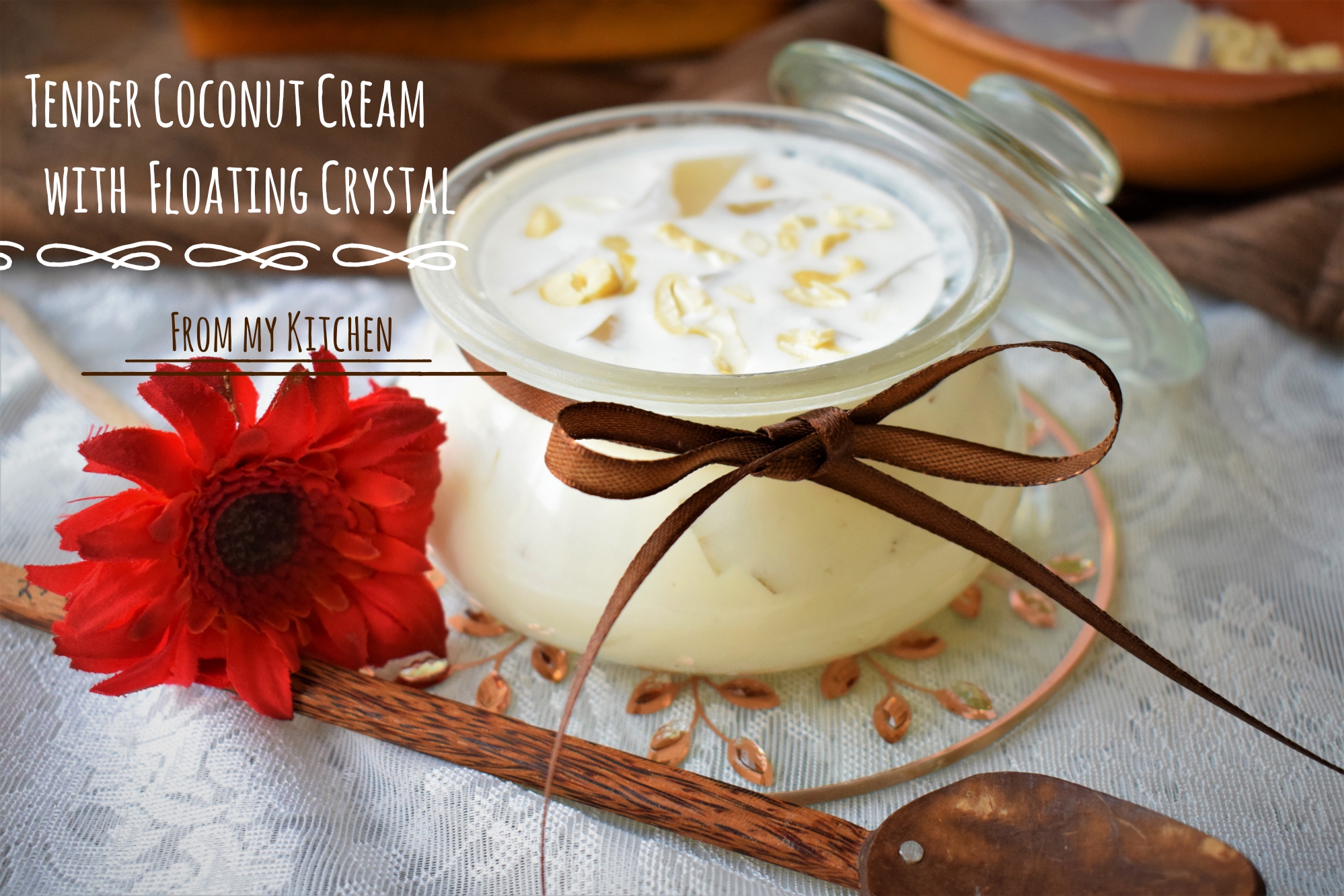 Simplest and the most yummiest dessert that you will fall in love with each sip!Tender coconut cream with tiny bits of its jelly and nuts will be a show stopper dessert.You can serve it as a dessert after the party or as a welcome drink.Tender coconut pudding is one of the classic dessert loved by most people in our place.The creaminess in these white beauty with that rich flavor of coconut and the bites from the coconut jelly is what you have to experience by having it!hehe!That means its a must try!
This dessert i first had from my sis in law's house, that by gulping the single sip we were like wooow!We grabbed the recipe and made it for a bachelor party at hubby's home.And you know what? They preferred this one over all the fancy desserts and the bowl was wiped clean.For this Eid I made it as a drink and the compliments were like more than expected hehe! Thank you so much Shaniba for sharing this delicious recipe with us.This is a super hit one!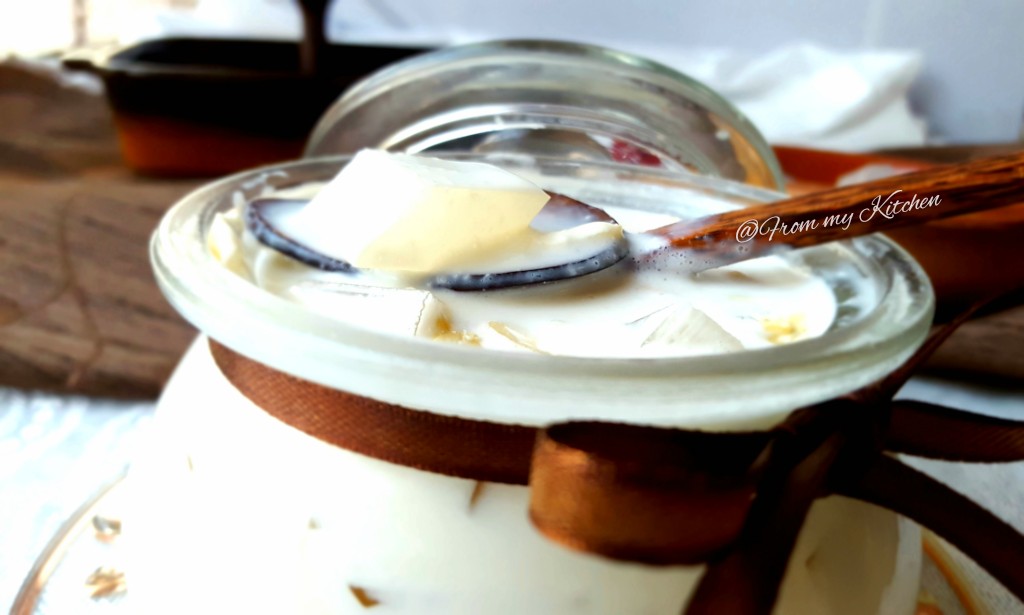 For long time i want to share this recipe with you guys and here comes.It literally melts in mouth.See the Notes to make it thick and creamy!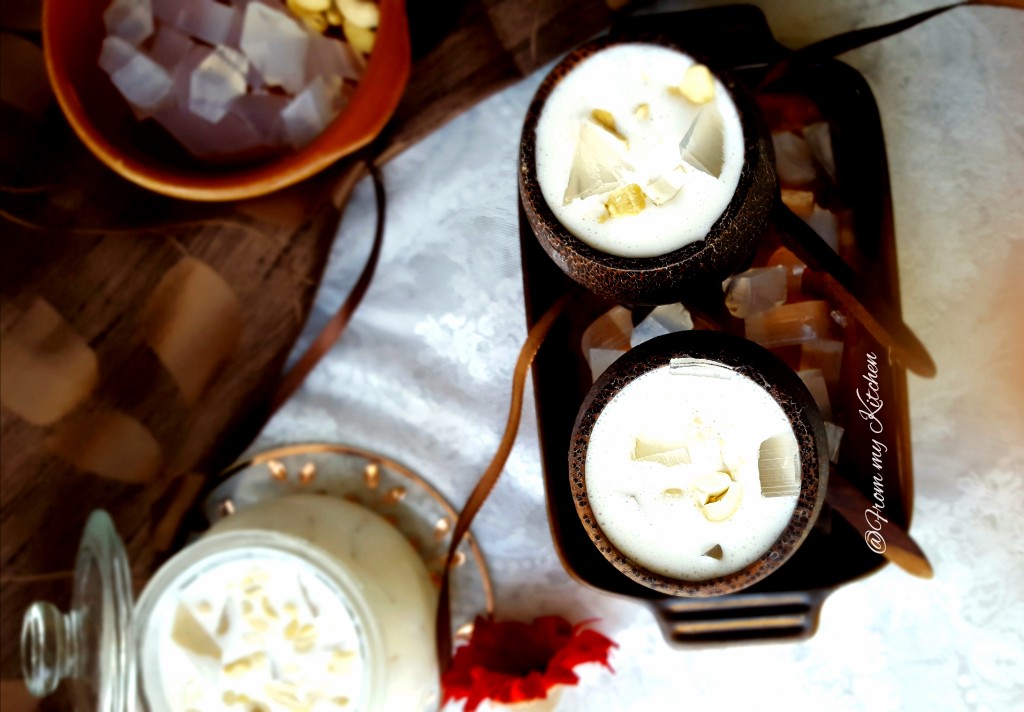 Over to the recipe.
Ingredients
3 cups thick coconut milk(for this you will need 1 n 1/2 coconut)
3oo ml fresh cream
1 tin condensed milk
For tender coconut jelly
 6 cups coconut or tender coconut water
10 gm China grass
1/2 cup or as needed sugar
1/2 tsp vanilla essence
Method
Try to use fresh coconut to make the coconut milk.
Blend coconut milk,fresh cream and milkmaid in a blender until well incorporated. Pour it in a big bowl cover and refrigerate it.See Notes
For Jelly
Soak china-grass in some water for 1/2 an hour and then melt it.
Heat together coconut water and sugar when its boiling add the melted china-grass and let it boil for few second.Switch off the flame and add in vanilla.
Pour it in a flat pudding bowl and leave it to set.When its cool keep it in refrigerator and let it chill.While serving Cut the jelly in small pieces add in the cream along with some cashew nuts and enjooy!
Note:This will be so runny that you can serve it as a drink.What i prefer to make it a little thick is, i used to melt 3 to 5 gm china-grass and add it in the cream mix while blending.This is not to set the cream but to make it a little thick and more creamier.(Adjust the china-grass qty.It depends on each brands you use)
Make sure not to add too much of it.(this will spoil the texture of your cream)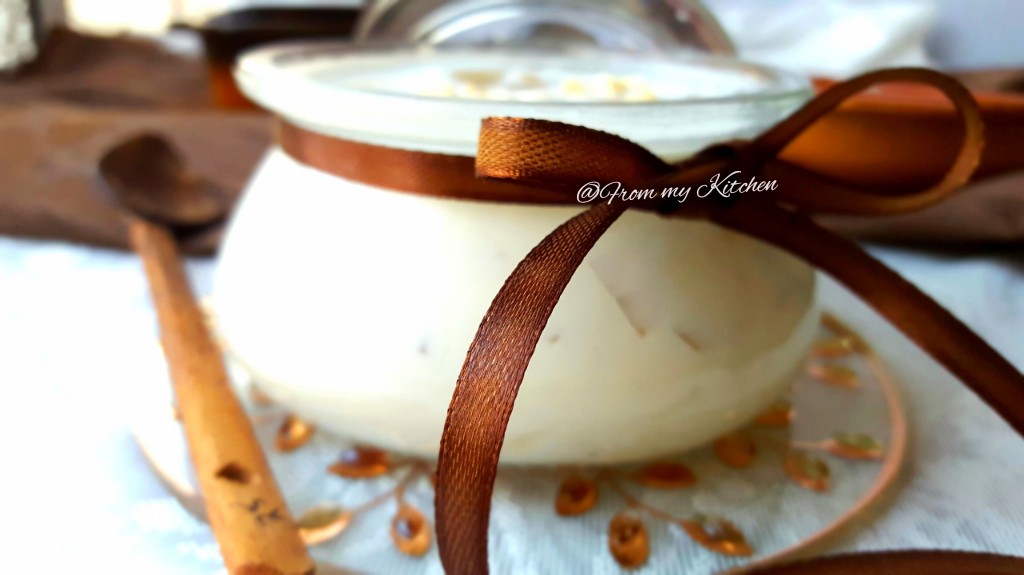 If you are a tender coconut lover this recipe is a must try!It's creaminess and the flavors are out of the world delicious!Who ever asked me for the recipe here is it guys,enjoy!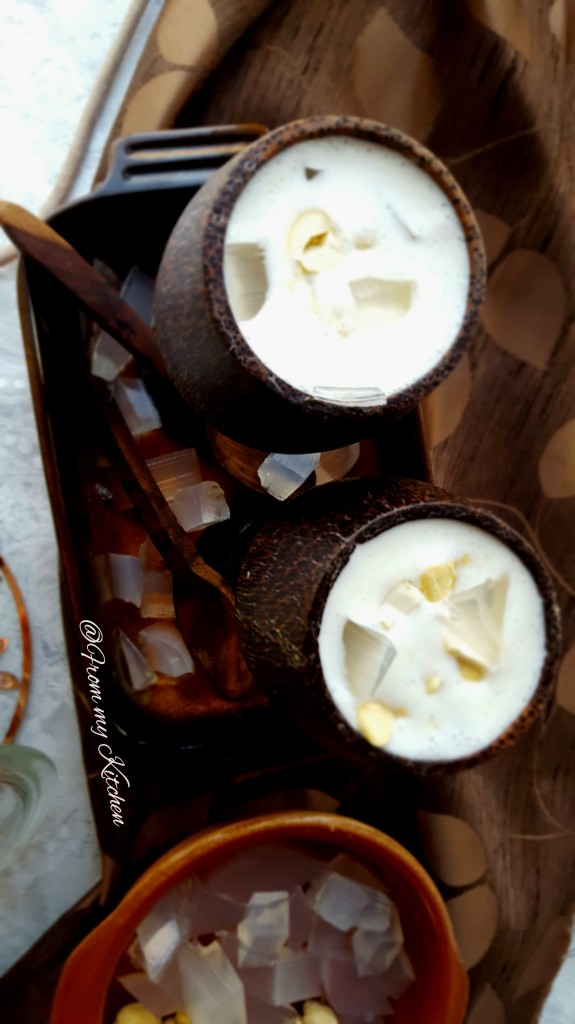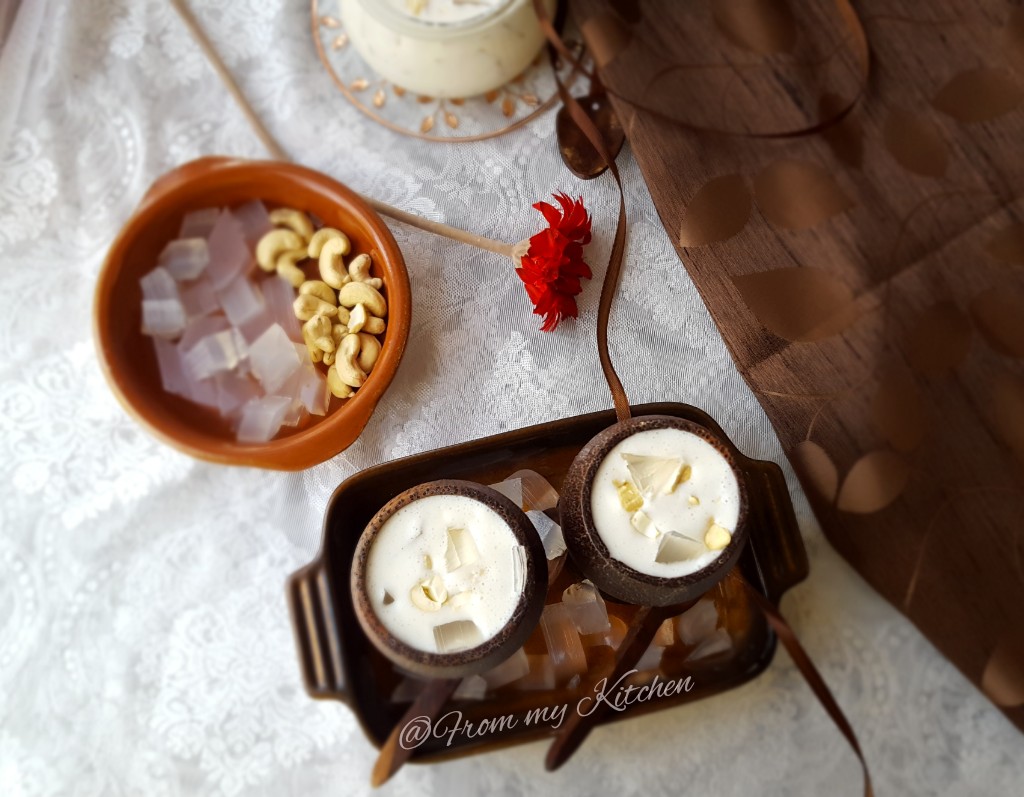 Happy Cooking!