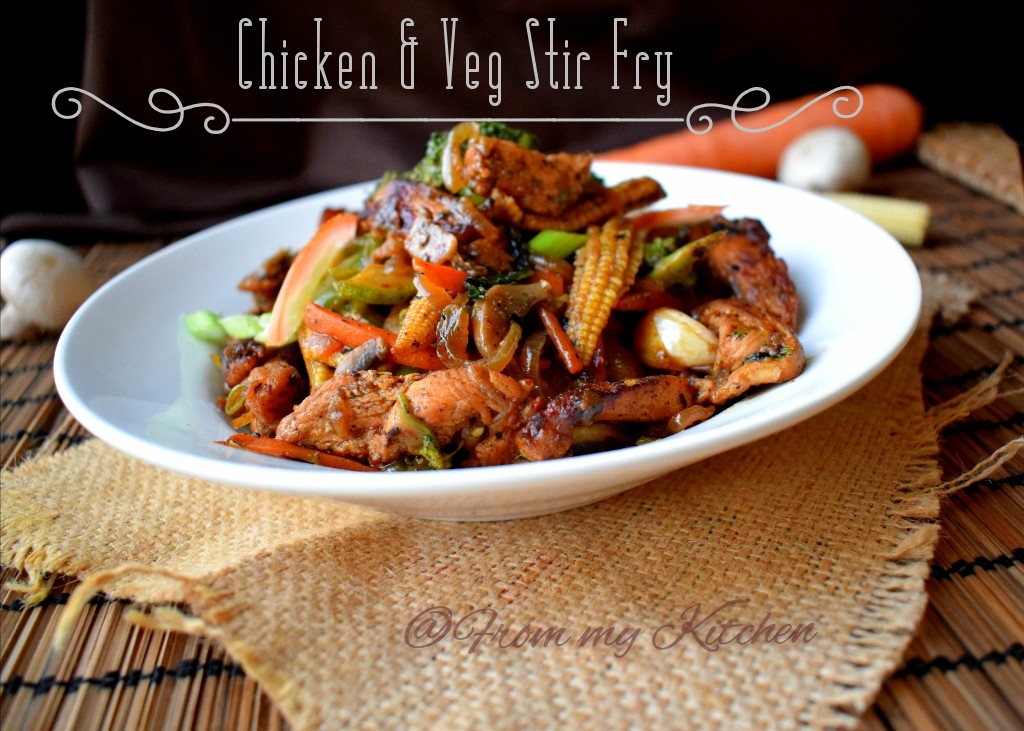 Crispy soft veggies with yummy fried chicken is the best combo I've ever had!Seriously its a must try if you are a veggie lover or not!I first thought to stick on to veggies only,then changed my mind and added chicken in it.I'm so happy i did!That's why the pan is completely wiped off!hehe!You can skip the Chicken if you don't want.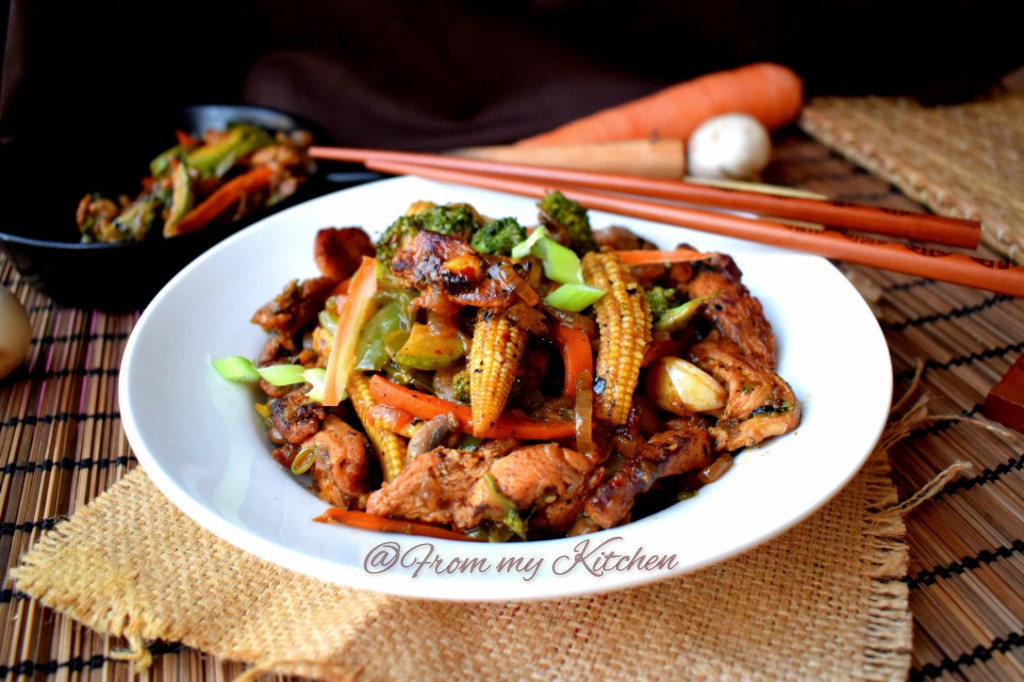 It's so easy to make and rich in flavors.Here i used Schezwan sauce for that extra kick and spiciness.If you don't have Schezwan sauce,just mix sweet chilly sauce,chilly sauce and Tabasco/sriracha together.Serve it hot with rice,noodles or with some breads or simply have it like a salad.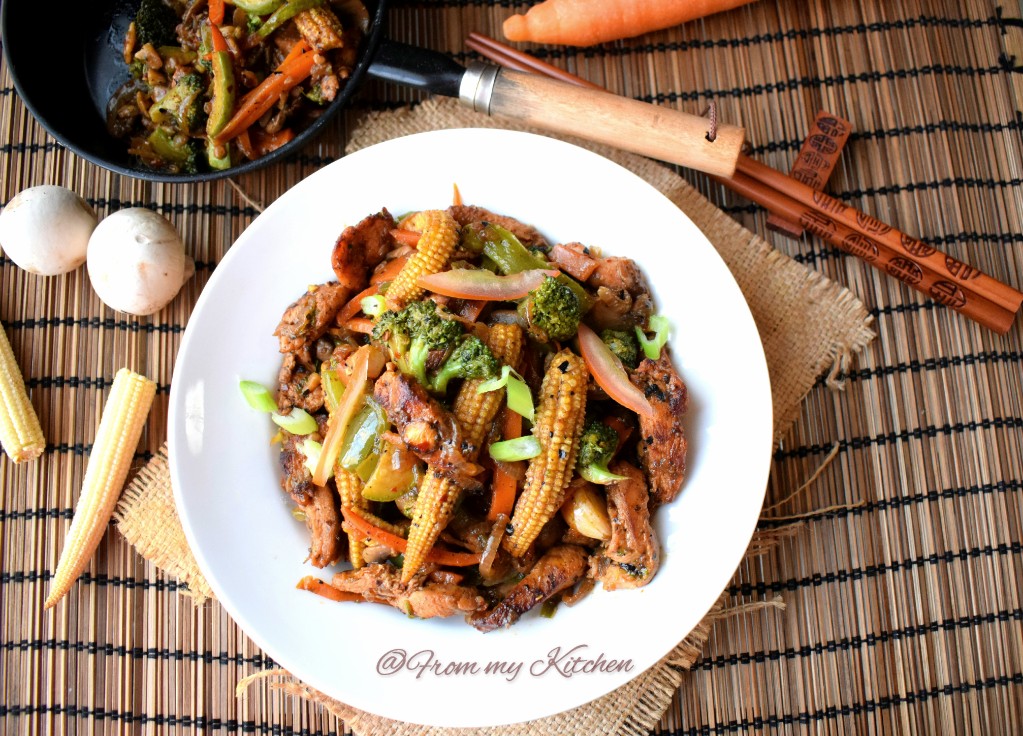 I served it with bread so i preferred it little saucy than dry,added a little cornflour along with sauces just to coat and bind everything together.
Ingredients
For Chicken
1 chicken breast fillet cut into strips
2 cloves garlic
1 tsp soy sauce
1 tbsp Schezwan sauce
Salt to taste
For Veggies
1 tbsp garlic chopped
1/2 tbsp ginger chopped
1 small onion sliced
1 big carrot  cut in julienne
1 small bell pepper( if you have color bell pepper use that to make it colorful)
5 baby corns cut in halves
Some broccoli florets
Mushroom
Zucchini and any other veggie of your choice.
1 tsp cornflour mixed in 3 tbsp water
1 tsp soy sauce
1 tbsp Schezwan sauce
Salt to taste
1/2 tsp pepper powder
1/2 tsp cred chilly flakes
Some spring onion greens and parsley
Oil to stir fry.
Method
Clean and Pat dry the chicken and mix it with above listed ingredients.Let it sit for 10 minutes .
In a heavy bottomed wok pour oil and when it's smoking hot add the marinated chicken and fry it until done.Take out and keep it aside.
Now add ginger garlic in the same oil,saute for few second,then add sliced onion cook for 1 minute.
Add broccoli and baby corn (that takes longer time to cook go first)When it's half cooked add carrots,bell pepper and mushrooms cook until how soft you want our veggies to be.
Now add sauces,salt and chicken mix well and add cornflour slurry,cook for 2 minutes and switch off the flame.Add few drops of water if needed.
Add parsley and spring onions.Serve it hot.
Note: Cook this on high flame and don't over cook you veggies and make it very soft and soggy
Here is a quick video tutorial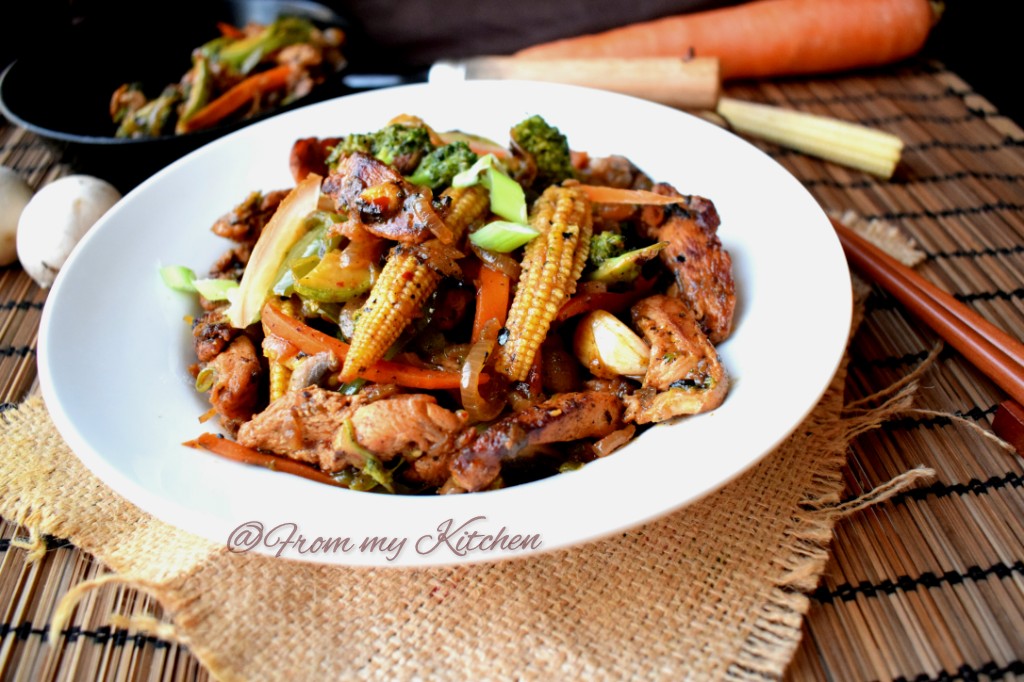 Hope this one will be a life saver for you too when you are in a hurry.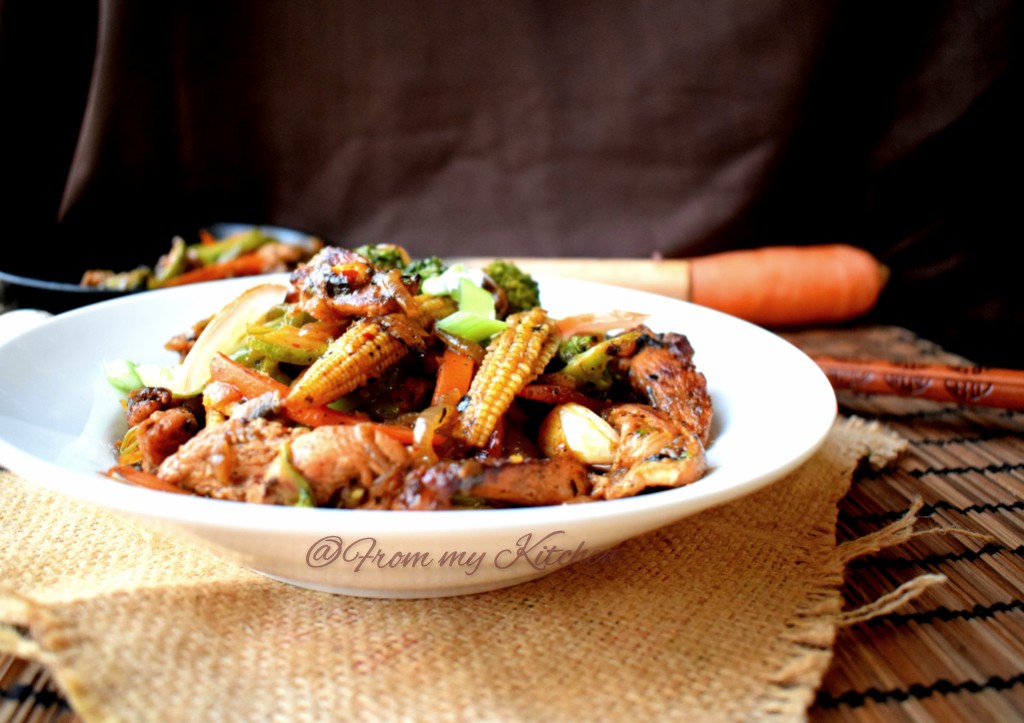 Happy Cooking !