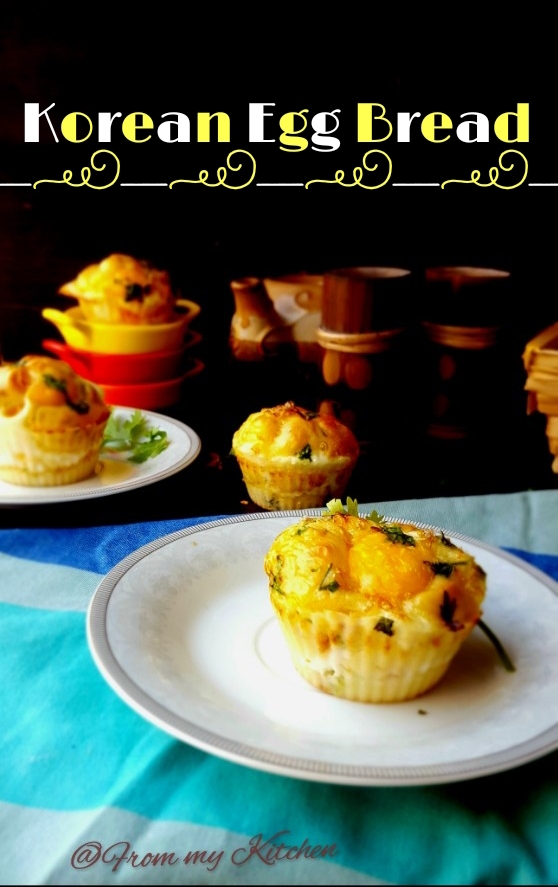 I missed some interesting challenges of MFB last 3 months due to my vacation!I truly enjoy participating in this!Challenge for this month is to try a recipe that we bookmarked from a Muslimah Blogger!This one is a last minute rush,i thought i'll miss it again,but somehow managed!I got this recipe from a Moroccan blogger Cooking with Alia one of my favorite in you-tube too! She has many wonderful Moroccan Cuisines as well as other delicacies in her blog. I have already tried one recipe from her blog – Shrimp Mhencha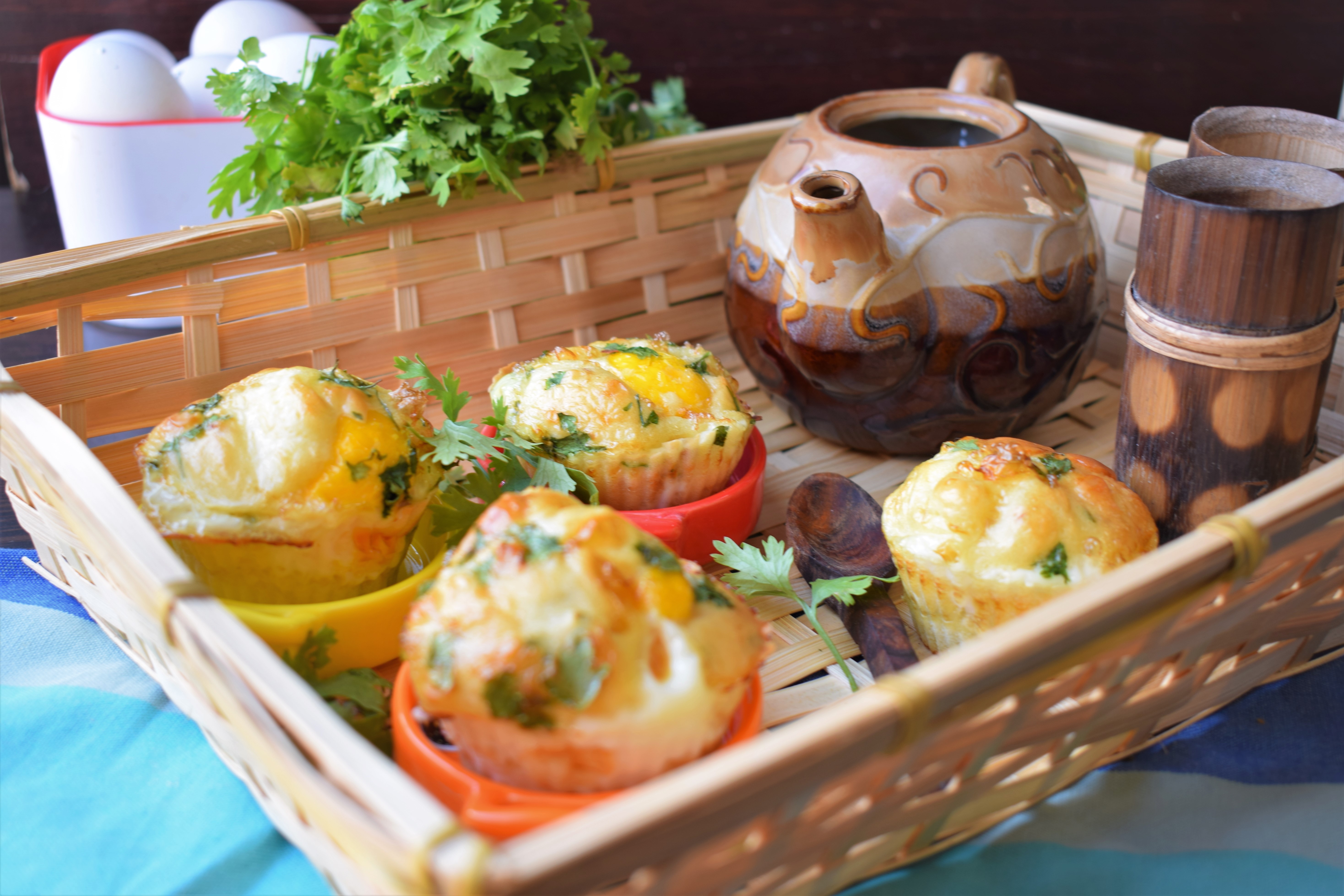 This Egg bread is simple and will be a feast to all the egg lovers!If you are bored with those old boring egg omelette or sunny side up why not give this a try!Very simple and filling breakfast or brunching option with few easy steps!Gyeran PPang is a warm street food sold throughout Korea. The fluffy, loaf of bread is sweet and savory with a whole egg inside the pancake dough.There is a special machine to make this bread which is oblong shape.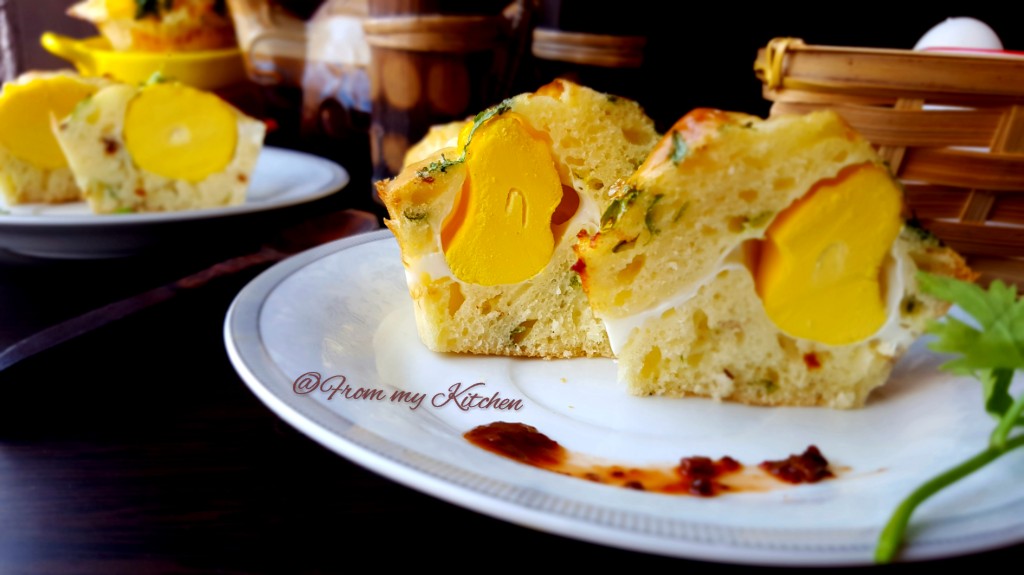 I added some seasoning and spices to my cake batter to get that feel of savory bread!It was moist spicy bread with the freshness of cilantro and garlic with the eggy center!If you like your egg runny bake it for lesser time!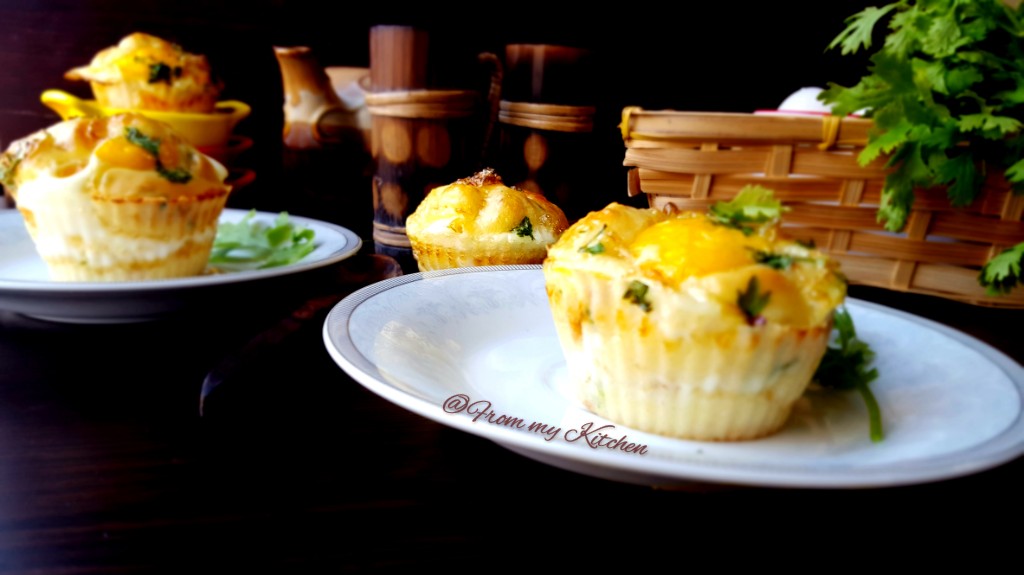 Here you need to make a savory cake batter,scoop a spoon full as a base in a cupcake mold then an egg and again a spoon of batter and bake.To prepare batter is very simple.I halved the qty of original recipe.Here is the link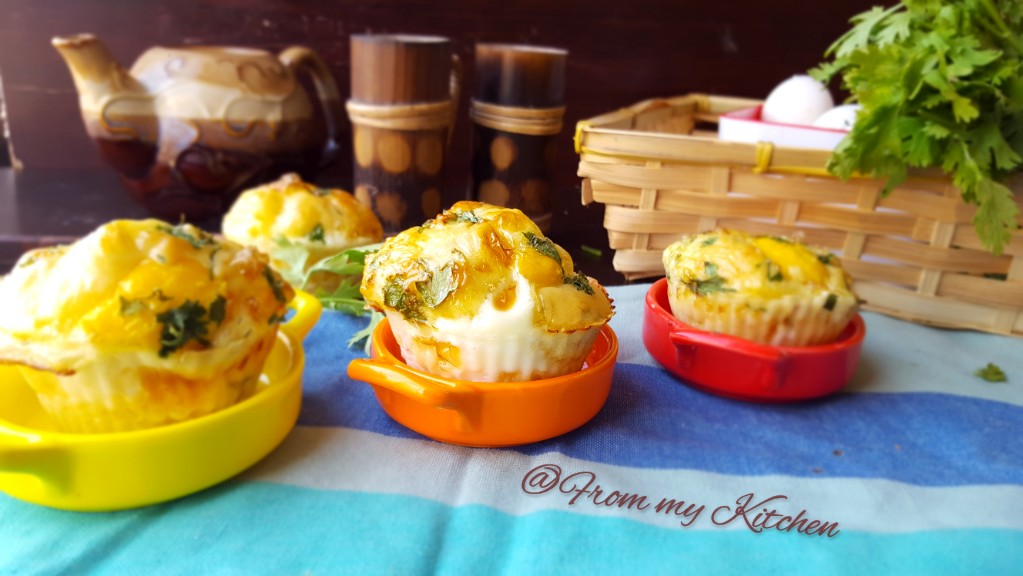 Ingredients
1 cup (128 grams) 1/2 cup all-purpose white flour
1/4 teaspoon baking soda
1/2 teaspoon baking powder
1  tablespoons sugar (to taste)
 salt to taste
1/2 of an egg for the batter(whisk and make it half)
1 tablespoons melted butter
1/2 cup butter milk
Some finely chopped cilantro
1 tsp chilly flakes
1/2 tsp garlic powder/or freshly grated garlic
3 to 4 whole eggs (for filling)
toppings: shredded cheese,celery,parsley
Method
1.If you don't have butter milk first, make homemade buttermilk by mixing the milk and the vinegar together, and letting them sit for 5 minutes while preparing the rest of the ingredients.
2.In a large bowl, mix all the dry ingredients: flour, baking soda, baking powder, salt, and sugar. You can adjust the amount of sugar depending on how sweet you would like the cake to be.
3. Now add the wet ingredients: melted butter, 1 egg, and the buttermilk (milk + vinegar)
4.Mix well all the ingredients until you get a smooth dough
 Preparing the Egg Breads
1.Place paper cups in a muffin tray(I used silicon mold)
2. Scoop a tablespoon of batter into each paper cup
3. Break a whole egg in each paper cup (each muffin whole)(take out some egg whites to prevent from flowing out while baking)
4. Top the each egg with batter
5.You can add toppings such as shredded cheese or chopped herbs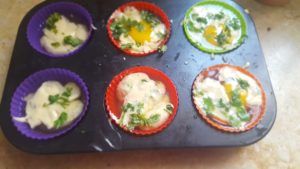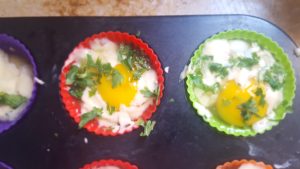 3 of them i filled with egg whites(that's up to you)
Baking 
1- Bake in a pre-heated oven to 360 F / 180 degree C for 20 minutes or until the breads get a nice deep golden color
2- Remove from oven when egg breads are ready and serve immediately
Bon Appetit!
BEST SERVED WHEN IT'S WARM!!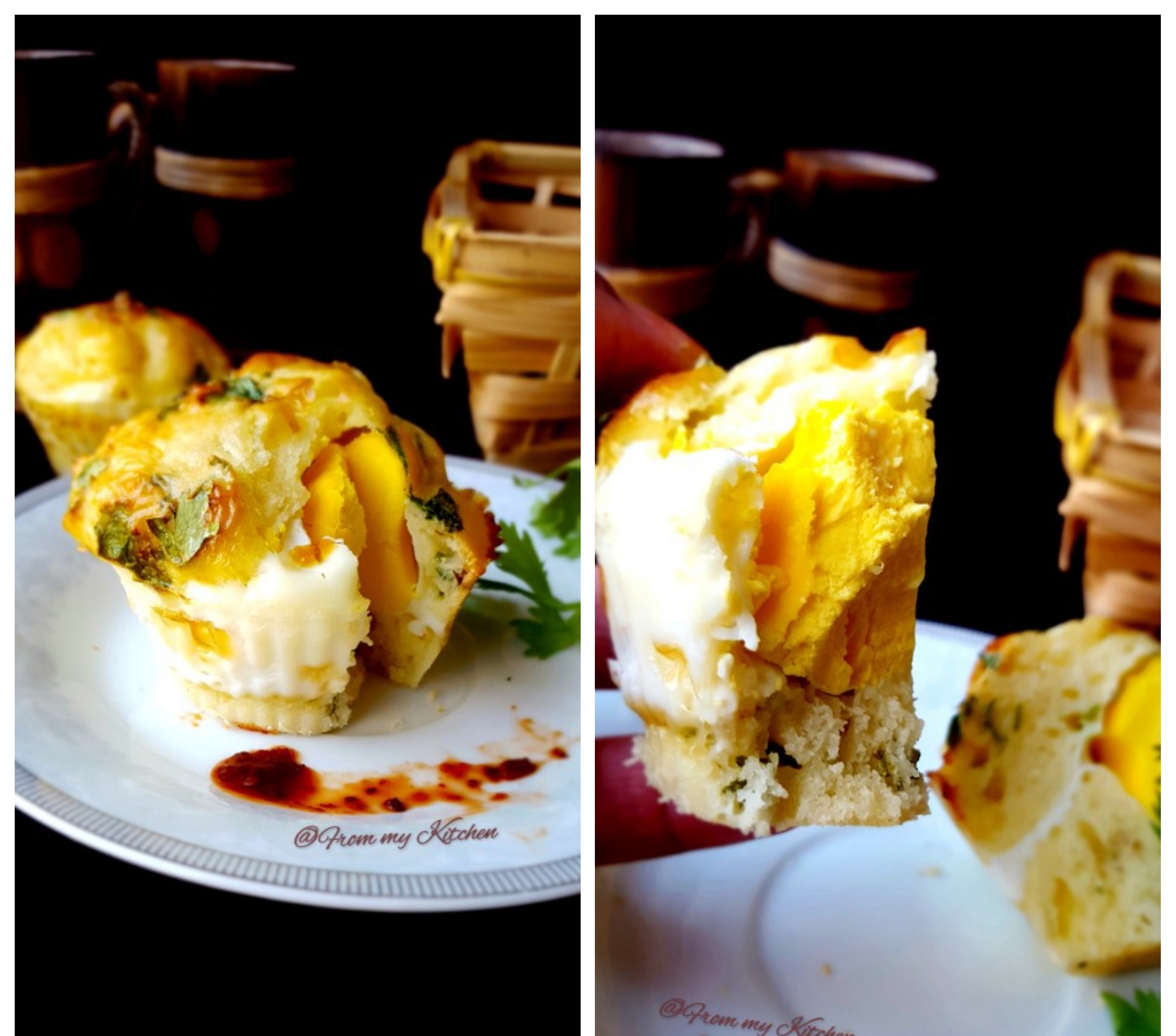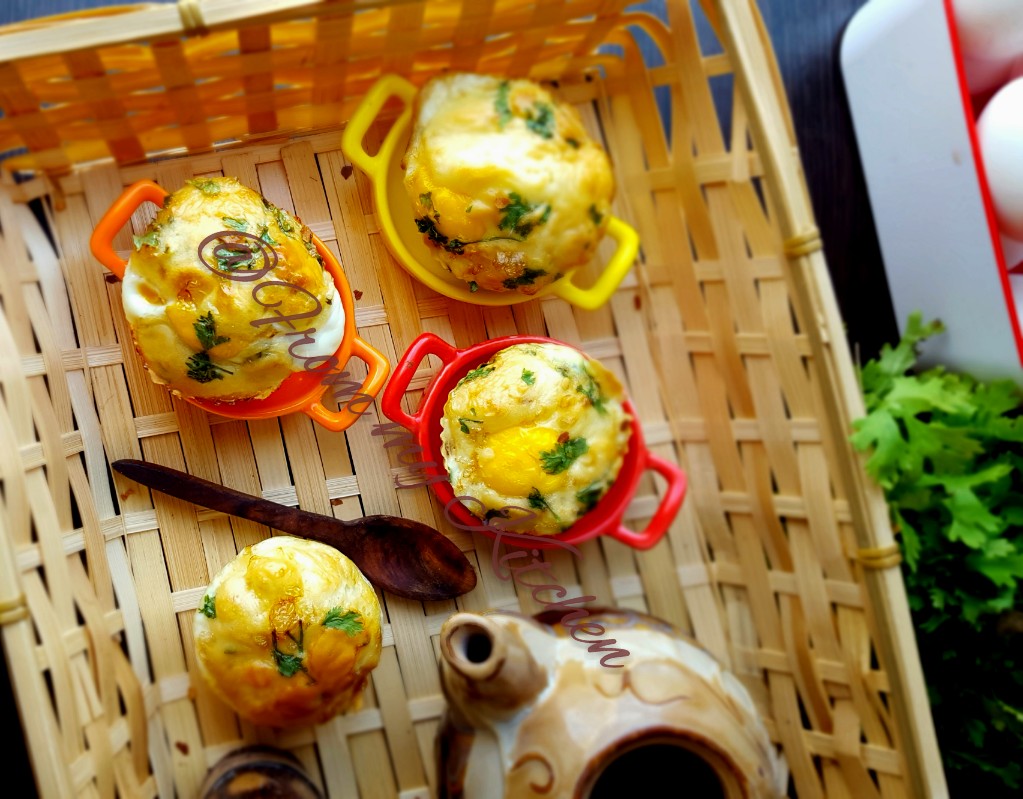 Happy Baking!!