A Moroccan Cuisine!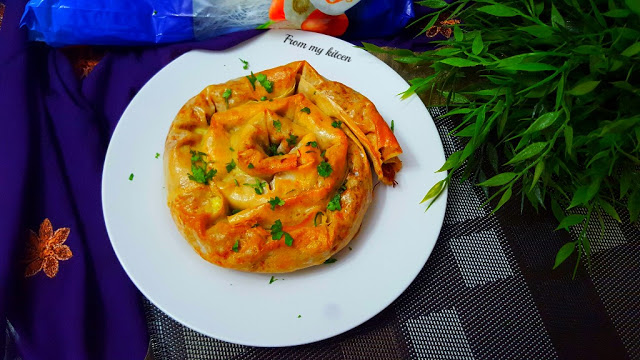 Today I am introducing a lovely Moroccan delicacy! It was awesome in taste I mean something more than I expected.Crispy bite outside and nice spicy shrimp vermicelli surprise inside.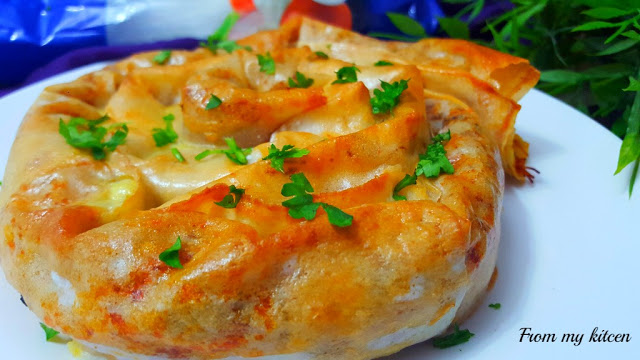 M'hencha in Morocco means coiled like a snake!It is basically made of sprig roll pastry and the filling with some rice vermicelli and shrimp.It is packed with full of flavours and something very different.I love prawns in my fillings it gives a very good flavour.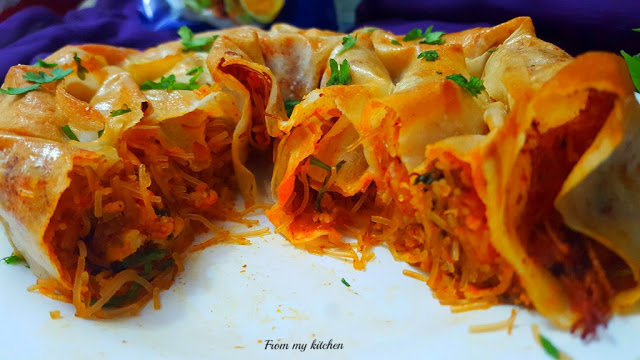 Even we can eat the filling as is!Instead of rice sticks/vermicelli we can also use the regular vermicelli I think.Here first prepare filling rolling it in the spring roll pastry and then roll it to a oil and bake.It was too good give it a try!

Ingredients
200 grm prawns
1 medium onion
2 cloves garlic
1 inch piece ginger
1 tblpsn tomato paste
1 tspn cumin powder
1 tspn pepper powder
1 tspn paprika or chilly powder
1 tblspn lemon
A bunch of cilantro(coriander leaves)
Salt to taste
1 tblspn olive oil
250 grams of rice vermicelli
Spring roll pastry
1 egg for egg wash
Method
Prepare the vermicelli first it will cook very fast so keep an eye on it Drain it and cut it with scissors and keep it aside.
Drizzle olive oil in a pan add finely chopped onion garlic and some salt mix and cook for a couple of minutes.
Add tomato paste and cook for a while then add all other ingredients like cumin, chilly powder,turmeric,pepper lemon juice,cilantro and mix it all very well and some 2 tblspn of water to it and cook for a wile.
Add shrimp to the sauce and cook until its done.Add the cooked vermicelli to it and mix until well combined Your stuffing is ready.you ave to cool it completely before using.
Preheat your oven to 180 degree

Now the assembling part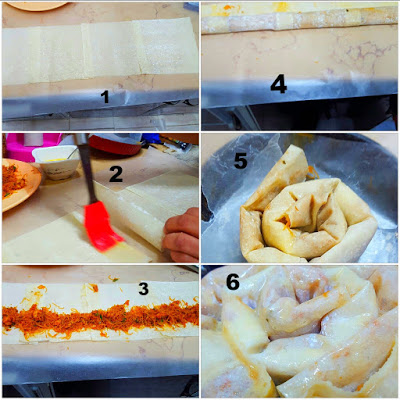 1.Take some spring roll pastry and arrange them like shown in pic
2.To stick each pastry to one another egg wash in between like pic
3.Then put the filling on one side.
4.Then roll it carefully and egg wash the side of the spring roll pastry to stick the end
5.Then roll it like pic 5 keep it in center
6.Make one more like same way and put it at the side of the pan to cover the full pan.
7.Egg wash it and bake it for 2o to 30 minutes until crisp and golden brown.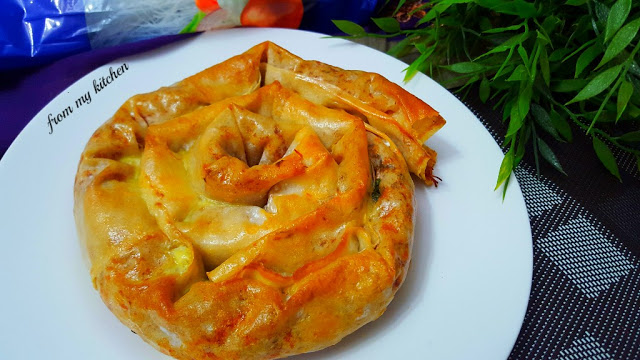 The M'hencha is ready to serve now.Serve it immediately.If we prepared it for a party it will be center of attraction ! I am sure about it by look and taste its yumm!Here kids and we enjoyed it alot!
You can also make it in a small frying pan.Brush some oil on your pan do the same process and keep it on low flame when one side is done brush some oil on the top and flip it and let it cook until crisp and golden brown.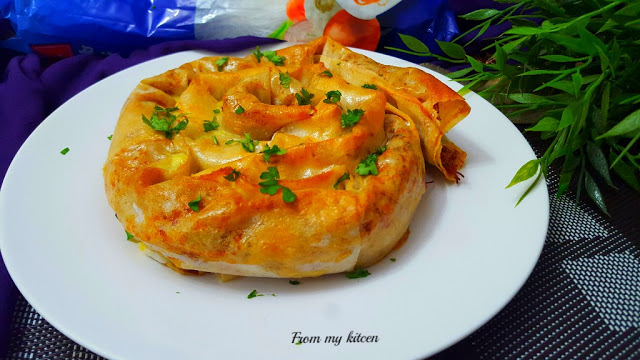 Enjoy!!!!!!!!
Recipe adapted from:Cooking with Aliya.