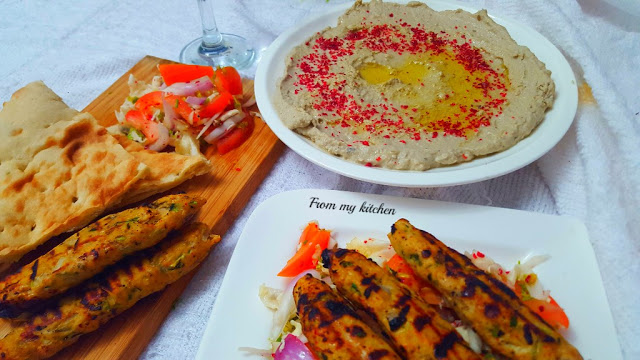 Kebabs are originated from Iran and now popular worldwide. Smoky taste in these kebabs and tandoors are my favourite.I love grilled foods and I love to try and taste different flavours of this kebabs!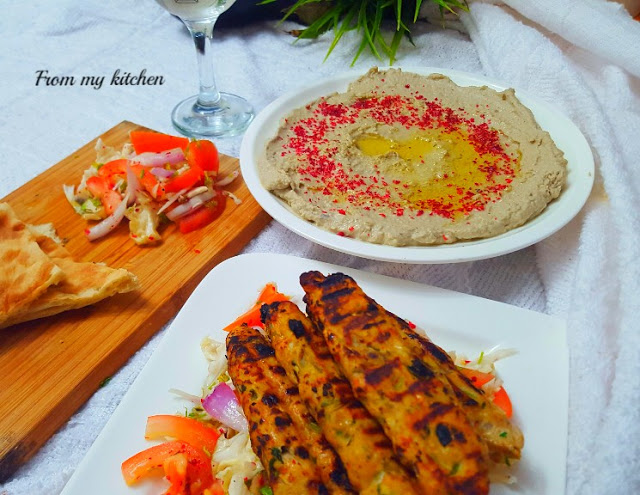 Sheekh Kebabs are traditional South Asian Cuisine consist of small amount of meat threaded on the skewer and grilled.Among all the kebabs lamb sheek kebab and beef sheekh kebab are famous. Kebabs are also made up of paneer & veggies instead of meat.The ingredients are an integral part of this sheekh kababs.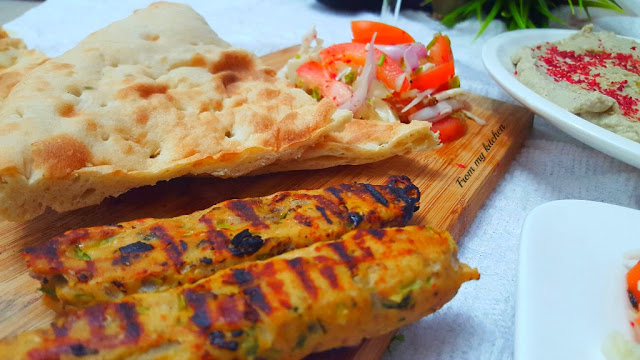 For preparing this, blend together all the ingredients like boneless chicken ,spices ,ginger,garlic and then skewer it and grill it to perfection.Relish the lip smacking succulent and juicy Chicken Sheekh Kebabs prepared at home with this simple recipe.
Ingredients
2 large chicken breast fillet
5 cloves garlic
2 green chillies
1 tspn chilly powder
1/ tspn pepper powder
1/2 tspn coriander powder
1/2 tspn garam masala
SOme coriander leaves
1/2 of an onion
1 tbspn oil
1/2 egg
Salt
Method
In a food processor or blender put together chicken breast cut in cubes,garlic,green chillies,powders and some coriander leaves blend well and make it o a fine paste.Now add half of the egg and blend once more.(the egg will make the kebabs juicy other wise it will go dry)Check and add If the mixture become loose, add some bread crumbs if needed.Also add finely chopped onion and coriander leaves and mix well.
Now take the skewer and put the minced meat on the skewer by pressing and rolling it. brush a pan with some oil and put the mince on the pan and grill it on both side.from 5 to 7 minutes take out from the oven and show it on direct flame to get that smoky effect.
You can also make it in grill pan or frying pan,the chicken will be more juicy and tender in pan.Then show it on flame for few seconds and take off and serve it hot with salad,dip and pita bread!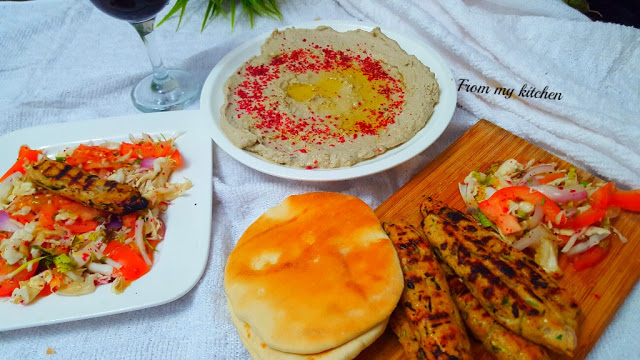 I served it with Baba Ganoush(recipe will be updating soon), Salad and pita bread and enjoyed a restaurant style dinner.;)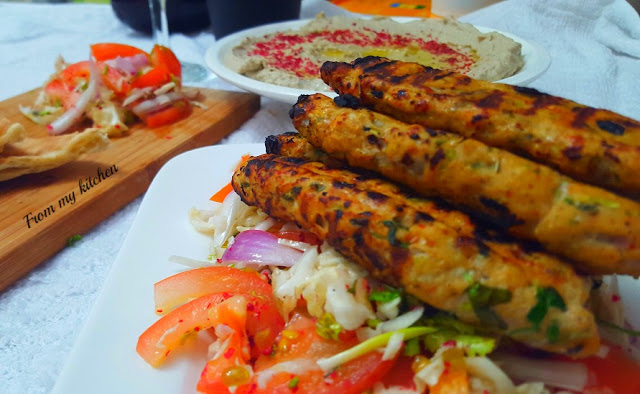 These kebabs are amazing with its smoky flavour,with lightly crisp crust,tender and juicy center.Make it in your home and enjoy!
Note Dip your skewers in cold water for 1/2 to 1 hour to prevent from burning while grilling.