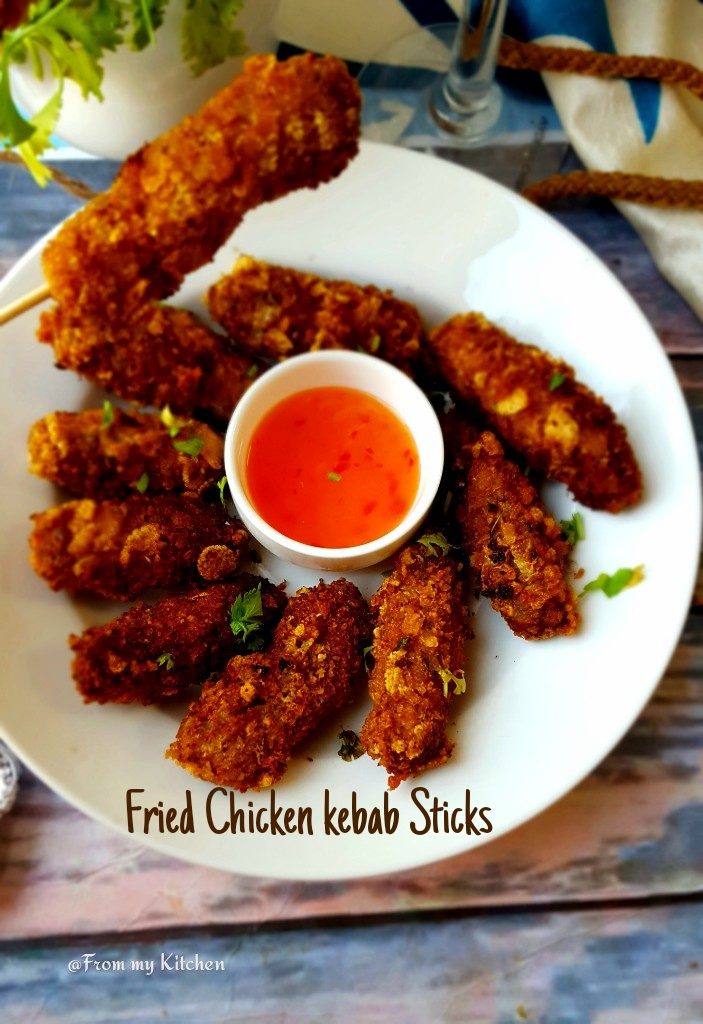 This is a mouthwatering and flavorful crunchy chicken kebabs.Usually the kebabs are either baked or shallow fried.This one is nicely crumb coated with the combination of breadcrumbs and cornflakes and then deep fried.The scrumptious flavor from the chicken and seasoning along with shredded cheddar cheese was yum!
Can you believe the Ramadan is almost over..Time is flying and wholeheartedly we are bidding adieu to the holy month.I'm sure many of us have same feeling when the Ramadan is getting over.May Allah accept all our good deeds and bless us to see many more years of Ramadan.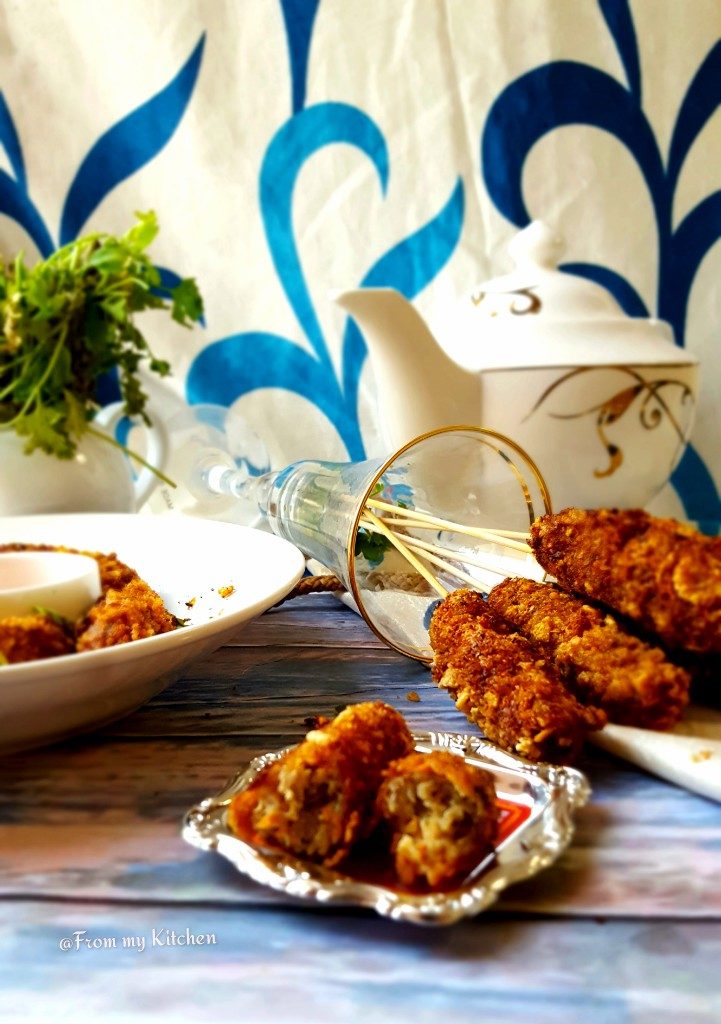 I want a simple, delicious and moderate spiced recipe as i need to share some of the Iftar treats with my Arab neighbours.While browsing through out the internet I gotta see many such recipes,so here it is a simple yet flavorful recipe that makes in a jiffy. If you doubt whether the chicken gets cooked while in deep fry, well you can avoid this by frying it on a low flame.It will take almost 8 to 10 minutes on low heat for chicken to be cooked fully .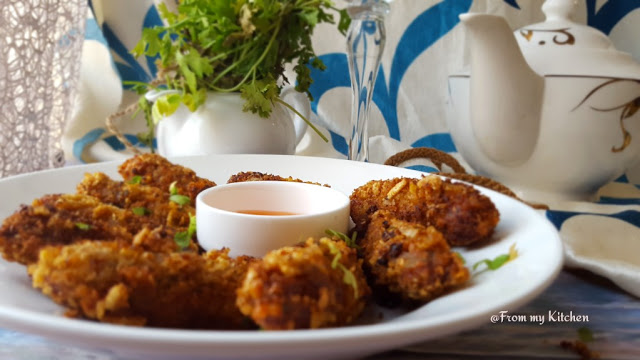 Here after frying i skewered it,to make it looks more presentable.My kids loved it as it's not that spicy and also crunchy to munch on!
Ingredients
2 chicken breast fillet
1/2 of an onion
1 carrot
4 cloves garlic
small piece ginger
1 tsp pepper powder
Salt to taste
1/2 tsp soy sauce
1/2 tsp tomato sauce
Lots of coriander leaves
1/2 to 1 cup shredded cheddar cheese
1/4 off egg rest of the egg to dip
Bread crumbs + crushed cornflakes
Oil to deep fry
Method
In a food processor add all the ingredients up to coriander leaves and mince it.
Add 2 tbsp egg by beating the whole egg,cheddar cheese and mix well.If the mixture is not thick enough to roll add some all purpose flour and mix.
Take small balls out of it and shape them to a cylindrical log by rolling it evenly
Dip it in egg white and bread crumbs.Keep it in refrigerator for 1/2 an hour and then deep fry it on low heat until golden brown and crisp.
Serve it hot with your fav dip.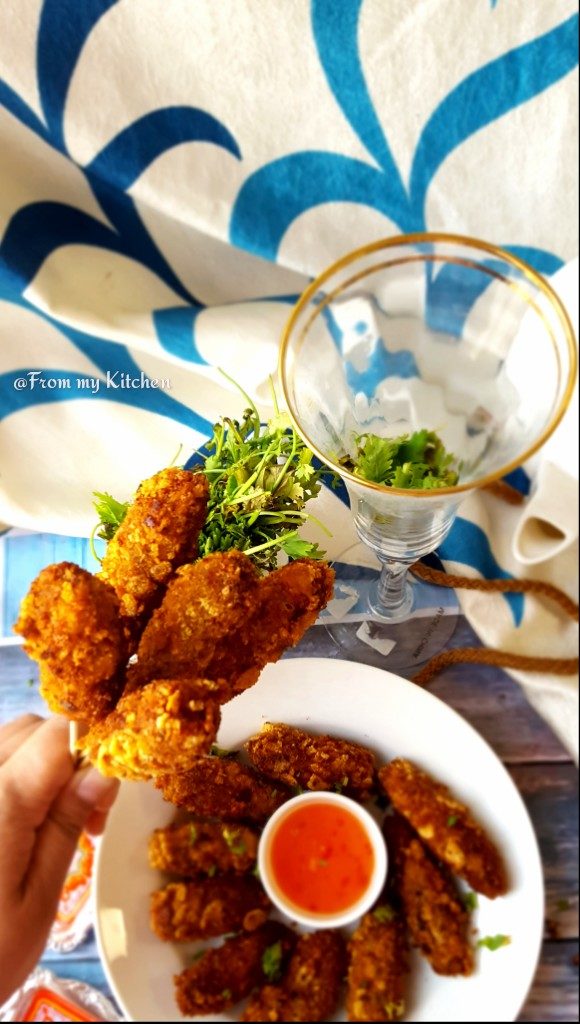 It was so crispy and flavorful!Do try it!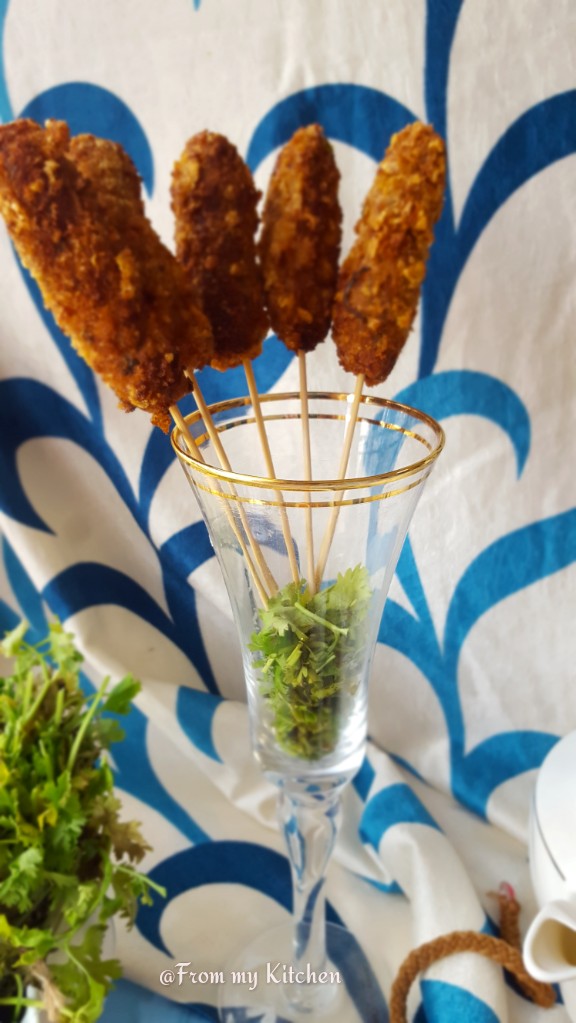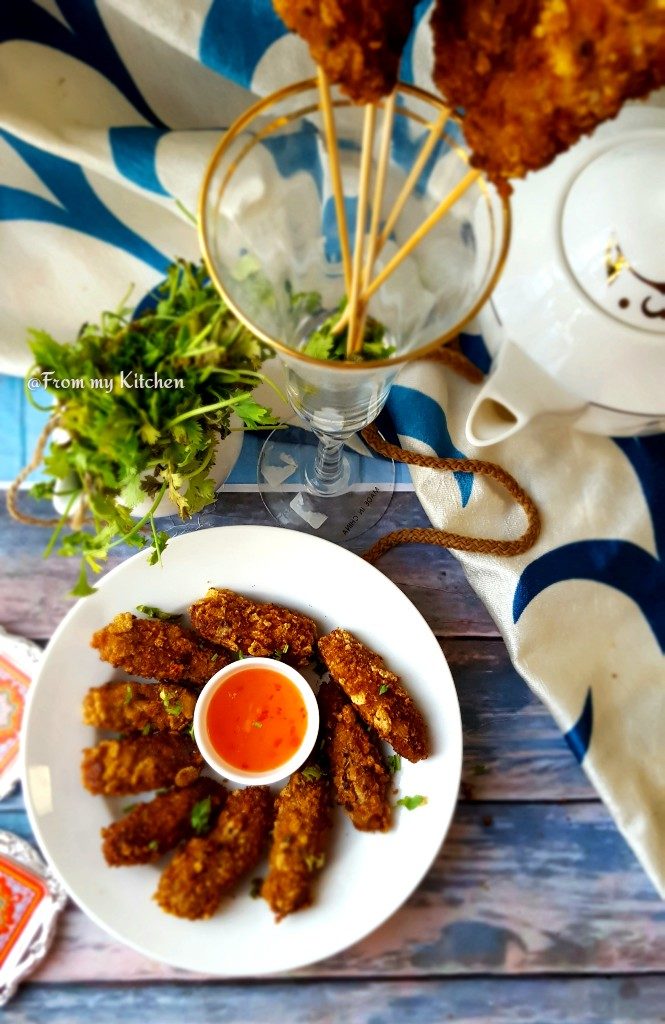 Happy Cooking!