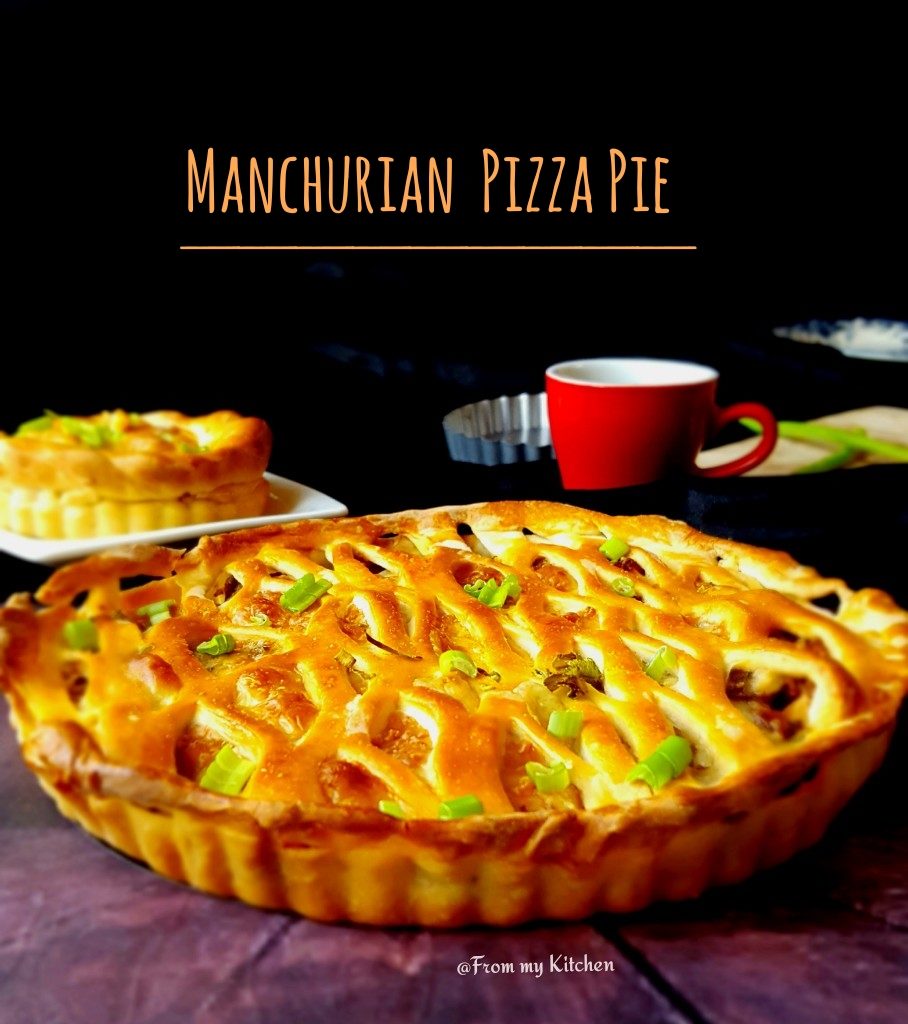 Again the aroma of freshly baked bread !This is a thin crust pizza pie with the filling of chicken Manchurian.Can anything go wrong here?The scrumptious saucy batter fried chicken Manchurian along with the cheesy deliciousness!Yum!Let's say it's a fusion dish again,Chinese and Italian!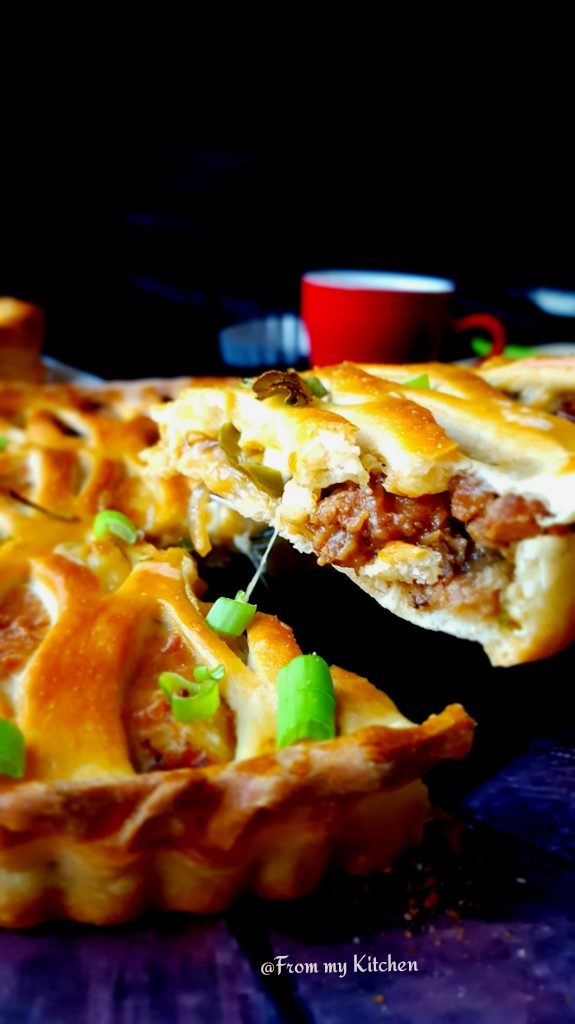 I love the buttery flaky pie crust,but to avoid that extra calorie from butter i selected this pizza dough here.If you want the basic pie crust do check my
Quich
e recipe for that.You can also make this with puff pastry.Can you see that chicken and cheese inside ?Do try it out if you are craving to have something cheesy and saucy together!This will be a treat for you!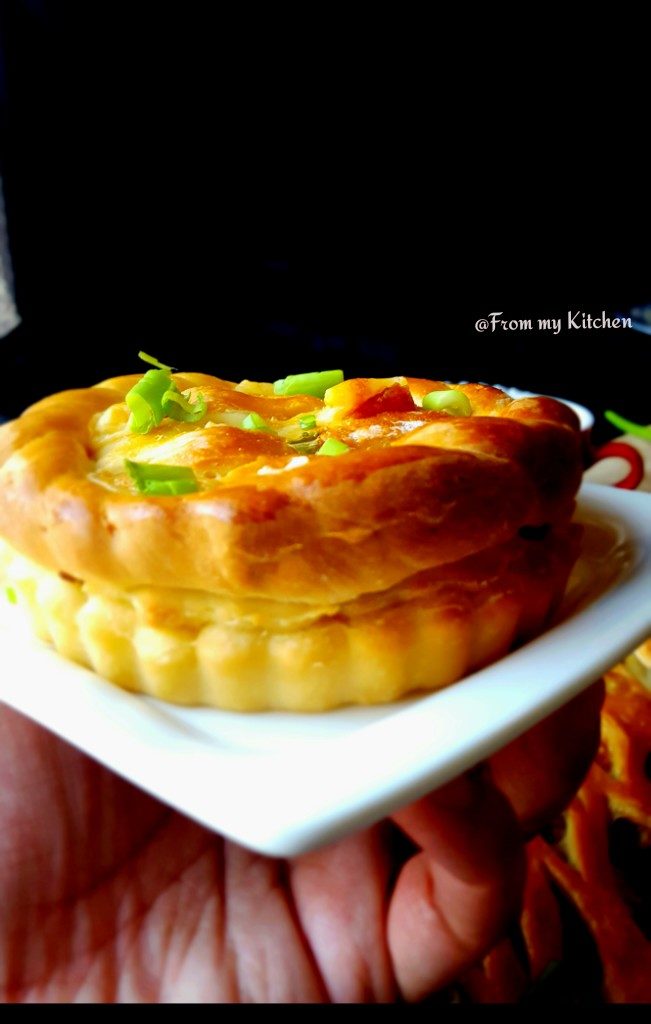 Made it in both small and big pie pan!Roll the dough to a thin roundels,not too thin but to a medium thickness.The upper part is just for a fancy rustic look!We enjoyed munching on it!Best served when it's hot.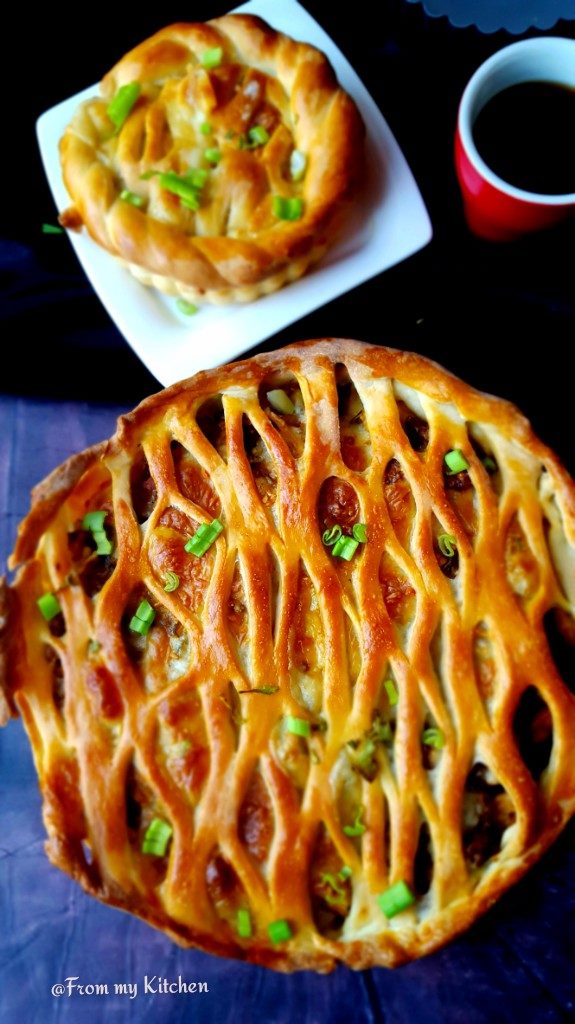 Over to the recipe
Ingredients
Pie dough
3 cups all purpose flour
Salt to taste
1 tbsp sugar
1 n1/2 tbsp yeast
1 cup warm milk
1/4 cup water
3 tbsp olive oil/butter
Extra flour for kneading and dusting
For Manchurian
Marinating
300 gm boneless chicken
1 egg
salt to taste
1 tsp pepper powder
1 tsp garlic paste
2 tbsp cornflour
2 tbsp all purpose flour
1 tbsp soy sauce
For Sauce
1 large onion
1 green bell pepper
2 green chilies
1 tbsp garlic
1 tsp ginger
2 sprigs spring onion
1 tbsp tomato sauce
1 tbsp soy sauce
1/2 tsp chilly sauce
1 tsp pepper powder
1/2 tsp vinegar
Sugar to balance the flavors
OIL TO FRY
1 tsp cornflour dissolved in 1/4 cup water
Other ingredients
Mozzarella cheese
1 egg beaten for the egg wash.
Method
Knead the dough to a soft pliable ball for 8 to 10 minutes.Let it set on a warm place for proofing.
Cut the chicken into small bite size pieces(remember you are using this as a filling)
Marinate it with all the above listed ingredients and deep fry it to crisp and golden brown.
In a wok pour two tbsp of fried oil and add finely chopped garlic,ginger and green chilies.
When it releases its aroma add sliced onions and capsicum saute it on high flame for few minutes,
Add pepper and salt along with all the sauces.mix well.Add fried chicken pieces and stir well to combine.
Pour in the cornflour slurry and desired amount of water.Add vinegar and sugar let it simmer to a thick saucy consistency.
Throw in the spring onions and switch off the flame.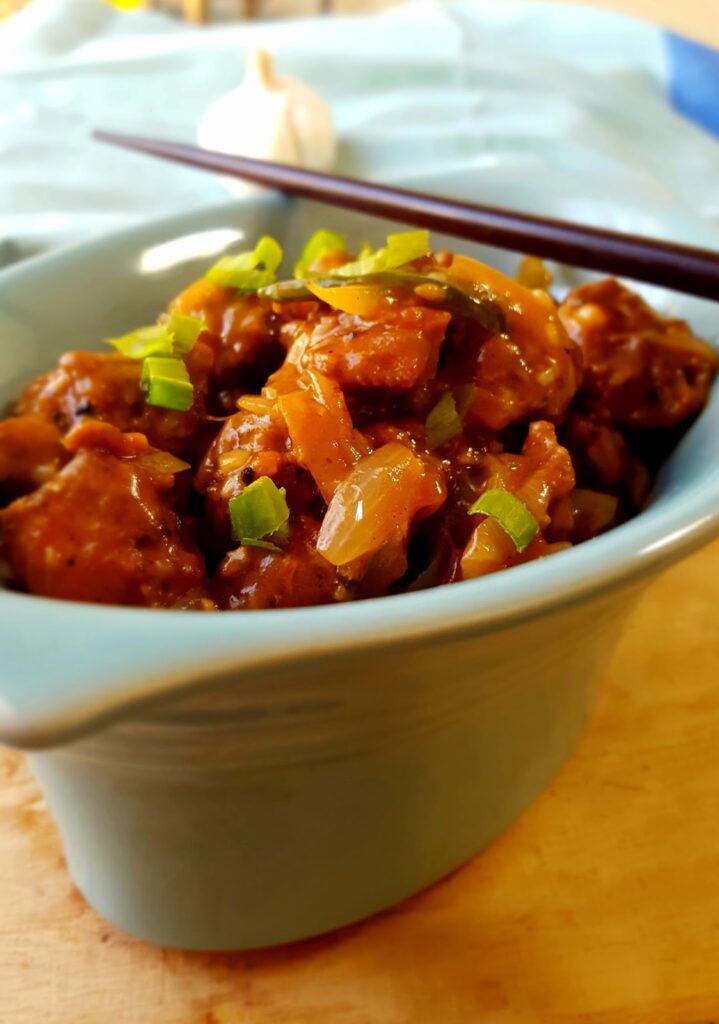 For Rolling
Preheat the oven to 180 degree.
Divide the dough into 6 portions.(for top portion the ball size is a bit larger than the the base)
Roll the dough to a thin roundels to suit the tart pan.Fix it there.
Fill it evenly with the Manchurian and top it liberally with cheese.
Now roll the top portion put some slits over the top and arrange it on top of the filling.
Finally stretch it from both the sides you will get this design.Tuck the extra dough to stick it with the base,
Bake it at a 180 degree preheated oven for 15 to 20 minutes or until the top is golden in color.Serve it hot!