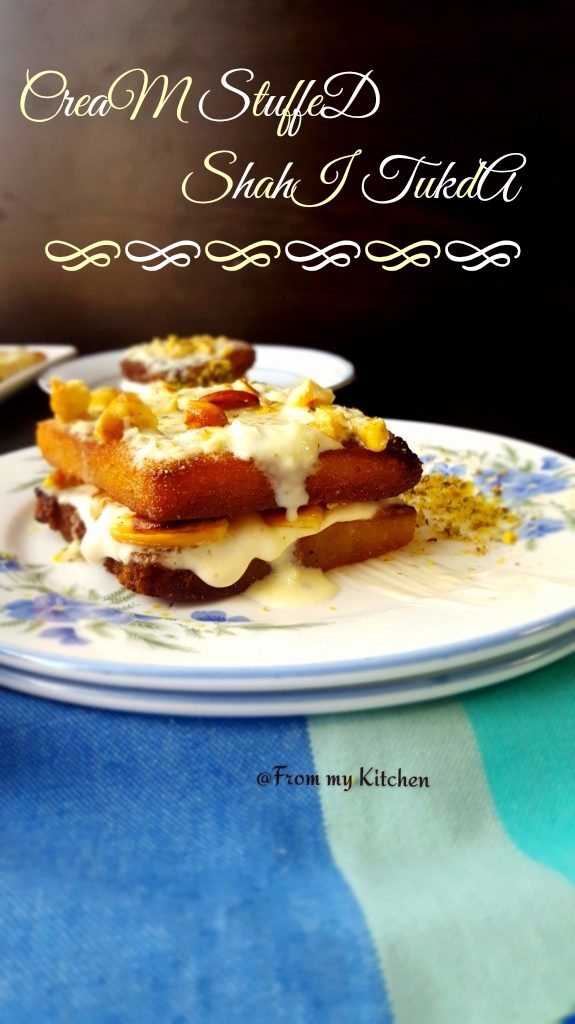 Shahi Tukda is a rich and yummilicious Indian dessert which has its root in Mughlai Cuisine.This is a bread pudding in which bread is fried to golden brown and then soaked in sugar syrup and topped with rich Rabri(reduced milk with saffron and cardamom) and dry fruits.Who can resist such creamilicious dessert?⌣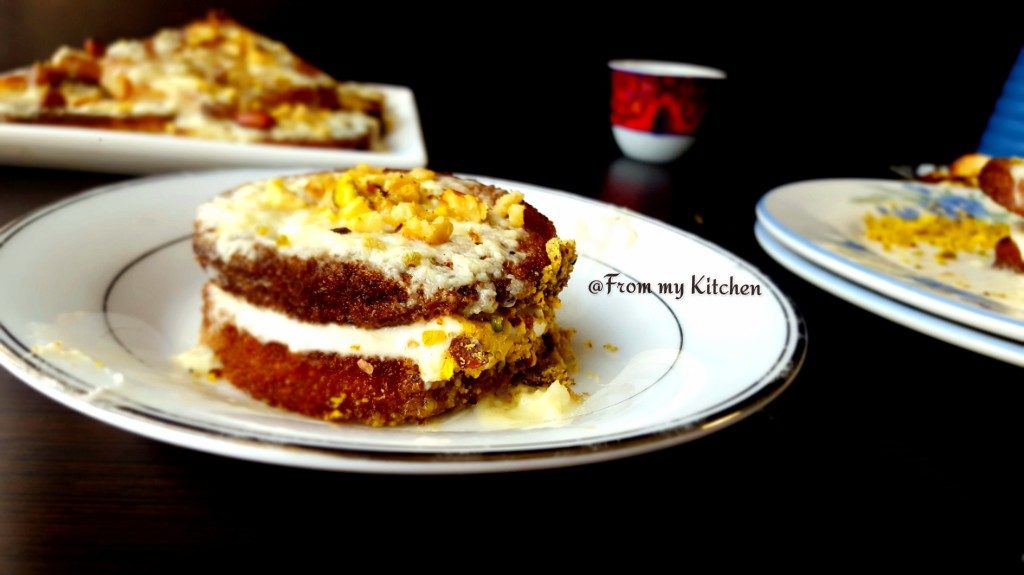 Here i stuffed it with slight sweet cream which make it more yummier and i found that it cuts the sweetness of the dish.Anyways if you want the authentic one don't add cream.I always doubt about the difference between Double ka Meetha Hyderabadi dessert which is very much similar to Shahi Tukda.They have only slight difference in final presentation.In some places its said that after preparing,double ka meetha is baked that is the difference between both.All other elements and servings are same.Double ka meetha refers to the milk bread, called "Double Roti" because it swells up to almost double its original size after baking.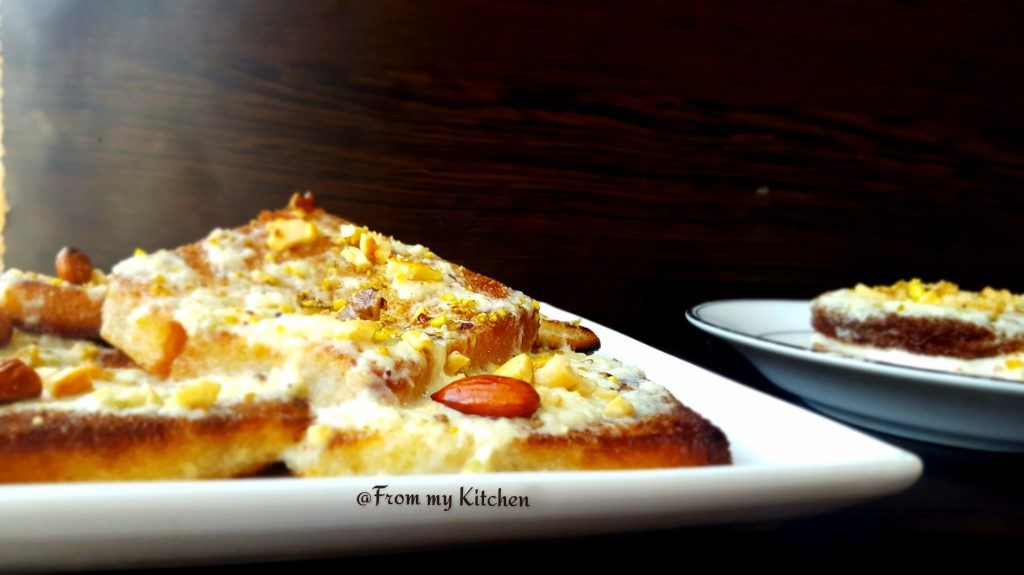 This is the one without stuffing.My hubby is a great fan of this dessert and he was asking for quite a long time to make this and at last here is it.I think this will be a great option for an Iftar party or any other great occasion.A great try for the coming Eid too.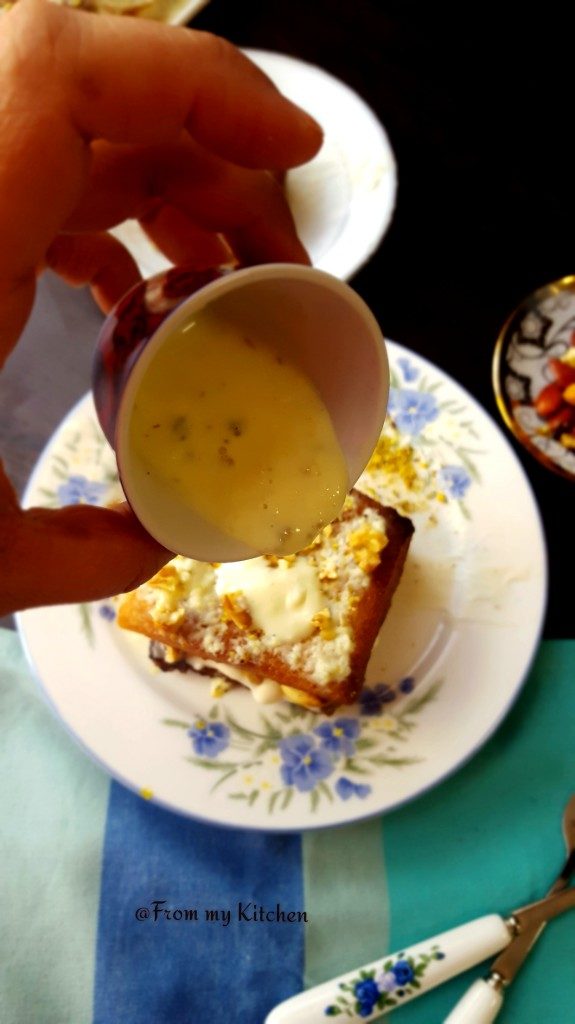 Do you remember my Atayef filling?I used the same here,Riz said it's super yum in this way too,so happy to hear that.Without further delay lets check the recipe
Ingredients
10 slices of white bread
3 to 4 tbsp ghee +Oil for frying bread
Dry fruits (Almond,pistachios,cashew and raisins)
3/4 cup sugar
1 cup water
1 tsp lemon juice
For Rabri
3 cups milk
1/2 tsp cardamom powder
A pinch of saffron
2 to 3 tbsp sugar
For cream
1 tub fresh cream
2 tbsp cream cheese
3 tbsp powdered sugar
1/2 tsp vanilla essence
Method
Remove the sides of the bread and cut it into desired shape and keep it aside.
Whip up the cream mix and refrigerate.
Melt the sugar and water and let it boil for few more minutes until it's slightly thick ,add lemon juice.Add a pinch of cardamom in it and keep it aside(No need to reach one string consistency)
In another pan reduce the milk to half the volume add saffron and cardamom,Add sugar and mix well.Switch off the flame when you get a thick creamy rabri
In a pan heat the ghee and oil and fry the bread slices until golden brown.In the same pan fry dry fruits.
Soak them in sugar syrup for few seconds and take it out.
Now stuff it with the cream filling and close with other slice of bread.Arrange them in a serving platter and pour the rabri over it to soak the bread.Sprinkle the dry fruits and serve.
Yes it's rich and heavy dessert but a must try recipe
Notes:Dry out the moisture from the bread before frying it(keep the bread in a warm place)by doing this the bread will not absorb oil while frying.
If you don't want to fry it apply ghee on the bread and bake it in the oven until golden brown.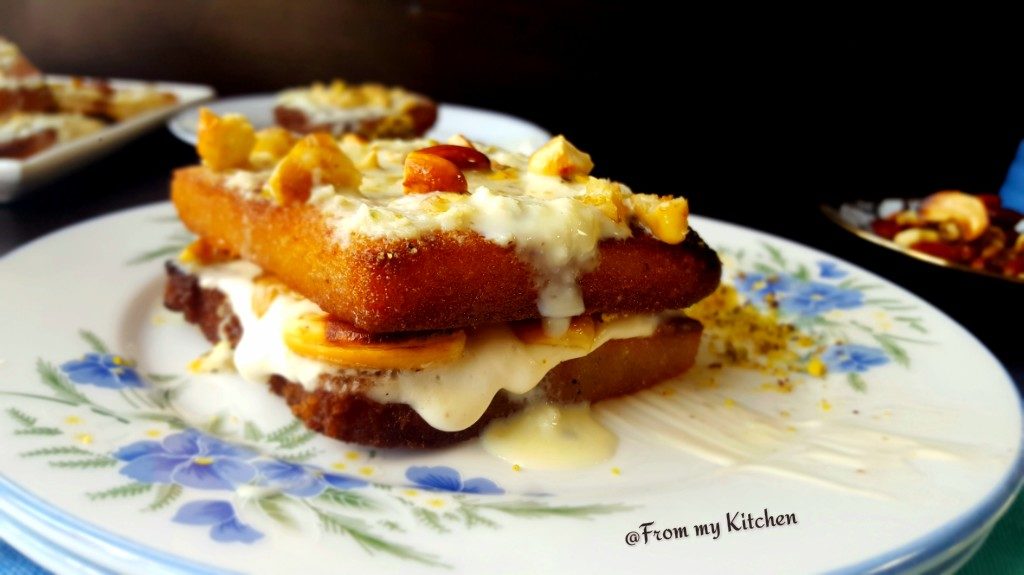 Hope you guys will love this version of Shahi Tukra!