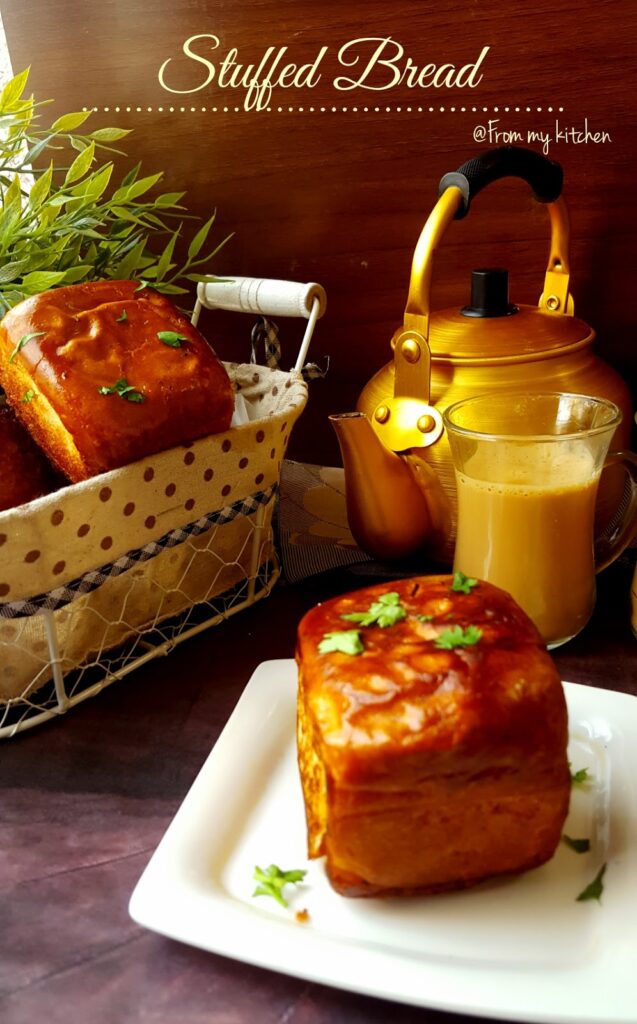 This time MFB challenge is very simple and close to our heart recipe.The challenge is to prepare a dish  that we commonly make during Ramadan in our homes that's filled with nostalgia"Ramadan Memories"There are many dishes to choose from,and i've selected the Stuffed Bread which is very common in our area.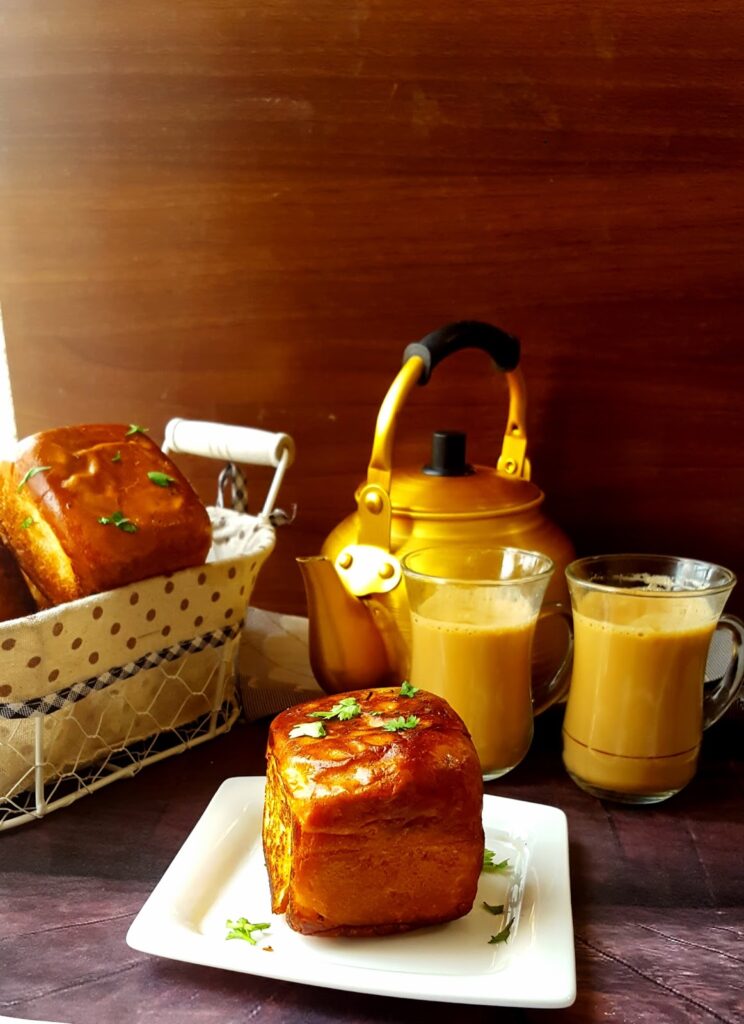 So this is one of my most favorite among our traditional snacks.And there are many more deliciousness served in our place which i love to the chore.Whatever new snacks and innovations we bring in our cooking it can never beat the taste of our traditional ones.Agree or not?hehe!In my home Koyada or erachipathil is a must dish for all 30 days of Ramadan.We all sit together and do this job like one do rolling,one stuffing and many for folding!hehe Missing all those fun filled days,.But here I'm so lazy to cook that…Once in a blue moon.sigh!Eagerly waiting for vacation!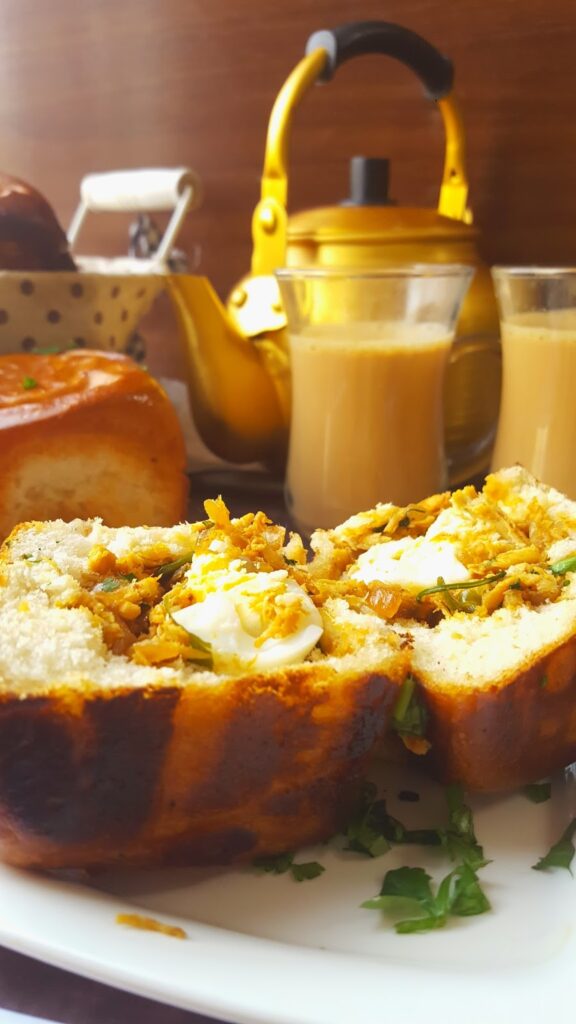 At home umma used to place an order for freshly baked bread day before.This is a medium sized bread without slicing..For preparing this, first make a cavity for this and stuff it with spicy chicken or meat filling along with an egg.Here i got small breads so stuffed only half of the egg.Then shallow fry it by dipping it in egg white till its crisp and golden brown.Just love this.
Ingredients
Medium sized loaf or small breads or buns
300 gm chicken boiled with salt,chili powder,turmeric and a Little coriander powder
3 onions
3 to 4 green chilies
1 tsp garlic paste
1 tsp ginger paste
1/2 tsp chilly powder
1/4 tsp turmeric powder
Few curry leaves and coriander leaves
Salt to taste
1 tsp garam masala
4 boiled eggs
Other Ingredients
All purpose flour and water mixed to make glue
Egg whites
Oil to shallow fry
Method
For Filling
Shred the boiled chicken and keep it aside.
In a pan pour 2tbsp oil.put curry leaves,chopped onions ginger garlic and green chilies and salt cook it until translucent.
Add chili powder,turmeric and garam masala mix well and cook until the rawness of the masalas are gone.
Add shredded chicken mix and cook for few more minutes.
Finally add in lots of coriander leaves and switch off the flame.
This is our basic filling for all stuffs.
Now Assembling
Here i got this kind of breads.You can also use small buns.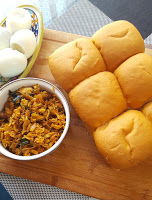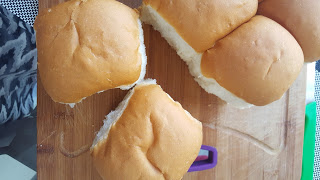 Make a deep cavity like shown in the pic.Fill some of the stuffing and then place the egg and some more filling.Cover it with that piece and stick it with maida glue.Don't over fill as it tends to break.When it's done.dip it in egg white and shallow fry the bread with 2 or 3 tbsp oil.Flip and cook all the four sides. until crisp and brown.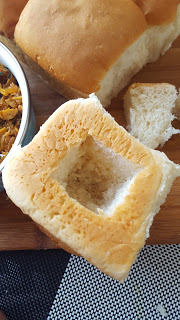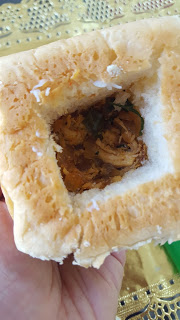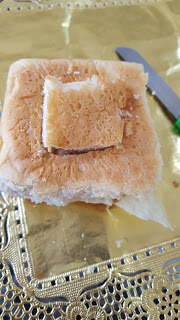 Notes: Keep an eye on it while frying as it tends to burn fast.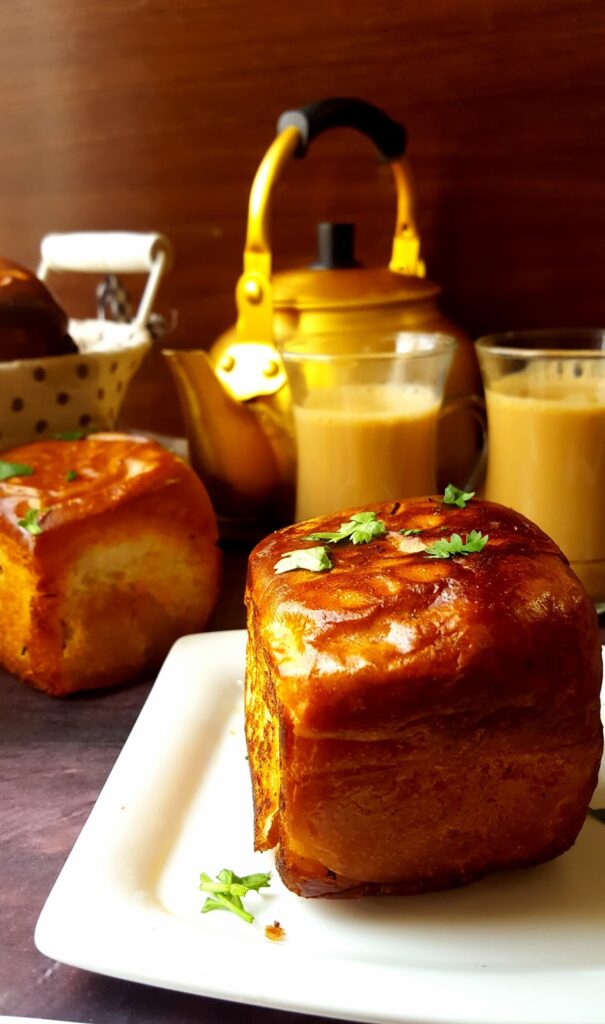 This is such a delicious snack that is filling to tummy and mouthwatering!That crunchy breads with the spicy stuffing and egg inside is so yum!
Happy Cooking!