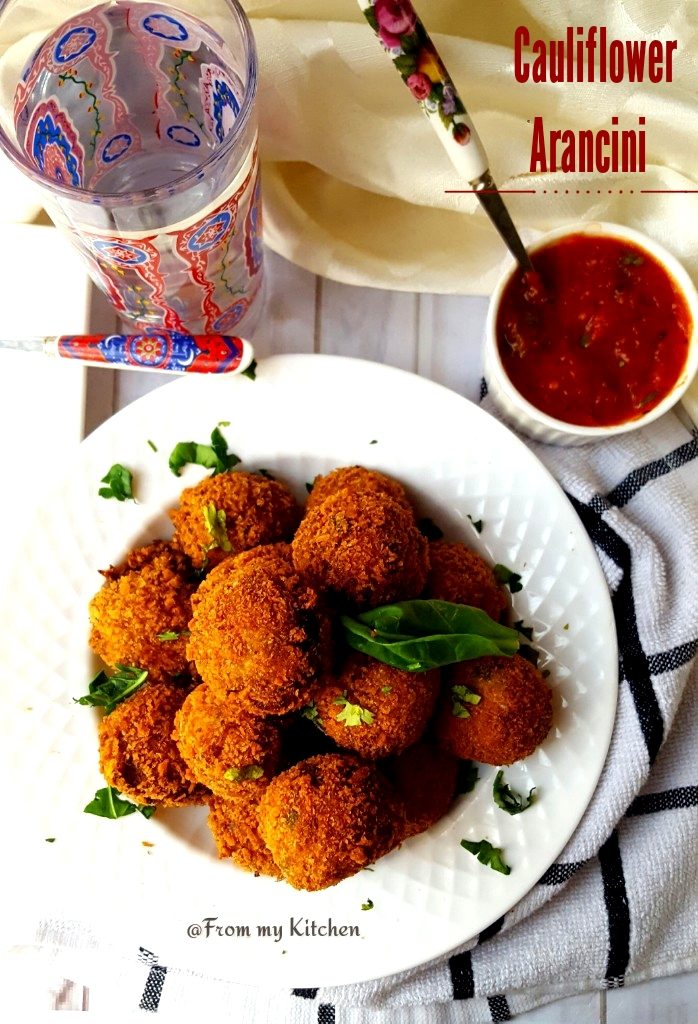 Arancini is basically a creamy Italian rice balls which is crumb coated and fried.Mostly made with Risotto creamy Italian Rice.Here i made it with cauliflower rice with my own twist.In this recipe instead of adding cheese sauce i made a creamy chicken filling to go with, and it was delectable.If you are a cauliflower lover this one is a must try.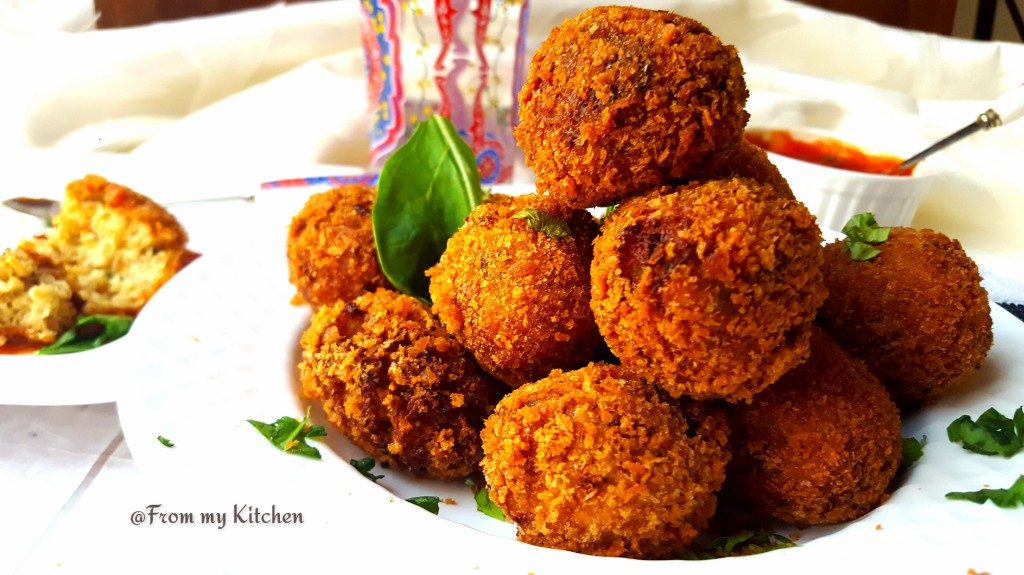 Panko bread crumbs give it a nice crispy coating and the inside is melt in mouth creamy chicken and cauliflower mix.I bet you can't stop with two.hehe!I highly suggest you to use panko bread crumbs because it makes the ball so crispy.This crumbs are home made too very simple to prepare,see the notes if you wanna make it.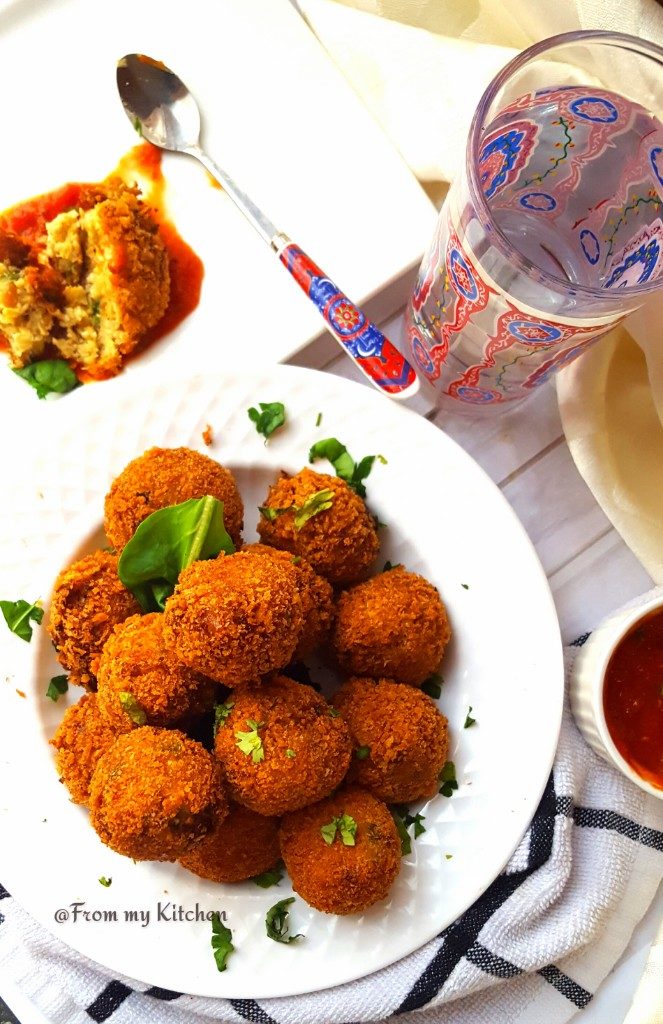 Here you can use any leftover chicken to make this filling.We like everything spicy,so instead of simply cheese sauce i made a white sauce based filling which goes very well with this recipe.
Just mix it all and make balls out of it,dip it in egg white coat in bread crumbs and deep fry it.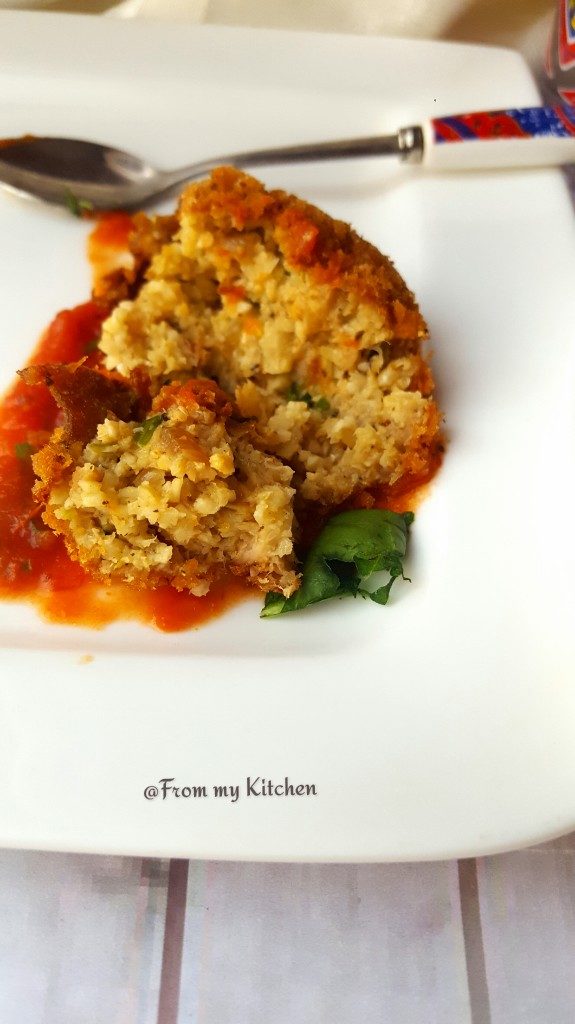 O
Over to the recipe
Ingredients
3 cups cauliflower head
2 green chilies
1 chicken breast fillet boiled with salt pepper and garlic
1 onion
1/2 bell pepper (optl)
Salt to taste
2 tsp garlic
1/2 tsp chilli flakes
Pepper to taste
Some Italian seasoning
Lots of parsley or cilantro
1 cup milk
2 tbsp levelled all purpose flour
2 tbsp butter
2 cube cream cheese
A handful of shredded mozzarella(optl)
1 egg
1/2 cup bread crumbs
For coating
Egg white
Bread crumbs
Oil to deep fry
Method
Pulse the cauliflower head along with green chily in a foodprocessor and make it to a fine cauliflower rice.Keep it aside.
Shred the boiled chicken and keep it aside.
In a pan melt butter,add garlic and when it release its aroma add finely chopped onion and cook until transluscent.
Now add bell pepper finely chopped and cook it.
Add chilly flakes,pepper powder and mix well.
Add all purpose flour and saute it for 1 to 2 minutes.Now gently pour in the milk and stir well.It starts to thicken in a while.
Add shredded chicken ,Italian seasoning and parsley to the mix.Also add cheese to the sauce and cook for a while by stirring continously until you get a homogeneous mix.It should not be too runny,thick creamy filling like consistency.Switch off the flame.
Now dump the pulsed cauliflower rice in a large bowl,add the filling 1 egg and bread crumbs to it and mix well.
If you can't mak baalls out if it add some more breadcrumbs to the mix.
Make medium size balls.Dip it in egg whites and coat it in bread crumbs.
Fry the balls on medium flame.If you fry it on high flame the inside will be under done and you will taste that raw cauliflower.
Notes
:The difference between the regular and Panko Bread crumbs is just size of the bread crumbs.Panko bread crumbs are just a larger cut of breadcrumbs.it will not be too fine.
So here is how to make it Pulse your bread crumbs(not to a fine powder but needs a little texture)Then bake it in a 200 degree preheated oven upto 10 minutes.Here ready your extra crispy coating!
Yes you can obviously use the regular one too if you are in a hurry.