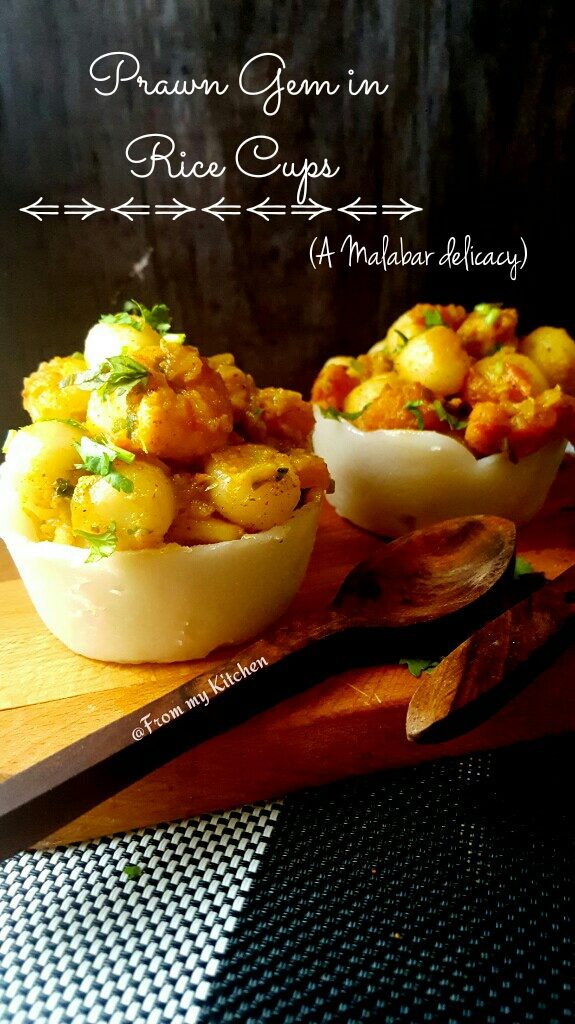 Today i'm here with an interesting Malabar delicacy. Malabar area is well known for their food and hospitality.There are variety of foods including appetizers,main course desserts and many more!If there is any post wedding party or simple tea party we used to spread a different variety of foods over the table.Seriously we are very much foodie people .This is small rice dumplings coated in spicy prawn masala and creamy coconut milk gravy with full of flavors.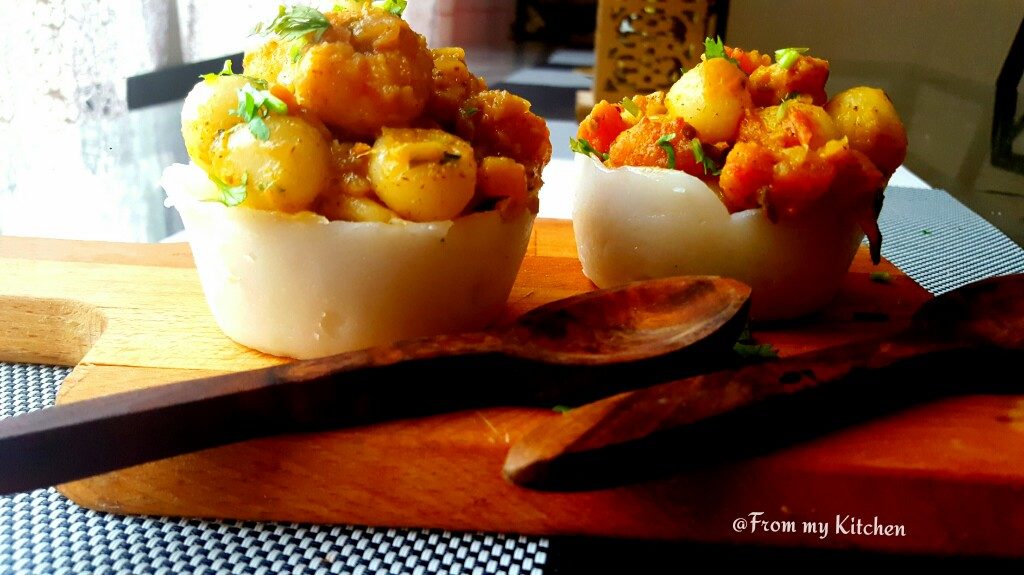 We have many steamed dishes,which is so yummy and maseledar. One of my fav is Mom's meen pathil(rice pancakes stuffed with spicy delicious fish filling and then steamed)
kakkarotti(small rice dumplings in flavorful beef gravy)similar to the above and list goes on.This one caught my attention because it is something different from our recipe and made with prawn too.Aren't they looking so cute by serving in rice cups?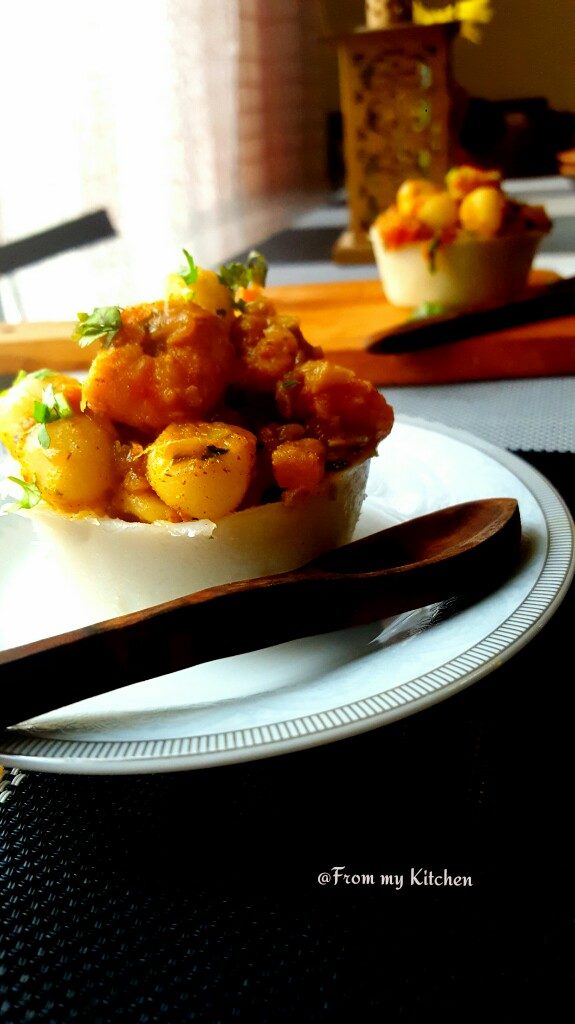 Recipe courtesy Asiya Raheem who is so creative and innovative with her dishes an extremely multi talented young lady.This recipe she got first prize in a snack competition! She said as this is a main dish she wants it to look like an appetizer so served it in rice cups and wala it have got first prize too!!Thank you so much for the recipe Asiya!

Over to the recipe
Ingredeints
For Rice dumplings
2 n 1/2 cup rice [owder
Salt
Water to knead
(If you are making rice cups use more rice powder)
For filling
Marinate
1/2 to 3/4 kg prawns
salt to taste
1 tbsp chill powder
1/2 tsp turmeric powder
For Masala
3 onions
2 big tomatoes
5 to 8 green chilies
1 tsp ginger paste
1 tsp garlic paste
Salt to taste
1 n 1.2 tsp garam masalaurry leaves ad coriander leaves
Cocomut oil
Thick coconut milk from 1/2 of a coconut almost 1 to 1 & 1/2 cup
Method
Knead the rice powder using enough water and salt.Make it to a smooth soft dough.Now take a small portion from it and make small balls out of it dump it in a steamer.Do same with all the dough.Steam it for 1/2 an hour or untill done.Let it cool alittle.
Mean while make the filling
Marinate the prawns and shalow fry it in coconut oil.Take it out
In the same oil add curry leaves and finely chopped onions,green chilies ,ginger garlic paste cook until the onions are soft,now add tomato and cook it until mushy.
Add garam masala and fried prawns mix well.Add coriander leaves and keep the lid closed for a while.
Add steamed rice balls to the masala and mix it gently.
Finally add thick coocnut milk a handful of coriander leaves mix and close the lid.Wait until everything get well coated and done.The flavorful prawn gems ready.
For making cups
Use the same rice dough greese the mould ua making it press the dough evenly and steam.
Fill it with prepaerd prawn gem and enjoy!
Notes If you are making rice cups take more rice powder to prepare dough.You can serve it without rice cups as a main dish.Use green chilies as how much spicy you need it.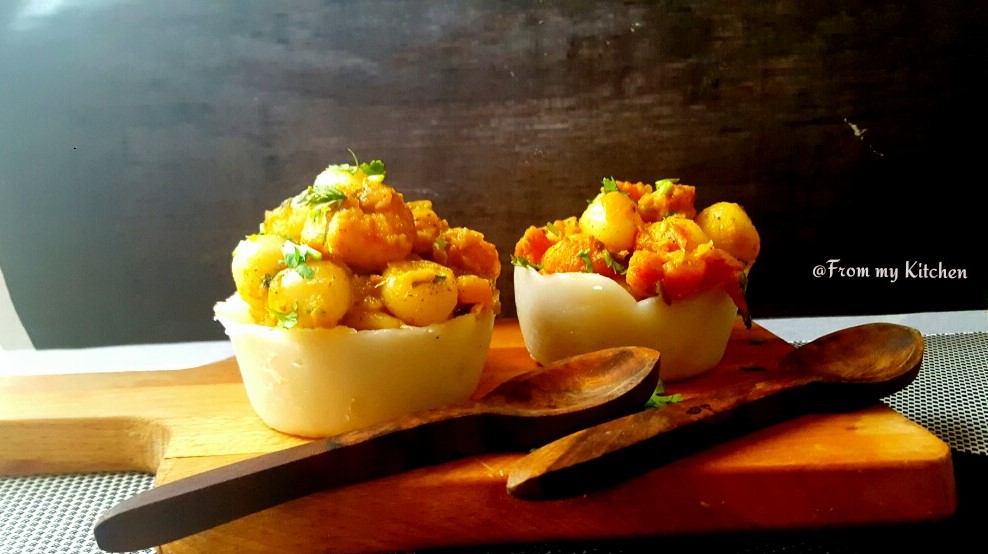 We just loved it!
Happy Cooking!