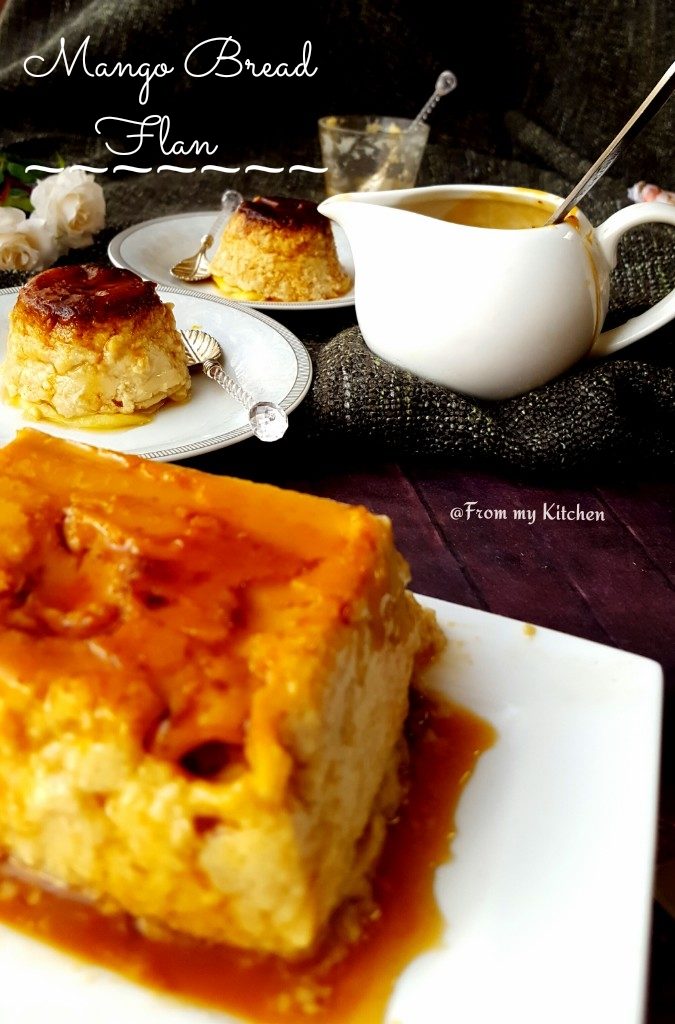 Flans or simple caramel puddings are always a pleasure to have!I love such simple and soothing desserts while breaking fast!Of-course this is a dessert that you can have at any time when you are craving for something sweet.Easy and delicious with the flavor and goodness of mango and the bread gives nice texture to the pudding!
The small ones i steamed and other the one in loaf pan i baked using bain-marie(water bath) method.The baked one has nice brown top which i relished eating!Kashif too very fond of such plain puddings.So i used to make such desserts as sweet when he is fasting!Happy him so happy me and less time consuming too!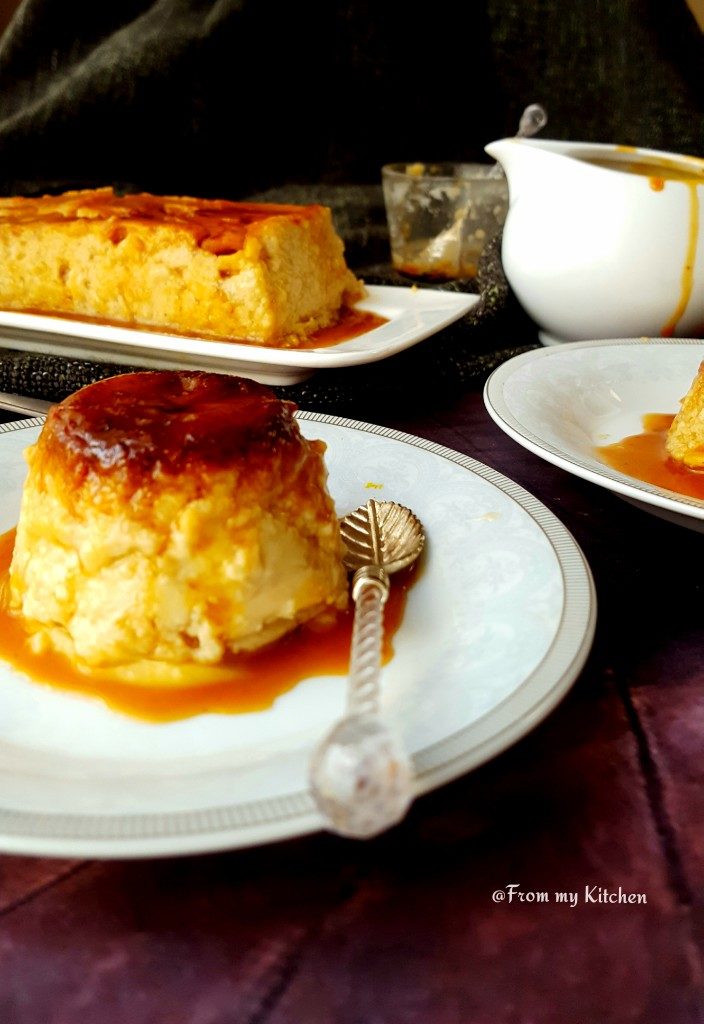 Just blend everything in a blender and steam it .That's it!If you are a mango lover then this one is for you!But try to use the sweet mango otherwise it will be a disaster.Hope you all are liking my recipes for Ramadan series.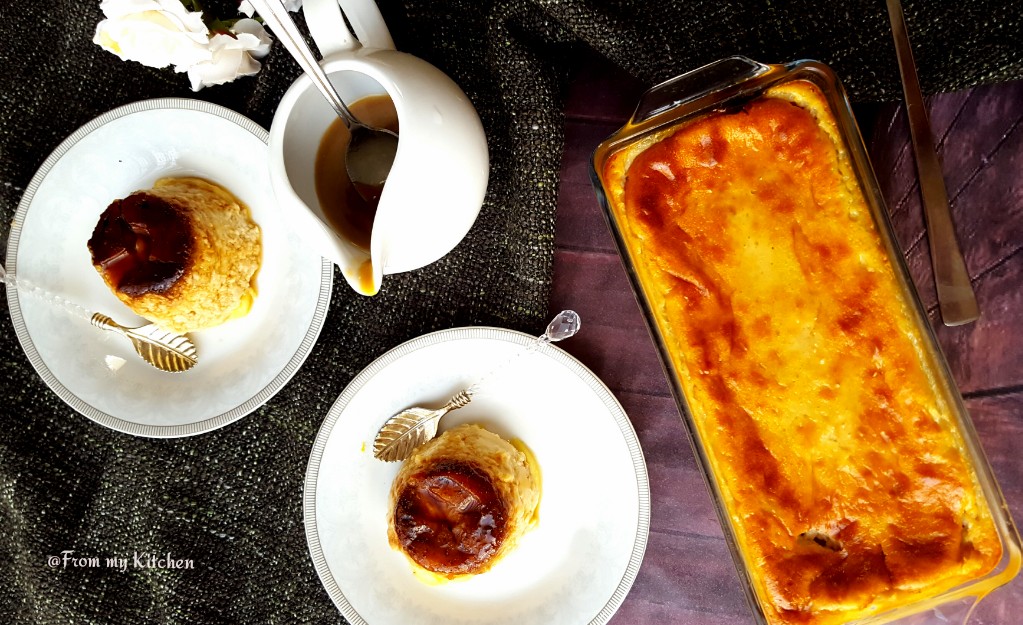 Over to the recipe
Ingredients
1 big mango or 2 medium
4 eggs
1/2 cup sugar + 4 tbsp
6 slice bread
2 cups milk
1 tsp vanilla essence
Method
Blend together flesh of mango eggs and 1/2 cup sugar in a blender.
When its done pour milk and vanilla blend it once more,
Now add bread slices and blend it to a smooth lump free mixture.
Caramel 4 tbsp sugar in a pan and pour it into the dish which you are going to prepare.
Pour the blended mixture over the caramel .Cover the dish with aluminium foil and prick some whole with toothpick, steam it for 30 minutes.
If you are baking bake using water bath method.
Take a big pan pour hot water and place the the dish we poured the pudding in that hot water.Make sure that the pudding mold is immersed in water only half way though.Bake it on preheated oven at 180 degree for 30 to 40 minutes or until it sets.When it's completely cool chill it and serve
Note: If your mango is not too sweet adjust the sweetness by adding more sugar or condensed milk.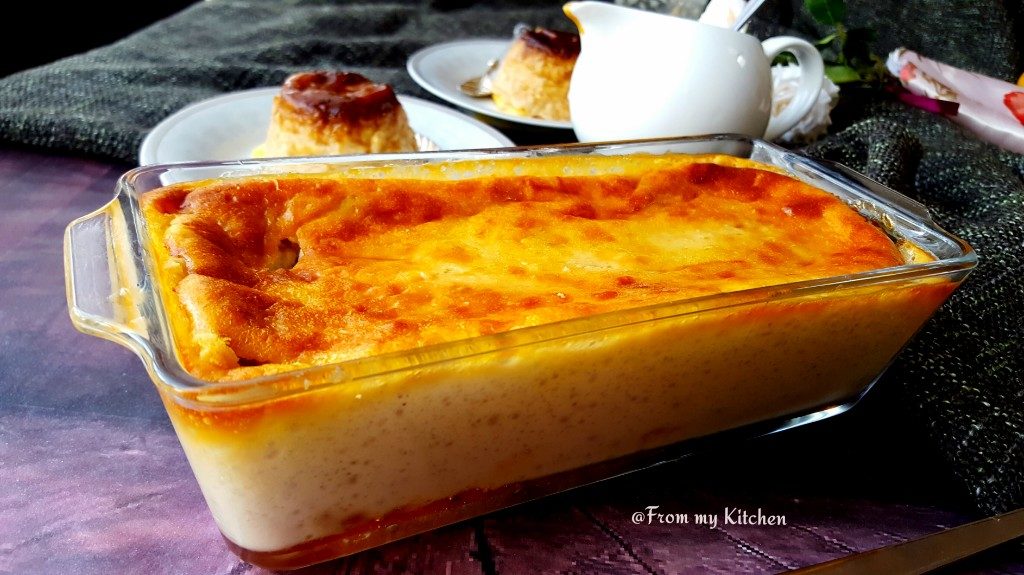 You can see the browned top of the baked pudding.I just loved it!If you feel like your
pudding is browning too quickly adjust the temperature to 160 degree.