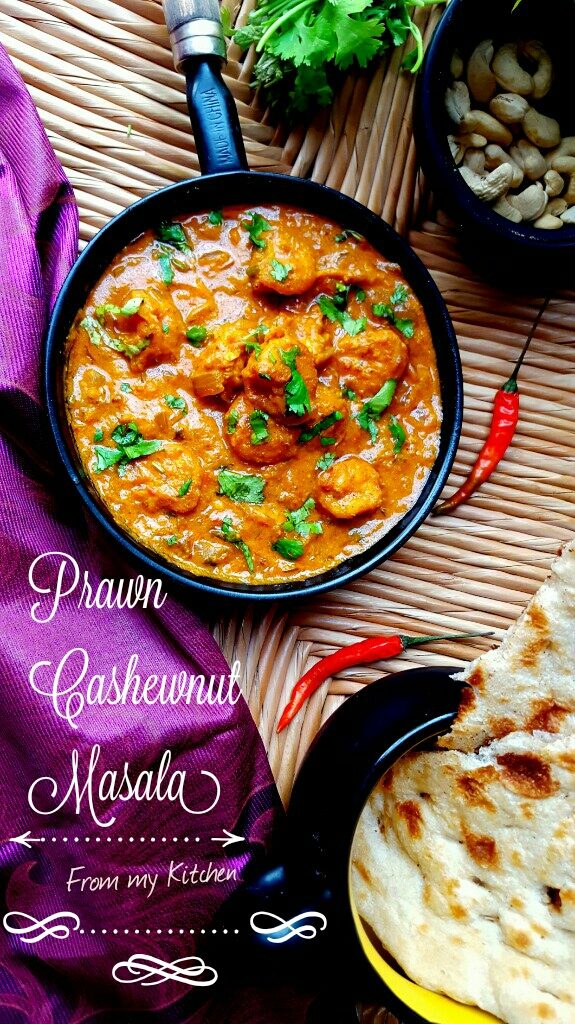 Spicy,creamy delicious prawn gravy in light orange color that goes well with any kind of rotis or paratas. This is something different from normal prawn gravy,like it has gotta a rich,creamy and nutty thick gravy by the addition of cashew nuts in it.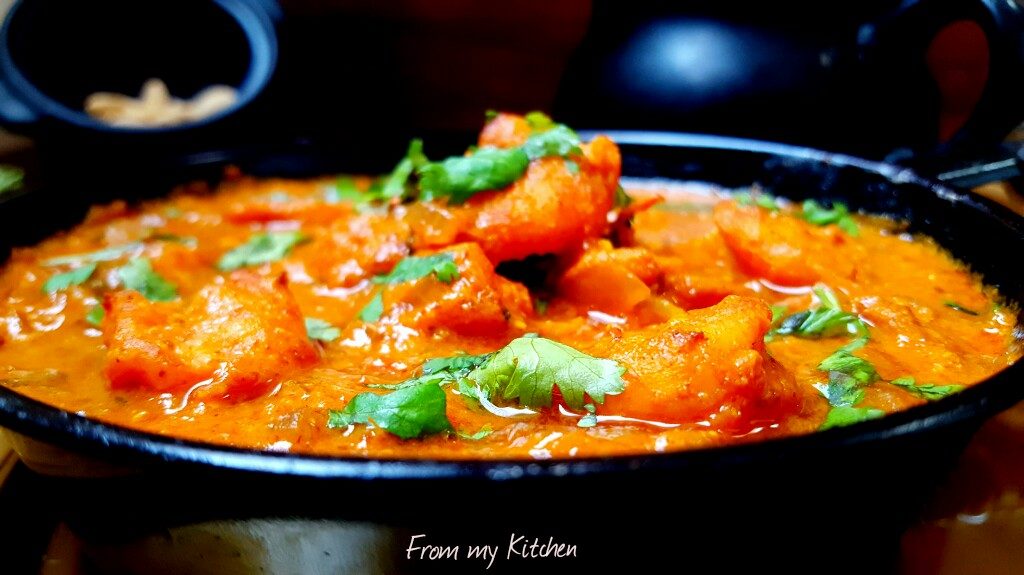 Looks like North Indian style butter gravy isn't it?But tastes entirely different.While i was going through my kitchen scrap book this one caught my eyes which i copied from a magazine sometime before 7 years ago !hehe!I tried it too that time and loved by all.Now here is it for you guys!Riz loved it as it's spicy and delish!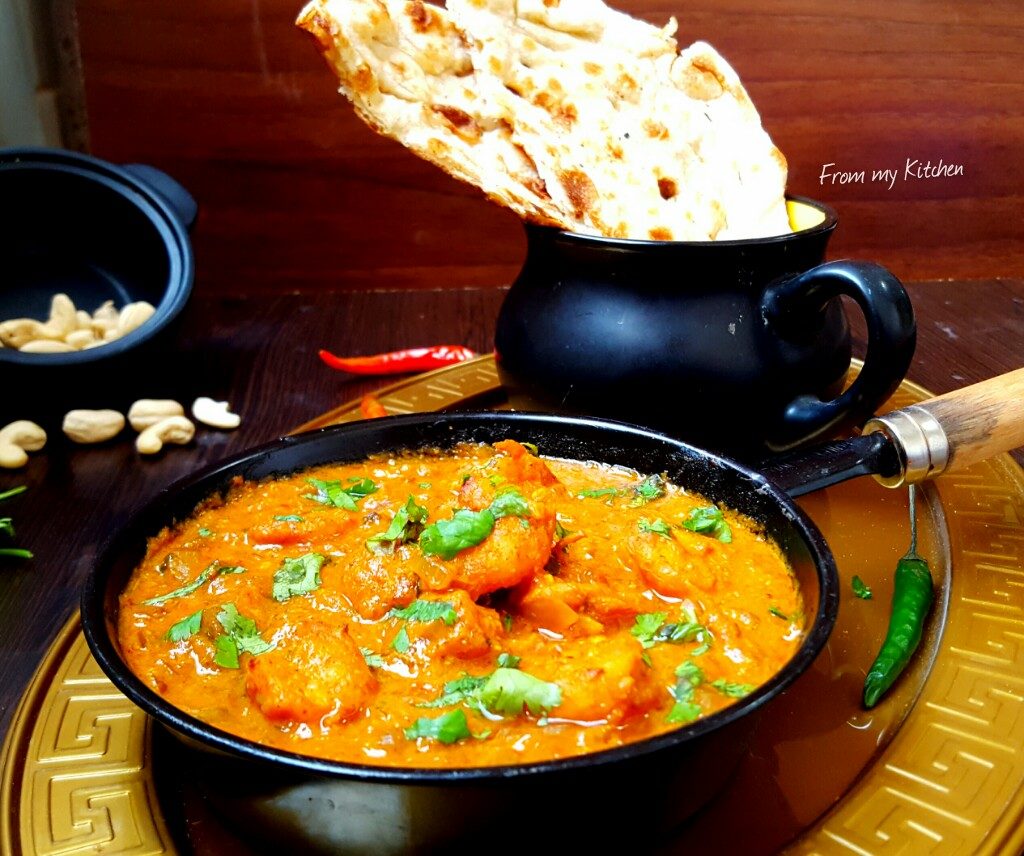 Prawns are first fried and then the gravy is cooked in the same oil.The addition of cashew nut paste and coconut milk gives the gravy an extra richness and yumminess to the dish.If you don't want to add coconut milk you can skip it.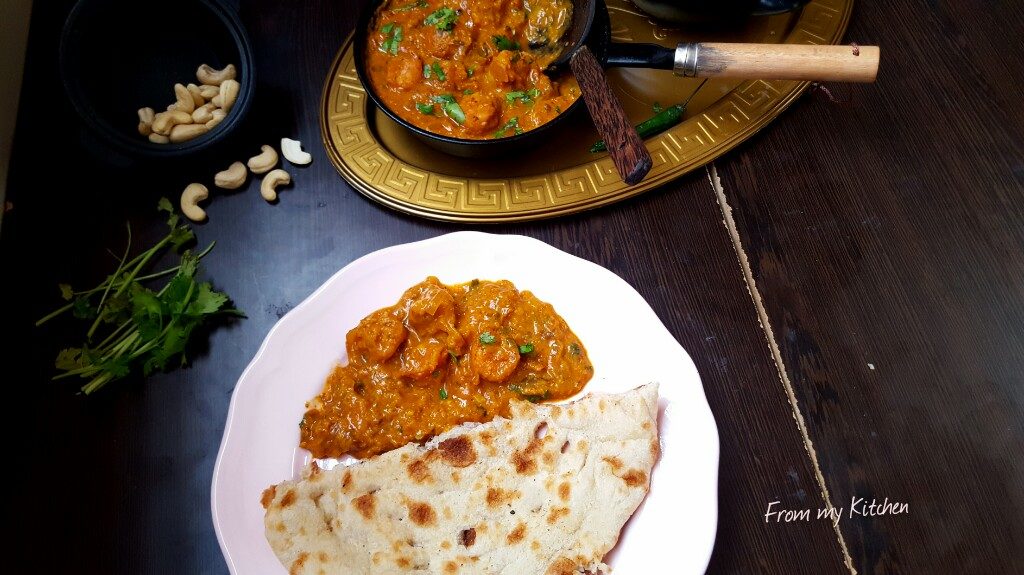 Over to the recipe
Ingredients
1/4 kg prawns
1 tsp chilly powder
Salt
For gravy
2 tbsp oil
1 tsp ginger paste
1 tsp garlic paste
2 hot green chilies
1 medium onion
2 tomatoes pureed
1/2 tsp turmeric powder
1 tsp chilly powder
10 to 12 cashew-nuts
Salt to taste
1/4 cup thick coconut milk (optl)
1/2 to 3/4 cup water
Method
Soak cashew nuts and grind it to a smooth paste and keep it aside.
Puree 2 tomatoes and keep it aside.
Marinate prawns with chilly powder and salt.
In a pan pour 2 tbsp oil and shallow fry the prawns.Take out the prawns and keep it aside
In same pan pour 1 more tbsp oil add green chilies,ginger garlic paste and saute for few seconds.
Add finely chopped onions and salt cook it until soft ,pour tomato puree and other masalas. Cook it until the rawness of the masalas and tomato are gone.Add fried prawns and some water.Le it simmer for 2 minutes.
Add cashew paste and coconut milk mix well and let it boil for few more seconds.
If you want more gravy you can add more water.
Add some coriander leaves and switch off the flame.
Let it sit covered for 30 minutes and serve hot with your fav rotis.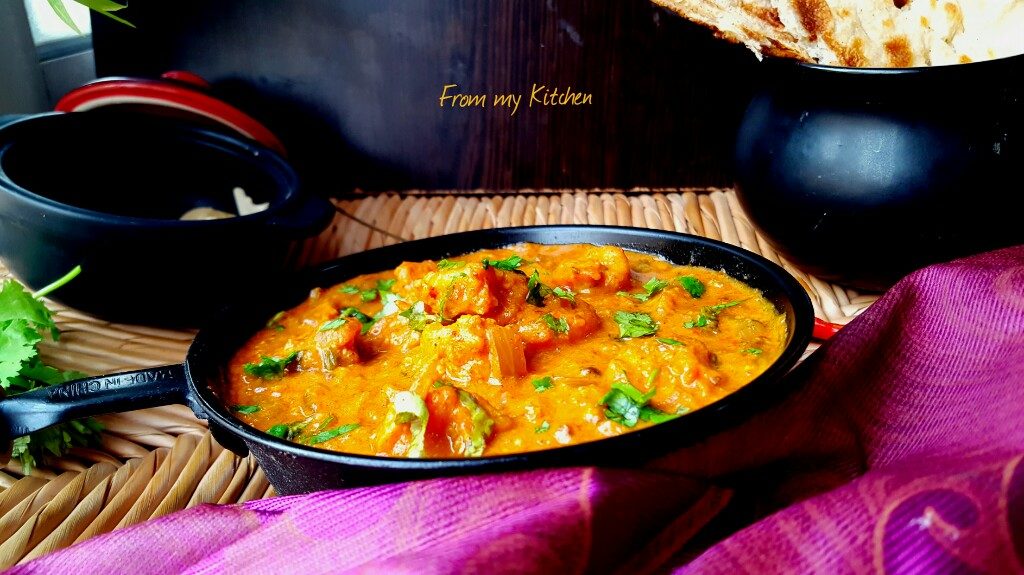 Spicy,delicious rich gravy ready to serve.I tired it with and without coconut milk,both were yum!