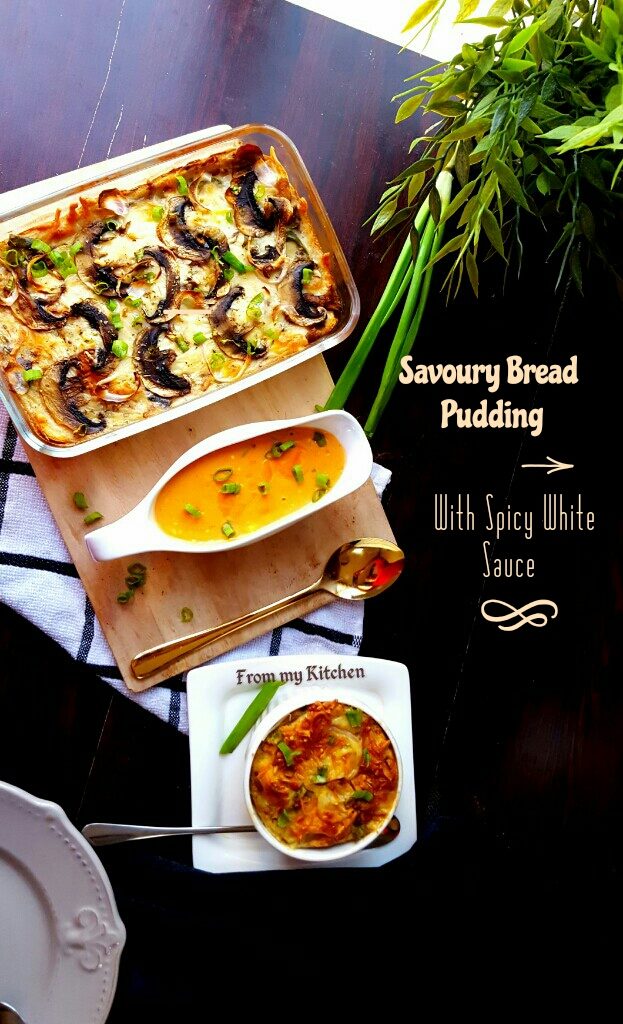 Bread Pudding is one of that comfort food that most of us like to have and made with ease!How about a savory version of bread Pudding?A spicy salty bread pudding loaded with some cheese,milk, egg and yummy filling of mushroom and chicken!It tasted heavenly with that spicy white sauce!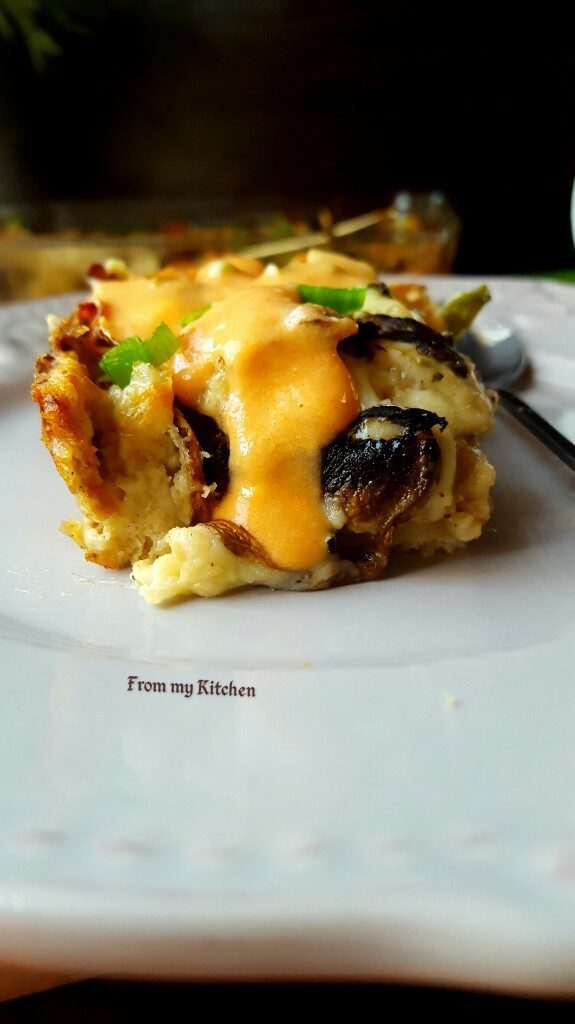 Simple to prepare,good looking and most importantly delicious to eat…this is what we all looking for ryt?Here is it! Perfect for any kind of parties,lazyday meal!You can serve it without the sauce too!The sauce here is totally optional.This is best served when its hot..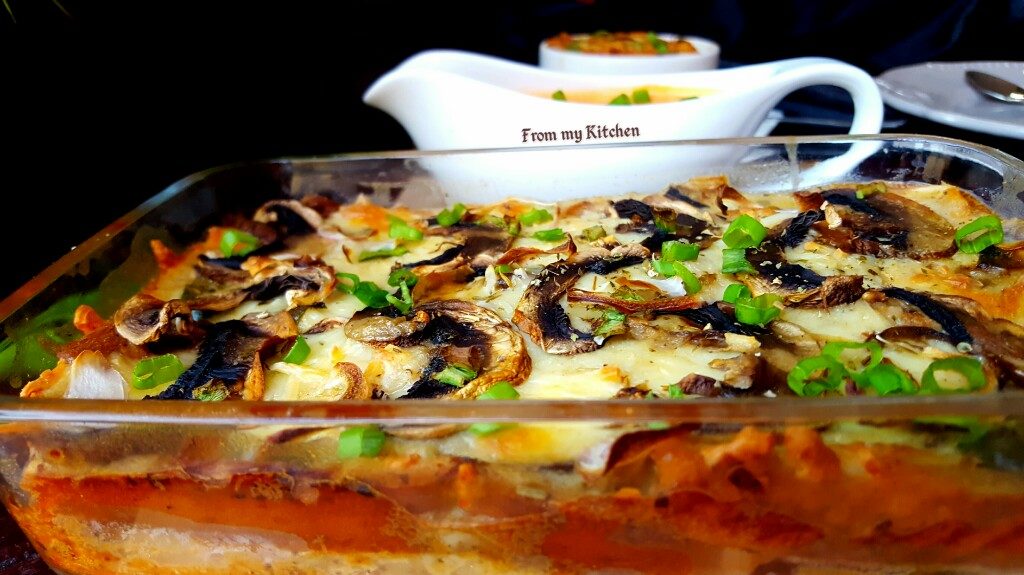 I have some leftover filling which i made for quiche and i want to finish it off with some simple recipe.When i was going through the you-tube i gotta see some of the spicy bread pudding,but here i didn't used that much of eggs,cream and all.Changed the recipe according to my guilt free version and tada here is it!Made it like a filling with slightly thick sauce and then mixed with bread and baked.It was yum yum yum!Lightly crispy top with that creamy filling and cheesy texture was awesome.
I made it in small qty,In a small dish.You can increase the qty as how you need.
Ingredients
For filling
Chicken breast fillet one (boil with salt,pepper and soy sauce)
2 cloves garlic
1 medium onion
1/2 capsicum
1 tsp pepper powder
Handful of mushrooms
Some oregano or Italian seasoning
Parsley
2 tsp olive oil
1tbsp all purpose flour
1 n 1/2 cup milk
1 egg
1/4 cup cream
salt to taste
1/2 tsp pepper powder
Mozzarella to cover the top
10 slices of bread(any kind of bread works here,old one better)
Spring onions
Mushrooms some for garnishing
Method
In a pan pour 2 tsp oil add finely chopped garlic and saute.
Add sliced onion and capsicum cook for few minutes add pepper,salt and oregano.
Add mushroom and cook until its half done.Mix in boiled and shredded chicken.
Now add a tablespoon of all purpose flour and mix well saute for a few sec.
Pour in milk and and boil it until the mixture is lightly thick.Switch off the flame
Add cream,1 egg Mix immediately or else egg will scramble
Add cheese parsley and red chilly flakes.Mix well Check for seasoning and add.
Now in a glass bowl arrange the bread slices pour the spicy custard and let the bread soak in the custard completely.
Top it with some Mozzarella and arrange some mushrooms on top.
Sprinkle some spring onions and let it rest for 10 minutes.
Meanwhile preheat your oven to 200 degree.Bake it for 15 to 20 minutes or until the pudding is set.(In between if you feel like the top is browning quickly drop down the temperature to 180 and bake it until the toothpick inserted comes out clean.
For the Sauce
2 tbsp butter
1 tbsp flour
1 tsp tomato paste
1 tsp paprika
1&1/2 cup milk
Salt to taste
2 tsp cream cheese
In a pan melt butter,add flour and cook until the raw smell disappear.
Pour half of the milk mix well,add tomato paste,chilly powder and cook well until the rawness of the paste and chilly powder are all gone.
Add cream cheese and mix well
Now pour rest of the milk and salt.Cook until you get a thick saucy consistency.
Throw in some spring onions and switch off the flame.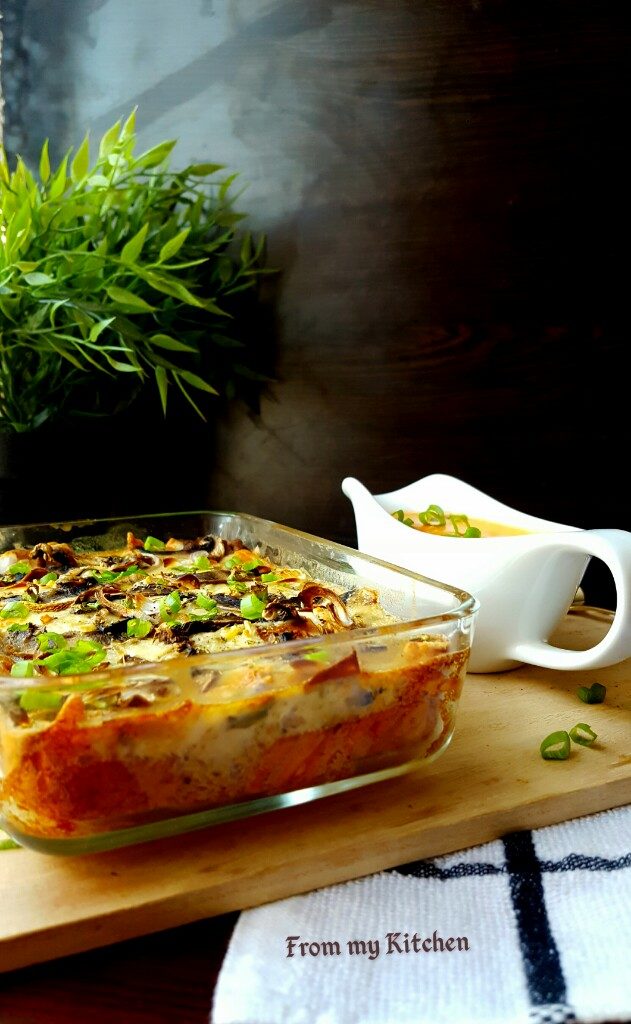 I don't like to cut the edges of the bread ,that will give a nice golden crust to the dish.
Notes:Old bread works best here.No need to arrange the bread neatly just cut and dump it onto the dish and then pour the filling.Make sure the liquid is enough to cover and soak the bread,otherwise you will get a dry pudding instead of creamy one.
You can skip the chicken and stick on to veggie.
Have it when it's hot.With or without sauce it taste yummilicious!