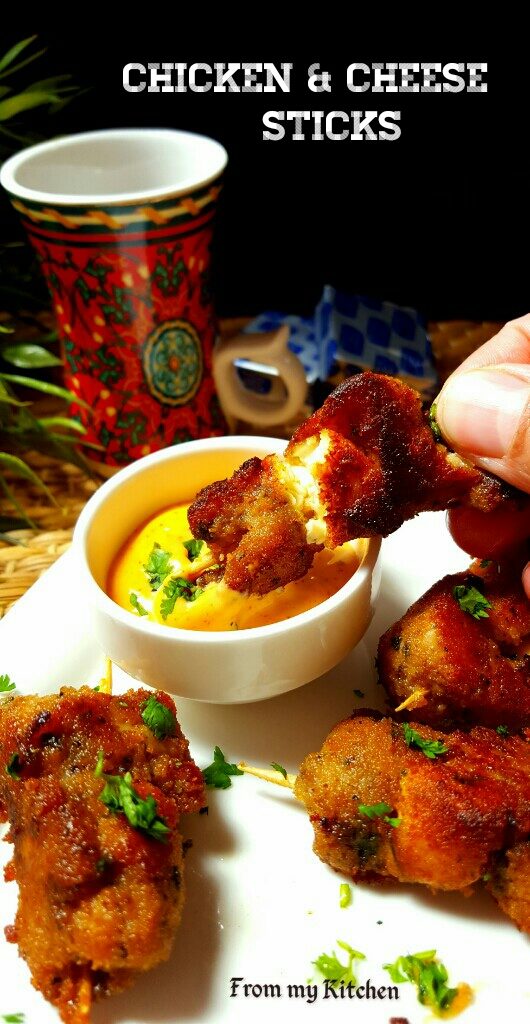 This is such a pleasing and delicious appetizer that everyone will relish it alike!Small cube of cheese sandwiched between two pieces of well flavored chicken.I can't express the flavors coming out from this dish!It's like a surprise when we bite on it!Cheesy,crispy well marinated and fried chicken!Who could resist this melt in mouth chicken and cheese combination!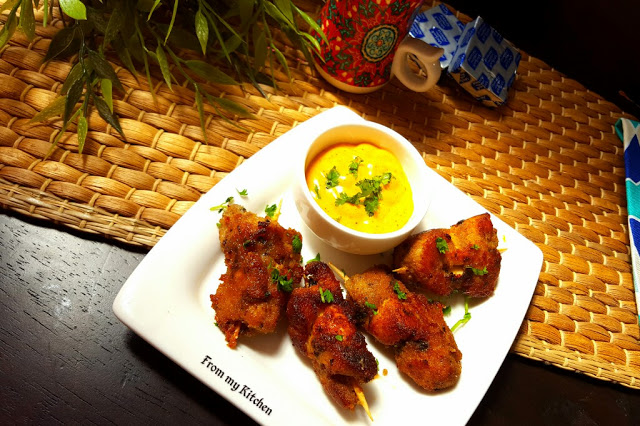 This recipe was shared to me by my cousin Raisa,which was introduced to her by her lovely sissy Safrithata who love to experiment a lot with food:-) She got it from Sanjeev Kapoor's show.Since then this is our family favorite and used to make often!This is a wonderful dish to serve as a party starter or as a side dish.If you are arranging a kids party this a must dish in your menu!I'm sure this will be a hit among them.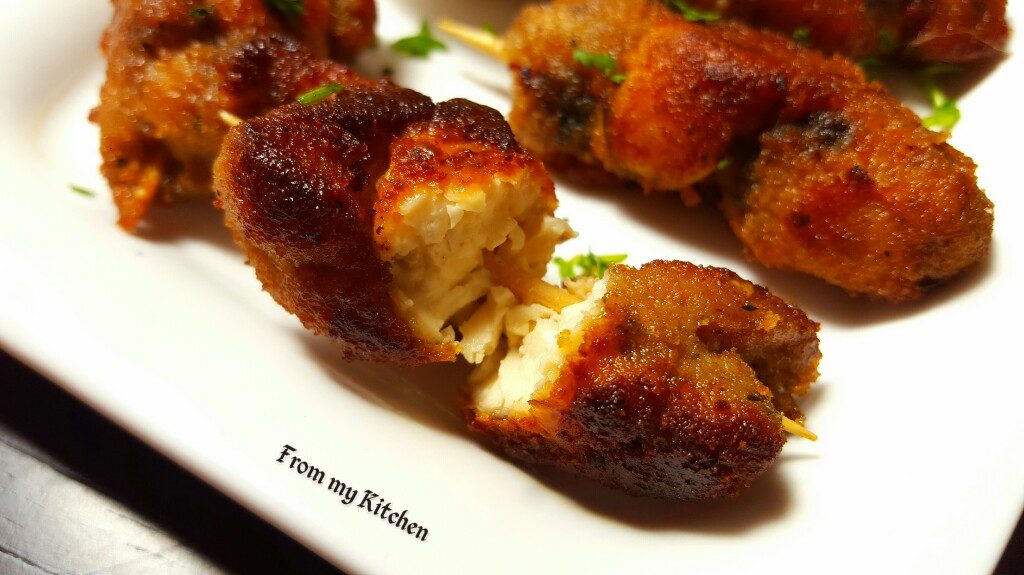 Can you see those cheese in between the chicken?This is skewed on a toothpick between two small cubes of chicken and then crumb coated in bread crumbs and shallow fried.It's very simple and easy to prepare.I used to crumb coat and keep it in refrigerator and then fry it just before serving!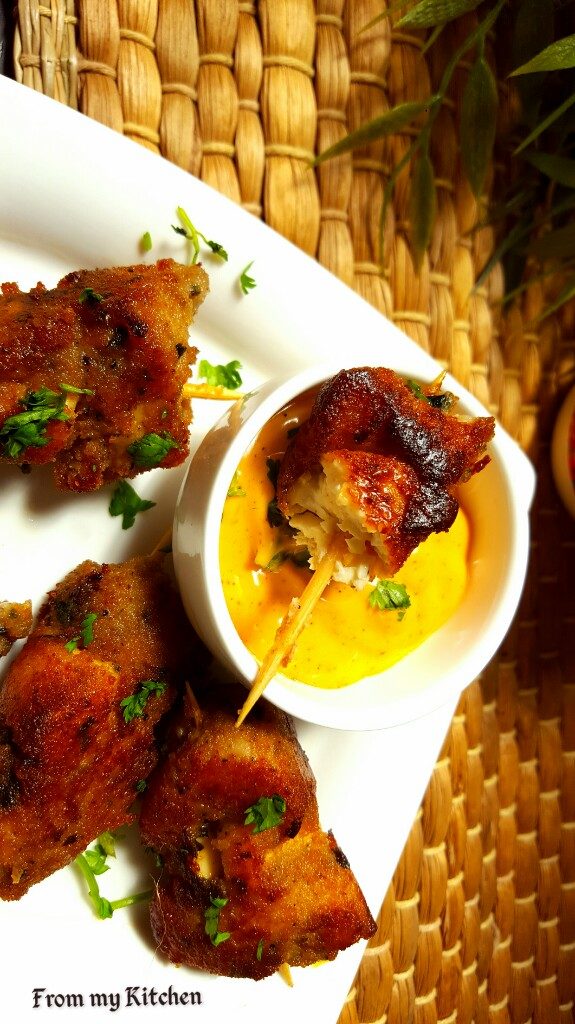 Over to recipe

Ingredients
For Marination
2 chicken breast pieces
1 egg
1 tbsp garlic minced
1 tsp pepper
A handful of finely chopped coriander leaves
Salt to taste
2 tsp lemon juice
1 tbsp tomato sauce
1 tsp soy sauce
Other ingredints
Cream Cheese cubes cut into 4 small cubes
Bread crumbs
Oil to shallow fry
Toothpick needed
Method
Clean and cut chicken into small cubes and keep it aside.
In a bowl crack in an egg and add all other ingredients mentioned under marination.Mix it all very well.
Put the chicken cubes in it and let it marinate for 1/2 to 1 hour.Longer the better.
Cut 1 cheese cube to 4 pieces
Take a toothpick skewer 1 small piece of chicken cube, take a piece of cheese cube dip it in the marinade and skewer it on the toothpick now add other piece of chicken.
Immediately coat it in bread crumbs and keep it aside.Do the same with all.
In a frying pan pour 4 to 5 tbsp oil,when it's hot enough shallow fry it on medium flame until the chicken is done.
Serve it hot with your favorite dip!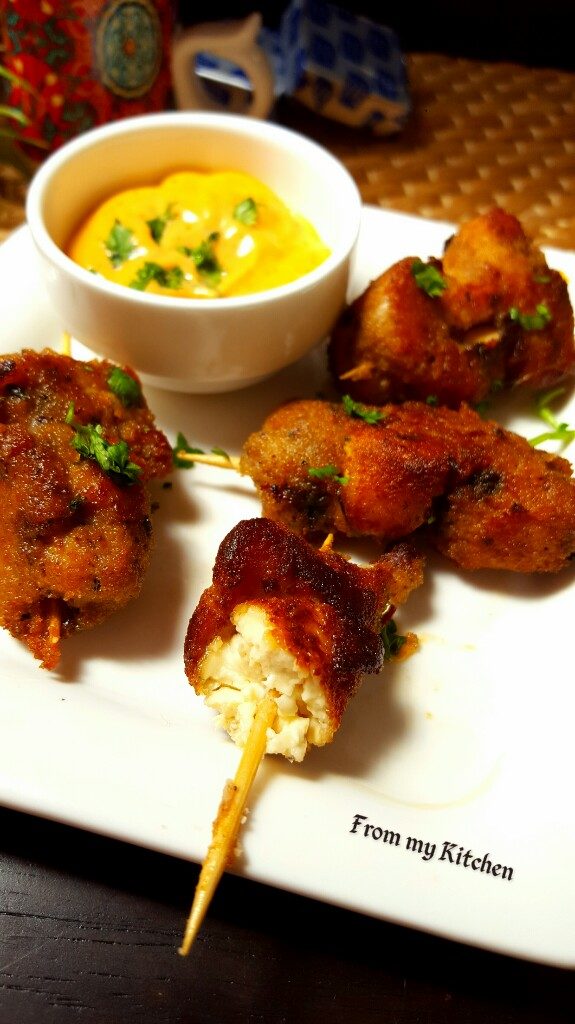 Yummilicious it is!Can't resist yourself from having this tiny cute goodness of chicken and cheese!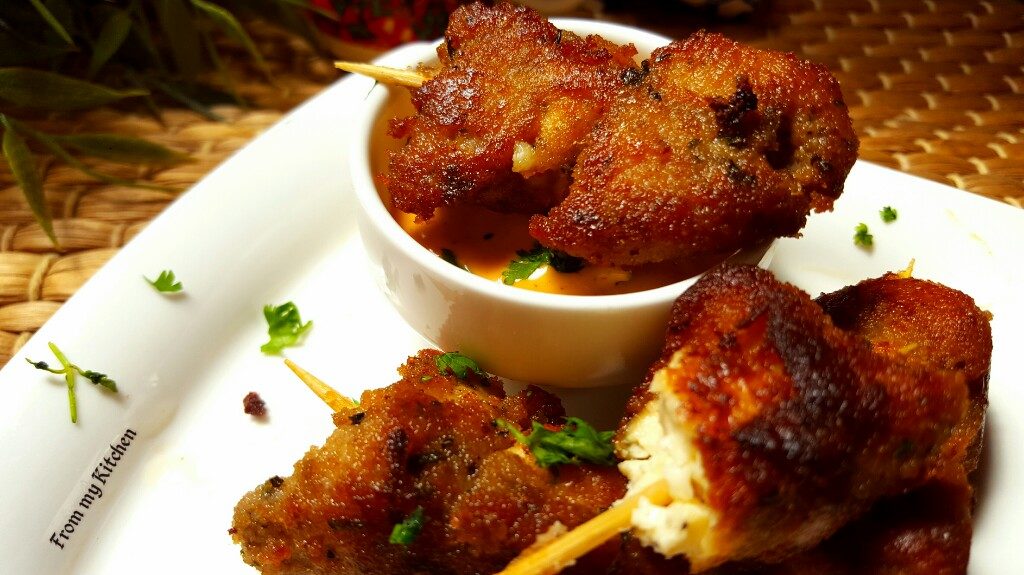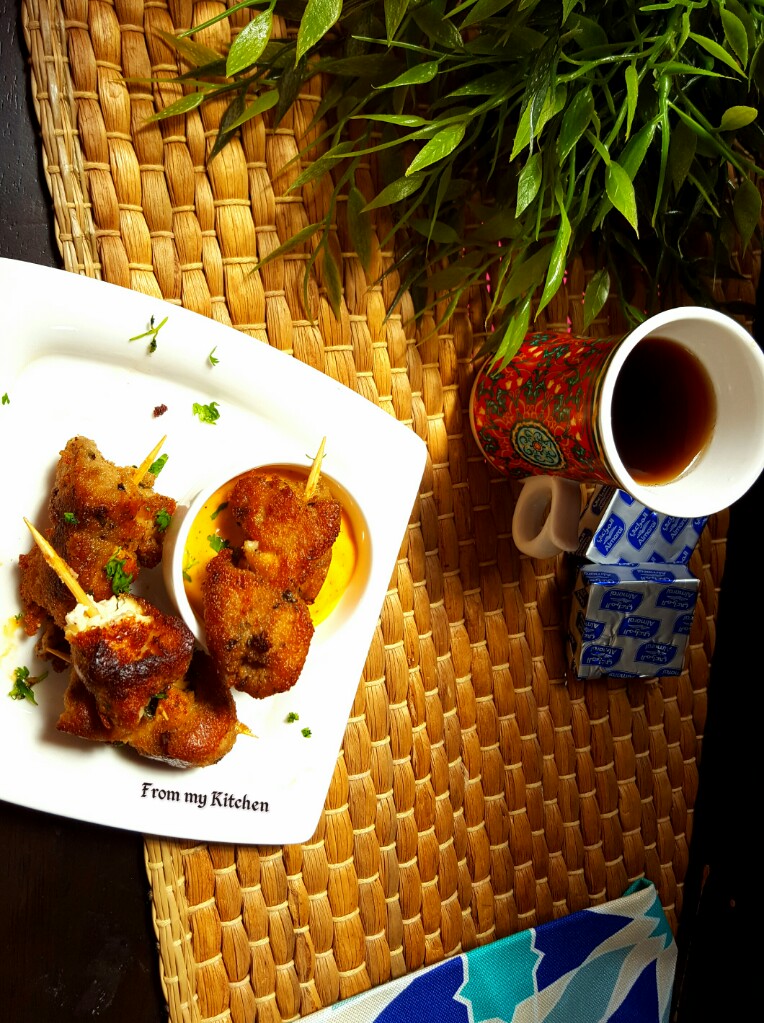 Enjoy it with a cup of black coffee for brunch with your kids…😉