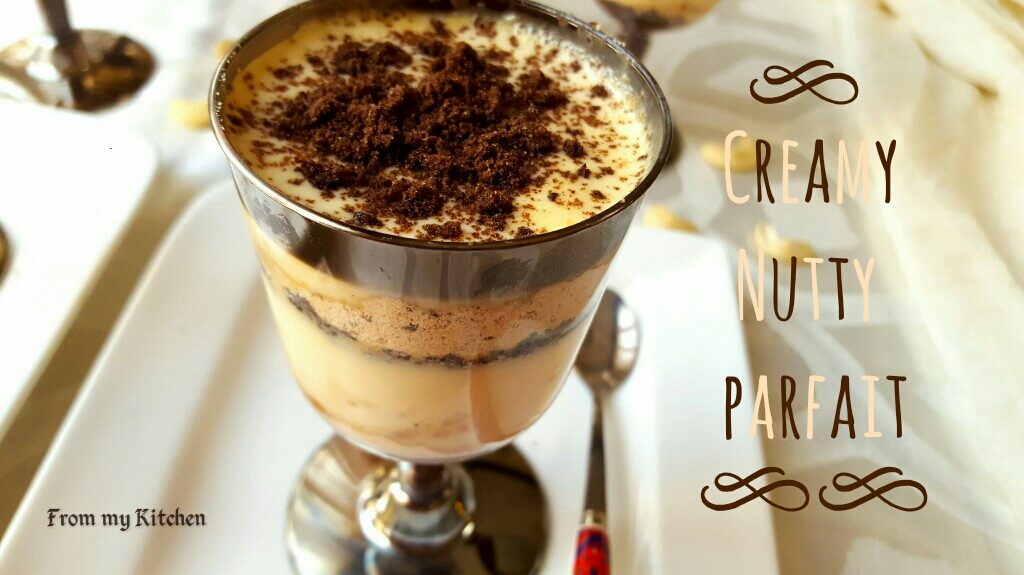 Desserts are an inseparable part of a great meal,agree or not?😊😊This pudding or parfait is one of the best i'v ever had and super simple to prepare.Nothing beats the taste of this pudding for me!A heavenly delight with the real indulgence of creamy custard,biscuit layers,dry fruits and fruits of your choice!This one is a killer!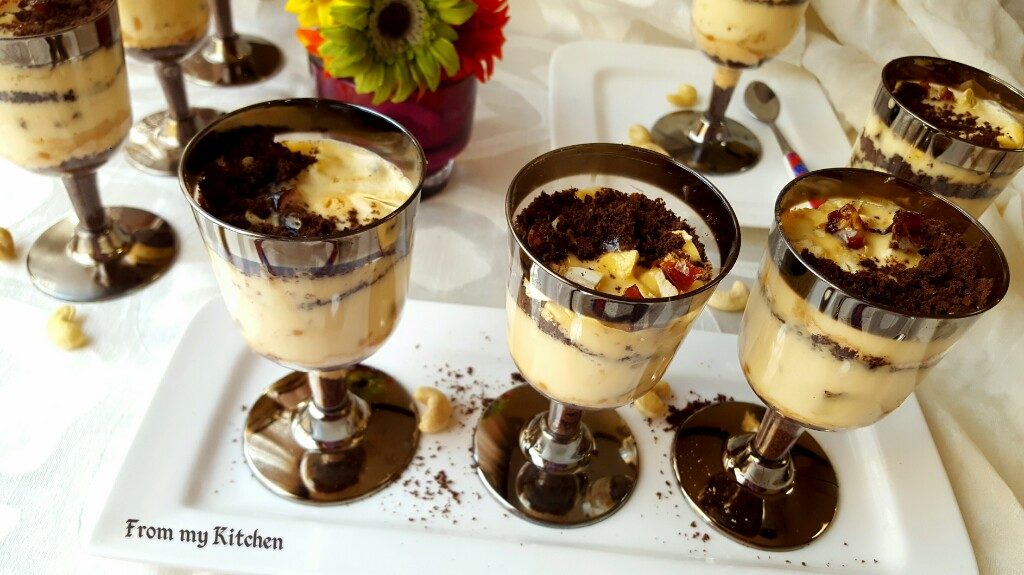 This pudding is our family favorite.The real name of the pudding is palm rose(i don't know how it got that name)Actually my mom got it from a magazine or newspaper,she made some changes in it and wala!She is a dessert queen,used to try lots of puddings!She still has many cut outs,but sadly she is not making any of them especially during our presence, by giving a lame excuse that she is retired from the dessert section and leave it for us!!How rude!hehe!But still she used to pass yummy recipes to us!
Who ever had this ,will surely beg for the recipe!!It's that good!So here is the recipe for the heavenly pudding Shahzeen and Fatima!I also love to dedicate this recipe for Shinaz Shanib who is an ardent follower of my blog and desserts.(love you for that)So Shinaz here is the most yummilicious,easy peasy recipe for you!:-))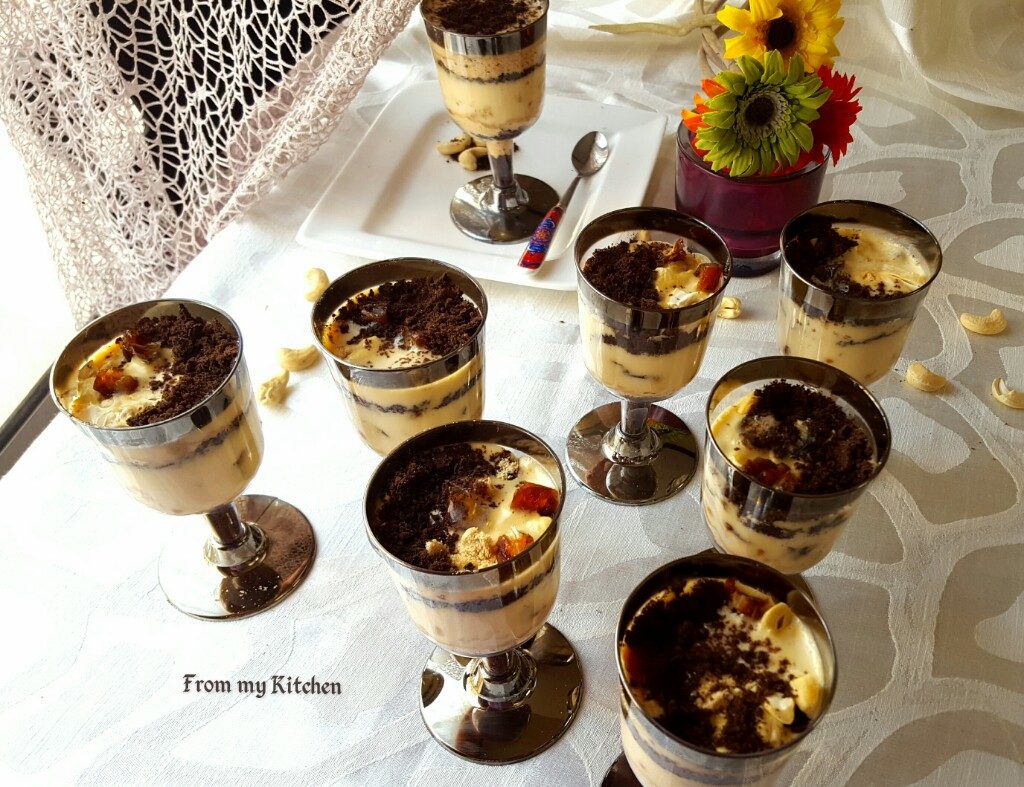 Parfait is the layered dessert which is served in glasses.There are two types of parfait one in frozen form and the other one like this layered cream ,biscuits,fruits!In this we have four layers.Layers of biscuit crumbs,whole biscuits,creamy custard,fruits and nuts.
Ingredients
For Creamy Custard
510 gram Nestle Cream
1/2 cup +3 tbsp sugar(more or less as per your taste)
60 gram butter
1 tsp vanilla essenc
Other Ingredients
Marie biscuit one whole packet
Make fine powder with some biscuits
Oreo crumbs to layer (10 to 15)
Cashew nuts,dates and any other dry fruits of your choice
Fruits- (Apple finely chopped,banana finely chopped)i prefer these two.
Some milk to dip the biscuit.
Note:
If you don't like fruits in your pudding you can skip it.
Method
Crush the biscuits and keep it aside.
Chop fruits and nuts finely and keep it aside.
In a blender blend together cream,sugar,vanilla and room temperature butter.
In a deep pudding dish or glasses start layering the desert.(if you are using deep pudding dish increase the qty of biscuit accordingly)
First layer biscuit crumbs.(Here if you like Oreo use that or else Marie biscuit crumbs)
Then dip the biscuits in milk and layer it over the crumbs.
Add finely chopped fruits and nuts.
Then slowly pour the cream on top.
If you are serving in glass repeat the process.
Top it with remaining biscuit crumbs.
Set it in refrigerator preferably overnight!
Notes:In this pudding biscuit crumbs are using for the cream to set a little.
The recipe doesn't calls for Oreo cookie crumbs i added it for the beautiful layers.(My friend said Oreo crumbs complimenting the cream very well)choice is yours!
Here i used both Oreo and Marie Biscuit crumbs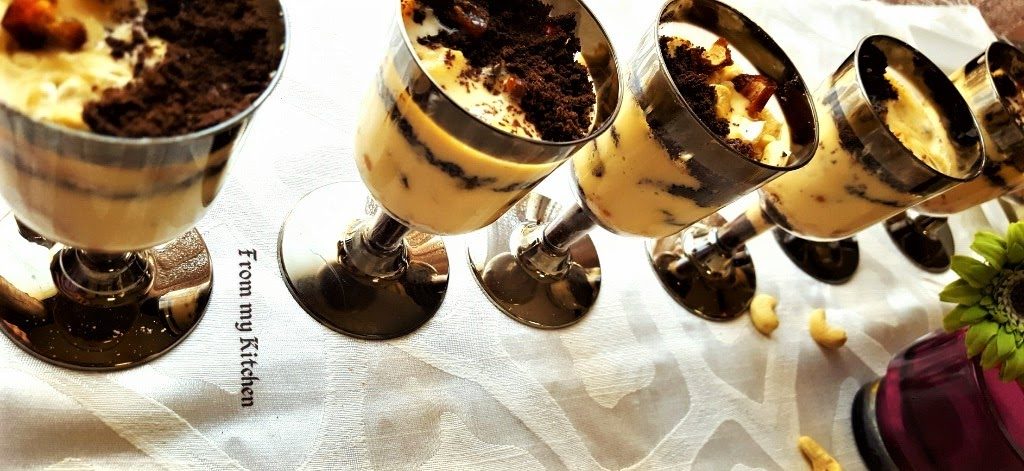 If you didn't try this pudding it will be a great miss for you☺;-))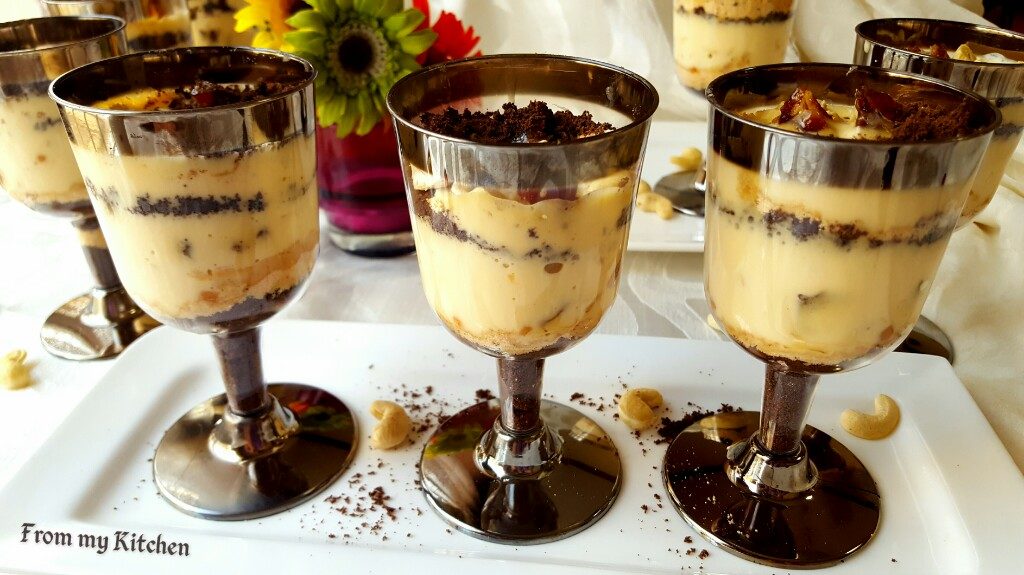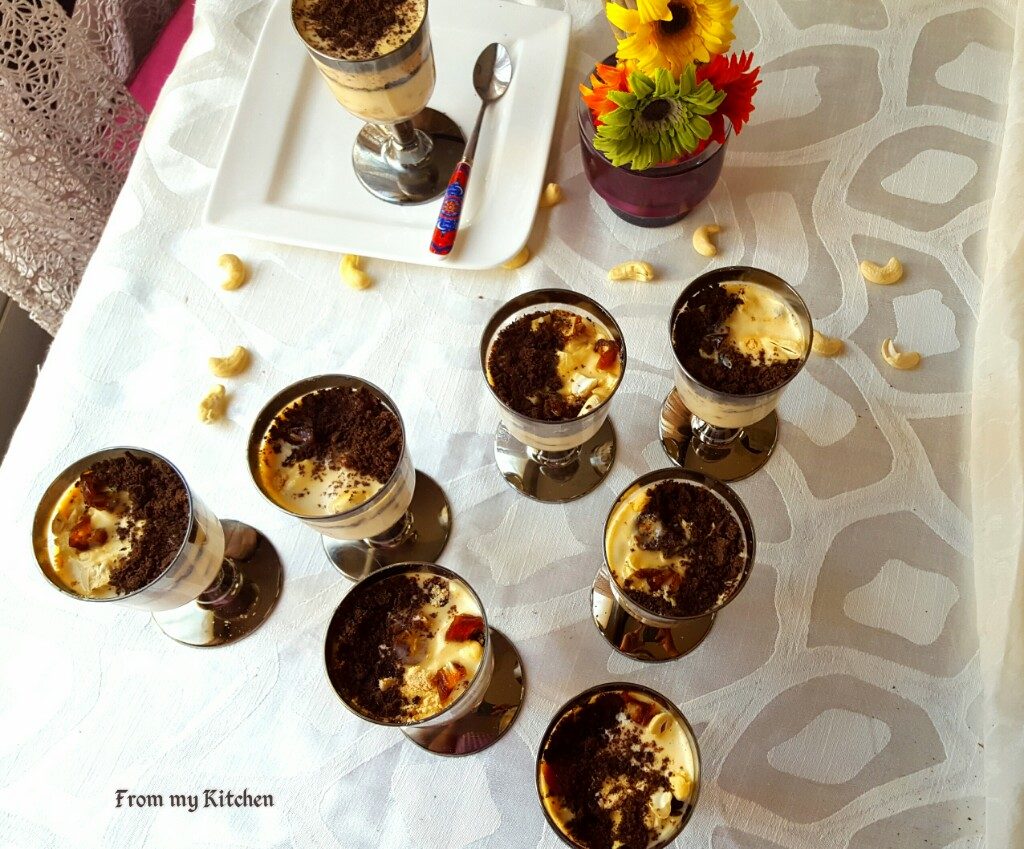 Happy Cooking!
Don't forget to try it!