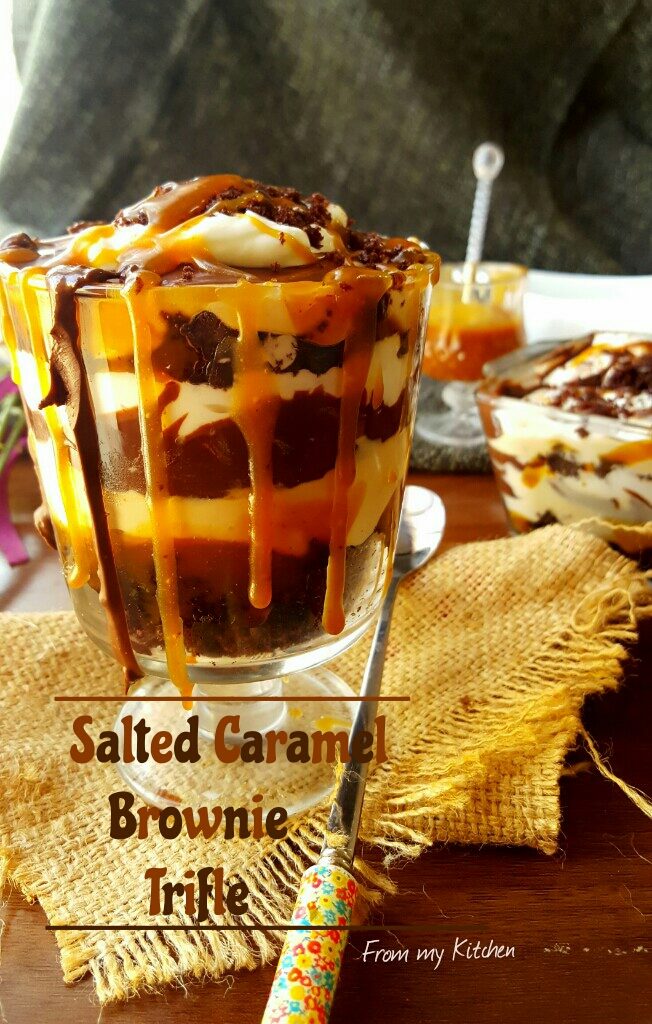 Is this something we call heavenly or dream dessert?A combination of gooey brownie,drizzle of salted caramel,airy fluffy salted caramel mousse ,layer of whipped cream topped with melted chocolate!Oh my anymore explanation needed for this beauties?This is such a heavenly dessert!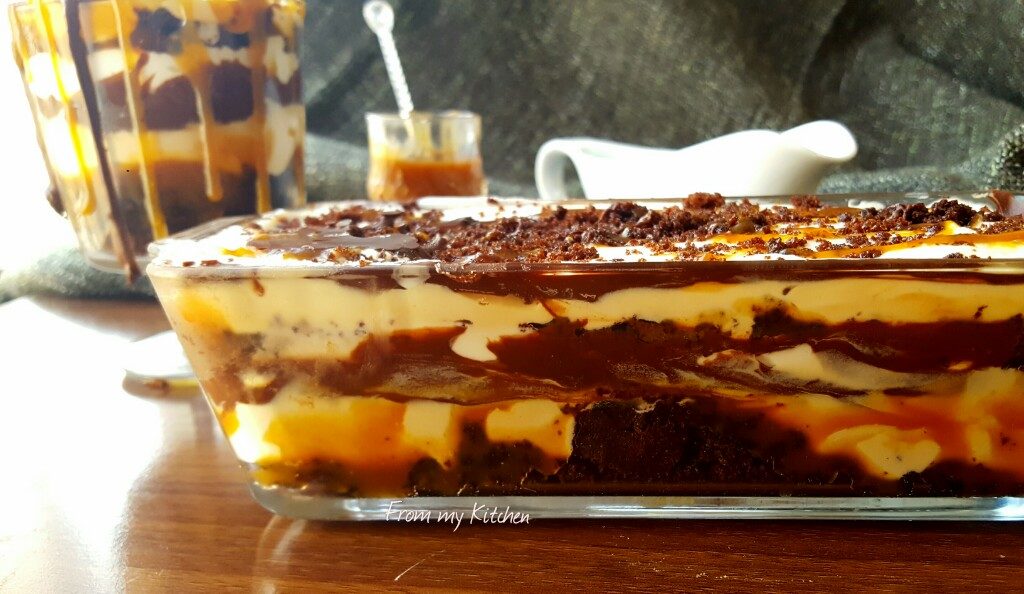 Yes it's little bit on sweeter side.If you want to skip that over sweetness just skip the caramel drizzle in between.But that gives nice fancy look to the trifle isn't it?I just love the layer of salted caramel mousse.It was just delicious.Have you ever tried this combination of chocolate cake and caramel?If no it's time for you to give it a try.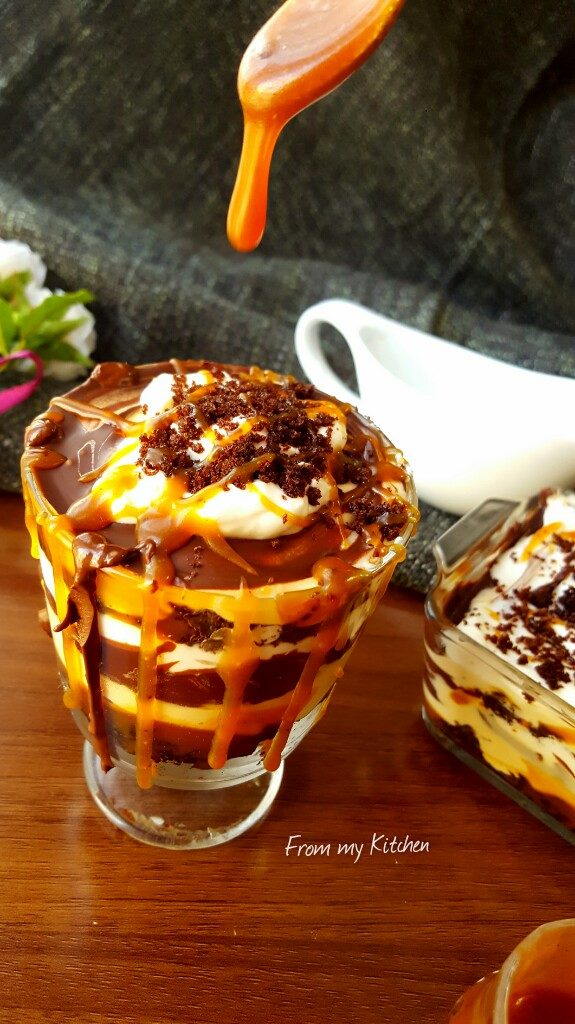 In this there are four layers.First layer gooey brownie crumble,second layer a little drizzle of salted caramel,then fluffy airy caramel mousse with some cream cheese,fourth layer whipped cream and then melted chocolate.Repeat the layers until everything is over.You can skip the chocolate drizzle if you don't want.
Trifle is actually a layered dessert with fruits,cakes and custard.I love the big trifle bowl and i'm keen to get it, just waiting to grab it on a discounted deal. My favorite pass time is watching food videos in you tube and that's how i got to see this lovely recipe of Gemma Stafford which she beautifully arranged the layers in large trifle bowl. Since then I was looking for an opportunity to make this beautiful dessert. Although the recipe was totally inspired from there here i made some changes.
Ingredients
For whip cream
2 cups whipping Cream
4 to 6 tbsp icing sugar
Vanilla essence
For Salted Caramel Mousse
5 to 7 cubes cream cheese
4 tbsp icing sugar
1 tsp vanilla essence
Fresh cream
3/4th to 1cup salted caramel(preserve some for layering)
1/2 of the Whipped cream from the above
For Chocolate Ganache
Brownie
or any chocolate cake
Salted Caramel
(in this recipe add 2 pinch of salt immediately after you add the cream and stir well)
Method
For Whip Cream
Beat together whip cream.icing sugar and vanilla until light and fluffy.Reserve some for layering and add rest with the mousse.
For Caramel Mousse
Beat the cream cheese and soften it.
Add fresh cream and beat well to mix it both together.
Add icing sugar and vanilla essence beat well until fluffy.
Now add the cooled caramel sauce and beat it just to incorporate.
Gently fold in the preserved whipped cream.Now you will get a fluffy,airy mousse.
Layering
1st layer Crumble the brownie and layer as base
2nd layer light drizzle of salted caramel(if you drizzled a lot of this,it will be too sweet,so be careful)
3rd layer Salted caramel mousse
4th layer whipped cream
5th layer melted chocolate just a light drizzle.
Now repeat the layers.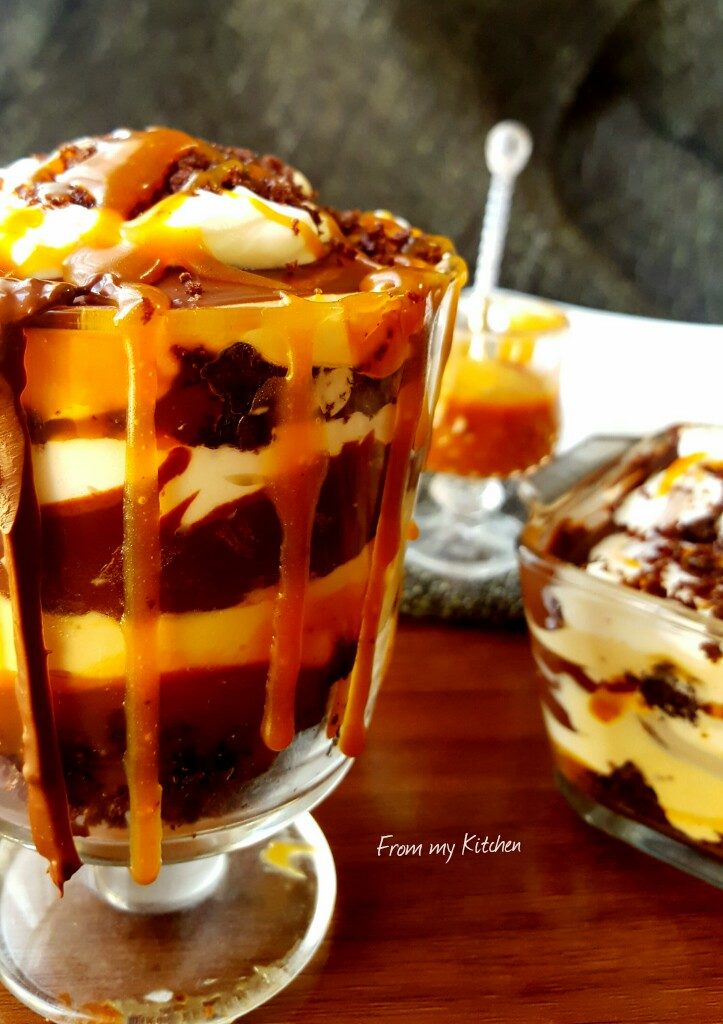 I'm sure the caramel and chocolate lovers will fall in love with this dessert!!!!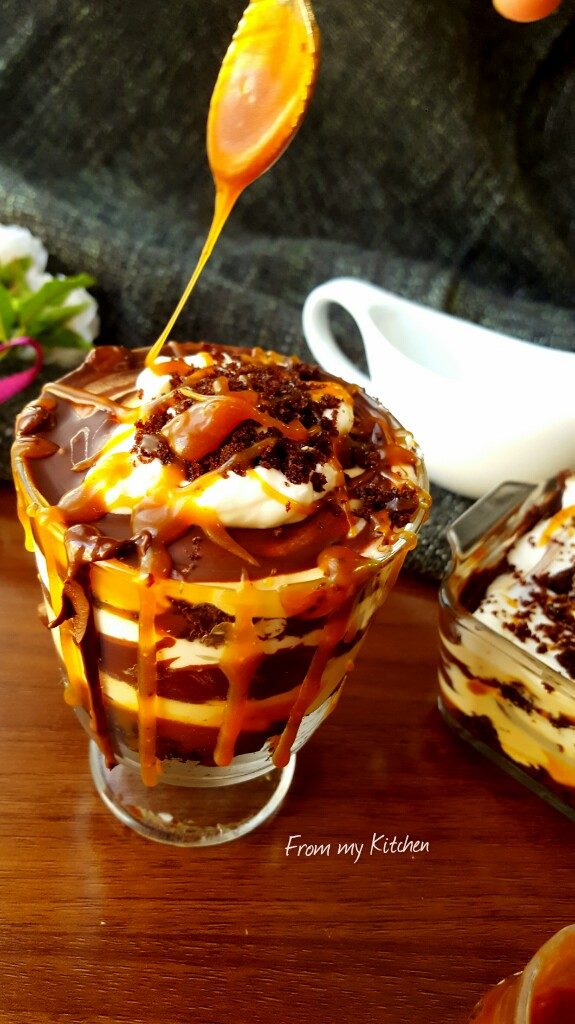 Relish!