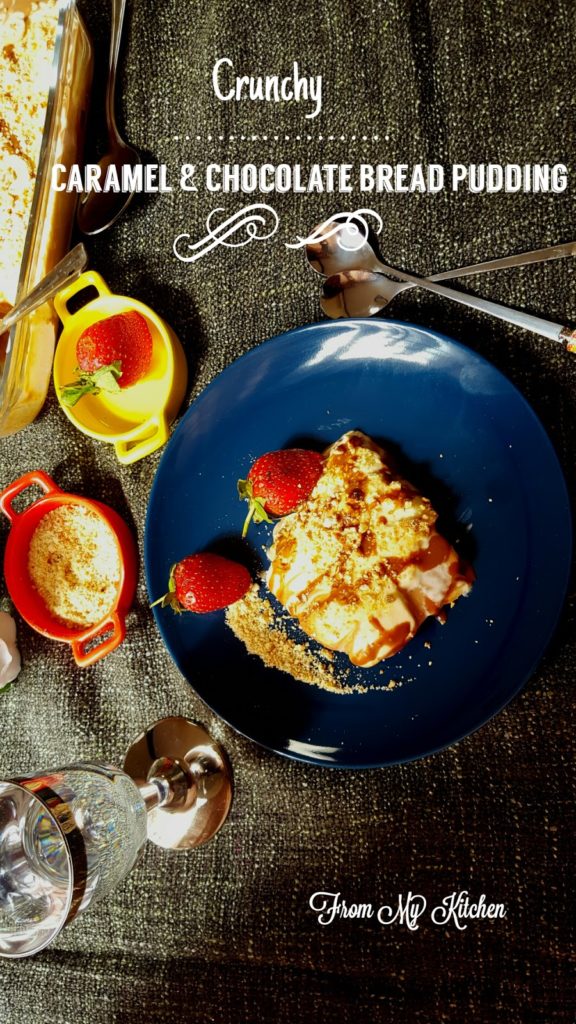 A dessert that's so simple to prepare and delectable!!Are u all browsing for such puddings?? So here is something waiting for you.A caramely , chocolaty pudding with a crunch of caramelized nuts over it!But the pictures here doesn't show any justice to the pudding…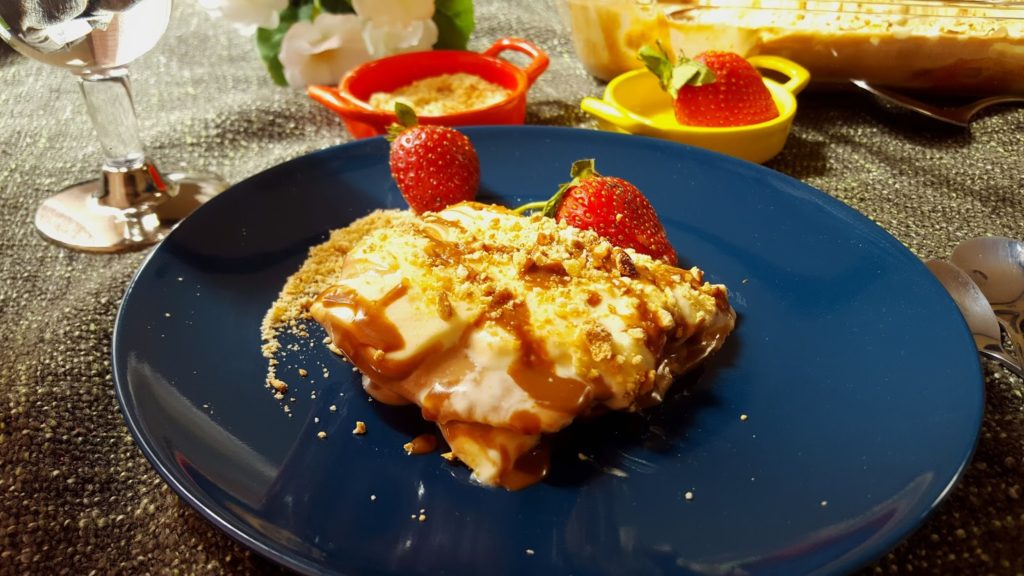 Clicking on Friday is not an easy task!!Hehe!So i just hurried while the boys were off to Masjid. Sorry for the bad pictures once again.Anyways don't go through the look just try it.One tip on adding caramelized nuts on top of the pudding is always add it just before serving.Otherwise it will lose it's crunchiness and become soggy.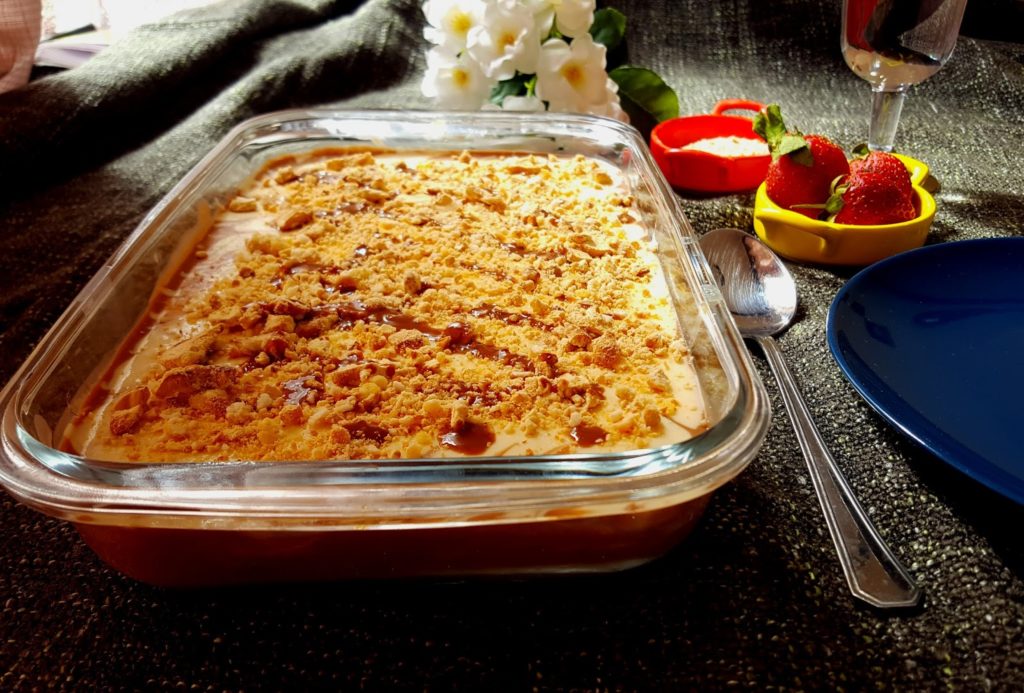 The pudding is so simple to prepare.It's layered with bread,cream caramel pudding,nice rich chocolate sauce and a cream layer topped with crunchy caramelized nuts.
Ingredients
1st layer
8 to 10 bread slices
1 sachet cream caramel powder
2 cups milk
1 tsp vanilla essence
2nd layer
1 cup semi sweet cooking chocolate
3/4th cup fresh cream
3rd layer
1 sachet whip cream powder
1/4 cup of milk
170 gm nestle cream
3 to 4 tbsp condensed milk or powdered sugar to adjust the sweetness
1 tsp vanilla essence
4th layer
Handful of nuts(cashew and almond)
4 to 5 tbsp sugar
Method
Pour the caramel getting from the cream caramel as a base.
Remove the sides of the bread and arrange it on top of the caramel.
In a pot heat 2 cups of milk,when it comes to a boil add the caramel powder mix and cook as per the instruction.Add vanilla(only 2 cups milk needed here)
Pour it gently over the bread.Let it set.
Meanwhile heat the fresh cream when it starts bubbling from the side switch off the flame and put chopped chocolate in it.Stir and Let it melt completely until you get a silky smooth chocolate ganache.When the first layer is set completely pour this over it.Preserve some chocolate for garnishing.
Let it set in refrigerator for 1/2 an hour.
Whip u the whip cream powder and milk together until you get soft peaks .
In this add nestle cream and condensed milk or powdered sugar along with vanilla essence.Mix well with a hand whisk.
Pour it over the chocolate and let it set in refrigerator for 4 to 6 hours.
In a nonstick pan heat the sugar when it melts and start to change the color add nuts and caramelize it.
When it's cool enogh crush it to a coarse powder.
Top it over th pudding just before serving followed by a drizzle of chocolate over it.
This is for a medium sized bowl.You may double the volume if you have parties.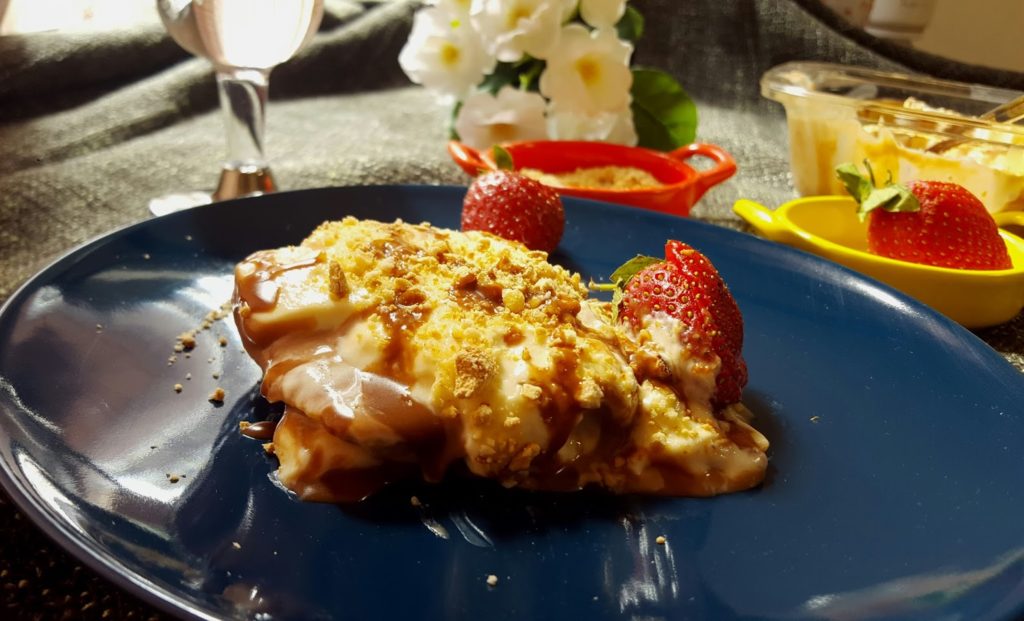 Notes:It's not a fully set pudding.If you want perfect slice of layers you need to add a tsp of gelatine mix on each chocolate and cream layer.(bloom gelatin melt and add,don't add too much this may lose the creamy texture of the pudding)I prefer it like this way.
Also in the cream mix don't add more than 3 tbsp of condensed milk this will make the pudding runny.Adjust the sweetness by adding powdered sugar if you need more.Instead of Bread you can also use vanilla or chocolate cake here.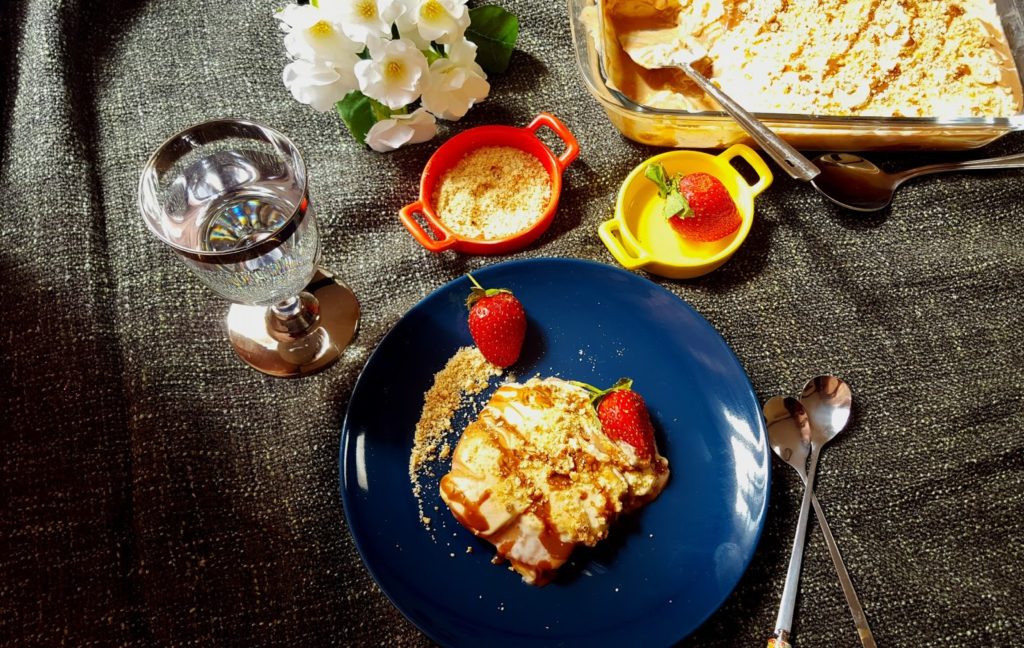 Relish it!