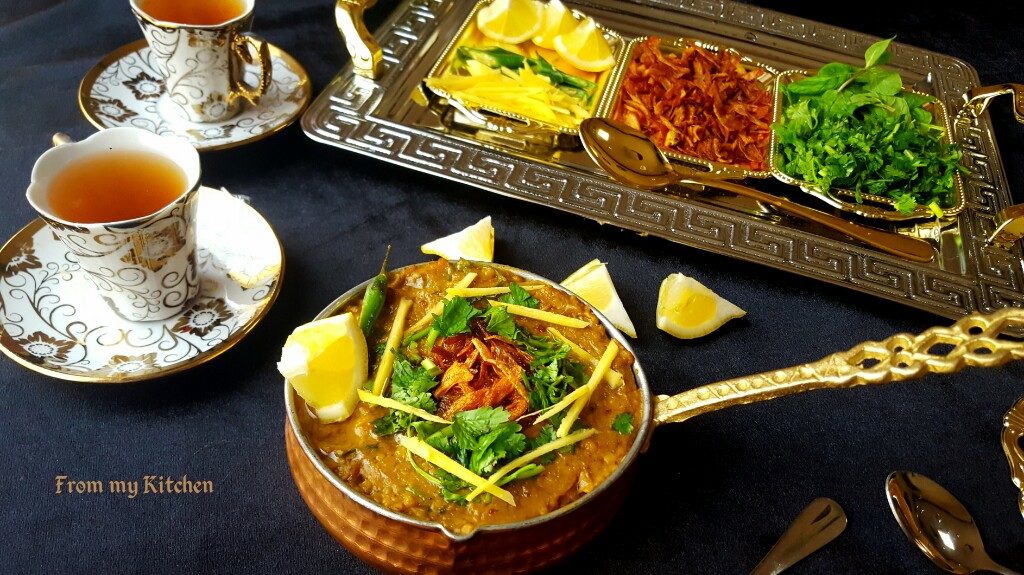 Yaay!Atlast Haleem is on the blog!I love this dish so much!A complete and healthy meal with delightful flavors which contains meat,lentils,wheat and many other spices!The origin of Haleem lies in the popular Arabian dish known as Harees. Haleem has become a popular dish in the city of Hyderabad, in India.It was introduced to the region during the Mughal period by foreign migrants.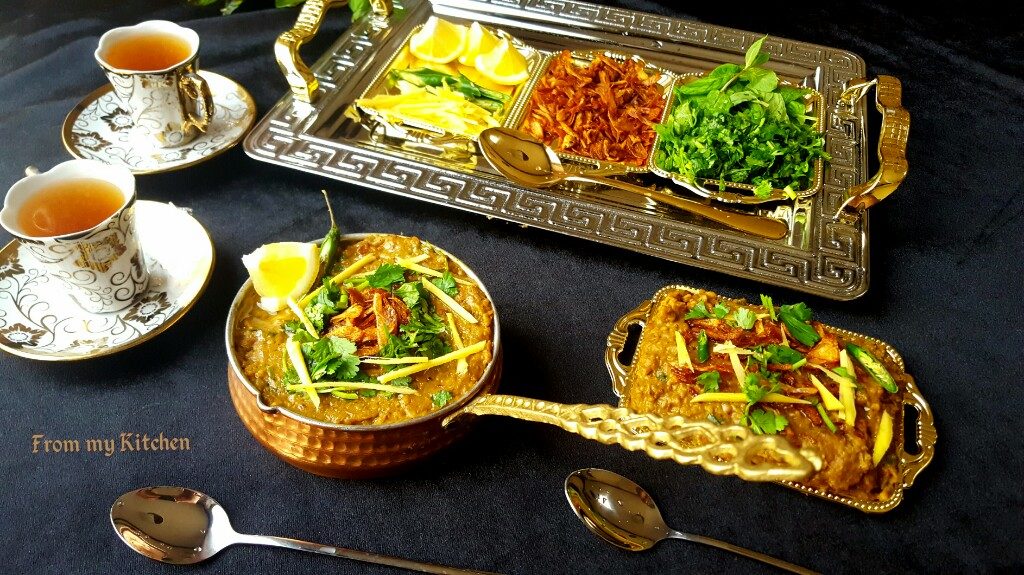 Haleem is one such dish which kids and adults love alike in our home.We use to buy Haleem spice mix from here when we are flying to INDIA. I don't want to depend on the mix always and for this reason i thought of trying it from the scratch. What is the thrill in it otherwise ? So here is it!I was hunting for a good recipe for long time!At-last i gave it a try and yaay It's delish!!In many recipes wheat and meats are cooking separately.But i prefer this method where i cooked everything in a single pot,even fried the onions too in the same pressure cooker in which we are cooking the haleem.I made a step by step pictorial here!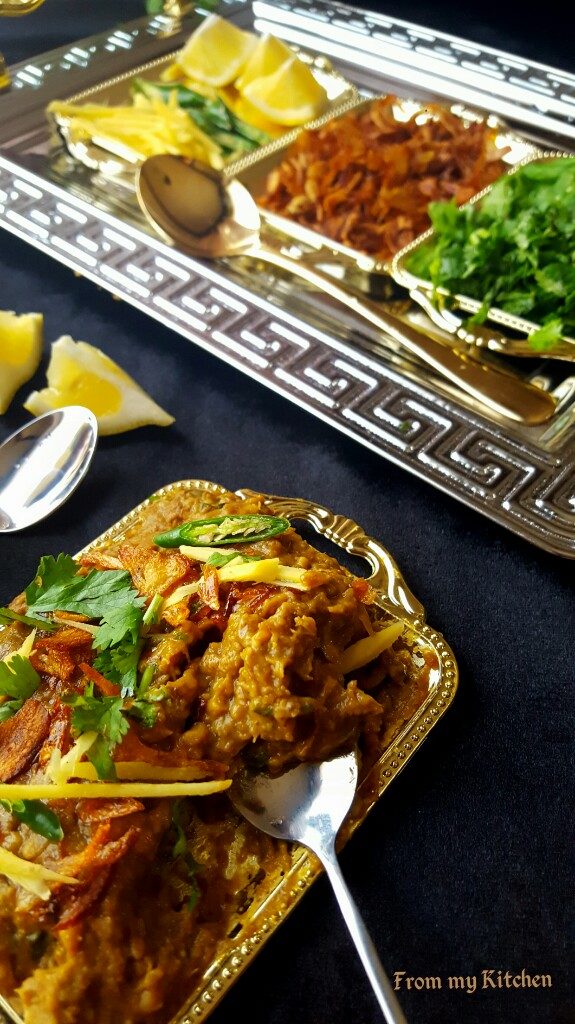 Here i used mutton on bone,you can also use boneless meat.No need to cook everything separately,because for sure we need a paste like consistency,we are blending all the wheats and daals after cooking,so i think this method is the best,If you are using boneless meat so no worries about bones too.After cooking take out the meat and then shred it from the bones and then add it to the haleem.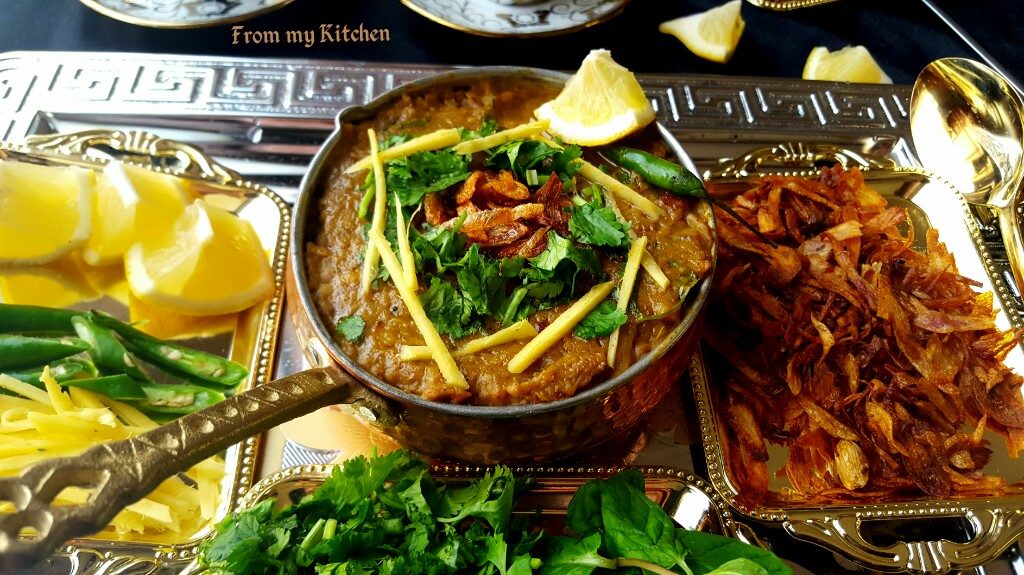 Addition of fried onions gives this dish a lovely and silky texture!In shot this is a one pot simple recipe for Haleem which is lipsmackingly good!So make sure you try this.Hubby said it's delicious!Yay!
Over to recipe
Ingredients
1 cup broken wheat
1/3 cup + 2tbsp split chana daal
4 tbsp masoor dal
4 tbsp urud dal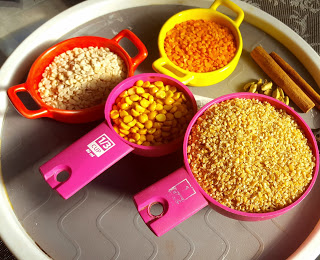 For Masala
1/2 kg mutton
3 large onions
2 green chillies
1 tbsp ginger paste
1 tbsp garlic paste
1 stick cinnamon
3 cardamom
4 cloves
1 bay leaf
1 tsp shahi jeera
1 tsp cumin powderfew pepper corns
2 tbsp yogurt(optl)
1 tbsp coriander powder
1 tsp to 1 tbsp chilly powder
1 tsp pepper powder
1 tsp cumin powder
1 tbsp garam masala
Salt to taste
Lots of mint and cilantro
3 tbsp Ghee + oil to fry onion and cook the haleem
Water 2 to 3 cups
Note :if you don't like whole spices in your haleem make a fine powder of it and add it while adding spices.(I discarded the cinnamon sticks and cardamom pods after cooking)
For Garnishing
Ginger julienne
lemon wedged
fried onion
cilantro and mint
some green chillies
Instructions
Soak Wheat and lentils for 4 to 5 hours.
1.Heat a 5 liter pressure cooker on medium flame.
2.Pour oil+ghee,splutter whole spices like cinnamon,cloves,cardamom,shahi jeera,cumin seeds and peppercorns
3.Put sliced onion and fry the onion until golden brown(If u feel like oil is not enough to fry the onion add more.
Take out almost 3/4 of the fried onion when its done.
5.Remove the excess fried oil and preserve some for garnishing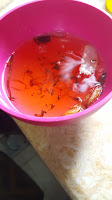 6.Add mutton pieces along with that fried onion mix well.Add salt.
7.Add ginger garlic paste and mix
8.Add all the spices like coriander powder,chilly powder,turmeric powder,cumin powder and garam masala. Add yougurt mix well.
9.Add 1 cup water and let it boil
10.Add soaked wheat and lentils
11.Pour enough water
12.Check for seasonings and salt add if needed.Close the lid simmer the fire when two whistles are out.Let it cook on low fire for 25 to 30 minutes.(Make sure you added enough water so that it will not stick to the bottom of the cooker)
It's done
13.Take out he meat and shred it from the bones
14.If there is any bone discard it and then blend the haleem to a coarse paste
15.Transfer it to a big nonstick pan add water if needed,Add shredded meat,ginger julienne juice,mint and coriander leaves and the fried onions,(reserve some for garnishing) and drizzle some onion fried oil on top.Mix well and let it simmer for 10 minutes.Stir in between.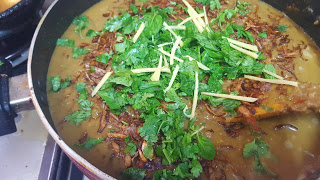 Here ready your spicy super tasty haleem with in an hour!Do try it if you are a Haleem lover.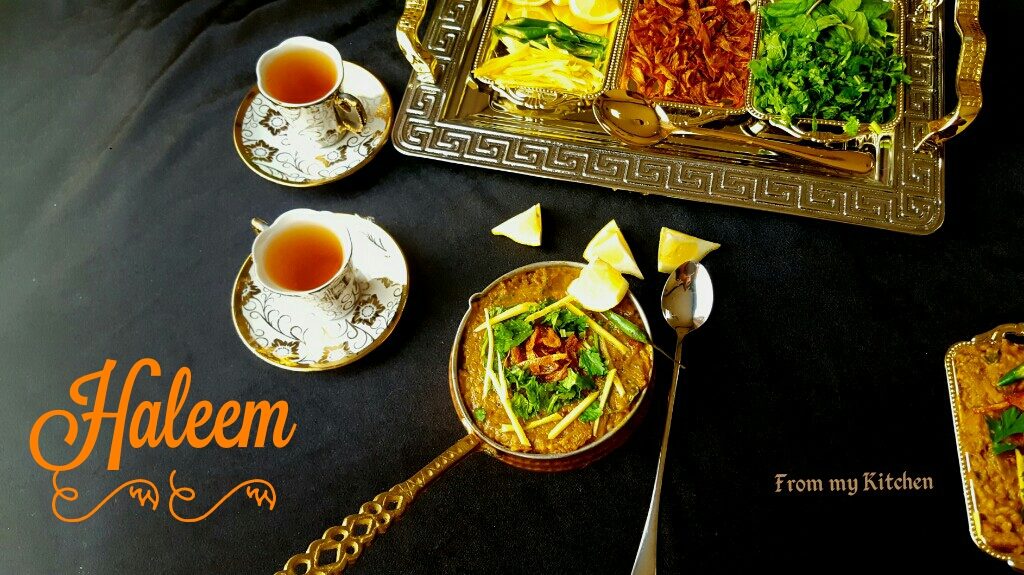 Note :If you want to boil the lentils and wheat separately you can do!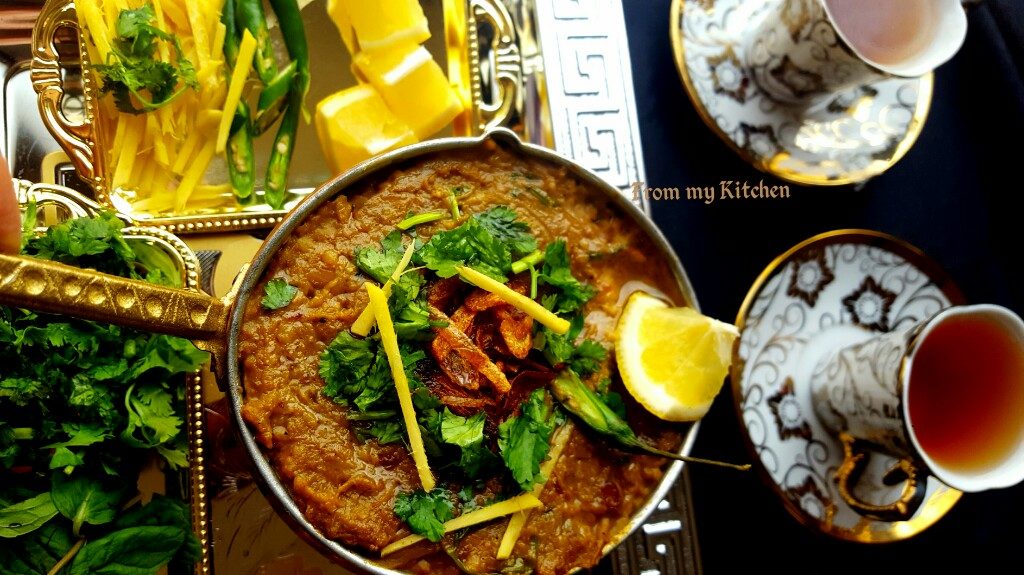 Serve it hot with some lemon wedges and a cup of black tea!Yes you are on business!The delicious steaming Haleem on your table!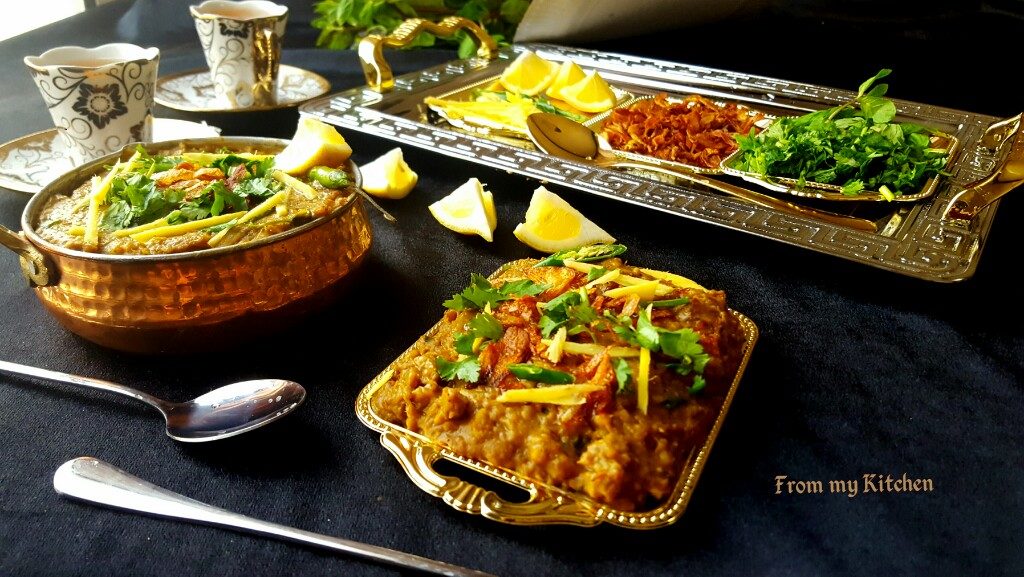 Relish it!Aakif too enjoyed it with us even it's spicy!
Check the step by step slides here!