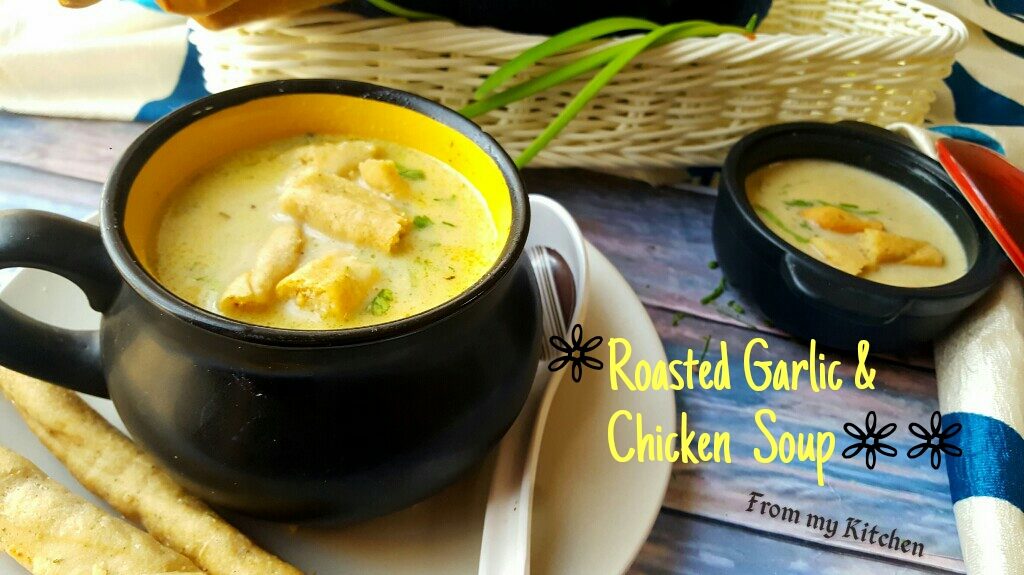 This is the perfect treat for the freezing climate!Roasted Garlic Soup is so comforting and flavorful.A bowl full of piping hot soup for a chilly day makes us really warm!And my bread sticks was a perfect side for the soup.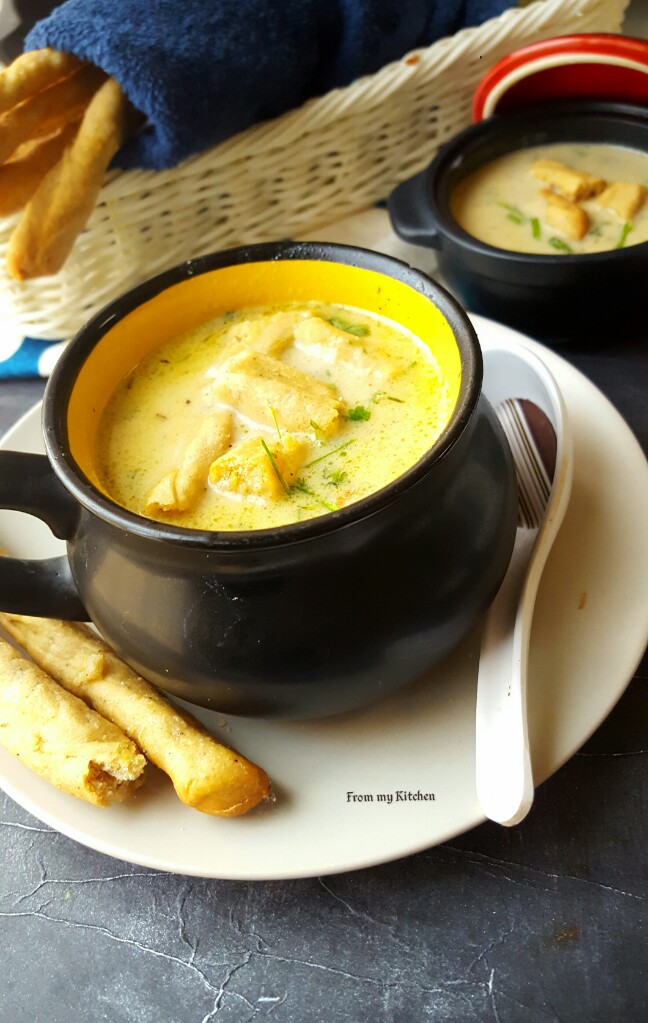 Truly enjoyed every single drop of it.The crunchy bread sticks gives a nice bite to the soup.Here hubby and kids love soups. So love to experiment various kinds of soups.This soup is made by roasting garlic with some herbs. Kashif who doesn't liked the bread sticks had it with soup that makes me super happy. Hehe!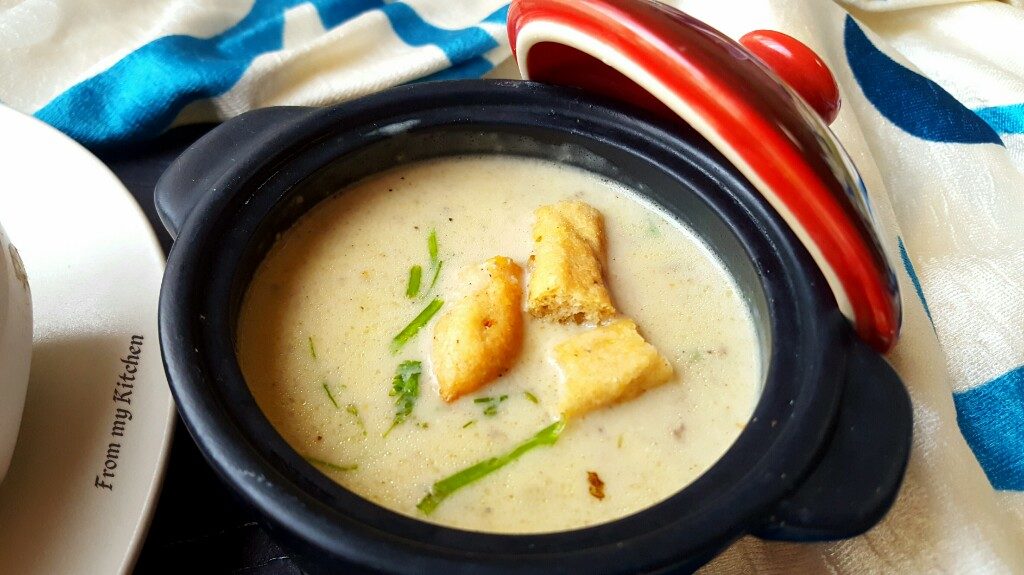 The recipe is inspired by an online magazine "Darna". Just love each and every edition of it.
The flavors from the roasted garlic was too good.I made some changes, but the whole idea of roasting garlic got from there.They didn't used chicken in it.So here is my version of roasted garlic soup.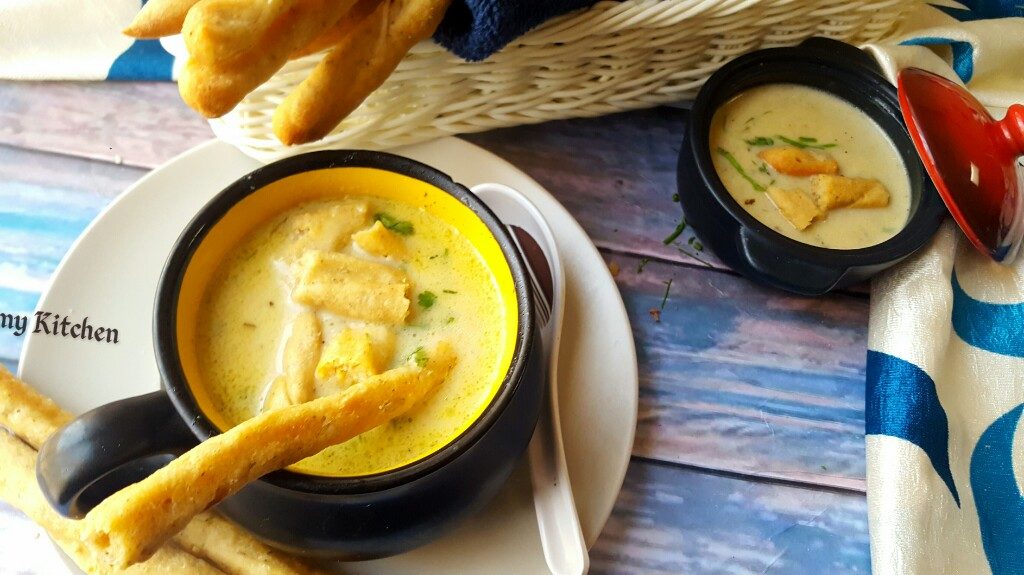 Try it out.Very apt for a chilly day.Soothing and comforting!
Ingredients
2 bulbs garlic cut horizontally into two
A small piece of onion(optl)
2 tbsp olive oil
1 tbsp rosemary(here you can add any herbs of you like)
3 cups chicken stock( 4 to 5 chicken pieces with bone boiled in 4 cups of water along with salt and pepper)
1/2 cup shredded chicken
Freshly ground pepper
Salt to taste
1/2 cup heavy cream
1 tbsp cornflour with very less water
1 tbsp spring onion for a bite(optl)
Dill leaves or cilantro for garnishing
Method
Preheat oven to 200 C,place the garlic bulbs and onion in a foil,season with salt,pepper,rosemary and a spoon of olive oil .
Cover it and bake it for 20 to 25 minutes until the garlic cloves are tender.
Peel the garlic by pressing gently.
In a pot on medium high heat ,place the remaining olive oil add the garlic and mix gently for 3 to 4 minutes.
Add chicken stock and simmer for 5 minutes.Take out the garlic and onion and grind it to a paste or let the soup cool for a while,transfer the whole mixture to a blender and blend it to a smooth paste.(i love a little texture so did the first step)
Pour it back to the pot add salt and pepper to taste.Let it warm up add chicken and let it boil.
Add cream and let it boil for 5 minutes.Add the cornflour slurry and mix well.Add finely chopped spring onions and cilantro.Switch off the flame when you get the desired thickness.
Note
: The recipe calls for 1/2 cup Parmesan cheese and simmer for 1o to 15 minutes.I skipped it and added cornflour(You can choose whatever you like)
Serve it hot with croutons or bread sticks.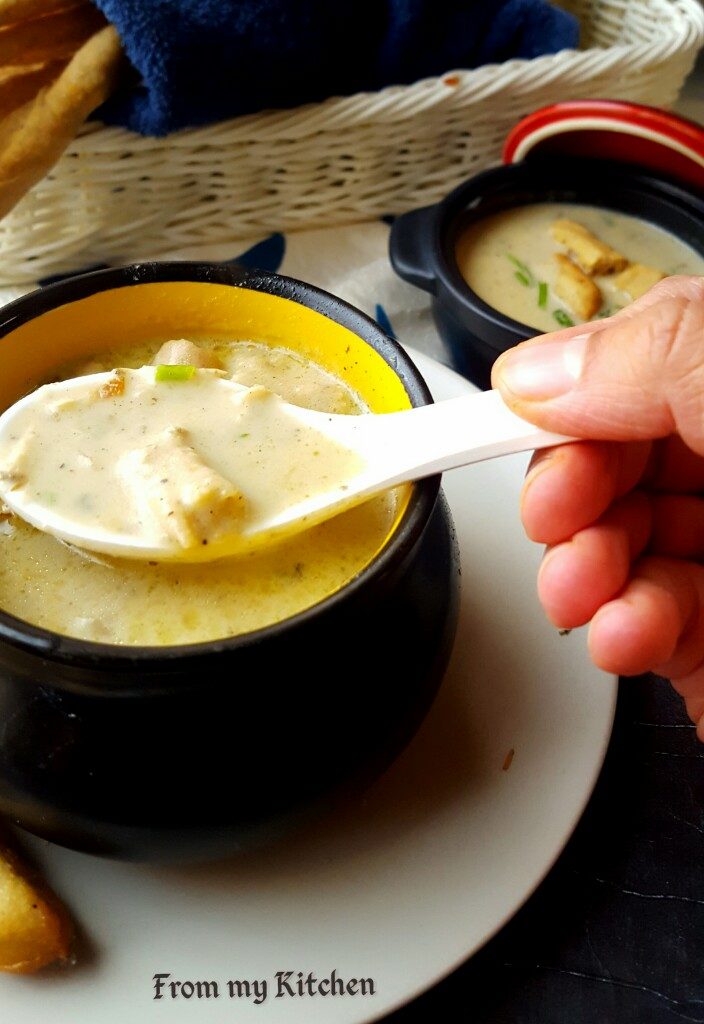 If you want to try something different from hot and sour and sweetcorn soup here is it a great recipe with the goodness of garlic in it.Check Here for other soup recipes.
Happy Cooking!