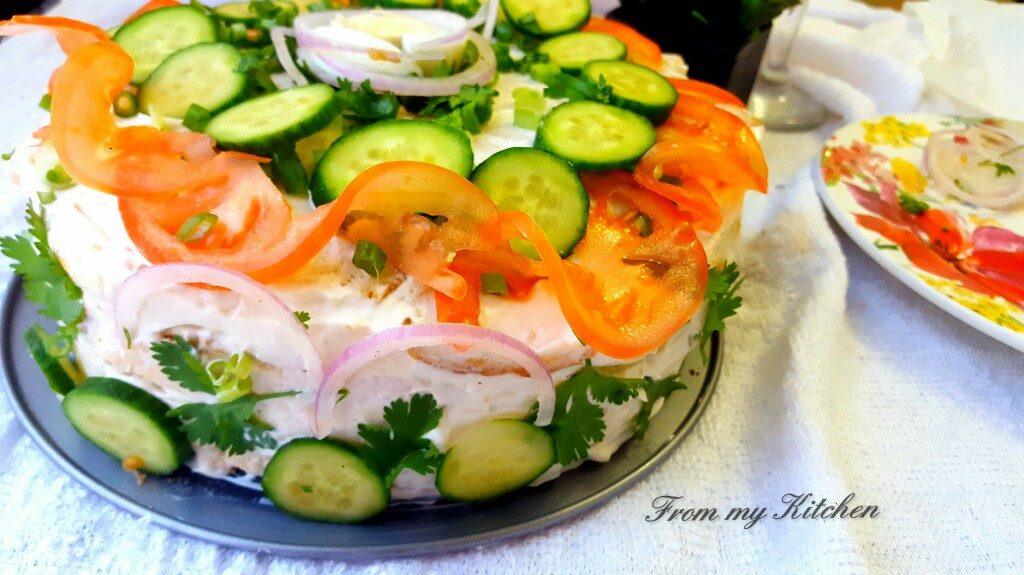 Have you ever tried a savory layered cake?Here is it a heavy and complete meal for dinner,lunch or breakfast!This sandwich cakes is a dish of Swedish origin popular in Sweden, and Finland .It is a savory cake that is actually a sandwich, but with large amounts of filling and garnish, similar to a layered cream cake.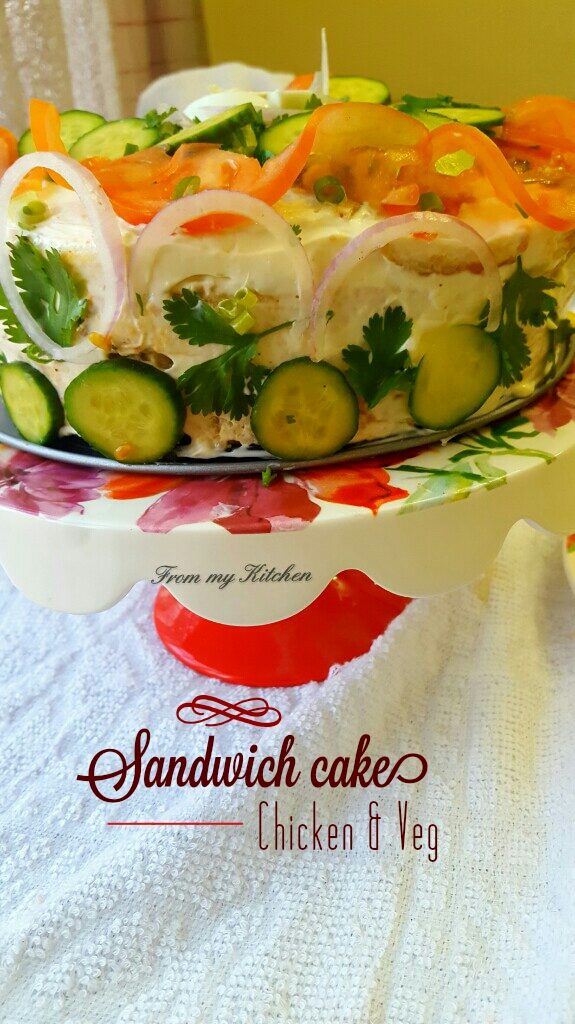 It's made up of layers of bread and creamy filling.The cake is covered by a thin layer of mayo and any other mixture like sour cream and cheese.Here i made layers with a delicious combination of a tomato based chicken filling and some veggies.I used the filling that suits our taste buds(little spicy) rather than creamy and rich.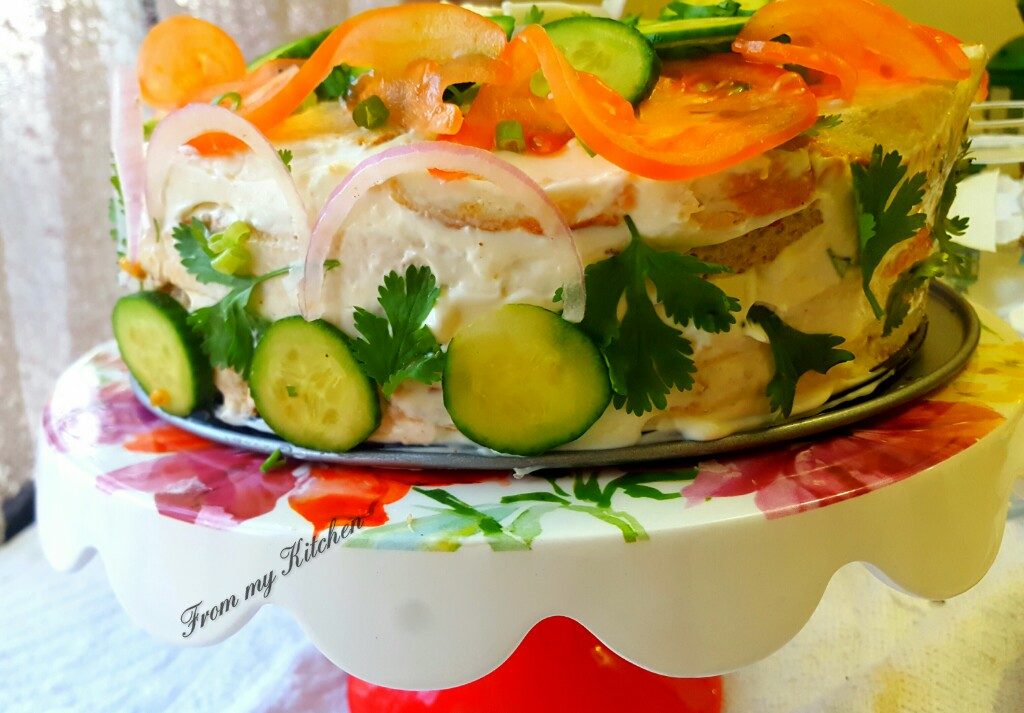 For covering cake i used the mixture of mayo.cream cheese and garlic mayo along with some sour cream.Only a thin layer is enough and then we cover the cake with veggies to make it neat and clean.If you don't want to add two types of filling stick on to one.But the chicken filling you are making should be smooth and like spreadable consistency.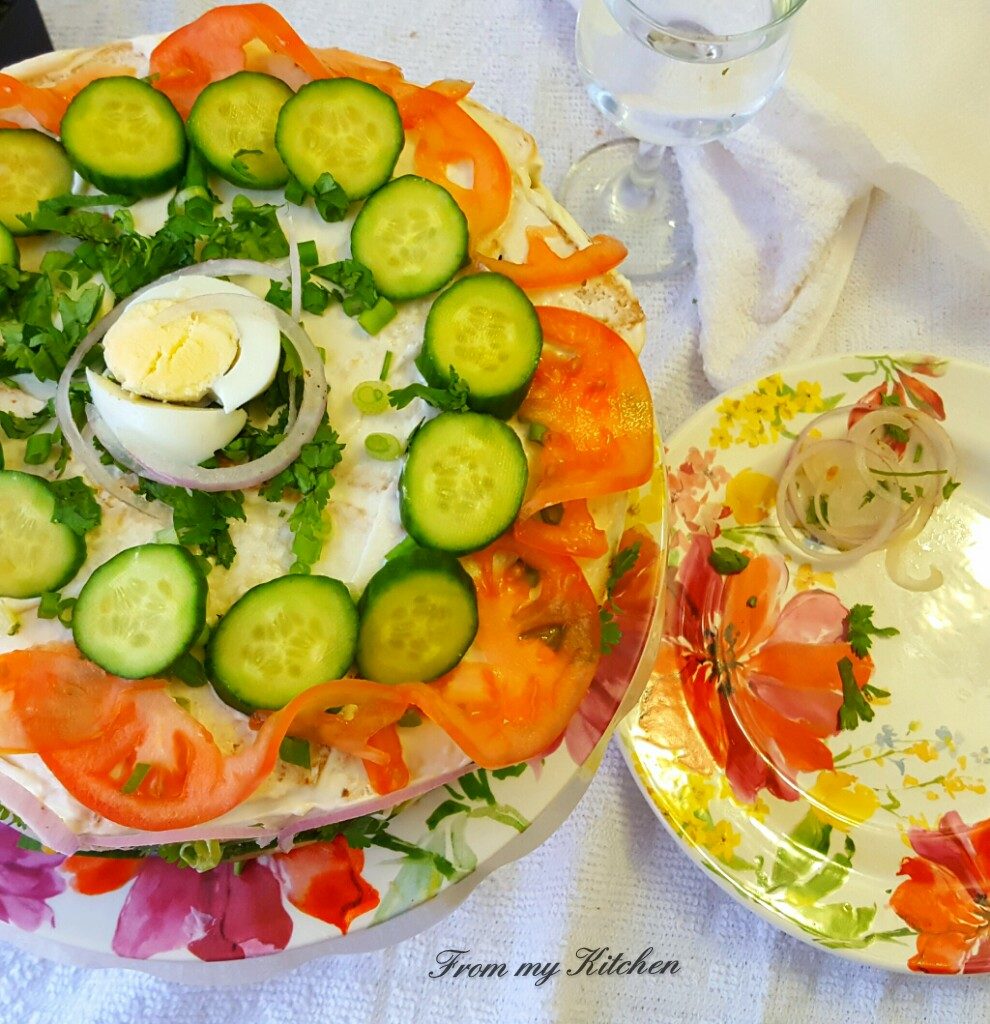 This is a heavy and rich dish with all the goodness of veggies,chicken and eggs along with all those creamy spreads and frosting.I made it as an evening snack.But it was too heavy that we skipped the dinner that day and relished these sandwich cake.
Over to recipe
Ingredients
18 to 24 slices of bread for 3 layers
For chicken filling
2 chicken breast fillet cut into pieces
1 tbsp chilly powder
1 tsp soy sauce
Salt
2 tbsp
2 tomatoes
1 tsp garlic paste
1 tsp ginger paste
1 tsp tomato sauce
1 tsp chilly powder
Veggies
2 cucumber
1 onion
2 large tomatoes
1 potato boiled
2 hard boiled eggs
Lots of cilantro
Chat masala
pepper powder
For spread
6 to 8 tbsp mayo
2 tbsp garlic mayo
3 to 4 tbsp cream cheese spread
Some chilly flakes/pepper powder
Method
For filling
Boil chicken with chilly powder,salt and soy sauce.When its cool enough shred it using a chopper.(so that you will get a fine mince.
In a pan pour two tsp oil add ginger,garlic paste along with a tsp of chilly powder and saute it for few seconds,
add tomato sauce mix well and add all the minced chicken into it mix and fry it for few second.
Now add finely chopped tomatoes and cover it and cook until the tomatoes are fully cooked.
Yo will get a smooth spreadable filling here.
For second layer
Slice the veggies and eggs in round and keep aside.
With a hand whisk mix together the spreads until smooth and creamy.
I put veggies on the middle layer and other two layers with chicken filling.
Cut the side of the breads.
Ingredients all Set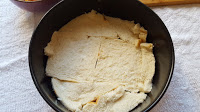 1.Arrange the bread by covering the base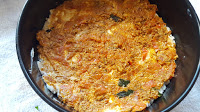 2.Put a good amount of chicken filling and spread it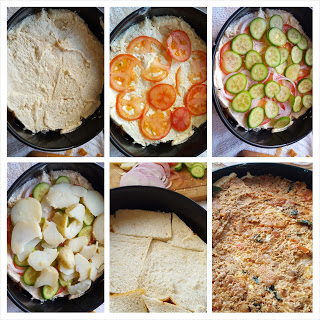 3.Again a bread layer ,spread some mayo cheese mixture
neatly arrange the veggies.
Sprinkle chat masala and pepper
and close it with breads
Spread the chicken mix sliced eggs and lots of cilantro.
4.Cover it with bread and slowly remove the sides of the pan.
5.Level the sides by cutting the excess and spread the mayo mix completely to cover the cake.
Yo will need a thin layer just to cover the cake.Then garnish it like how you want ,to make the entire cake looks pretty and neat.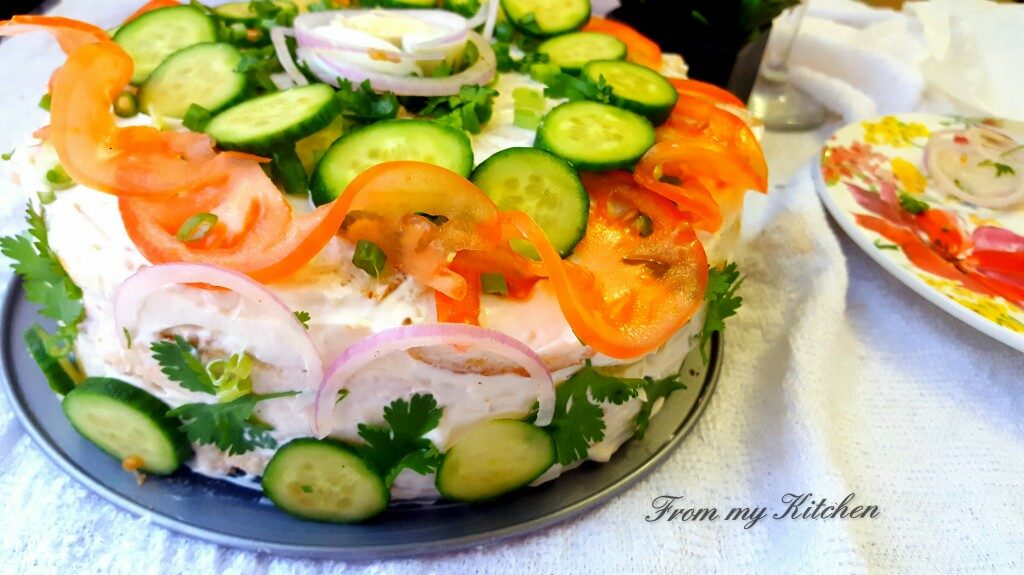 I'm so sorry i don't have a sliced picture.I have guests and didn't get a chance to click!
Notes:Don't make it too liquidy. This will create a mess while slicing the cake.
Also make sure you are using a sharp knife that's enough to cut the veggies inside the cake along with breads.
Do not press the bread to make it thin.Just cut the sides and arrange it.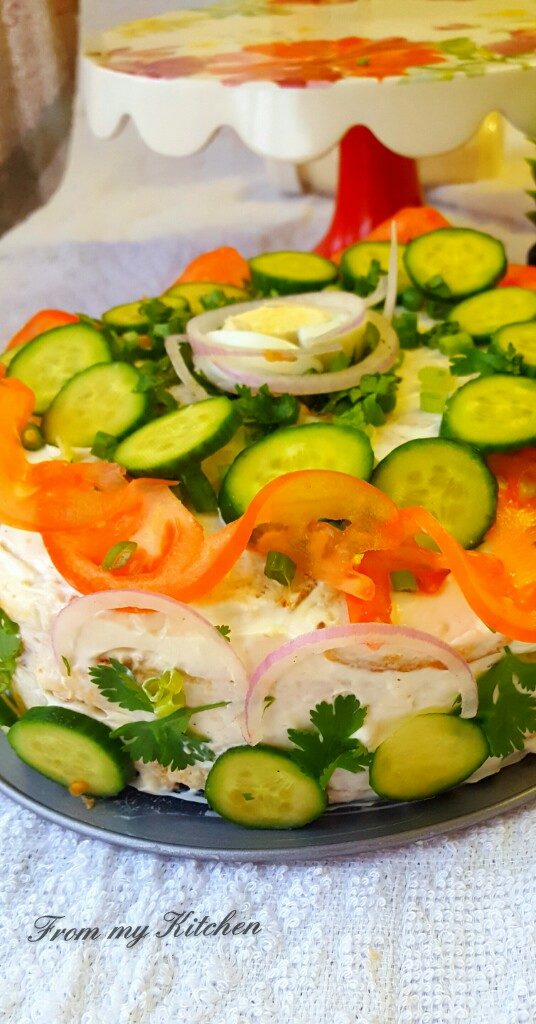 Really enjoyed this heavy sandwich cake dinner!Kids too loved it!Once in a while this will be a treat for the family!
Relish it!
Happy Cooking!