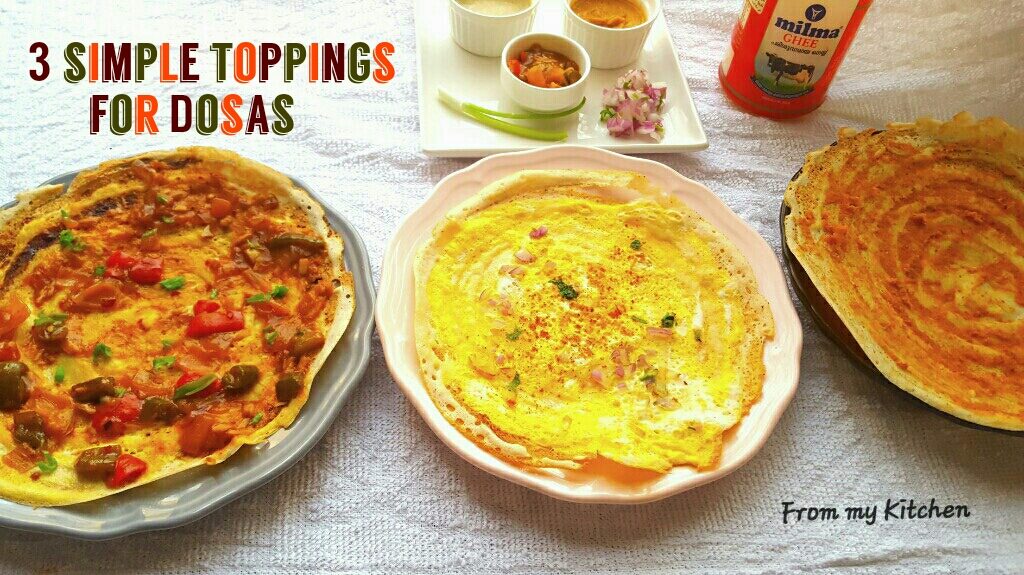 I'm sure most of us have same problem if we have a leftover dosa batter without any chutney or masalas. Yes you guys guessed it right.I have some super simple recipes for the hassle free breakfast.Two of them are without any chutney and still super yummy to eat.Most of the mommies need to hurry up for their kids breakfast,tiffin box and all,So here is some simple toppings for you.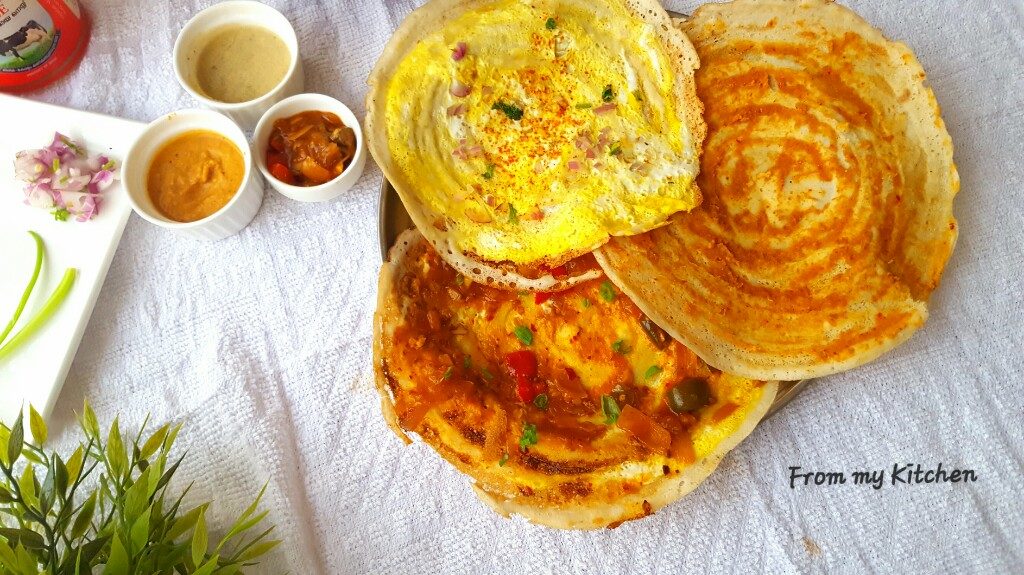 I liked the most is Chinese one!Yes its totally yummy,garlicky,saucy with crispy veggies and crunchy dosa!Second one spicy egg dosa.If you like cheese in it go ahead and add.Third one Mysore Dosa(i skipped the masala part and stick on to the chutney the main part of Mysore Masala Dosa.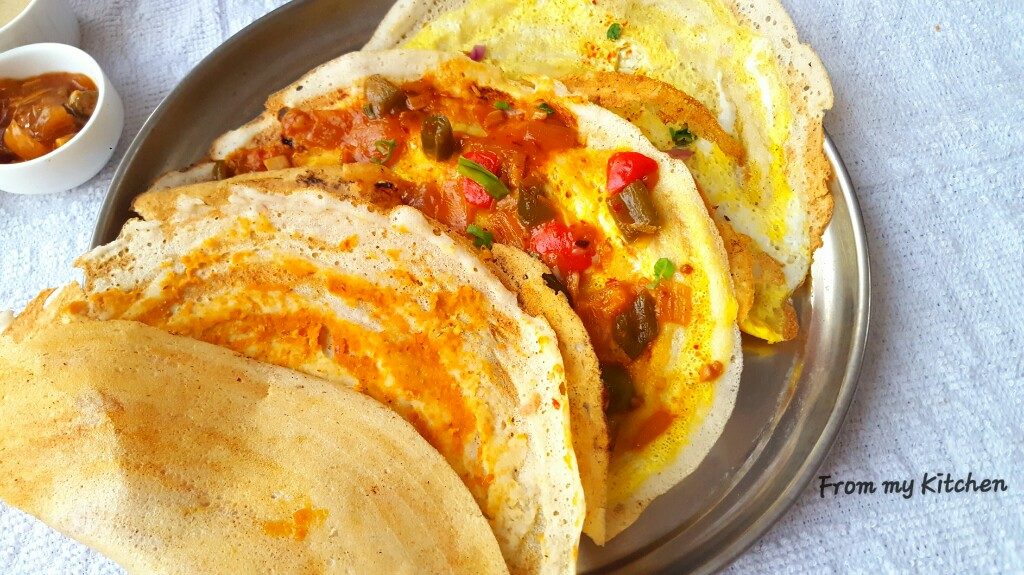 For egg dosa i sprinkled chilly powder and pepper powder on top along with some green chilly,onion, coriander leaves and tomato!It was yum too!And the other one is too simple just spread the prepared chutney on the top, for this u can also simply top it some veggies like we do in uthapam.
Ingredients
#1st one
Chinese Masala Dosa
1 onion
1/2 capsicum
1/2 tomato
1 tbsp garlic
1/2 tsp ginger
1 green chilly(if you like it hot)
1 tsp soy sauce
1 tsp tomato sauce
1 tsp pepper
Salt to taste
1 tbsp cornflour mixed in two tbsp water(optl)
Spring Onions for garnish
Oil to Saute
Dosa Batter
Note
: I added a teaspoon of beaten egg on top,this helps the filling to stick on to the dosa.(optl)
Method
Cube the veggies and keep it aside.Chop ginger, garlic green chilies
In a pan on high heat pour in oil,add garlic ,ginger and green chilly saute for few second.
Add cubed veggies and saute for 2 or 3 minutes.
Add sauces and pepper.If you like it thick saucy like consistency add cornflour mix,or else skip it Add chopped spring onion on top.
Now pour a ladle full of batter on preheated tawa sprinkle some ghee and pour a tsp or two of beaten egg and spread it over the dosa,Immediately put the topping and spread it evenly.Let the Dosa cook until its crisp.Sprinkle some spring onion greens on top for garnishing.Serve it hot
This filling will make about three to four dosas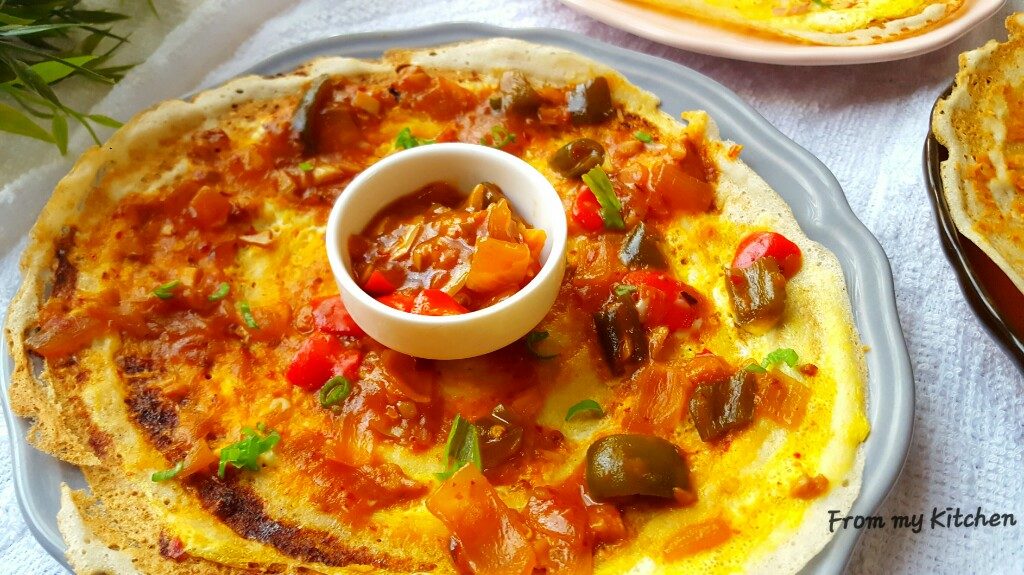 Chinese Masala dosa
#2nd one
Spicy Egg Dosa
For a dosa 1 or half egg
Onion
Tomato
Green chilly
Coriander leaves
A small piece of ginger freshly grated
Some chilly powder and pepper powder to sprinkle on top
Salt to taste
Method
Chop the veggies and keep ready other ingredients .You can either mix all the veggies in a bowl or add it one by one on top of egg while preparing dosa.
Pour a ladle full of batter and sprinkle some ghee on top.Crack in one egg put salt and pepper
with the help of a ladle or sharp spoon mix the egg and spread it evenly on dosa. Sprinkle some chilly powder
Immediately add all the veggies and spread evenly. when its done on one side flip it over and cook the other side.
Garnish with coriander leaves and serve hot with any of your fav chutney.
Tip:
For one dosa you can use one egg.If you are making it for many
Crack some eggs in a bowl and use accordingly.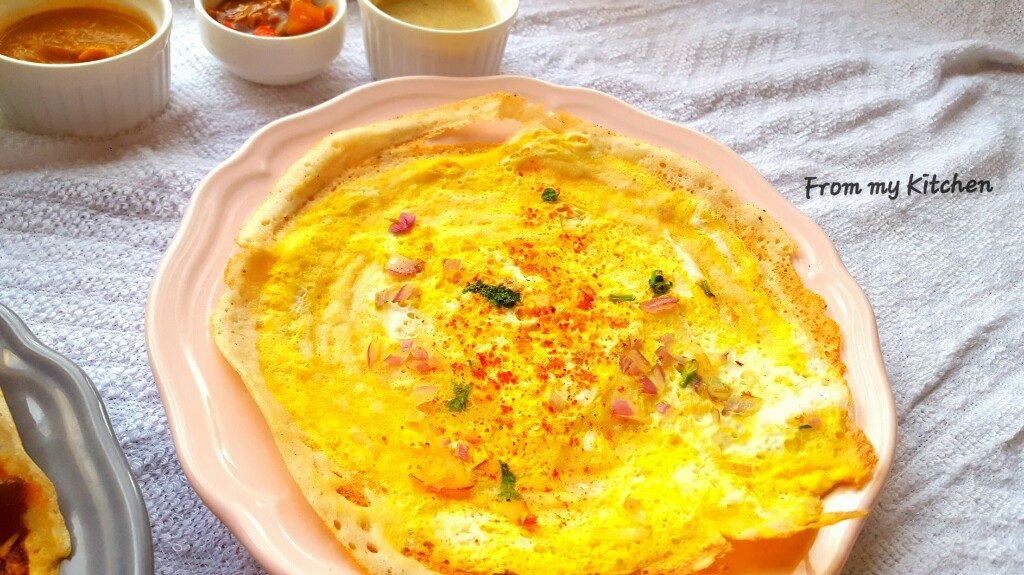 Egg Dosa
#3rd one
Mysore Dosa
The main part of this dosa is dal chutney
1/2 cup chana daal(yellow)
4 to 6 dry red chilly
1 inch piece ginger
2 cloves garlic
2 tbsp coconut
1/2 of a lemon juice
Salt to taste
Grind everything in a blender with some water and make it to a paste.
Pour a ladle full of batter on preheated tawa sprinkle some ghee and spread this prepared dal chutney evenly on top of dosa and cook it until its crisp,
If you want to make mysore masala dosa after doing this put the regular potato filling on top and fold it and serve,I made Mysore Masala Dosa the previous day and it was yum!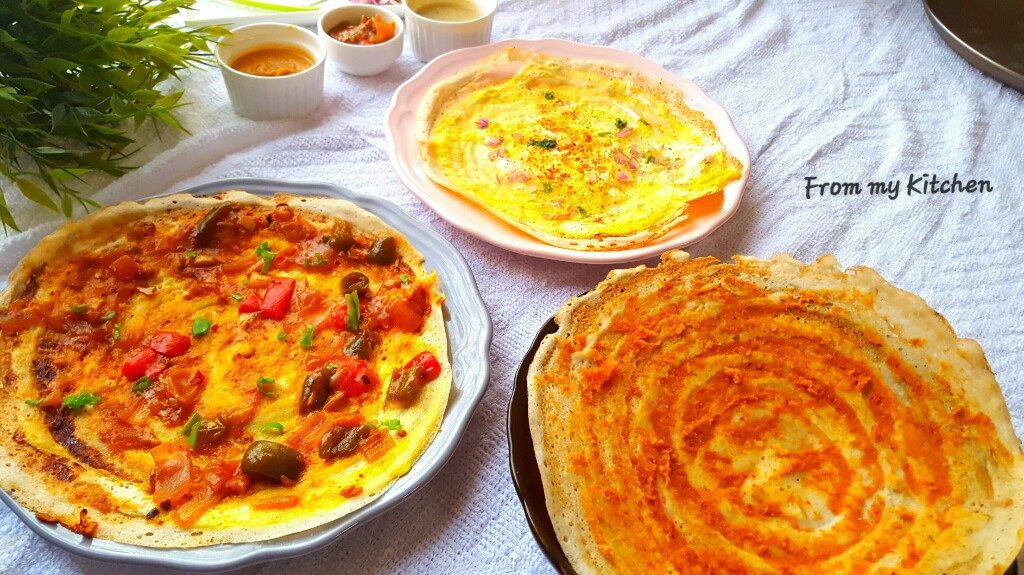 Which one do you love to have?Please let me know!:-) Kashif loved the egg dosa (but for him i made it less spicy!Akif (my toddler)and i loved the Chinese one and hubby liked the spicy Mysore Masala Dosa..hehe!Play with flavors and have fun!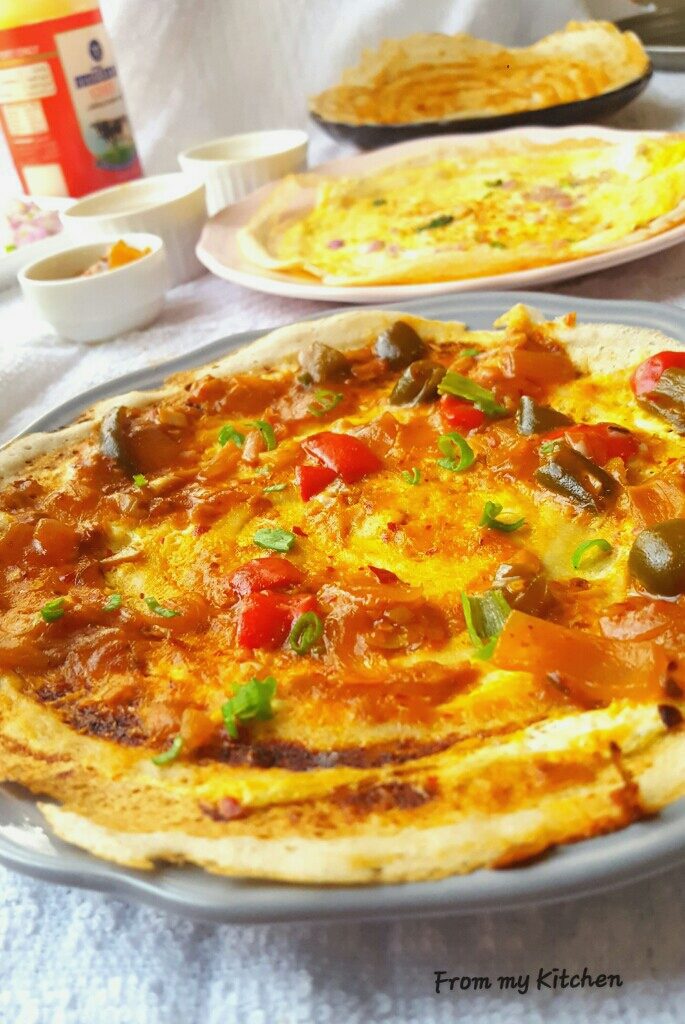 I know many like to stick onto the usual regular flavors!But a change is always exciting!isn't it?
Enjoy your regular dosa in different avatar and i'm sure you will love it!
Happy Cooking!