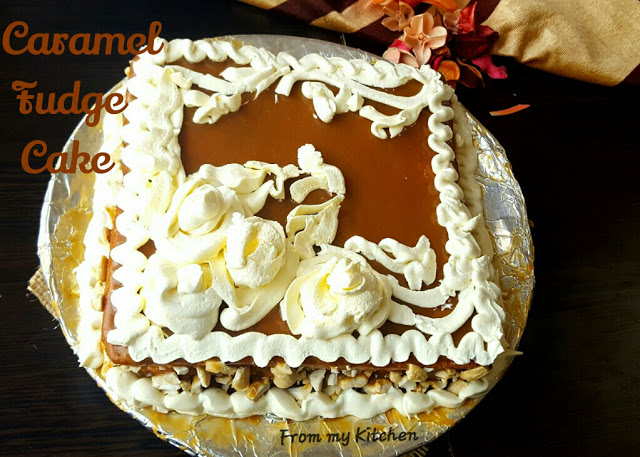 I'm a big big fan of this caramel cake!Oh my god i really don't have words to explain it…heavenly,sinfully decadent with all those oozing caramel sauce,the crunch from nuts,soft vanilla cake!Caramel lovers….Try try try!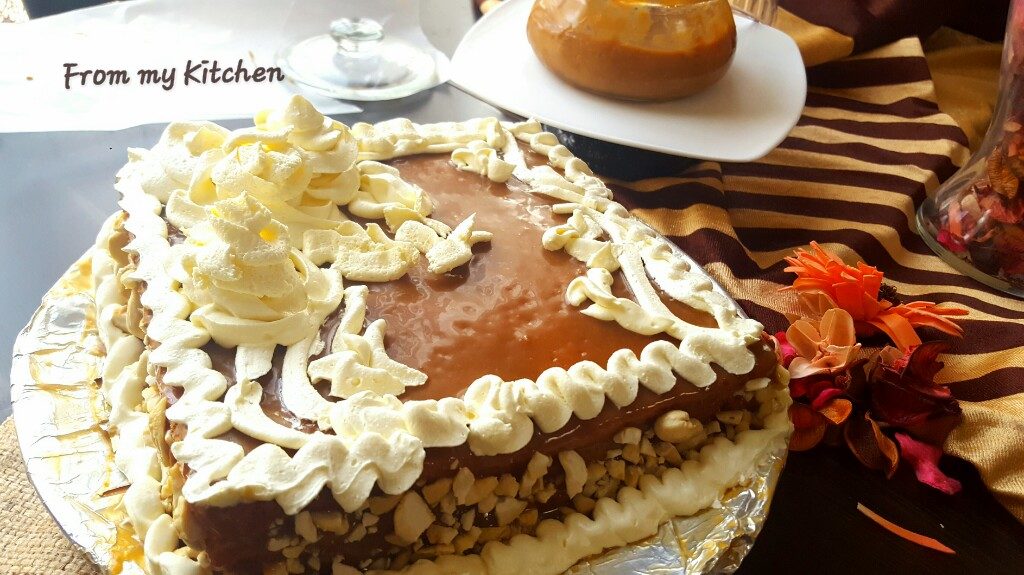 I'm damn sure who ever from Kannur should have been tasted this,This cake i have it from in laws place and it happened like love at first bite!Lol!Really its finger licking good!This cake is ina list of must eat when im there for vacation.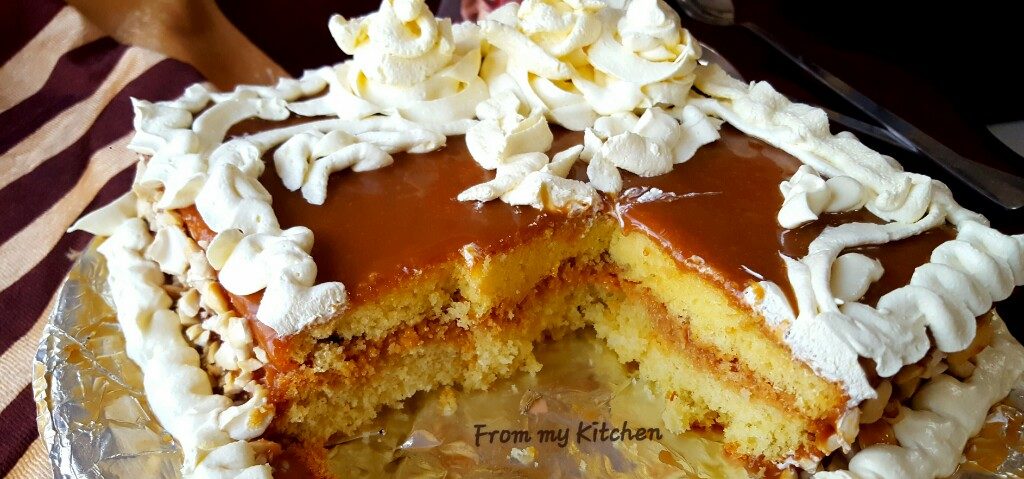 The most happiest day was yesterday when my hubby give the comment that this cake taste exactly like the "Baker Boys" one!!!Oh my!!Really Happiness is when the home made taste exactly like store bought one!Isn't it?That too if its our fav.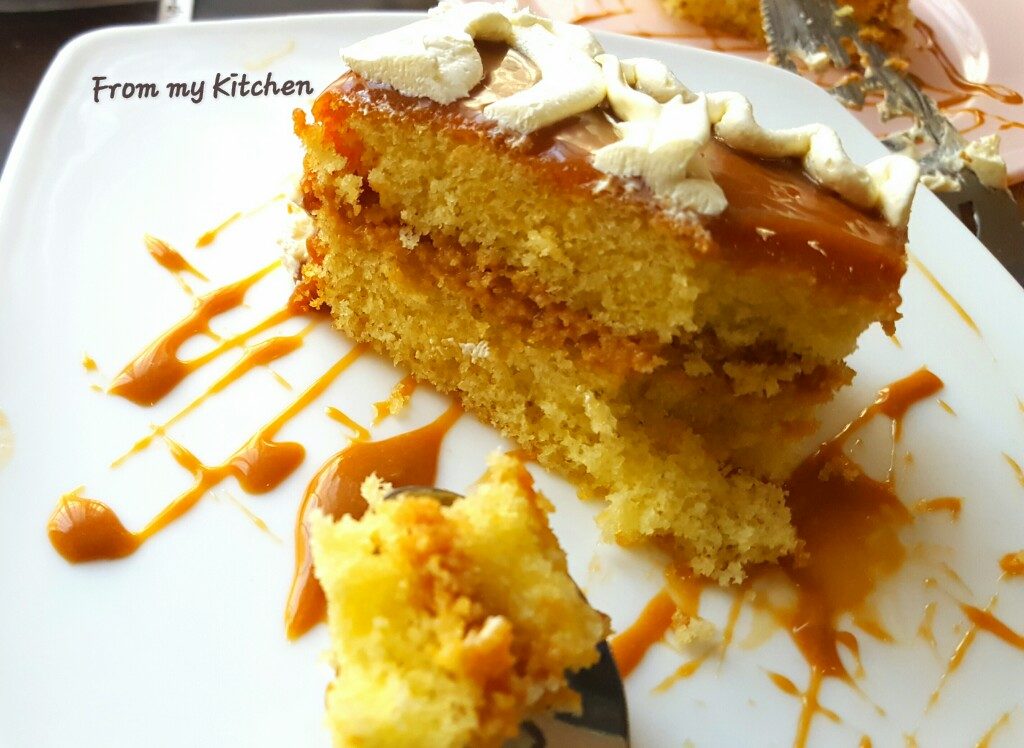 Yes its little bit on sweeter side as its caramel.This is my third attempt and here i got it perfectly.There is a little secret in it.I didn't add only tat caramel sauce but I added other ingredient too that ,may be that make it perfect.(But that is only optl)
Ingredients
For Cake
4 eggs
3/4 cup powdered sugar
3/4 cup all purpose flour
1 tsp baking powder
6 tbsp butter/oil
2 tsp vanilla essence
For Caramel Sauce check Here
1/4 to 1/2 tin thick Dulce de leche (my secret ingredient)
2 or 3 tbsp cream to make it smooth
Nuts to cover the sides of the cake
Whipped Cream to decorate the cake(optl)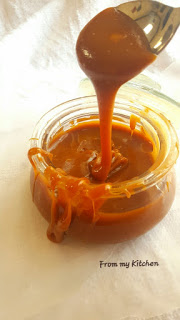 Method
In a large bowl cream together eggs and sugar until light, fluffy and when it becomes pale yellow in color.
Mix vanilla and beat.
Lightly add sifted flour and baking powder along with butter in two addition. Fold in gently so that air formed will not deflate.
Pour it into the greesed baking tin and bake it for 30 to 40 minutes on a preheated oven at 180 degree,
When its completely cool cut it from the center and keep aside.
For the caramel filling
Take out the dulce de liche (milkmaid toffee),if its too thick make it light by blendig cream in it.(i used nestle cream)A thick spreading consistency
Now mix this cream with the prepared caramel sauce.( I didn't add full of the prepared mix with the sauce.Only add it by checking how much u need for the complete cake to cover and frost.)
Now fill this creamy caramely sauce in between two slice of the cakes and also cover the cake by pouring it over the cake just like pouring chocolate ganache and level it and scrape down the sides.
For Decorating i used whip cream.
Notes:If you feel like your prepared caramel sauce is getting too thick just warm it with a tbsp of milk and then add the dulce de liche mix.
If you are not using Dulce de lihe Double the qty of the caramel sauce you are making.SO that you will have enough qty to cover the cake.
Th Caramel sauce should be thick poring consistency and not the thin one.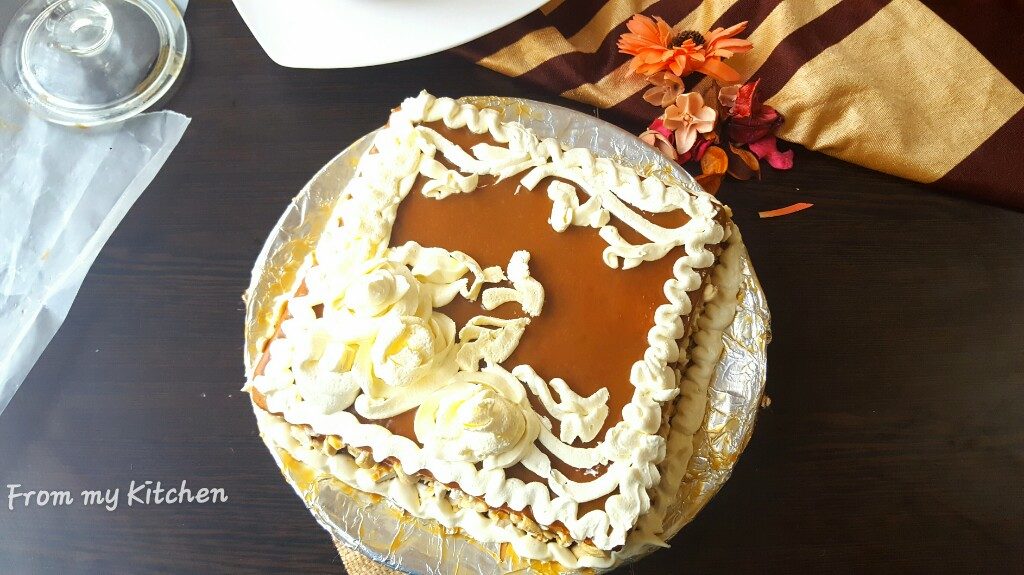 I hope the instructions here are clear.If you have any doubts please feel free to ask.If you are a caramel lover this is a must try recipe.I mean how sinfully decadent are these!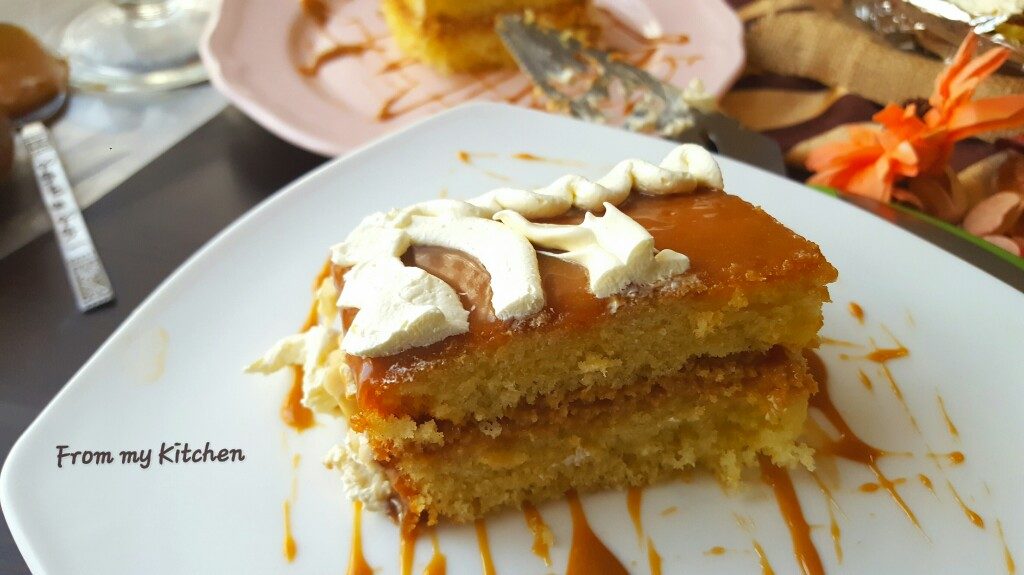 Enjoy your holidays and festivals with some new and delicious recipes.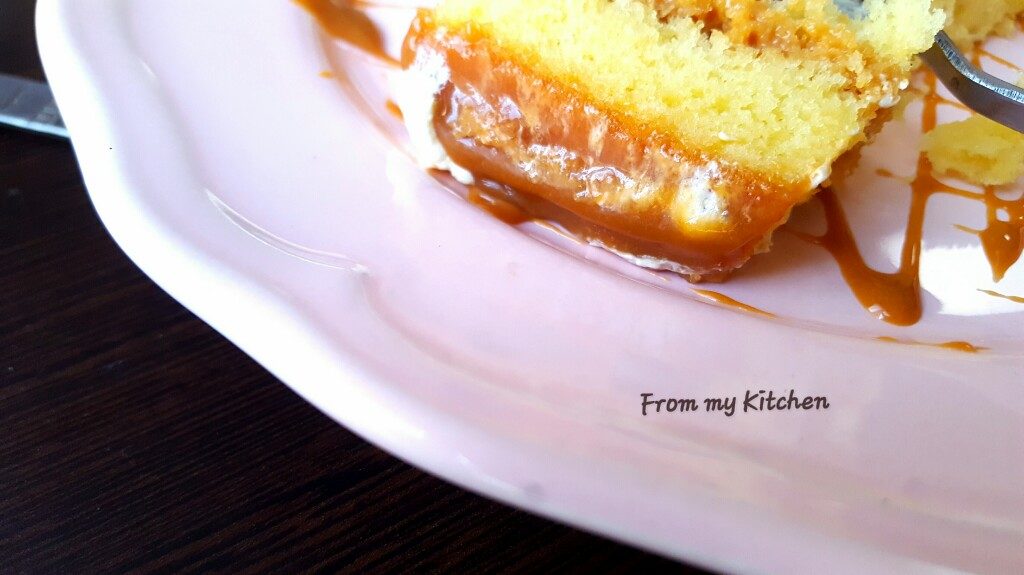 Also i feel like of you are not a caramel lover this cake will definitely make you a caramel lover.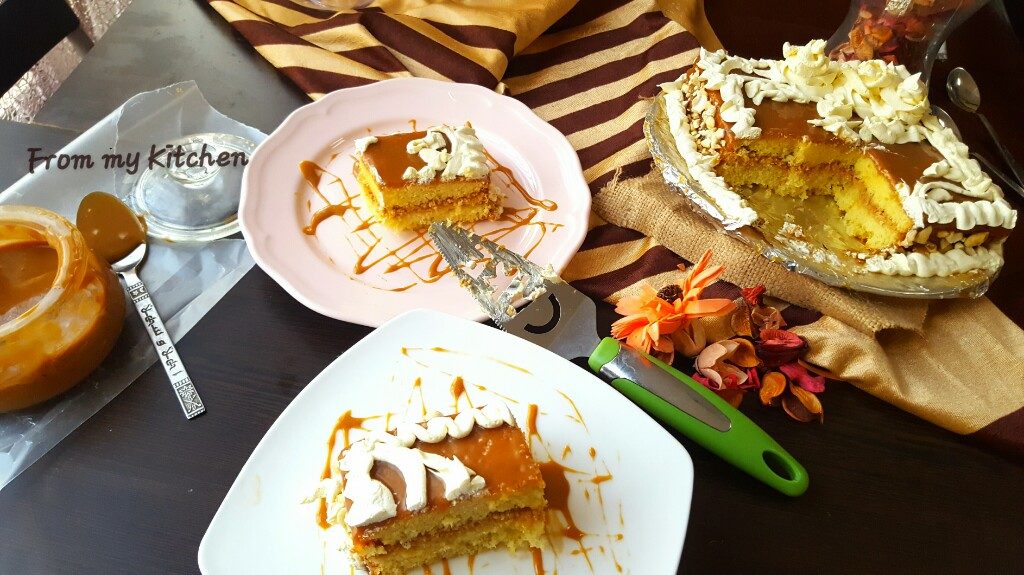 Relish your holidays with this deliciousness!!