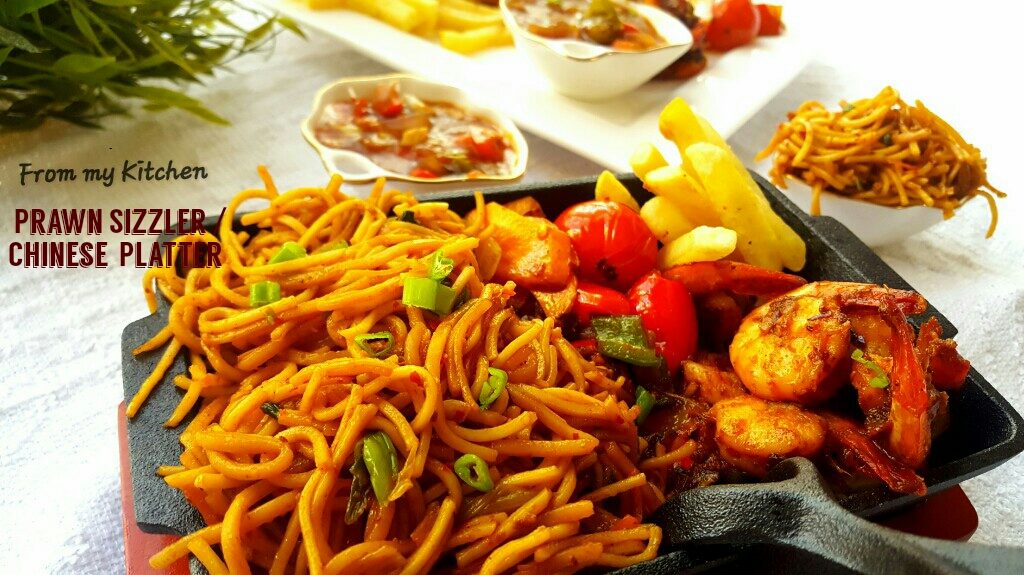 Sizzlers are favorite for all mainly because it's served sizzling hot!I was so excited when i bought this sizzling plate.But don't worry if you don't have sizzler plate you can of-course serve it as a Chinese Platter.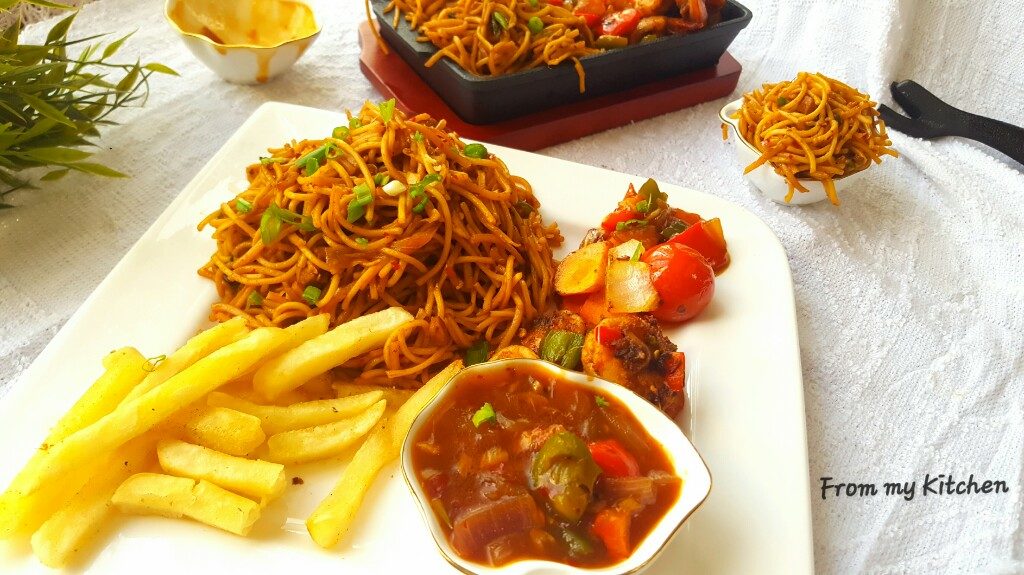 Sizzlers are mostly served as a complete meal!It has a main course,side dish ,sauce and veggies.I love to hear that sizzling sound when sauce poured over the platter.You can serve it all piping hot in a platter like this and i'm sure every one in your family will be super happy.Especially kids while seeing the noodles,sweet and sour sauce,fries and that prawns!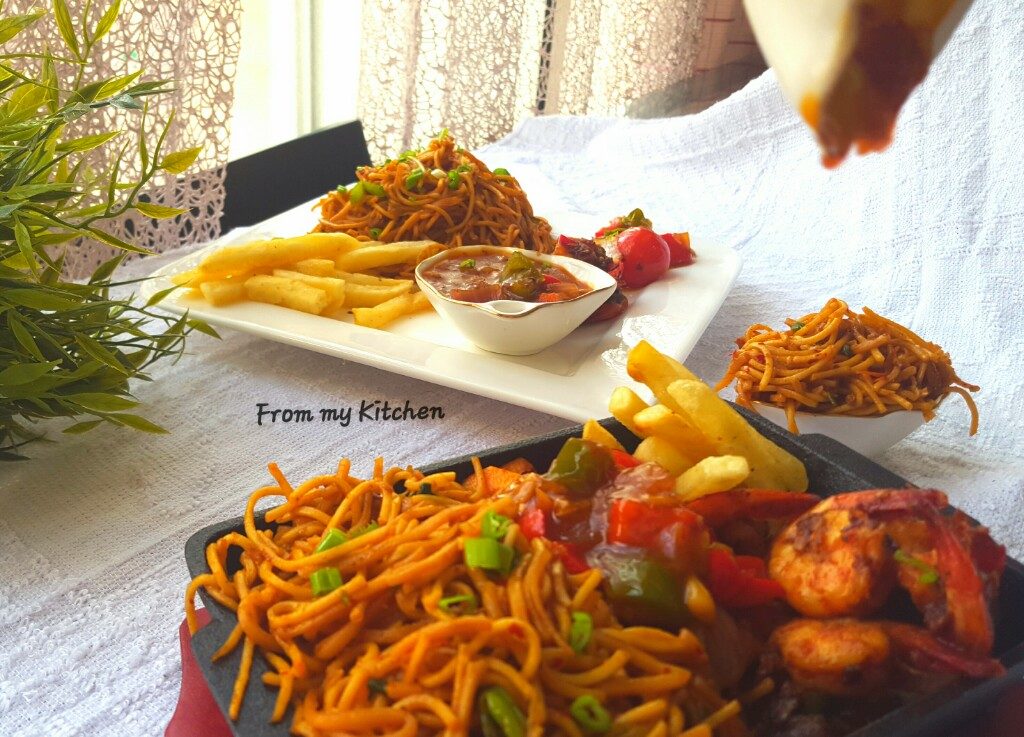 The recipe is very simple.All work is for prep.Make sure all your ingredients are chopped and handy,so that you can make it all in a jiffy.The main ingredient here is ginger,garlic spring onions and some sauces.Also some Veggies for sauce,
Really its not a complicated recipe at all.Last Saturday i was too lazy to cook and also busy with Kashif 's studies and all.When I ask hubby what to make he said something simple to cook and light for tummy!Then i remembered these sizzling plate sleeping at my cupboard.Here goes their sizzling lunch ready with in half an hour.Yay!They were happy so do i!! hehe!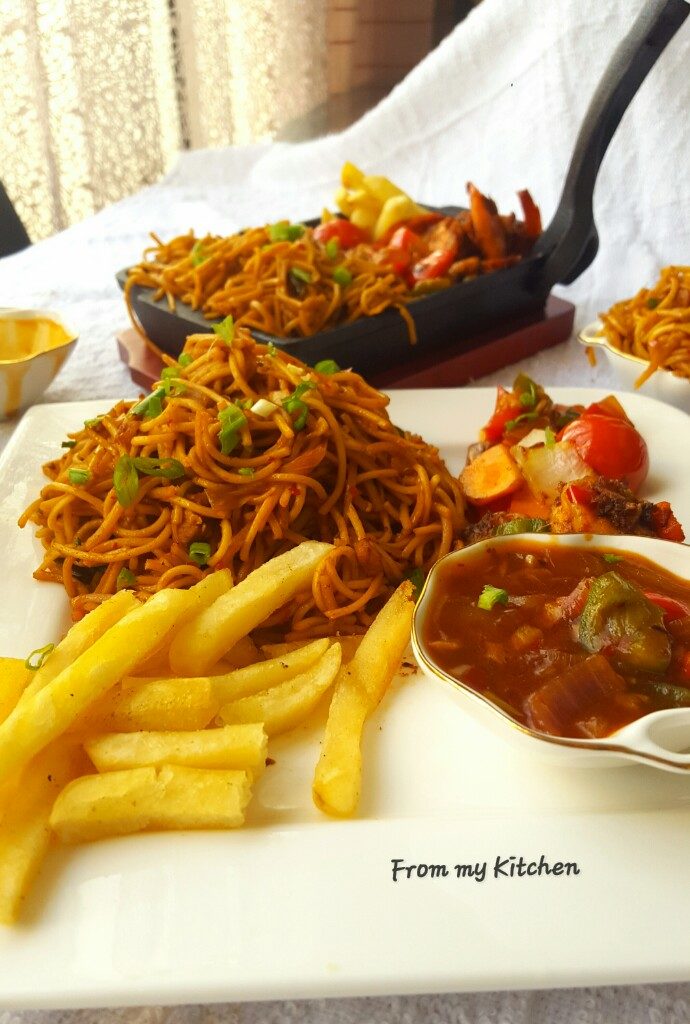 Over to recipe
For Prawns
10 to 12 jumbo prawns
2 tbsp garlic
1 tbs ginger
2 tbsp spring onion whites and greens
1 tsp Chilly Flakes
1 tsp Thai chilly paste/red chilly paste
1/4 of an onion cut in cube(optl)
1/4 of a bell pepper(optl)
1 tsp Soy Sauce
2 tbsp oil
For noodles
2 cups Boiled noodles
2 tbsp garlic
2 tbsp ginger
2 tbsp spring onion whites
Spring onion greens for garnishing
1 tbsp Schezwan sauce
1 tbsp Soy sauce
1 tbsp tomato sauce
1 tsp chilly sauce
1 tsp chilly flakes
1 tsp pepper
1/2 tsp vinegar
1/2 tsp sugar
2 tsp oil
For Sauce
1 tbsp garlic
1 tbsp ginger
1 tbsp soy sauce
1/2 of a bell pepper cut in cubes
1/2 of an onion cut in cubes
Some spring onions
1 tbsp tomato sauce
1/4 to 1/2 cup water
1 tsp cornflour mixed in some water
Salt to taste
Pepper to taste
Sugar and vinegar to balance the flavor
1 tsp oil
Method
For Prawns:
In a wok pour two tbsp oil when its hot enough add ginger,garlic and saute until you get that nice aroma.
Add chilly flakes and prawns fry it for few minutes.
When its half done add onion and caps(optl)(u can skip the veggies)
Then add Thai chilly paste,soy sauce,pepper,Mix well and fry until its well coated in sauce and veggies.This prawn was bursting with the flavors of garlic and ginger.It was yum
Note:The Prawn is spicy( you can adjust the heat accordingly)
For Noodles:
Tip I used same pan for all,cooked one after the other.If you are using the same pan for noodles it will coat that flavors and drippings from prawns and make it more flavorful.
In the same pan add 2 more tsp oil add ginger,garlic,spring onion whites and saute for few minutes.
Add sauces chilly flakes,pepper sprinkle some water and mix the noodles.
Add salt,Vinegar and adjust the sauces and spices accordingly. Lastly garnish with lots of spring onions
Make sure the wok is big one.
For Sauce
In a pan pour two tsp oil then ginger garlic and other veggies saute it on high flame for 2 to 3 minutes.
Add water and sauces and vinegar
Add seasonings and last cornflour mix to thicken the sauce.Taste it and balance the sourness by adding little honey.
Here ready all your components,If you want french fries as a side fry it while all these are cooking.
Don't forget to heat your sizzling plate before.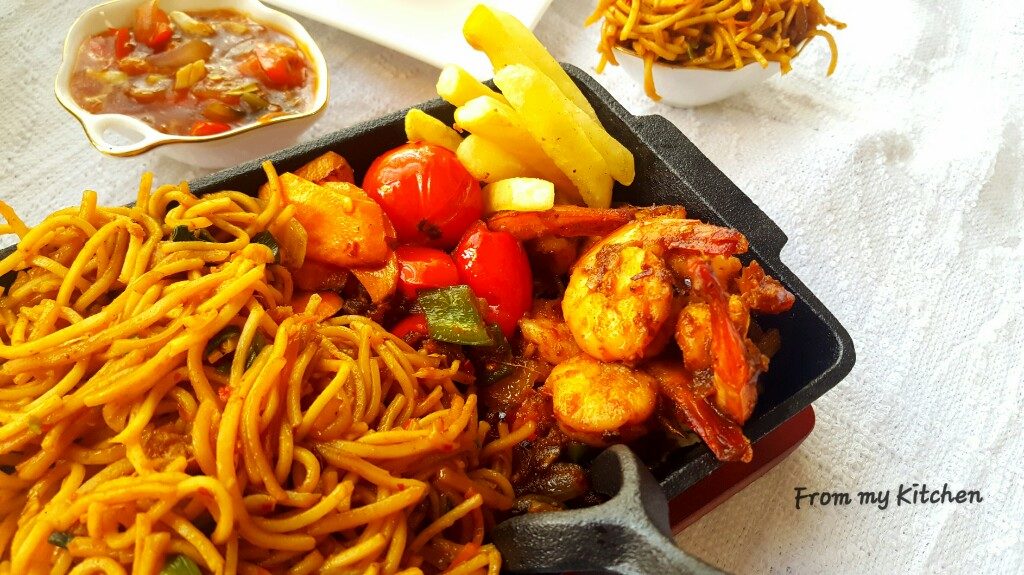 It is an amazing treat for the Chinese food lovers.Also serve it super hot.Apt for the climate.
I made everything here a little spicy.You can adjust the heat according to your taste bud.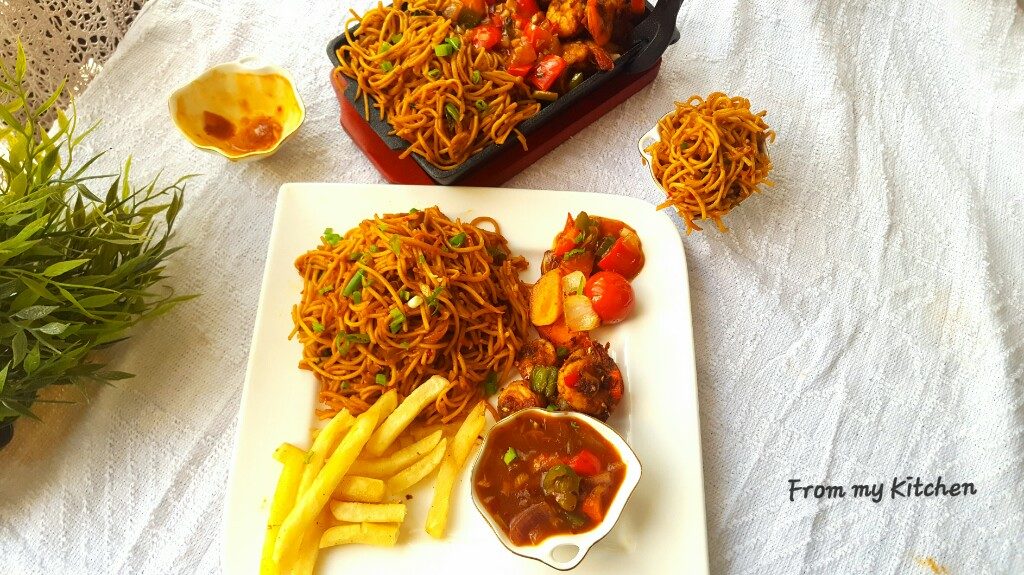 The spicy prawns,that plain noodles.the sweet and tangy sauce with the amazing flavors of garlic and ginger were calling us like come on dig in!I somehow manage to click some pictures!Hehe!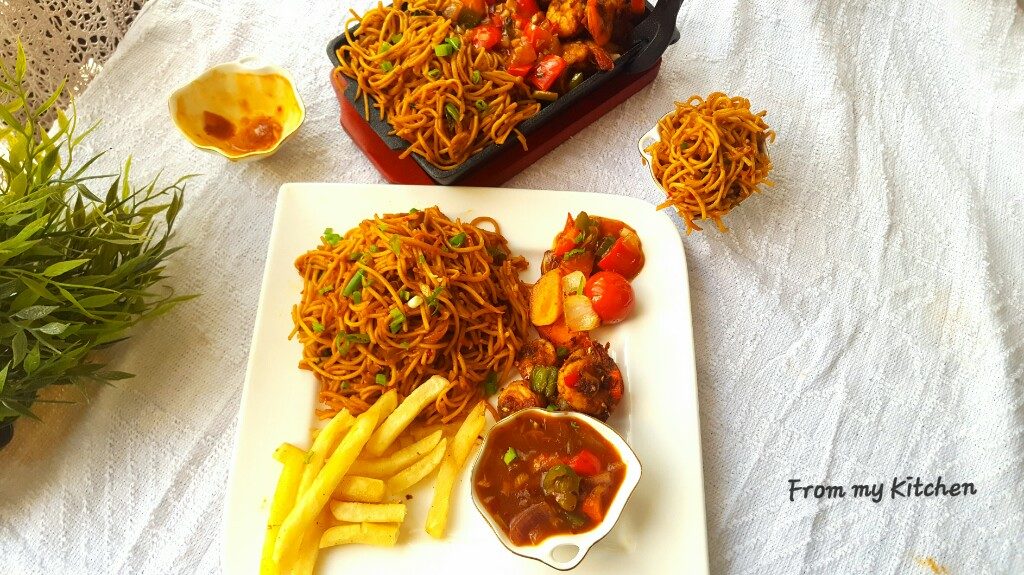 Dive in!
Happy Cooking!