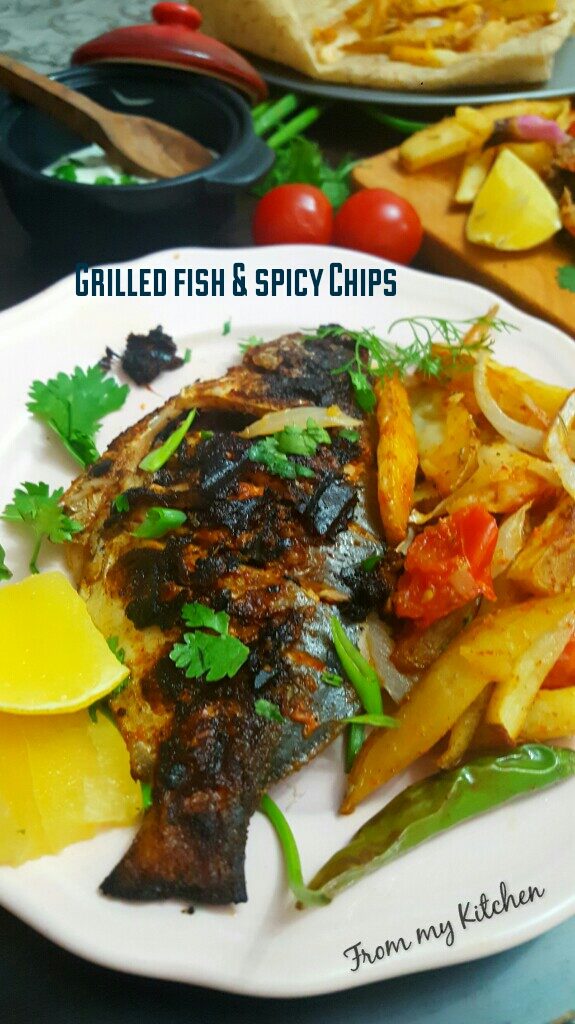 It's a sheer bliss to have freshly cooked fish on the dining table! The smoky flavor from the grilled and well marinated fish with the spicy potato chips was heavenly!This grilled fish was a treat for myself and my son!As my regular readers know that my hubby is not at all a fish lover so hardly experiments with fish!This one was made when he was not here for dinner and we relished it!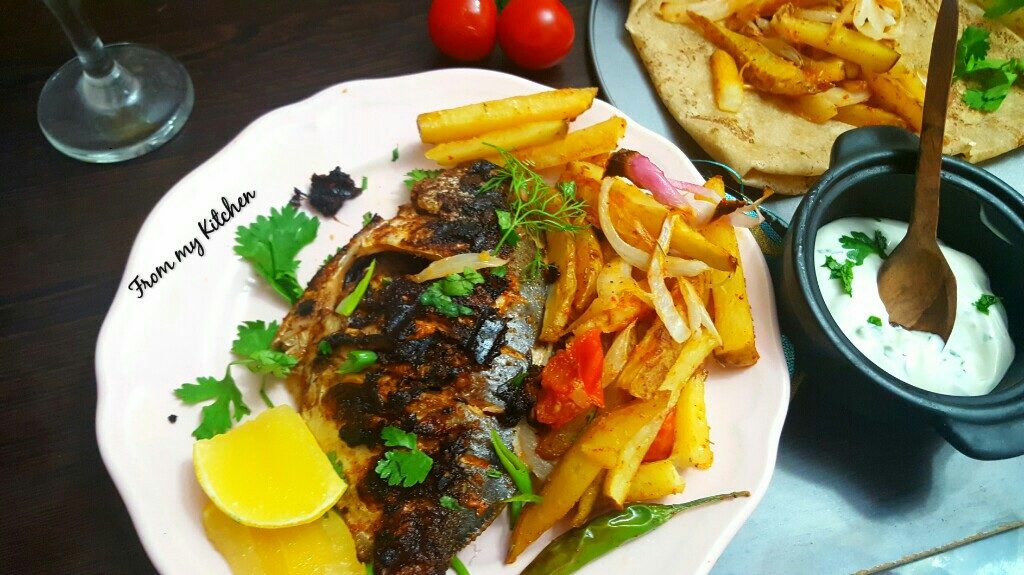 I love fish in any form like my dad!He is a fanatic fish lover .Whenever he went market and bought fish umma(mom)used to fry it fresh and we relish it with wheat crepe(kalakki chutte).There aren't any food better than the one made by moms!isn't it?Miss them!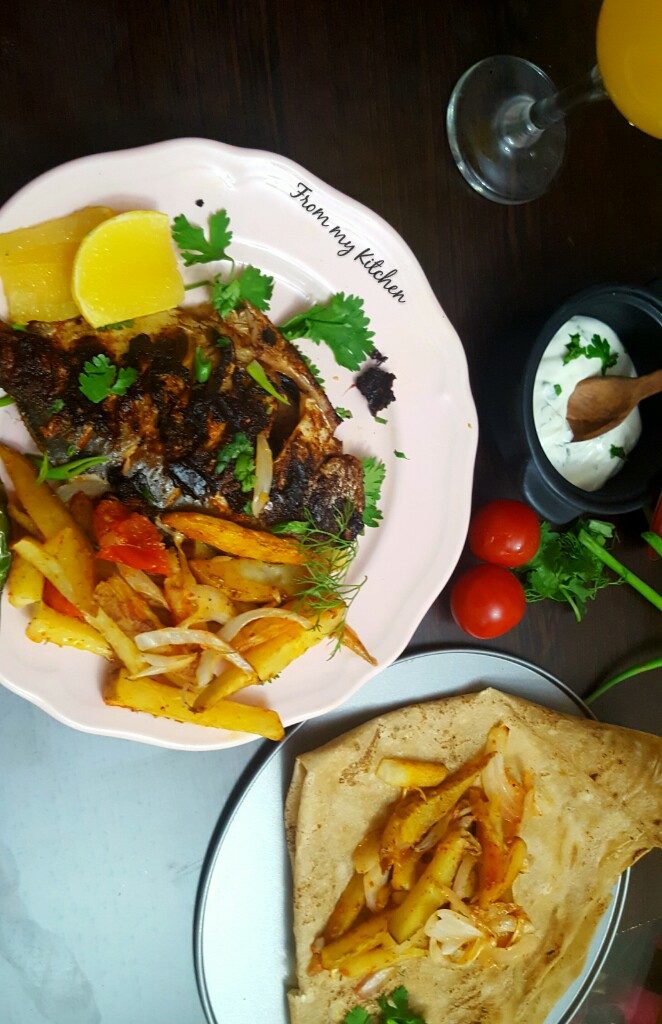 Also made a mayo yogurt dip that compliment well with the fish!
Ingredients
1 big Pomfret or any fish of your choice
2 tbsp yogurt
1 tbsp mint leaves
1 tbsp coriander leaves
1 green chilly
1/2 tsp chilly powder
1 tsp pepper corns
1/2 tsp fennel powder
1 tsp vinegar/lime juice
1 tsp ginger paste
1 tsp garlic paste
1/2 tsp garam masala
Salt to taste
1 tsp oil
Oil to grill
For Potato Chips
2 big potato cut in wedges or thin like french fries
1 tsp paprika/chilly powder
1/2 tsp garlic powder
Some oregano
Some pepper
salt to taste
Olive oil
For Mayo dip
4 tbsp mayo
2 tbsp yogurt
1/2 tsp pepper powder
Tiny bit of paprika
Some cilantro
A pinch of garlic powder
Method
Clean the fish and make deep insertion on the fish with a sharp knife
Grind mint.coriander leaves,ginger,garlic,green chilly,yogurt and pepper corns to a coarse paste.In this add other ingredients mentioned under the list of marination and spread it well on the fish.Marinate it in between each insertion and inside the fish and let it marinate at-least for 1 hour.The more it marinates taste better.
Know in a grill pan or tawa pour two tbsp oil and grill it until cooked and you get a charred effect.Also i added some sliced onion and tomatoes in the same marination and grilled in the same tawa beside the fish.
For Potato.
In a baking pan spread the potato wedges mix all the spices,salt and olive oil and bake it at 200 degree for 20 to 25 minutes or until its crisp.Take out and flip in between.
For dip
Mix mayo,yogurt,salt,paprika, pepper and garlic powder.Finely chop soem cilantro and add in it.