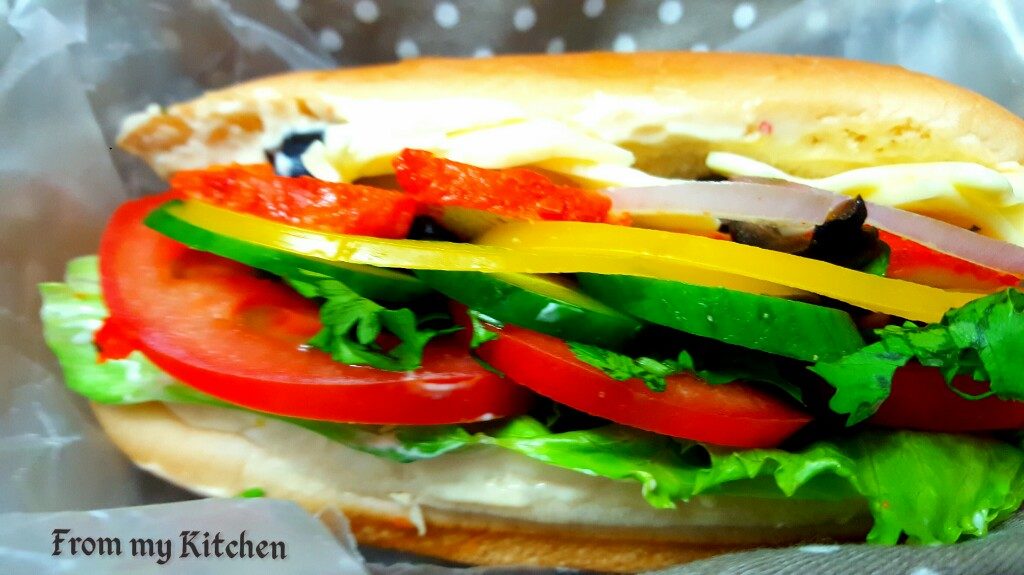 Wooh!!Look at that vibrant colors of healthy veggies!These sandwich are loaded with full of flavors and of course it's healthy !It's a heavy meal and you can even have it for dinner.Love the look of sub sandwich and this is my try on it!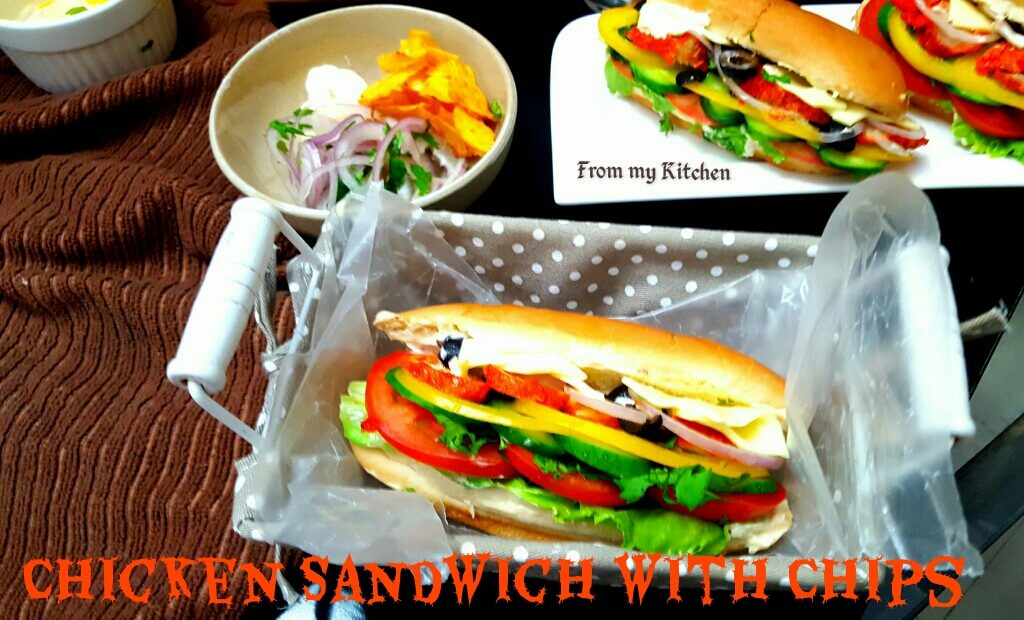 In this there is a small twist that you can enjoy the sandwich better than ever.Have you ever tried adding potato chips in your sandwich along with veggies!If no its time to try it!Any potato chips of your choice like lays,pringles…works here.Its just too good along with veggies,chicken,the mayo dip and that crunchy chips…woo!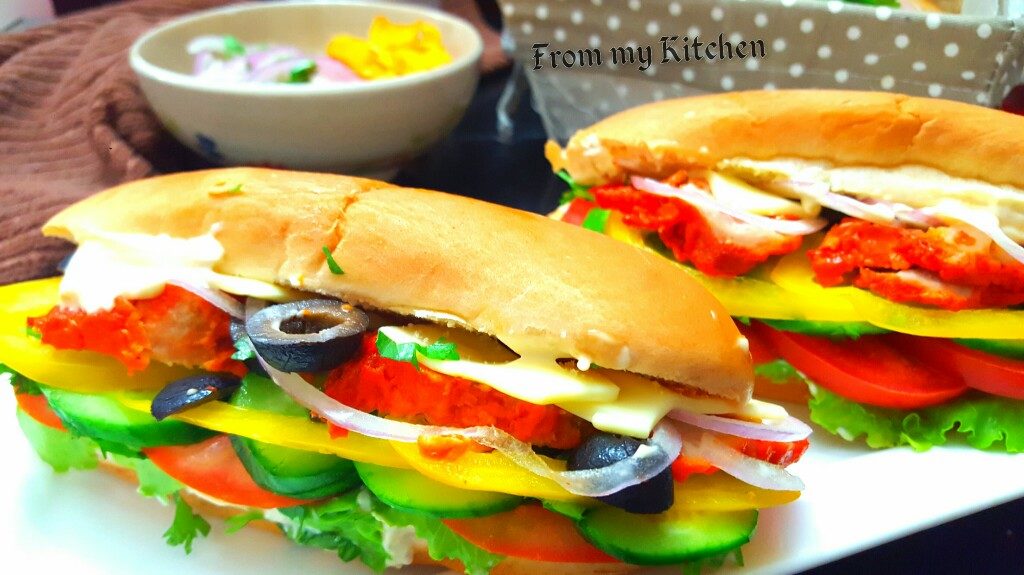 Try your sandwich with chips next time.Only you need will be your choice of veggies,spread and chips!This was created when a large packet of chips i saw while making sandwich lying in front of me and i added it in my sandwich and wala!! It was yum yum yummy!Kids too will definitely enjoy it!Here i added well coated garlic chicken and it was just delish!
Ingredients
6 sandwich bread
Cheese slices
Pepper,salt or any seasoning of your choice
For chicken
1 chicken breast fillet
garlic paste 1 tbsp
1 tsp Kashmiri chilly powder
2 tbsp cornflour
1 tbsp flour
salt to taste
1 tsp soy sauce
2 or 3 tsp water to make a thick coating
For veggies
1 onion thinly sliced
Some olives
1 or 2 cucumber thinly sliced
1 big tomato thinly sliced
Bell pepper any color
lettuce
Parsley or cilantro
Any potato chips of your choice
For Spread
4 to 5 tbs mayo
2 tsp mustard paste
2 tbsp sweet chilly sauce
1 tsp garlic powder or 1/2 tsp crushed garlic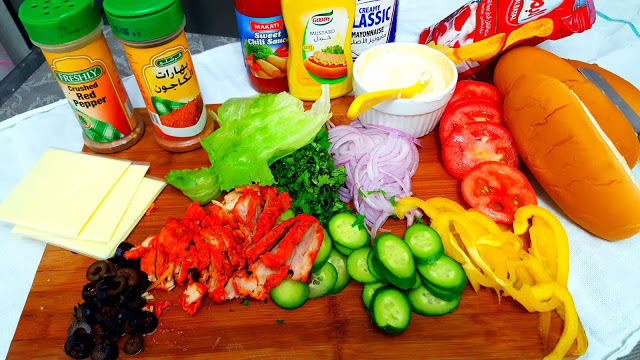 To make Sandwich
Cut chicken into 3 or 4 chunks ,Mix the ingredients to marinate ,in a bowl and make a thick paste or batter out of it.Now add the chicken in it an mix well.Let it sit for 15 minutes.Then deep fry it.
Note:You can use any leftover chicken here.or boil it with salt,chilly powder,garlic paste and shallow fry it.
Thinly cut the veggies and keep aside
Mix the spread
Cut your bun halfway through.
Spread the dip
Arrange veggies like lettuce,tomato,cilantro,cucumber,,bell pepper,chicken,onion,olives and last some chips and cheese slice!(try to make it even and thin layer so that you can adjust it accordingly)
Lastly sprinkle some pepper or chilly flakes and any seasoning of your choice.
Too much ???But believe me its super yummy!
Add chips at the end.I used to serve it in a separate bowl and we use to arrange it while eating!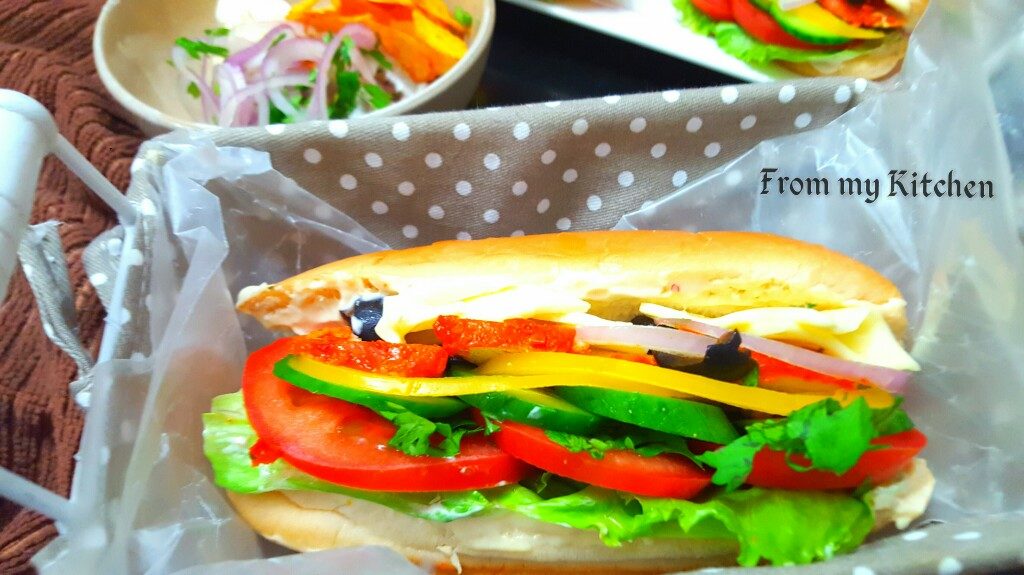 This was my Saturday dinner!!Yes kids will find it difficult to eat,but you know they want whatever in our plate!isn't it?We totally enjoyed it!Hope you guys will try it and relish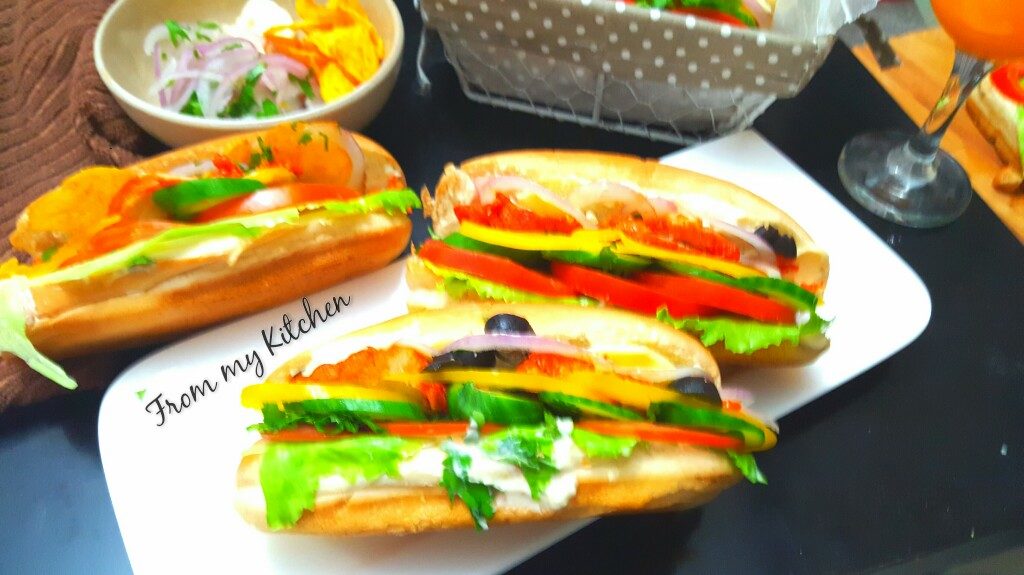 Happy Cooking!