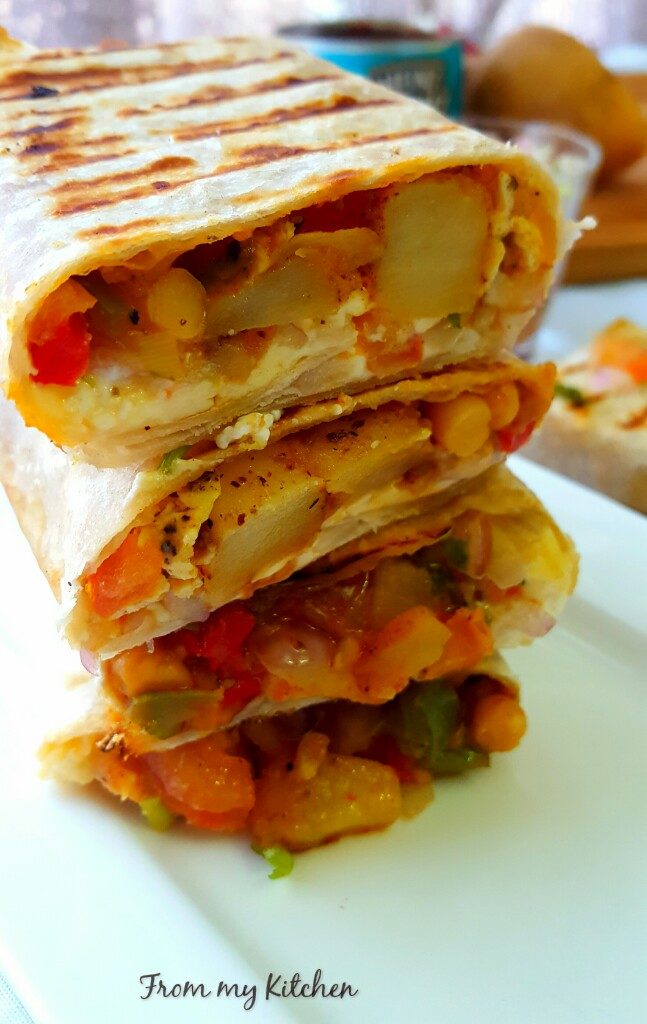 Burritos is an amazing Mexican delicacy!Those who are not familiar with this,its a wrap made up of tortilla and some spicy Mexican filling with fresh salsa,veggies and meat along with some cheese and sour cream and then grill it to perfection.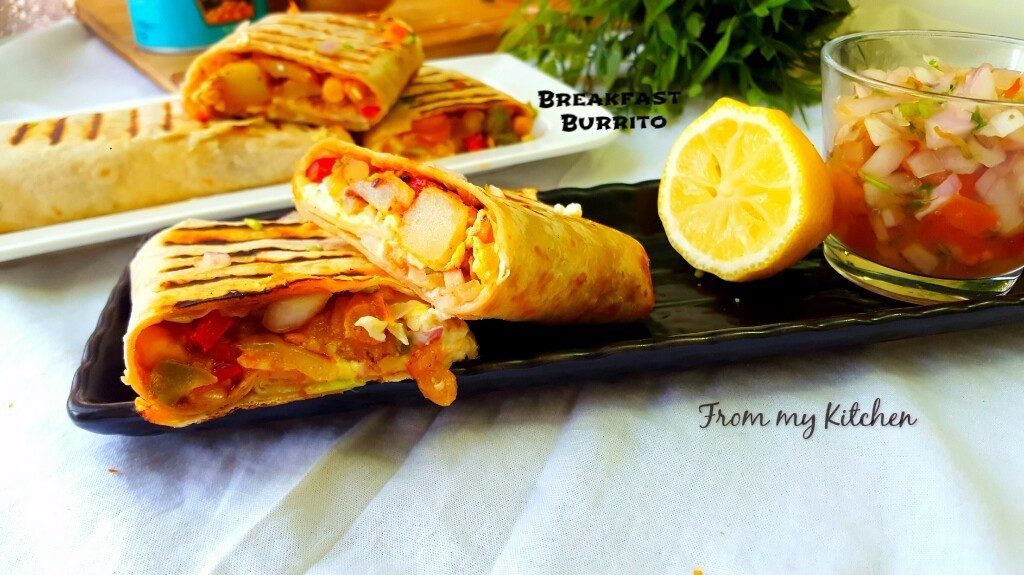 As it is made for breakfast i didn't used any meat here.I made a baked bean filling,with some crispy fried potatoes and some spicy scrambled egg with fresh salsa as a filling,Salsa is nothing other than an onion, tomato n cilantro salad.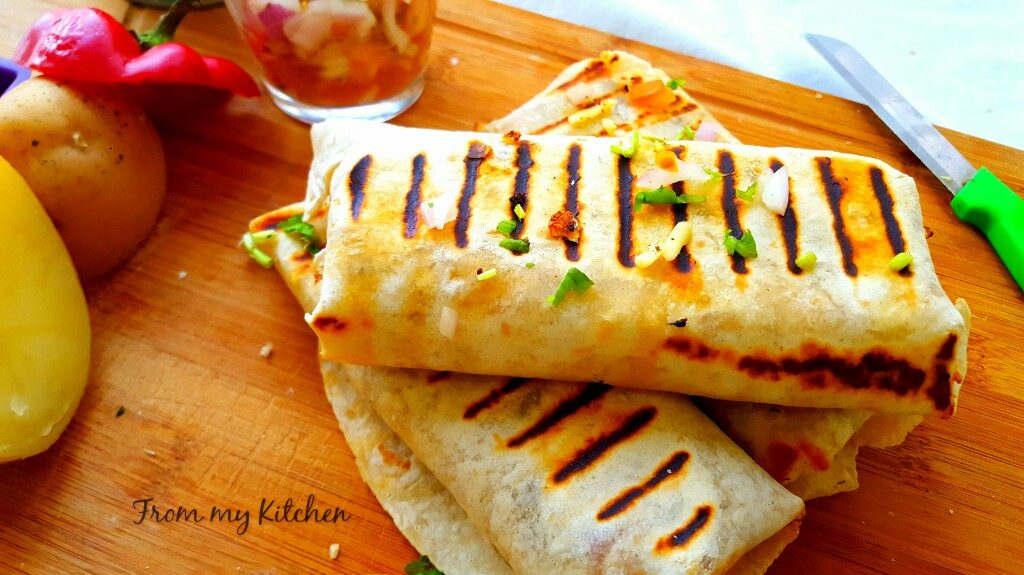 It's healthy and perfect breakfast option to kick start your day!Hubby loved it.If you don't like bean skip it and use chicken sausage instead.It will taste yummier!If you are planning to make this for breakfast or for kids tiff-in box make the filling and boil the potato day before and store.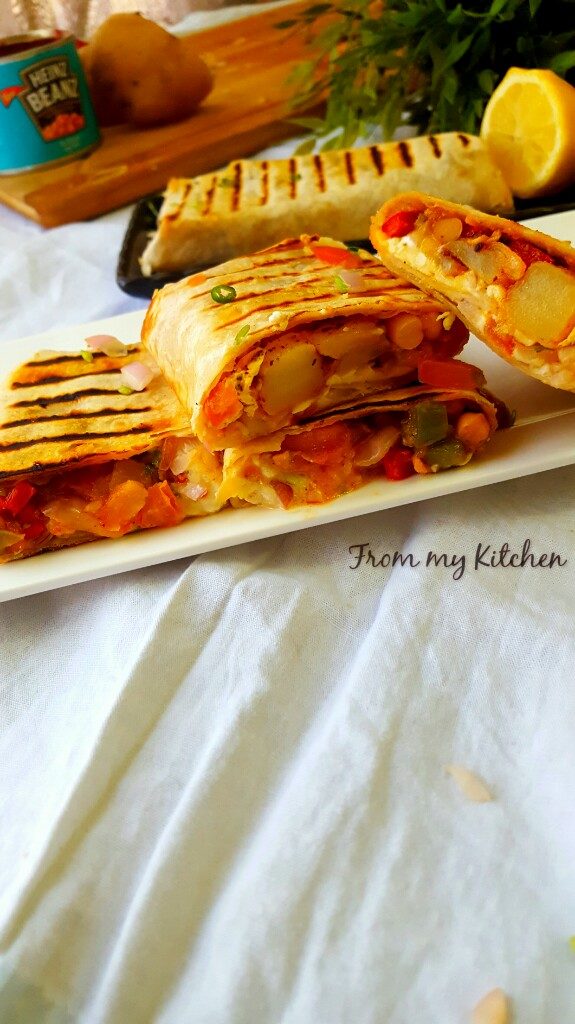 Ingredients
6 Tortillas
1 tsp oil
1/2 onion
2 cloves garlic
1/2 red & green bell peppers
1 small can baked bean
Salt to taste
3/4 tsp chilly flakes
1/2 tsp pepper powder
1/2 tsp cumin powder
2 medium boiled potatoes with salt
3 to 4 tbsp oil
1 to 2 tsp paprika /chilly powder
1 tsp garlic powder
2 tsp lemon juice
salt to taste
2 or 3 eggs
Salt n pepper to season the egg
For salsa
1 small onion
one small tomato
1 green chilly
Some fresh cilantro
1/2 tsp hot sauce (optl)
A good squeeze of lime juice
salt to taste
Other ingredients
Cheddar cheese
Sour cream(if you don't have sour cream mix in some lemon juice and milk with fresh cream and use)or use mayo.
Avocado(optl)
Method
Chop the veggies and keep aside
In a wok pour some oil add onion and garlic and saute for a while.Add capsicums and cook for few sec add spices and baked beans.(baked bean has salt in it so check and add salt).Don't overcook the veggies,we should retain that crunchiness of veggies.Mix well and keep it aside.
Boil potato with salt.Don't overcook it,you should be able to cut it neatly
Cut the potatoes into small cubes.
Toss it with paprika, garlic powder and lemon juice
In a pan pour 3 to 4 tbsp oil . shallow fry the marinated potatoes till edges are crisp and golden brown.
In same pan scramble egg with some salt and pepper and keep aside.
Make salsa by mixing all the ingredients listed under salsa.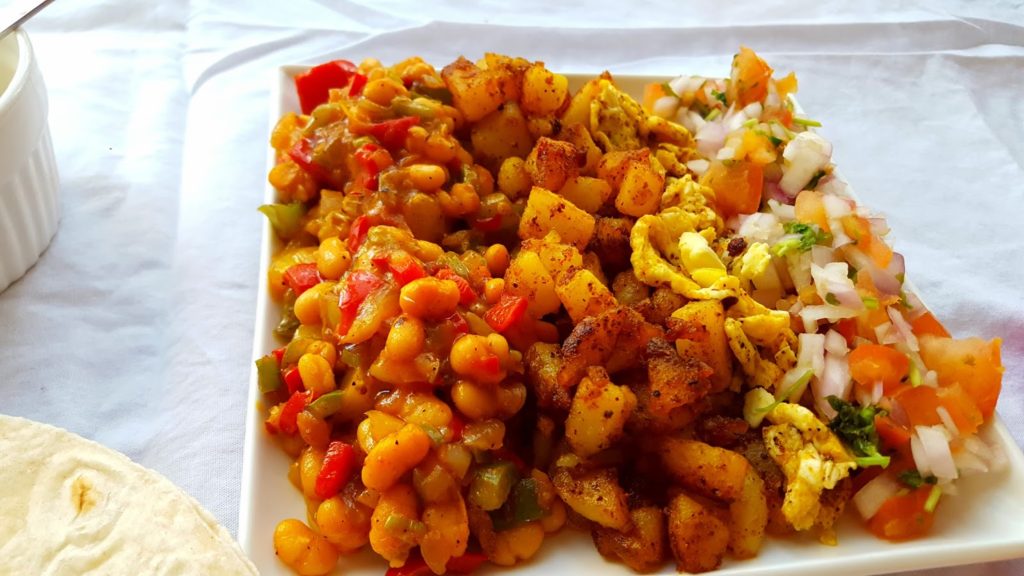 Here is my assorted burrito filling.

Now the Assembling part.here is it.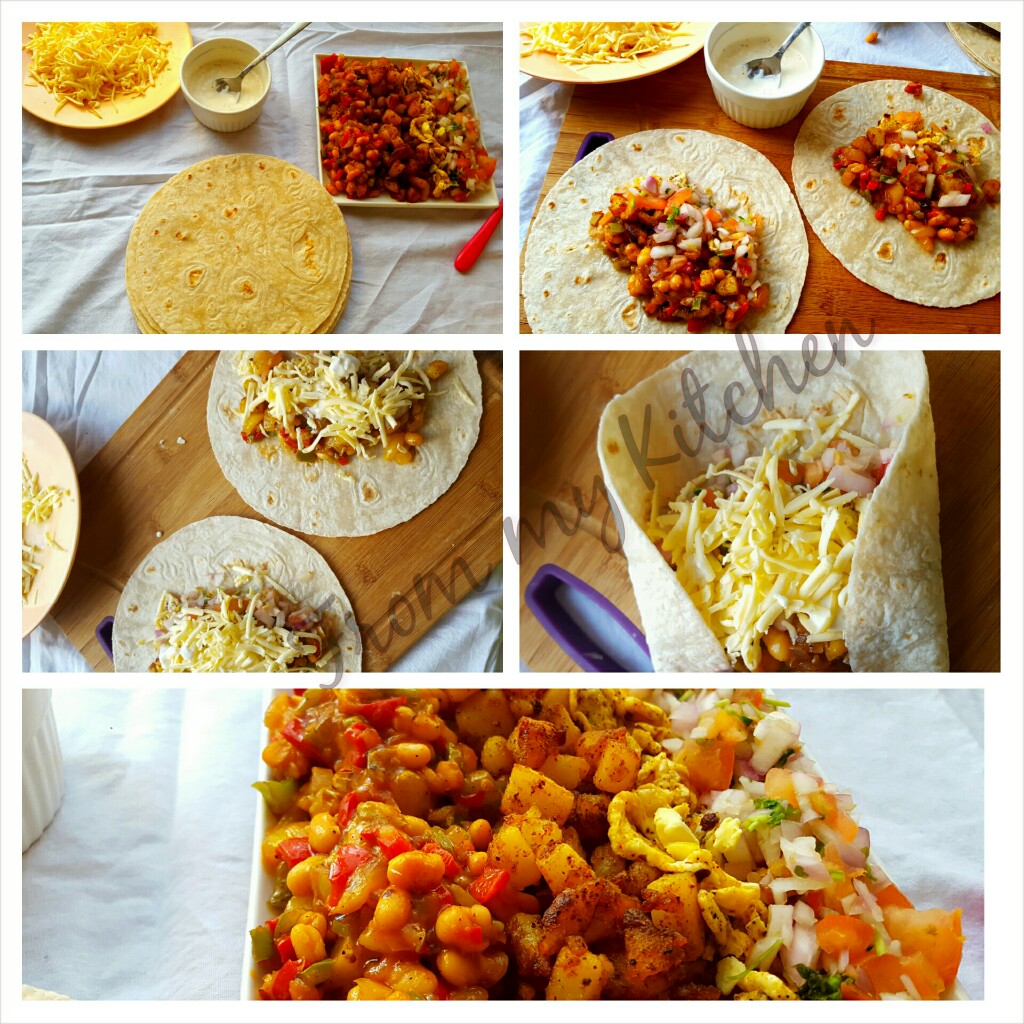 Take tortilla put all the filling one after another spread some sour cream or mayo then cheese and the fold it and grill it on a tawa or grill pan until both sides are crisp.Sprinkle very little oil while grilling. Serve it immediately.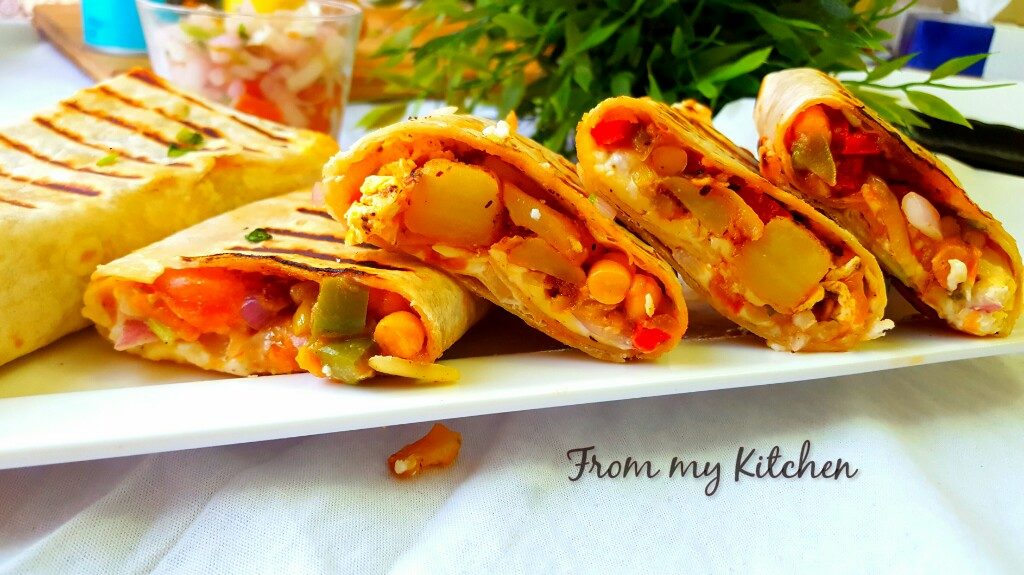 It was juicy, succulent ,spicy and tangy with all those filling and of course cheesy !!!!!!What are you waiting for!Come on go for it!If you have any leftover chapatis try it with that leftover rotis.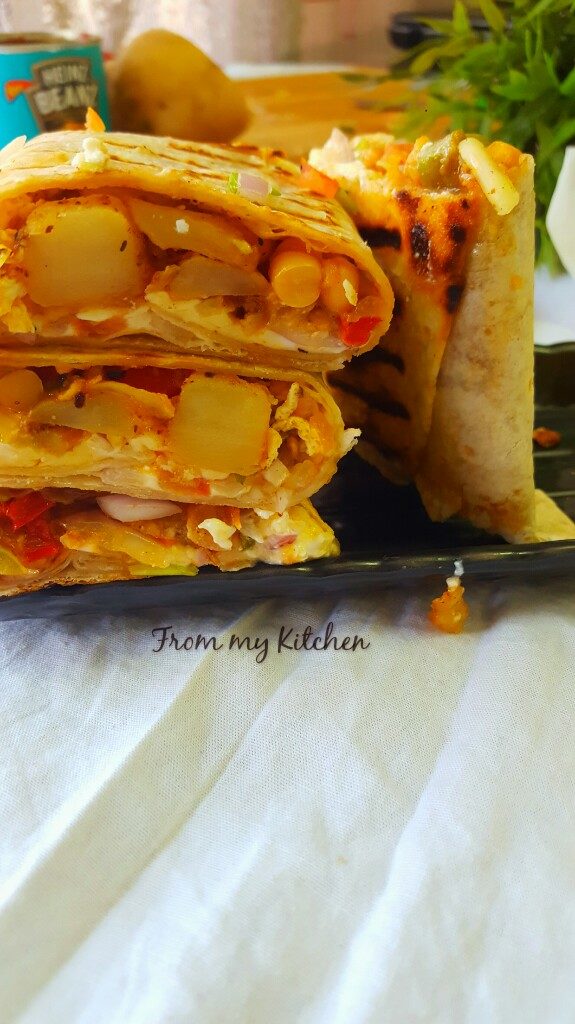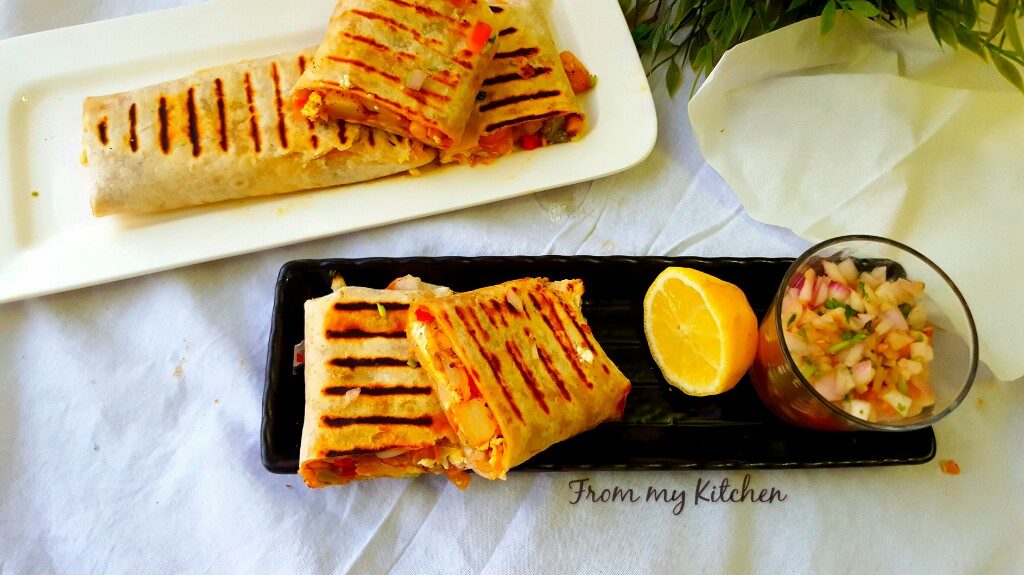 Relish with a cup of tea or coffee!!!!!
Happy Cooking!