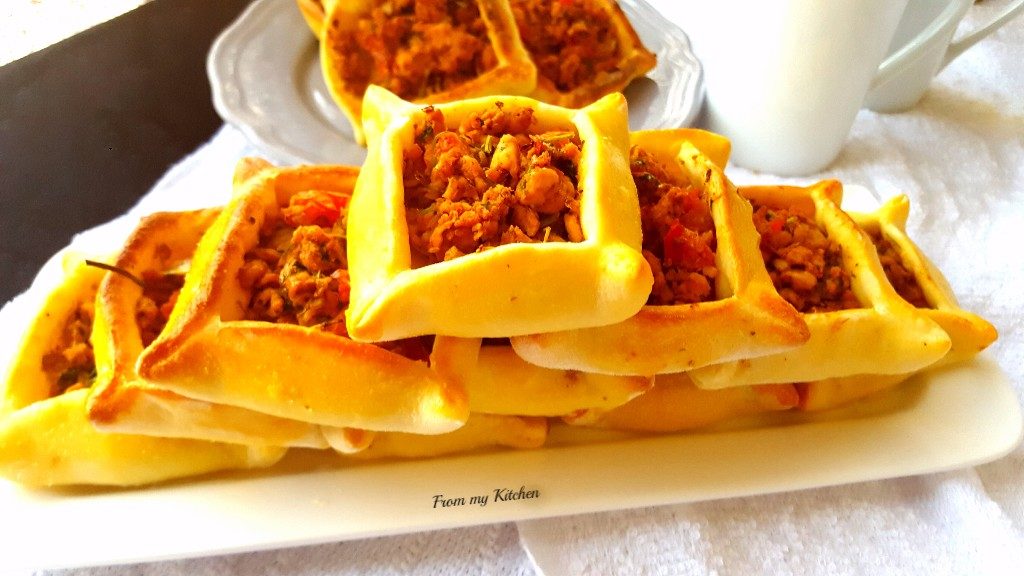 Sfeeha is a Labenese meat pie.These savoury pies get thier irrresistable flavor from lamb or beef onion,tomatoes,tahini and some herbs and spices using in it.It has a different and unique flavour.An awesome filling with a kick.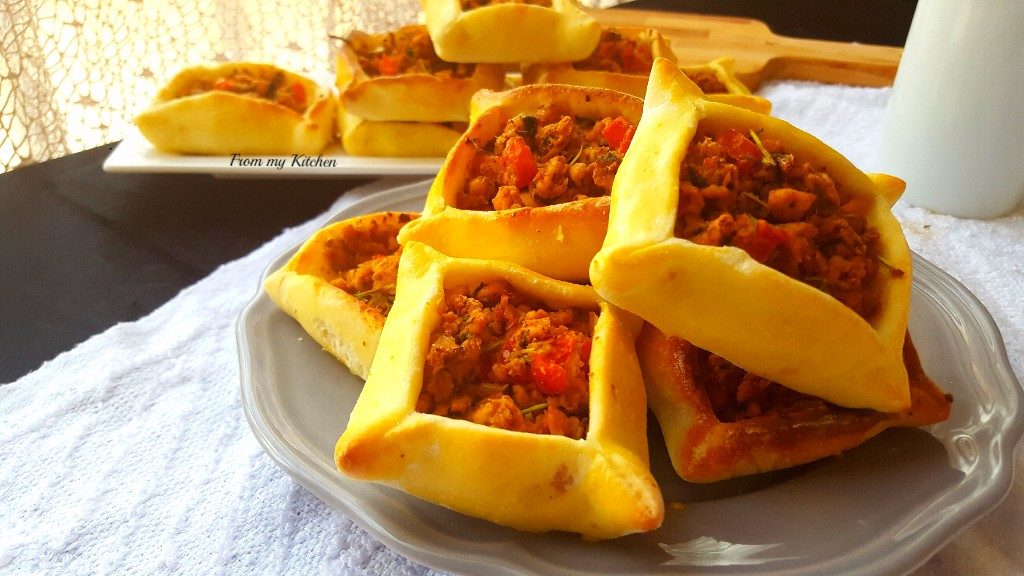 It is also known as Lahm bi Ajin that means meat with dough.These cute little pies are fun to make and delish to eat.Isn't it look like a cute little windows?I take it for an Iftar party and they all loved it!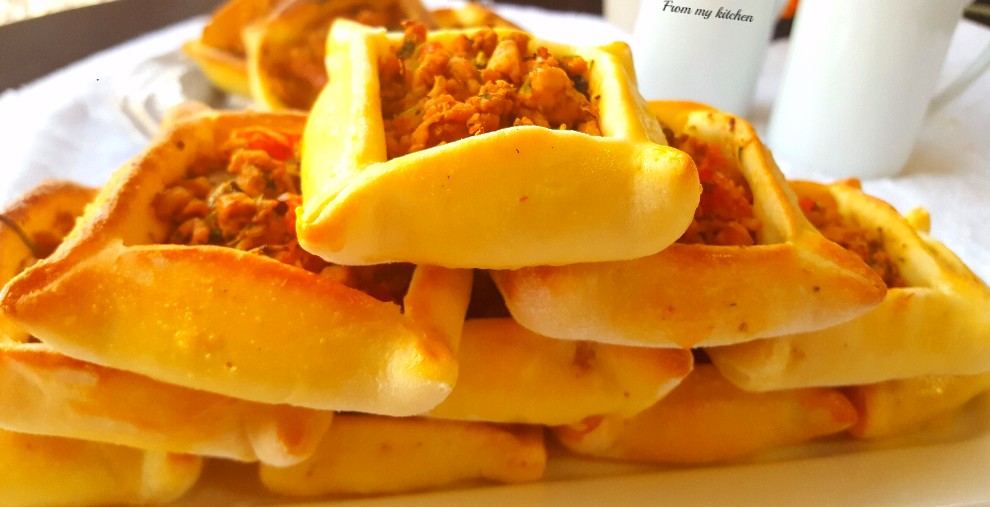 For preparing this first we need to make a soft bread dough,Then a filling with lamb or chicken along with onion,and spices.After it's done add tahini,yogurt,tomato,mint and parsley. Mostly the mince is added into pies uncooked and then baked with the bun, however i prefer to cook it first.

Ingredients
2 cups all purpose flour
3/4 to 1 cup warm milk
1 tbsp instant yeast
1/4 tsp.baking powder
1 tsp sugar
salt
1 egg (plus one for glazing)
4 tbsp oil
Ingredients for Filling
400 gm lamb or beef mince
If you are using chicken use two chicken breast fillet and grind it)
2 tbsp butter
1 medium tomato, finely chopped
1 large onion, finely chopped
3 tbsp drained thick yoghurt
2 tsp ginger paste
1 tsp garlic paste
1 tsp sumac powder (optl)
1/2 tsp garam masala
3/4 tsp black pepper, crushed
1 tsp chilly powder
Juice of one lemon
2 tsp red chilli flakes
4 tbsp chopped coriander or parsley
1 tbsp chopped mint
2 tsp tahini paste
salt to taste
Method
For the dough.
Mix together flour, milk powder, baking powder, sugar, yeast and salt. Then add the oil, butter and the egg and mix together. Now add the milk gradually while kneading/add it sparingly until your dough is nice and soft. If more milk is needed to get a soft dough warm a little more and use. Knead for a good 8-10 minutes. The more you knead the softer the bread will be.
Apply oil all over the dough. Cover in a bowl and set aside it to double in size.
For preparing the filling.
Heat the butter in a pan, add the chopped onions and saute to soften them.
Then add the lamb or chicken ginger, garlic, salt and all the powdered spices. Cook on high heat until the mince is almost fully cooked. It will cook in oven too so don't worry if it is slightly under done, just make sure to dry off any excess moisture. Allow it to cool.
Add the chopped coriander, mint, tahini,lemon juice, drained yogurt, and chopped tomatoes. Mix well and give it a taste, adjust if needed
When the dough has doubled in volume, divide it into 10 to 12 equal balls, depending on the size you want them to be.
When working on one ball make sure to cover the rest.
Roll each one out to form a circle of less than a quarter inch thickness.
Place a heaping amount of filling in the center.
Then bring the sides up and over the edges of the filling.
Pinch the four corners tightly shut.
The trick in keeping these pies from opening up during baking is to wet the edges of the dough with a little water before you shape it, that will seal the dough together and prevent it from opening while baking.Once done, flatten each sfeeha gently then place on greased baking tray.
Egg wash it.
Preheat the oven at 200 C (you need this high temperature because the sfeeha should not be baked for long durations). Then bake it about 10 minutes or until the bottoms are golden.
If the tops are not coloured, you can then place them under the broiler /grill for a couple of minutes until the tops are golden brown, but keep an eye on them not to burn.
Brush them with melted butter and then keep them covered under a kitchen towel to retain softness until time of serving.