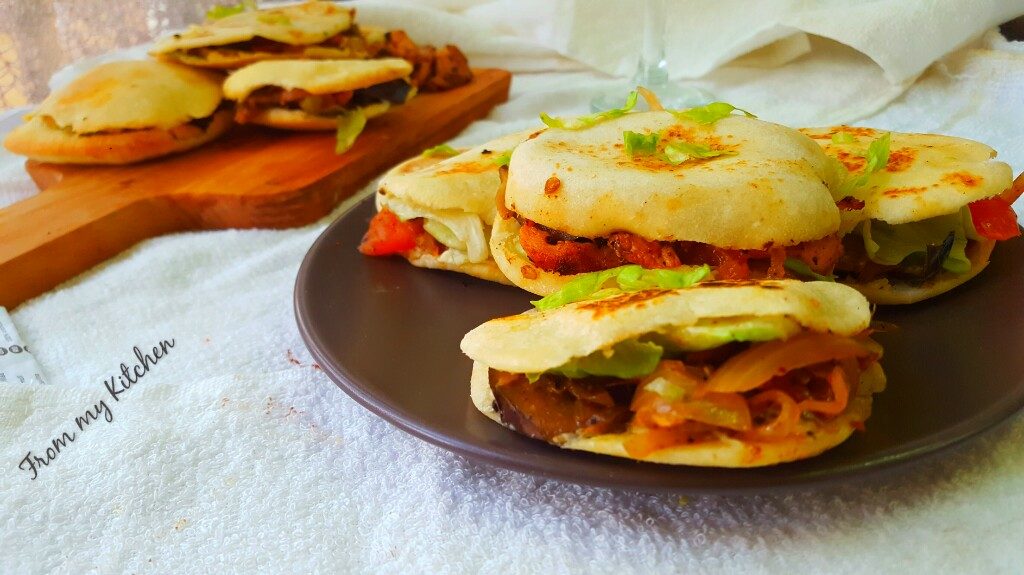 Pita bread stuffed with grilled chicken and veg filling!A very different and simple filling with home made pita bread.Such a satisfaction on seeing that puffed up pita bread!I made it small size!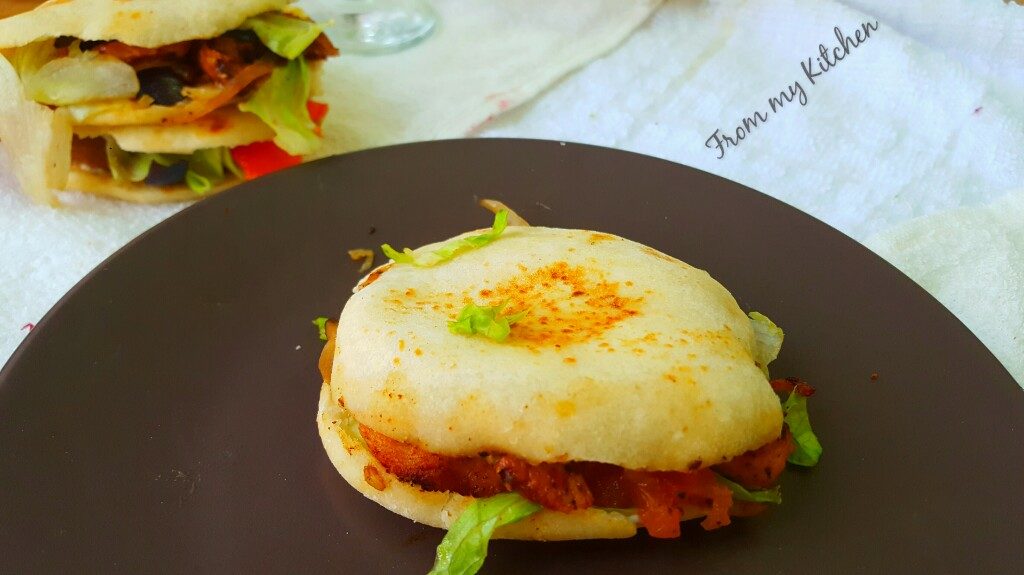 Mouthwatering combination of grilled chicken marinated in mild spices and the veggies too grilled and cooked in the same pan.So all the drippings and seasonings from the chicken will stuck on veggies.You no need to saute and saute it for long time.It's a simple process.Hope you guys will get it.It's surely an oil free treat to munch on!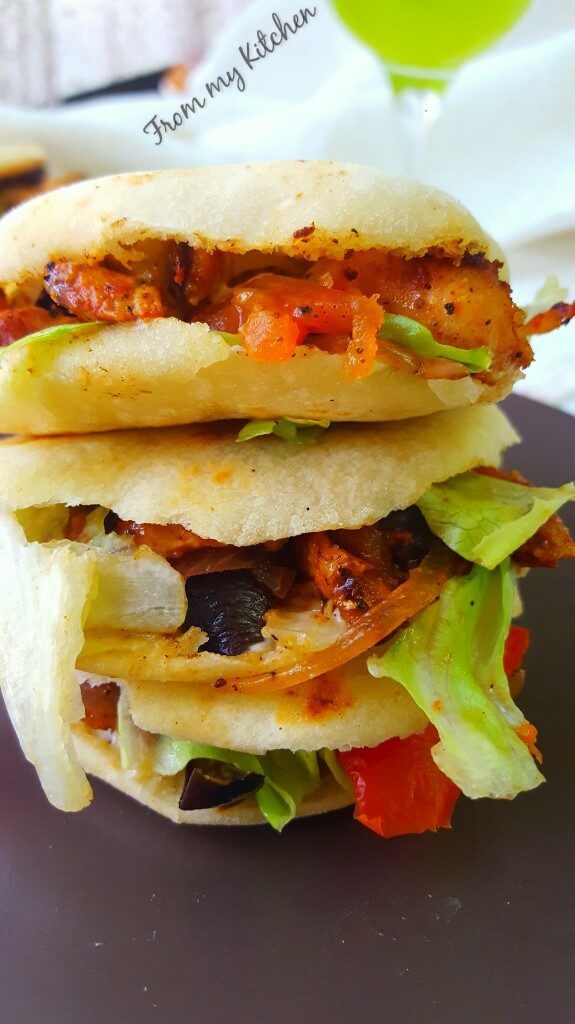 I'm sure this recipe will be loved by all.For spread i used mayo,tahini,chilly flakes and some lemon juice.Chicken marinated in pepper powder,garlic powder,Italian seasoning and some other mild spices and grilled.And made filling with some veggies stuffed and enjoyed.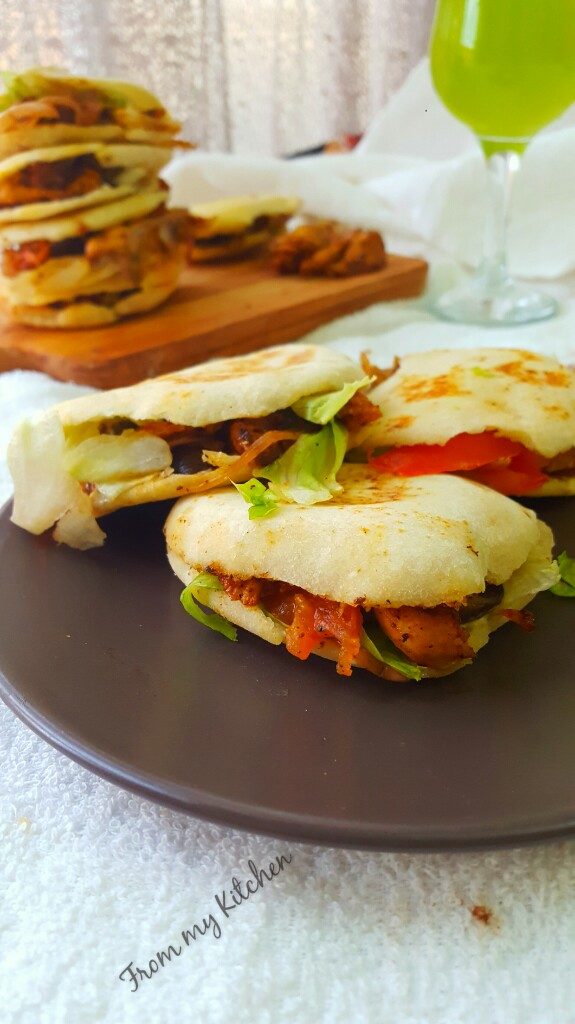 Ingredients
For Pita Bread
2 cups all purpose flour
Salt
3/4 tsp yeast
3 tsp oil
5 tbsp milk
Water require to knead the dough
Marinating
2 small Chicken breast fillet cut into strips.
Salt
1 tsp Pepper powder
1 tsp garlic powder/2 cloves garlic crushed
1/2 tsp ginger powder/1/2 tsp ginger paste
1 tsp Italian seasoning/oregano
1 tsp paprika/ chilly powder
1/2 tsp chilly flakes
2 tsp olive oil
2 tsp lemon juice
Filling
2 onions
1 large tomato
1 brinjal(optl)
2 crushed garlic
Salt
1 tsp chilly flakes
Some oregano
Pepper
Parsley or cilantro
2 tbsp oil
Some fresh lettuce
Spread
1/2 cup mayo
1 tbsp Tahini (opt0
1 tsp lemon juice
1/2 tsp chilly flakes
Note: Adjust the heat accordingly.I made it little spicy!
Method For Pita Bread
Mix the flour, oil, salt and yeast then make a hole in the center and pour the water & milk, then gently combine, and knead thoroughly until the dough is soft and smooth.(for 8 to 10 min)
Wipe some oil on your palms and rub over the lump of kneaded dough, then cover and let it stand for about an hour until the dough rises to about double its size.
When it's well-risen, make balls of equal size. If you want them big, divide into 7-8 if you want them small, divide into 13. Roll out each ball gently and evenly (do not press down hard on the ball of dough, you need to use a light hand) to a thickness of a little more than a quarter inch.
Place the rolled-out pitas on a lightly floured surface and cover them with butter paper or towel so that not too much air can get in.Let them stand for about 1 hour until they rise again.(slightly)
Heat a fry pan, and place pita in the center. When you notice it starting to rise, gently press down with a flat roti spoon so that the air building up inside it gets distributed evenly. Then gently flip it to the other side. Once done on both sides, remove and place on a plate and proceed with the next one.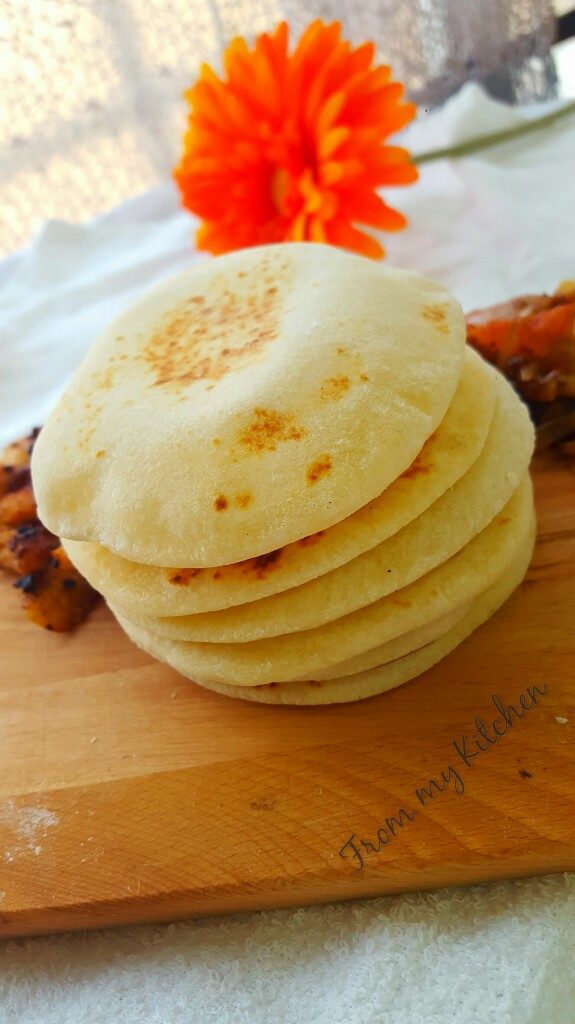 For Filling
Marinate the chicken with ingredients listed under marination,(Make a paste with powders and oil then apply)Let it sit for at least 1/2 an hour.
Meanwhile slice your veggies thinly or round.(If you want you can add olive,bell peppers in your filling)Adding brinjal give a nice stickiness to the filling(if u don't like skip it)
In a grill pan or tawa pour 2 tsp oil and put your marinated chicken on it.First cook on law flame for 4 minutes,then grill it on high flame until you get that charred effect and until the chicken is done.(don't overcook it)I added brinjal in the pan along with the chicken when it's almost done..Remove the chicken to a plate.
Drizzle 1 more tsp of oil
Add crushed garlic and all other veggies on the grill pan stir and cook it on high flame for 2 to 3 mints.
Add seasonings and salt and mix well.
Then on law flame cover your grill pan with a lid and let the veggies cook until they are soft and mushy.Stir in between.Check the seasoning and add.Remove from the pan to a cutting board and with the help of a knife just cut through the cooked veggies(to make it smaller pieces,anyways this step is optional)
Then if you want add chicken with the filling or else arrange it on top of the filling while stuffing
For spread just mix all the ing and keep it ready
Assembling
Cut your Pita bread from the middle spread the mayo mix,then filling,lettuce and chicken.Cover it and serve.