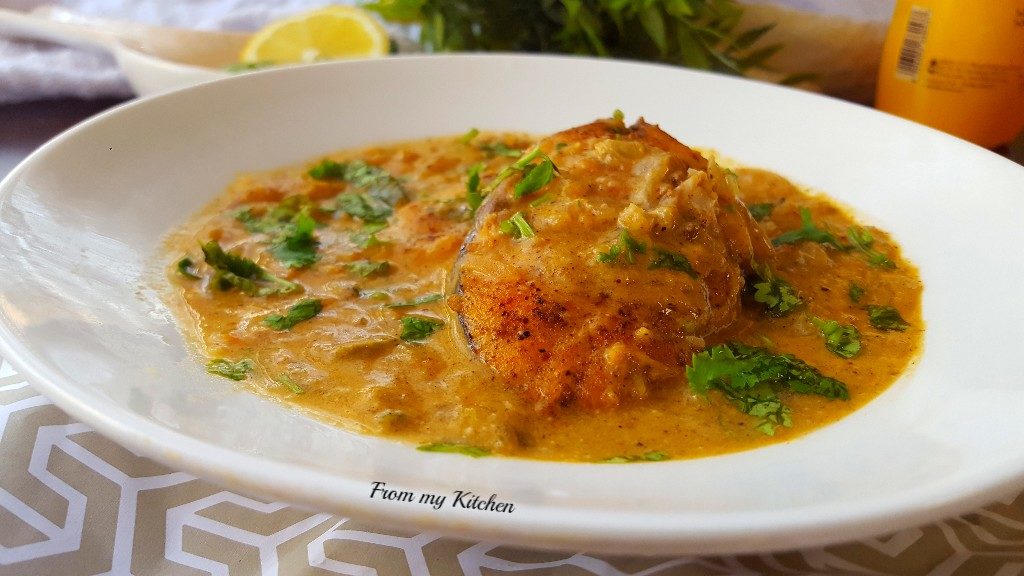 Yaay!My first fish recipe on the blog!Delicious and something different from fish molee(fish stew)!I thought of making fish molee and ended in this beautiful curry!Whenever i make fish gravies i make some with prawns too,so my hubby too can enjoy it as much as i do!He used to have fish gravies but incase if the taste of fish infused in gravy no way!
Again this one is a pending post.I made it last week and i'm eagerly waiting to post this recipe!
I ended all party food recipes and here comes this.Many more recipes to come so stay tuned!!I don't know what's forcing me to try new recipes always when i'm free!hehe!I think all the foodies are like this!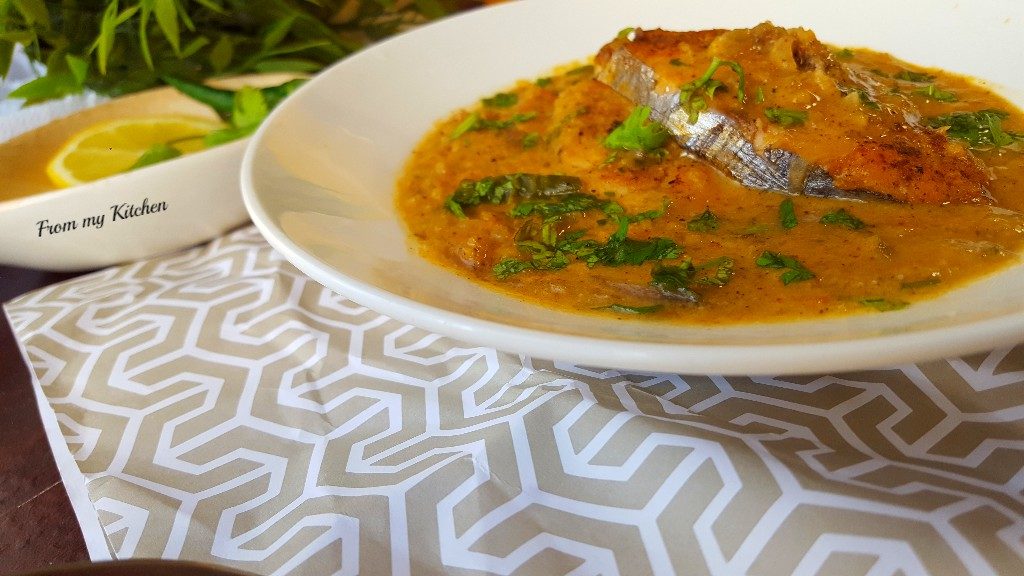 This one is made with fish fried in sauteing some spices in coconut oil and then cooking the gravy in same oil,(that means no marinating fish and no mess!)And then fish is cooking to perfection in coconut milk gravy!Sounds good na?Hope you all will like this too!
Ingredients
2 big piece king fish (only i used)
1 tspn chilly powder
1/2 tspn garam masala
Salt
1/2 tsp pepper
1 clove garlic
4 tbsp coconut oil
For gravy
Few curry leaves
1 small onion
1 small tomato
2 green chillies
1/2 tspn ginger paste
1/2 tspn garlic paste
1 tsp pepper
1/2 tsp turmeric powder
1 cup thick coconut milk
2 tspn lemon juice
1 tspn garam masala
Lots of coriander leaves
Method
In a pan pour coconut oil when it's warm enough add chilly powder,garam masala,pepper, salt and crushed garlic stir for a while(make the flame low otherwise masalas will get burn) add cleaned fish and cook it until half done on both side.
For gravy in the same pan splutter curry leaves,green chilly slits,ginger and garlic cook for few second then add sliced onion and cook until translucent.
Now add tomato and cook until mushy.(I pureed some of my onions and tomatoes to get a silky smooth texture,Here comes the name! But its totally optional)
Add all the powders and some water stir it . Cover and cook for a while.Now add coconut milk and let it boil then add the fish and cook until it's fully done.(Taste and adjust the spices)Squeeze in lime juice and garnish with coriander leaves.The gravy will be slightly thick.Adjust it according to your preference.
Note: Here the recipe is only for two pieces of fish!Adjust accordingly while you are cooking!
Use coconut oil itself…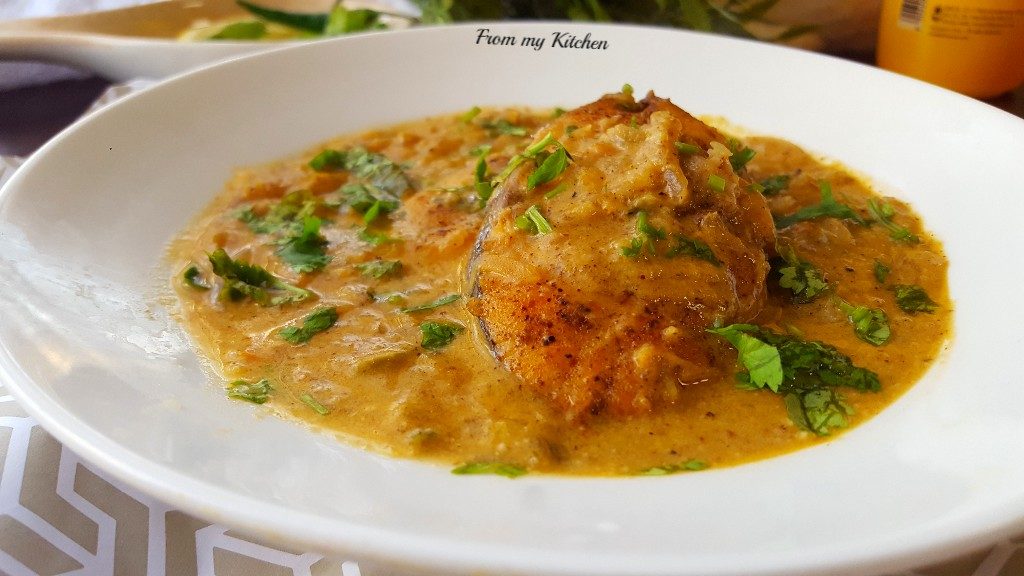 Try it out!The taste is unique and the fish cooked in coconut milk was just awesome!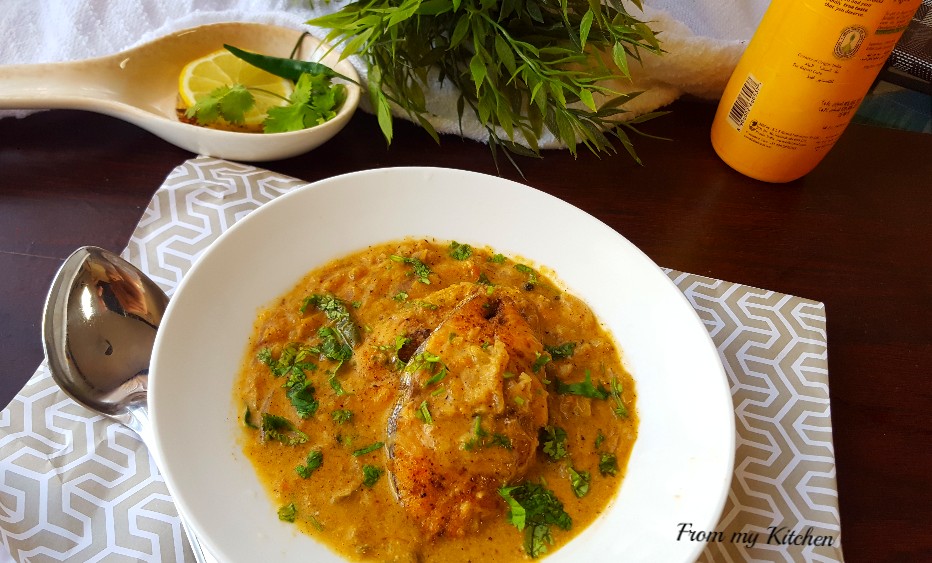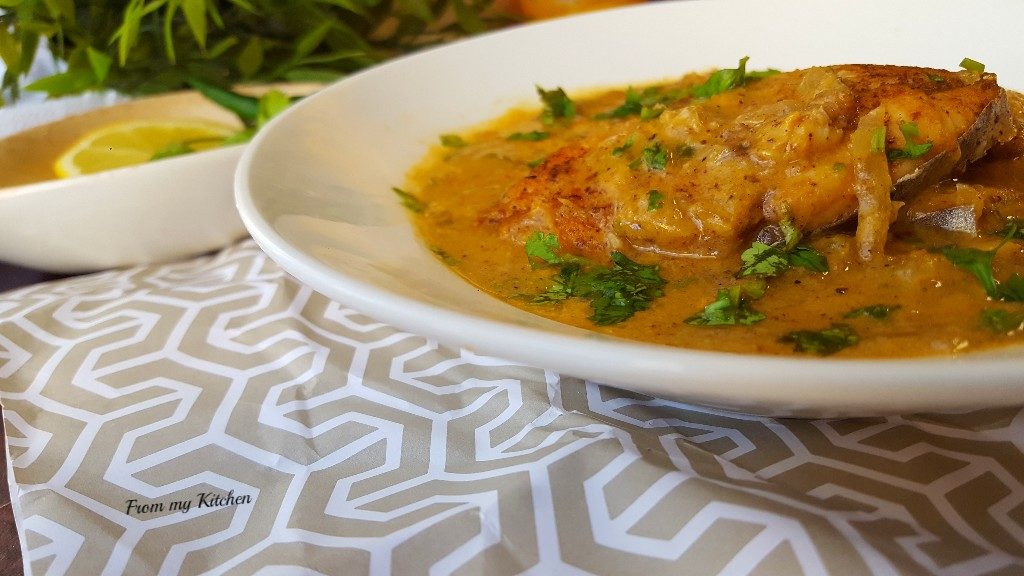 Enjoy with your fav rotis!
Happy cooking!