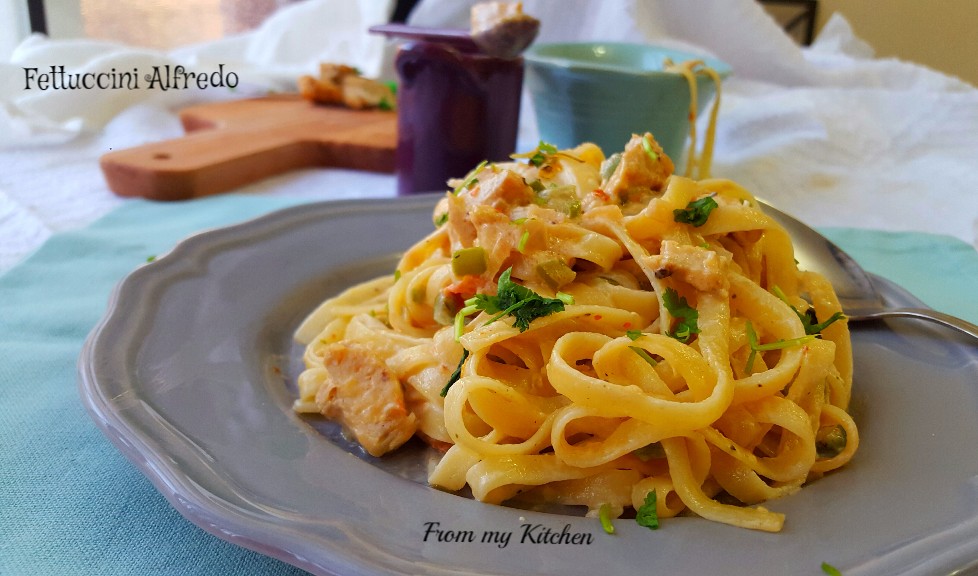 A classic Italian dish!A must try means a must try!Alfredo is a rich cheese sauce with butter,cream and cheese and no compromise in that.Ya its very rich and high calorie food.But who cares?I mean once in a blue moon!hehe!You have to try it for sure!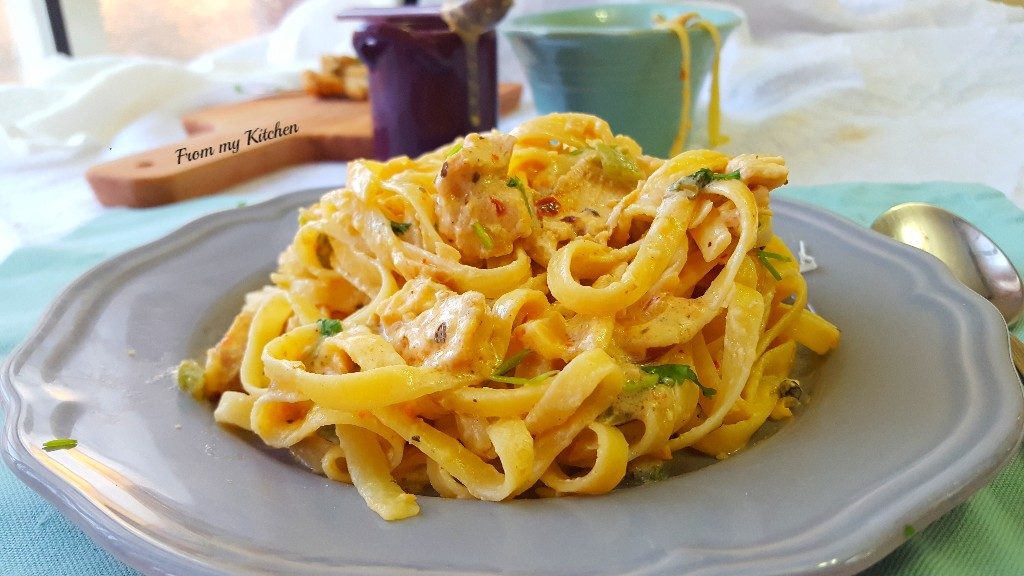 But listen my hubby don't like too much creamy ones that makes feel heavy.So i reduced the amount of butter,cream and cheese and made it somehow suiting to our taste bud!He loved it!Deliciously woow it was!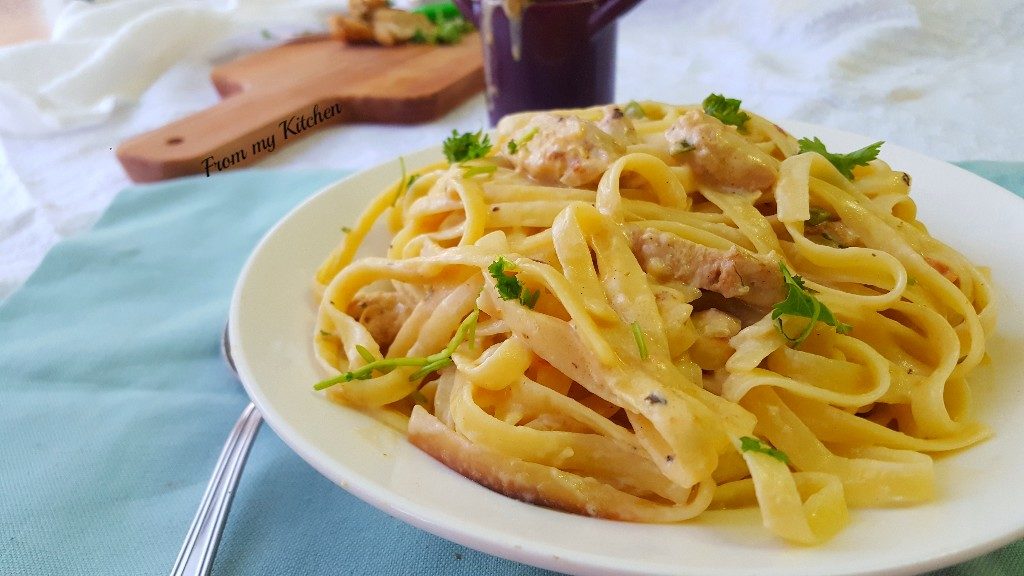 Look How pretty that fettucine looks in that cheese sauce!haa?Here the chicken breast is cooked in some aromatic spices (Italian)chilli flakes .The aroma while cooking the chicken itself was incredible.It tasted awesome.Then cooked the sauce in same pan,so that all the drippings and flavours from the chicken will incorporated with the sauce.Then mix it with the pasta and serve immedietely.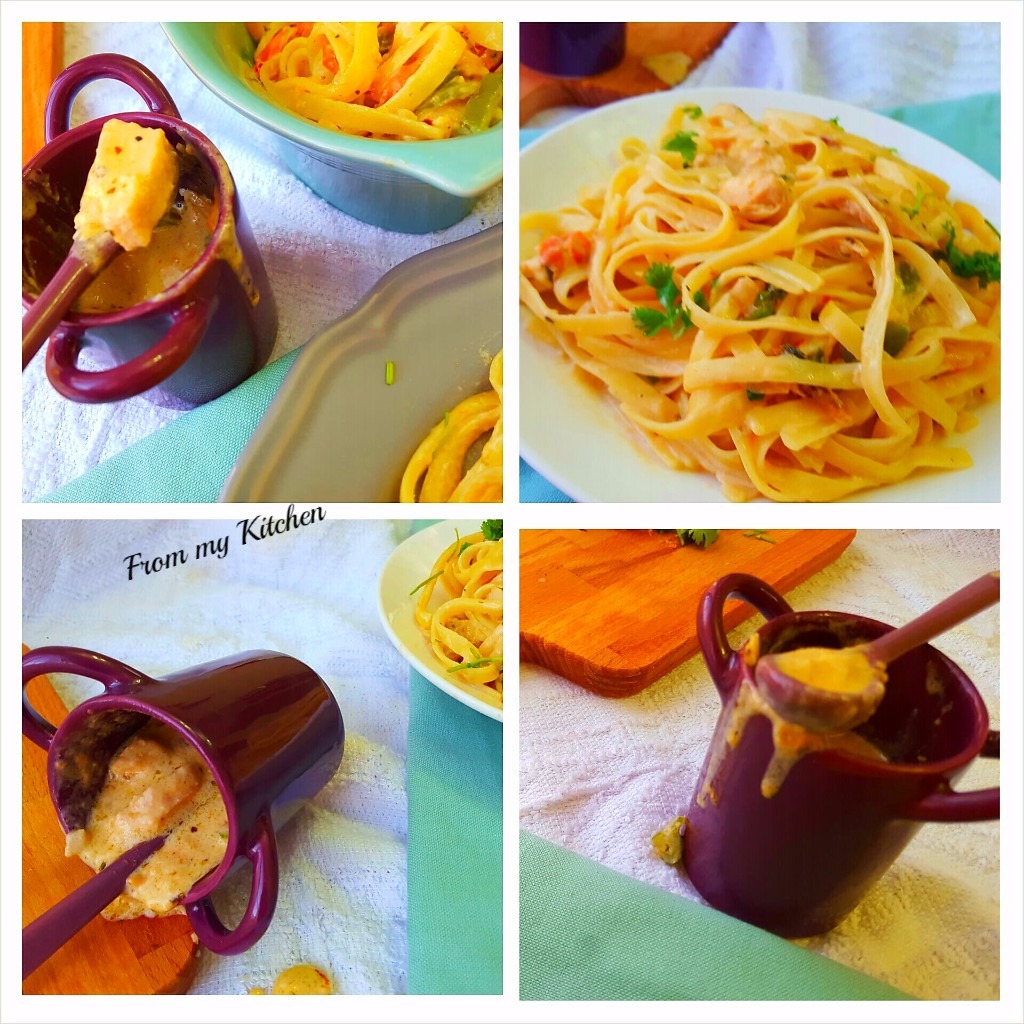 Ingredients
For chicken
2 chicken breast fillet
1 tsp chilly flakes
1 tsp garlic powder
Some Italian spice
1 tsp pepper powder
1/2 tsp paprika or chilly powder
Salt to taste
Some oregano
2 or 3 tbsp Oil to grill
For Sauce
1/2 an onion
1/2 capsicum
2 or 3 cherry tomatoes(optl)
2 cloves garlic
1 tsp chilli flakes
1 tsp italian seasoning
some oregano
1 tsp pepper
1/2 to 3/4 cup milk
1/3 cup cream
1/3 cup parmesan cheese
2 tbsp cream cheese
10 gm butter
lots of parsley
400 gram Fettuccini Pasta
Adjust the heat (spiciness)according to your taste!
Method
Marinate chicken with all the ingredients and grill it!
Boil pasta according to the package drain and keep.(there is a tip for sticked pasta just run some tap water on the pasta and it will quite easy to use)
In the same pan add butter add finely chopped garlic,onion and capsicum and saute and cook .
Add in all seasonings and saute for a minute.
Shred the chicken and add at this point,It will enhance the flavours from the chicken and also chicken get nice and tender.
Pour in 1/2 cup milk and mix well.
Add cream and mix well.When it starts to boil add parmesan cheese and cream cheese.Check for salt and add!Let it simmer for 3 to 5 minutes.If its too thick add rest of the milk.last Sprinkle lots of parsley.
Toss in pasta cover and cook for few minutes,Serve hot with some more parmesan cheese on top.
Enjoy this creamy ,cheesy pasta packed with awesome flavours and grilled chicken in each single bite!