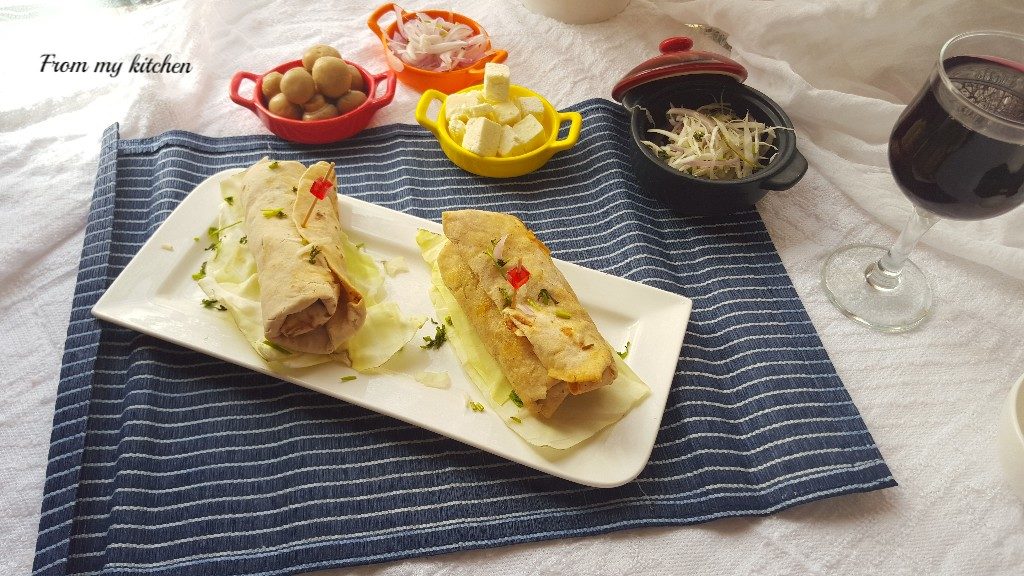 Rolls and wraps are simple to make and easy to have without any mess! Working people always prefer such filling finger food! It's a spicy paneer and mushroom filled rolls with full of flavours.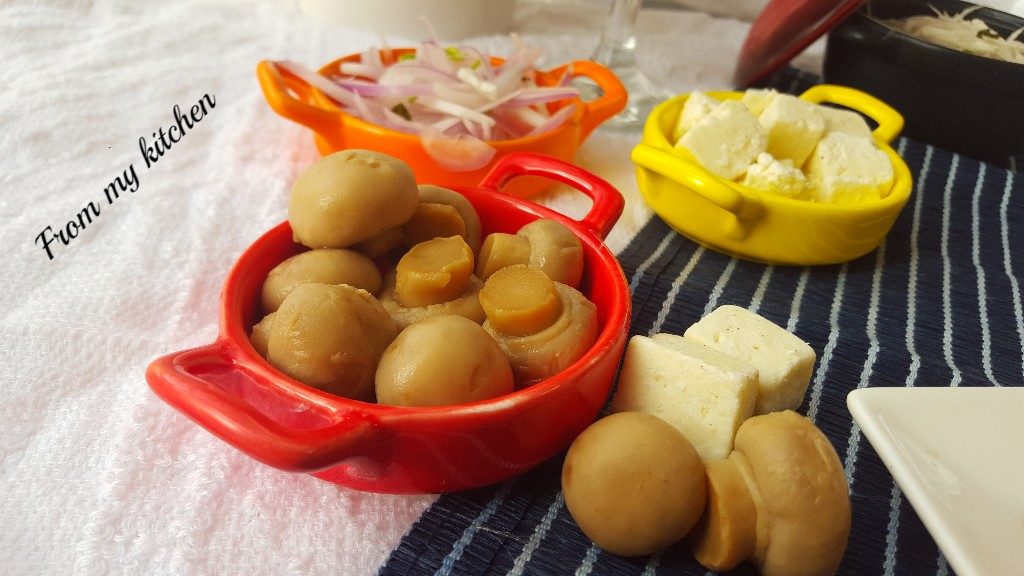 Perfect healthy option for breakfast and tiffins!It's a full meal with rotis and healthy fillings!A wrap is a type of sandwich alternative made with a soft flat bread rolled around a filling.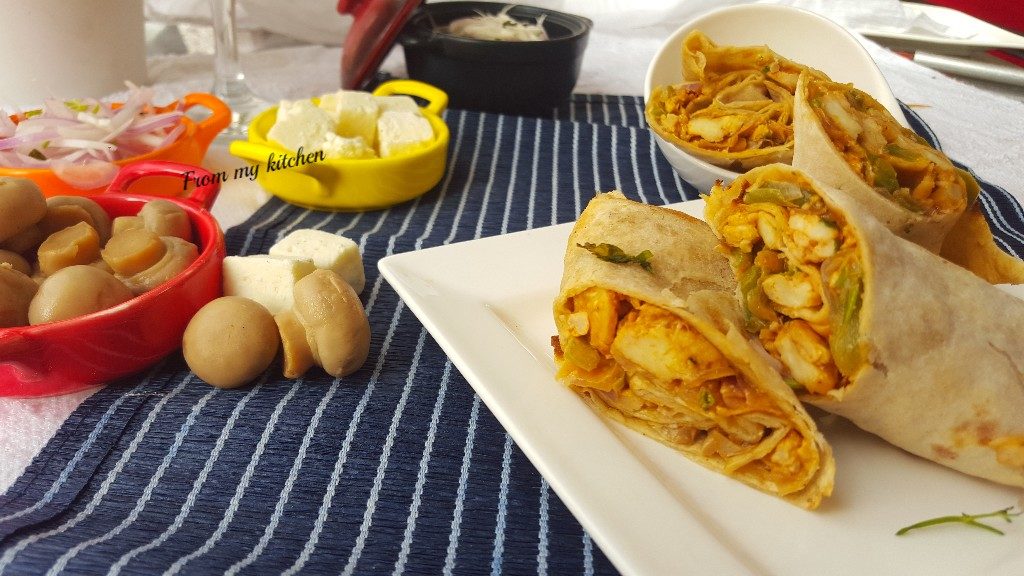 To prepare this i used dough with wheat and white flour, roll it out thinly and cook.Then fill and roll it .For filling i used onions,capsicums some spices,gin garlic paneer and mushrooms.Its spicy & tangy as i used tomato paste!
For Dough
1 & 1/2 cup wheat flour
1 cup white flour
1 tspn baking powder
Salt
Water to knead
For filling
1 cup paneer sliced
1/2 cup mushroom sliced
2 onions
1 small capsicum
Salt
1 green chilli
1 tsp garlic paste
1/2 tsp ginger
1 tbsp tomato paste or( finely chopped tomato)
1 tsp red chilli flakes
1/2 tsp coriander powder
1/2 tsp pepper
1/2 tsp kasuri methi
1/2 tsp garam masala
1/2 tsp cumin powder
1 tspn lemon juice
Lots of coriander leaves
Mayo for spreading
Method
Knead the dough as for chapati.(adding baking powder makes the roti soft when its rolled out thin.)Let it rest for some time.
For filling
Slice the veggies.
In a pan pour 2 tsp of oil add sliced onions and saute for few minutes.
Then add ginger,garlic and green chilli and cook for a while.
Add chilli flakes and salt.
Add capsicum and cook for 3 to 4 minutes on high flame,
Then add tomato paste and add 2 tbsp of water mix well.
Add coriander powder,cumin powder,pepper powder and mix well and cook until the rawness from the masalas are all gone.
Then add sliced mushrooms and paneer mix and cook until done.Add garam masala,methi and mix.Squeeze in lemon juice and garish coriander leaves.Spicy,tangy filling for the wrap is ready.
Make your chapatis as thin as you can.
Spread a tspn of mayo on each chapati fill it,roll it and use!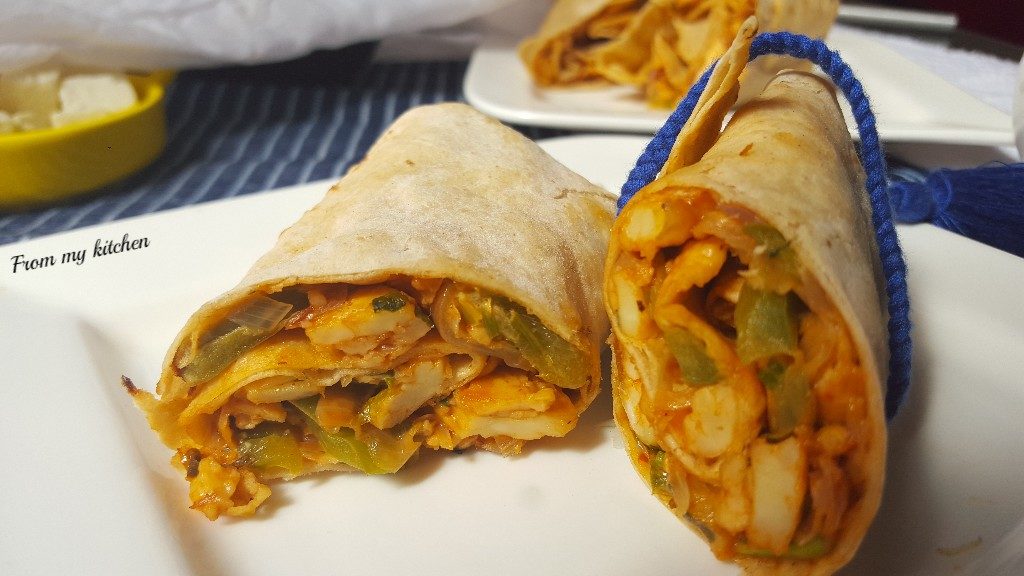 If you want you can also add some sliced onions and shredded lettuce on top of the filling before rolling.
Note : If you like the crunchy veggies inside the wrap don't over cook it.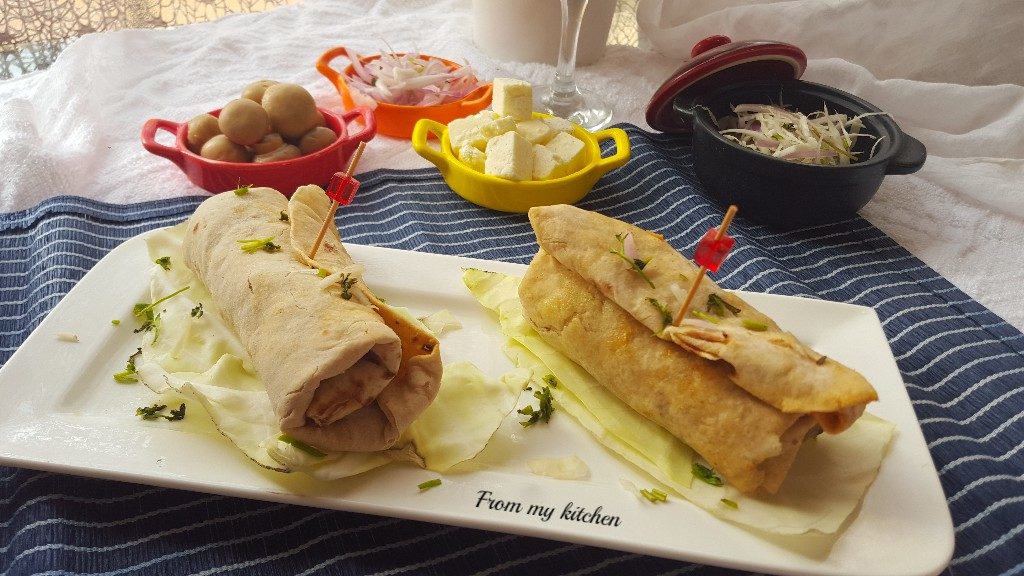 The tasty and flavoursome rolls are ready!dig in!