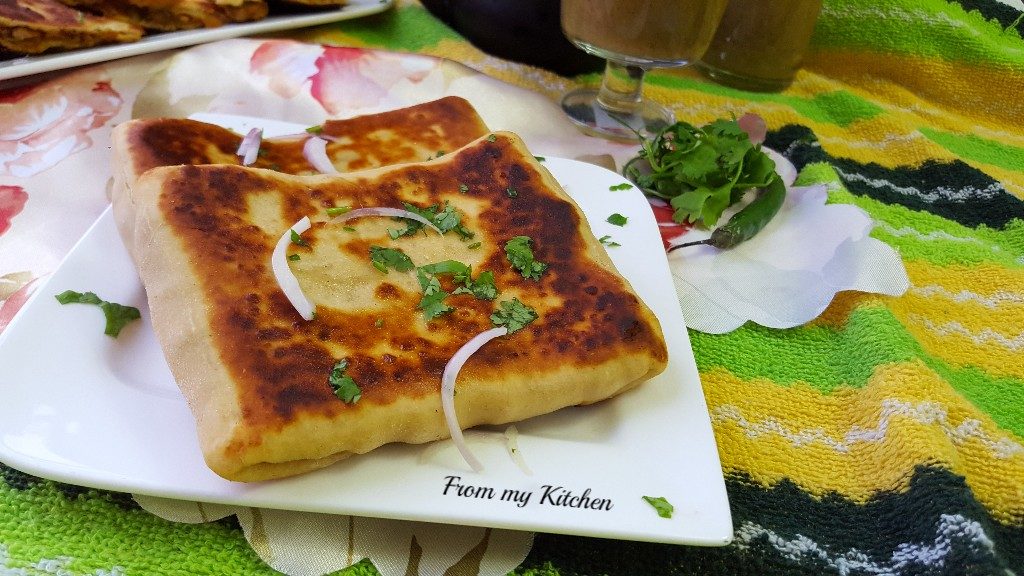 Absolutely delicious parathas stuffed with juicy and succulent chicken mince filling.Mughlai paratha is a popular street food in Kolkata and Bangladesh in India.Its shallow fried parathas with stuffing of keemas and eggs.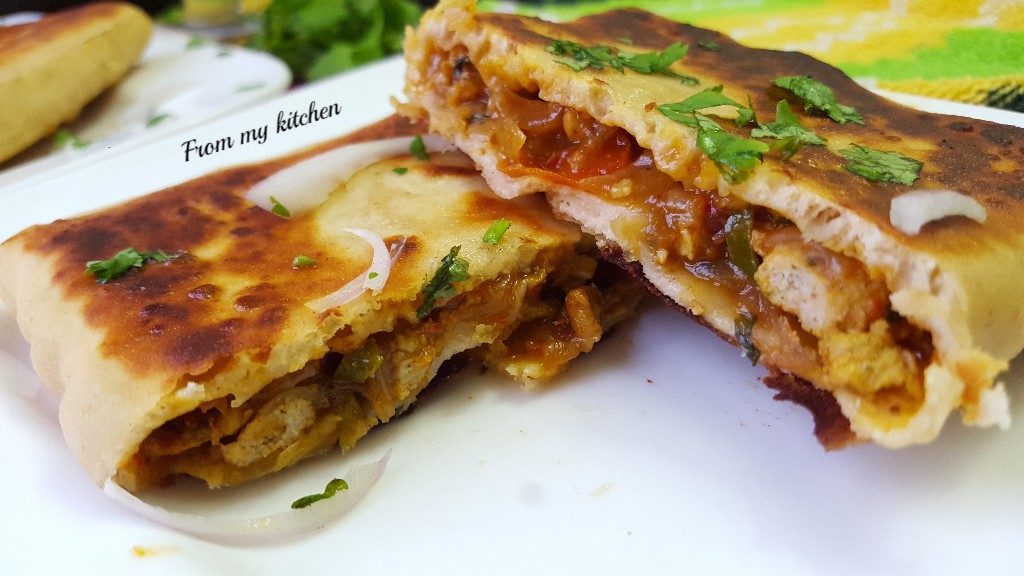 Look at that juiciness!hmm!We enjoyed it,hope everyone will like this.You can make it in small size and serve it as a snack or else make a big one and have it for dinner.It's f illing and simple to make.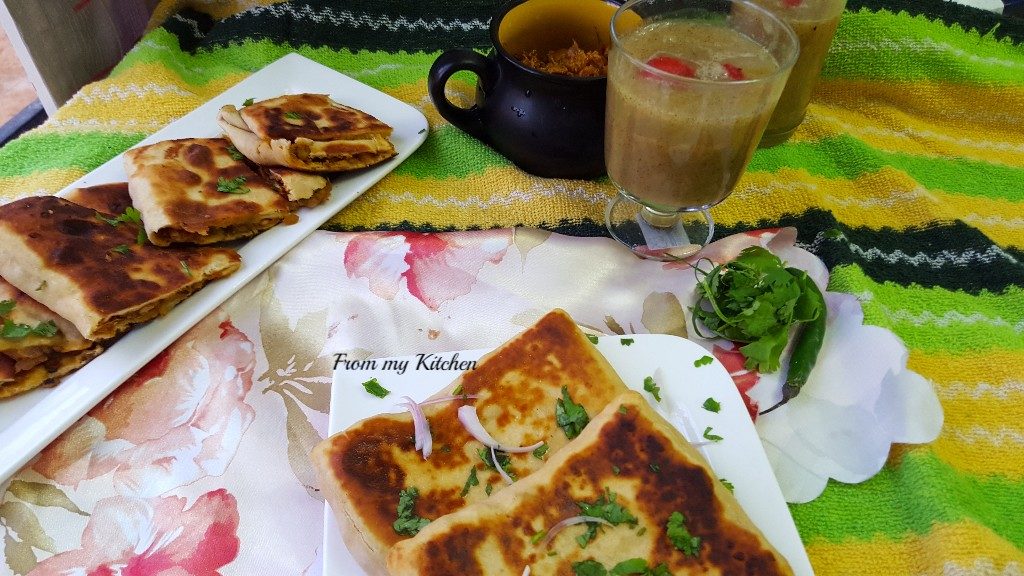 To prepare this first knead a soft dough with maida and wheat flour.Then make filling with chicken mince,onion,tomato ,some spices,mint leaves and all.Stuff it and shallow fry. It tasted really awesome!Try it out all!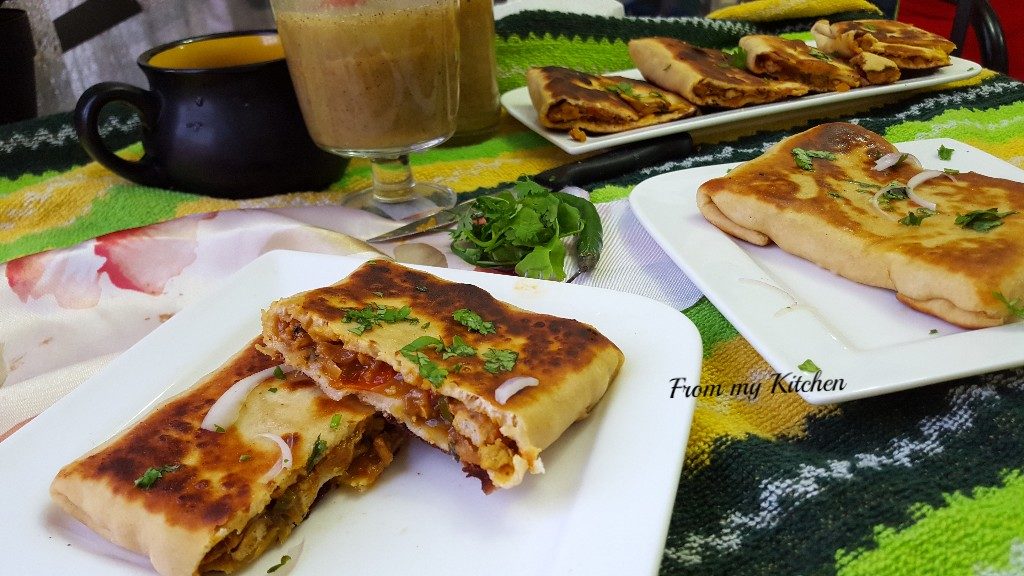 Over to recipe
Ingredients
For the dough
1 & 1/2 cup all purpose flour
1 cup wheat flour
2 tbsp semolina
1/2 tspn baking soda
Salt to taste
Milk for kneading
For filling
For Mince
3 Chicken Breast fillet/mince(500 grm)
1 tsp pepper
3 or 4 sprigs mint leaves
Few coriander leaves
Mix all these together and grind it to make a paste or mince.
2 onions
1 big tomato/2 small
2 green chillies
2 cloves garlic
small piece ginger
1/2 tsp turmeric powder
1 tsp coriander powder
1 tsp garam masala
1 tsp chilly powder
1 tsp garam masala
1 tsp pepper powder
Salt
10 to 12 mint leaves
lots of coriander leaves
1 tbsp oil
Other ingredients
2 egg slightly beaten
1/2 to 1 tsp pepper powder
salt
Oil for shallow frying
Adjust the heat according to your taste(its spicy)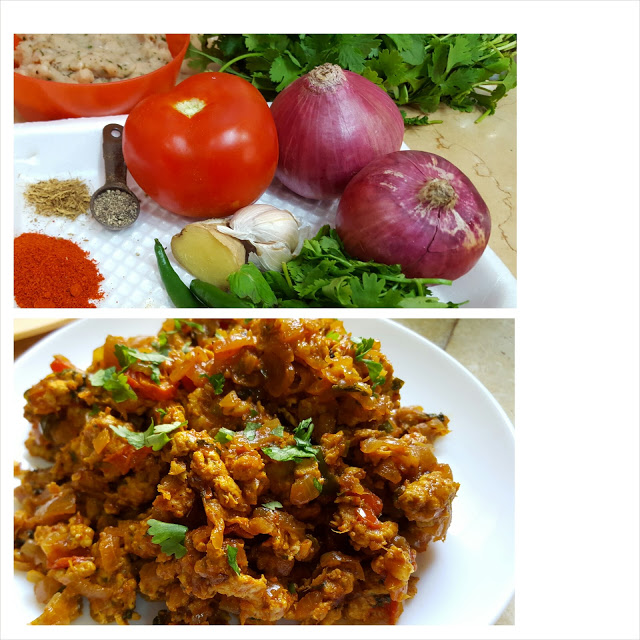 Method
Mix all the ingredients under dough and knead it to a soft dough like chappathi.Cover it and let it rest for at least half an hour.
Meanwhile prepare the filling
In a pan pour a tbsp oil add chopped onion,ginger,garlic crushed and green chillies chopped.Add salt Let it cook until the onions are translucent.
Add finely chopped tomato and cook, When it's half done add spice powders and cook for a while.
Add minced chicken and stir well add 1/4 cup of water to bring together chicken mince and masalas. Close the lid and cook it for 5 to 8 minutes(chicken mince will not take more time to cook).Add garam masala and chopped greens.
Dry out the moisture completely and let the filling cool.
Assembling
Now take a big ball from the dough ,
Roll it out into a big round chapathi
Take a good amount of filling and keep it in center of paratha. Pour a tbsp or two of beaten egg in this and spread it with the back of a spoon.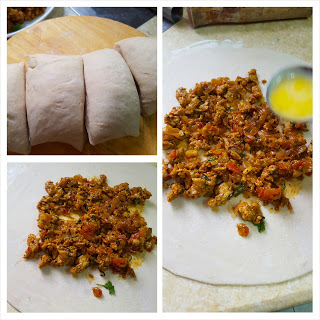 Fold it like shown in the picture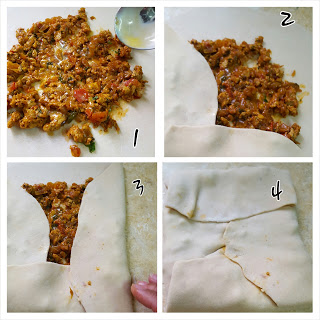 In a pan add 2 tbsp oil and and shallow fry the parathas on each side.If you want to add more oil you can !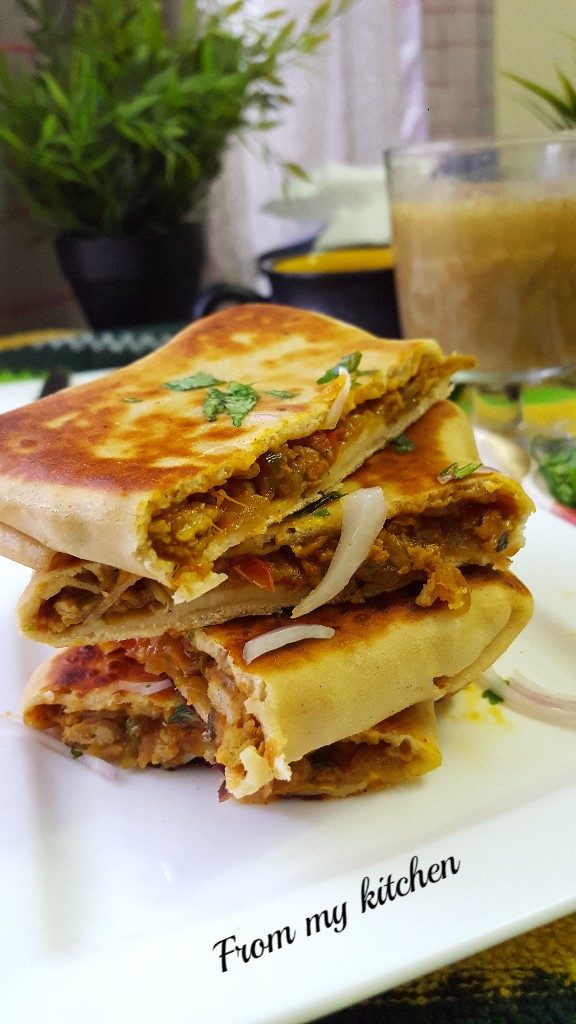 Yummy and delicious tasting parathas are ready to serve now!For the best result serve it hot.Crispy coating with juicy & succulent chicken filling and soft parathas!heavenly!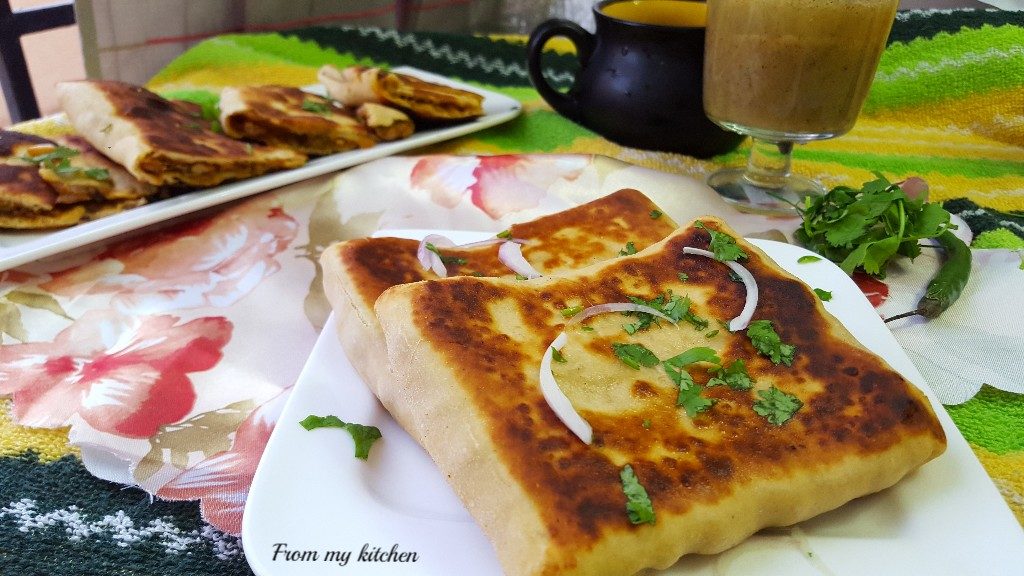 Note:
If your dough becomes too soft it will be difficult to handle with the filling.So add only required amount of milk while kneading it.
If you are making it for any parties prepare it all before and just cook it in a pan on both sides for few seconds with out any oil.When its cool cover it and keep.Shallow fry it when you want.It will not take much time.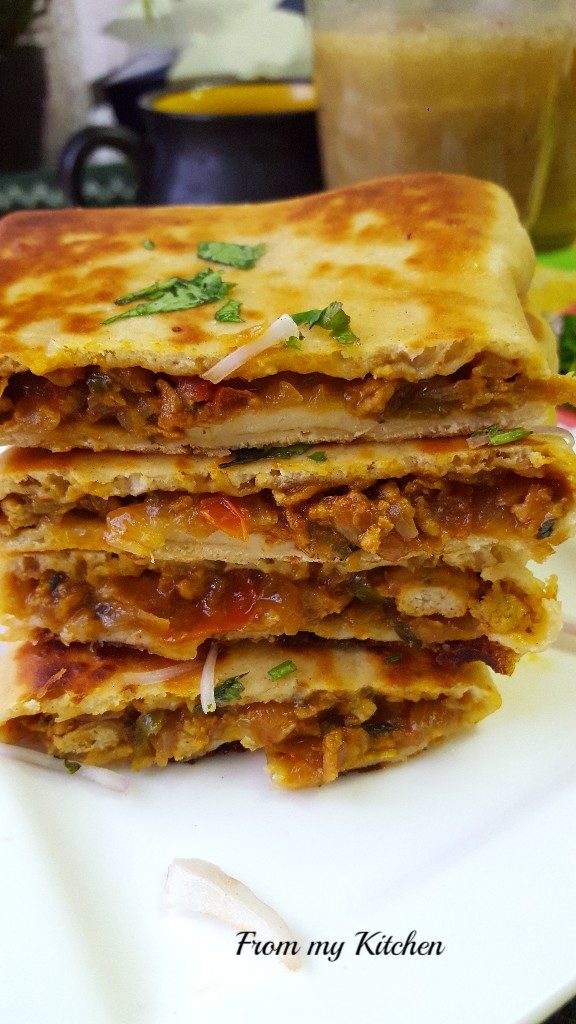 Hope you all will enjoy as we did!