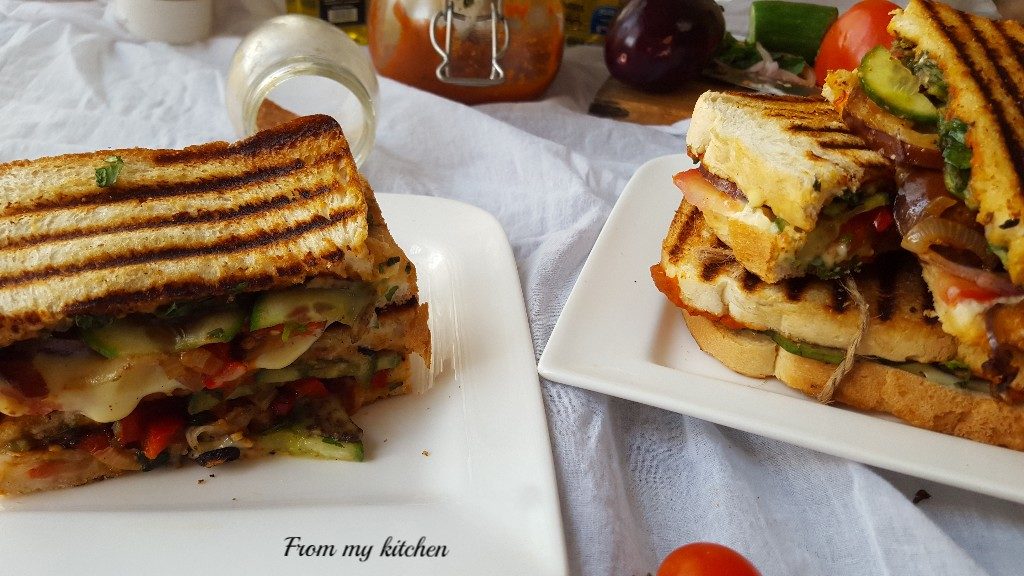 The best veg sandwich i've ever had!A must try recipe!Spicy & tangy with the goodness of grilled veggies mixed in cajun seasoning!Even veg haters will love this,I guarantee for that hehe!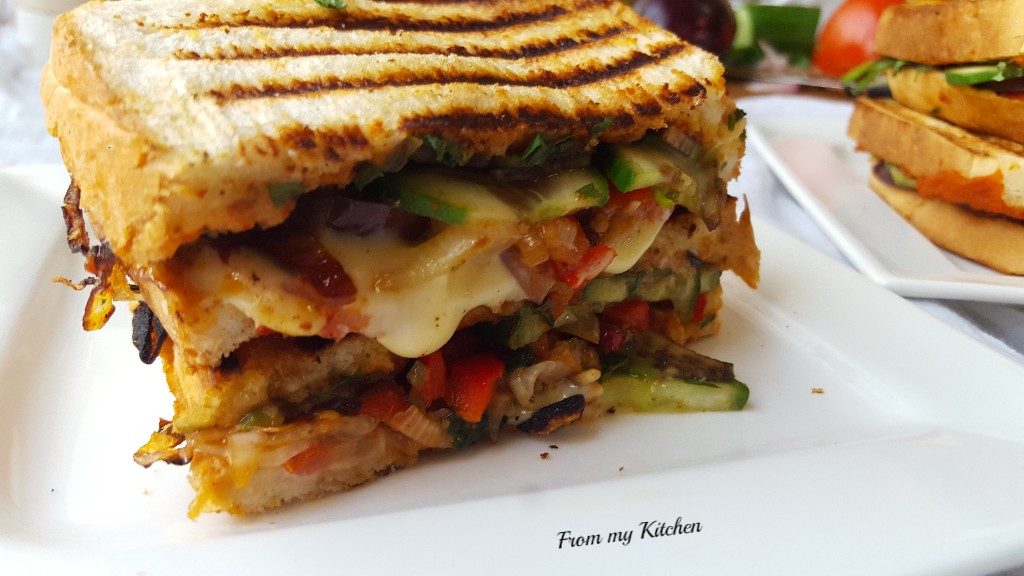 My cousin said I should add recipe for some healthy sandwiches in my blog,yes he is a bachelor hehe!Mr.Shaheen(Shei) here is the recipe for you!I made it yummy but don't know if it's complicated for you:-( Hope you will like this!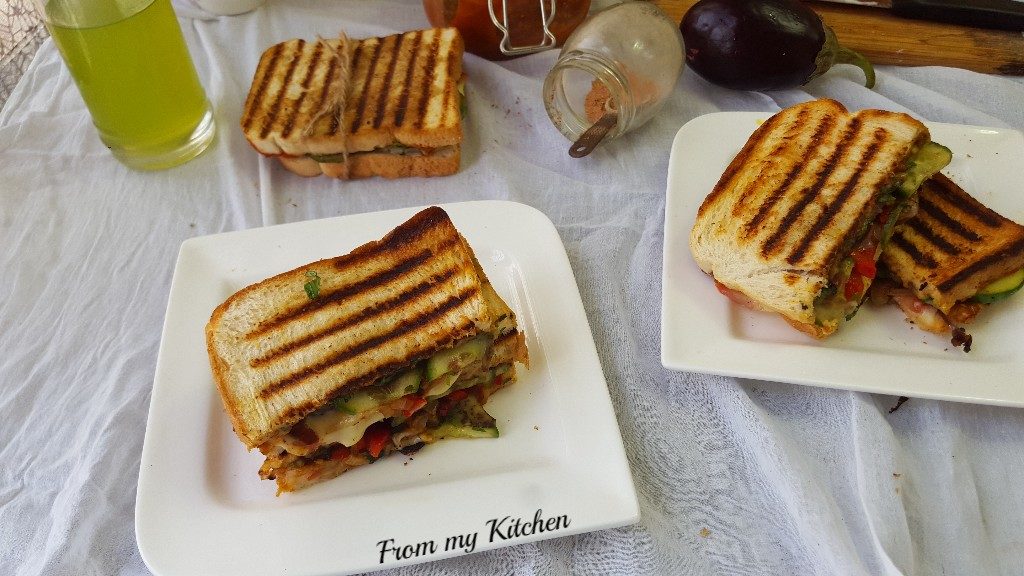 It includes many healthy veggies like brinjal & avocado that's not much seen in sandwiches .Then cucumber,tomato,red bell pepper,onions and many more.I used pizza sauce and some ranch as spread.Just marinate some of this veggies in cajun seasoning and grill it and use,Also adding mint in this sandwich give a refreshing taste to this.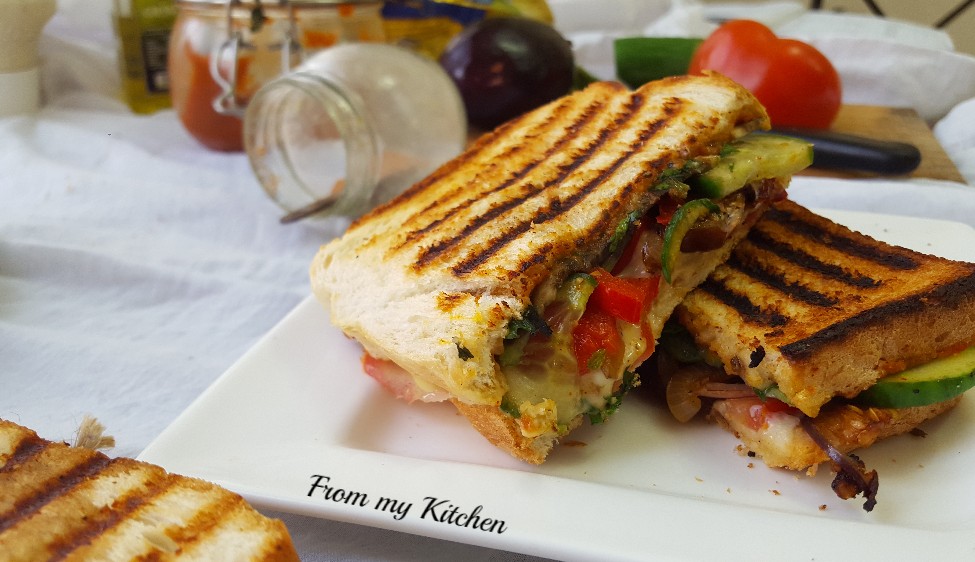 Avocados provide nearly 20 essential nutrients, including fiber, potassium, Vitamin E, B-vitamins, and folic acid.You will not feel like all these veggies are in it.Give it a try all i am sure you all will go for it again and again.It's fingerlicking good
Ingredients
6 slices Sandwich bread
2 brinjal
1 avocado
1 onion
Red bell pepper
Cucumber
Tomato
Lots of it leaves
Lots of coriander leaves
Salt
Pepper
Cajun seasoning 2 tspn
1 tblspn olive oil
Cheese (optl)
Olive oil or butter for brushing the pan
Method
Slice all the veggies thinly.(round)
In a small bowl add 1 tblspn oil & cajun seasoning and mix well add few drops of water.
Then mix veggies like brinjal,capsicum and onion in this.
Apply some olive oil on a tawa or grill pan and grill the brinjal until its done.
Then grill onions and capsicum for few seconds.(don't overcook it.It should retain its crunchiness)
On your work area arrange the bread slices spread good amount of pizza sauce.Then layer the finely chopped mint and coriander leaves on it then spread out each veggies one by one,Grilled brinjal,onion,tomato,cucumber ,bell pepper,avocado some salt and pepper ,cheese slice .Apply some ranch sauce or mayo on other slice of the bread and cover it.
Apply some butter or olive oil on the pan and grill the sandwich and serve it hot.
For Pizza Sauce and Cajun seasoning here is the link Pizza sauce and Cajun seasoning.
Note :You can use store bought pizza sauce
Instead of cajun seasoning you can also use (a tspn of chilly powder,a tspn of garlic crushed,1 tblspn olive oil and Italian seasoning for marinating veggies.)
If you don't want to add mayo and cheese skip it!(For healthier version)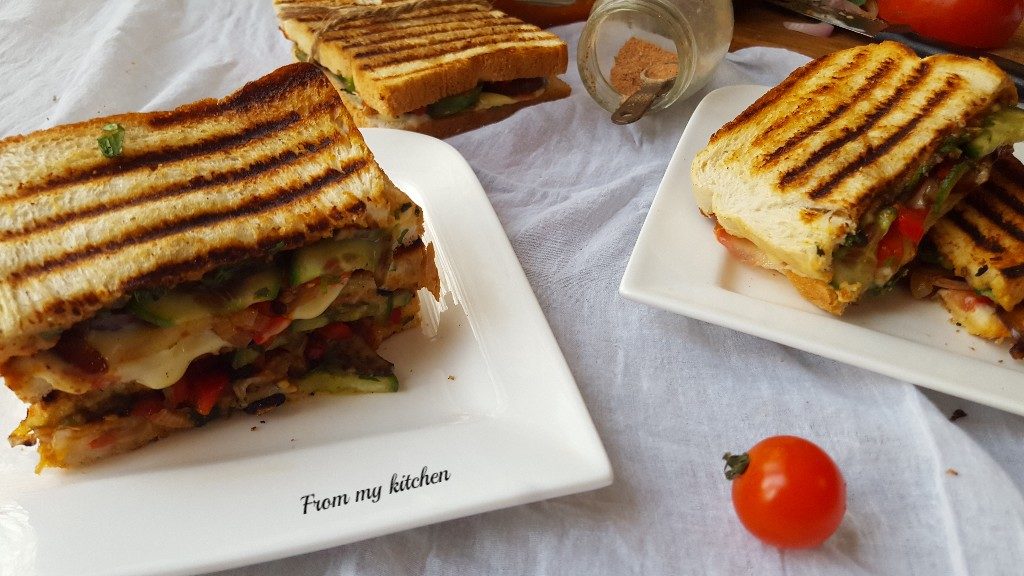 This sandwiches are filling.Perfect for breakfast with a glass of fresh juice!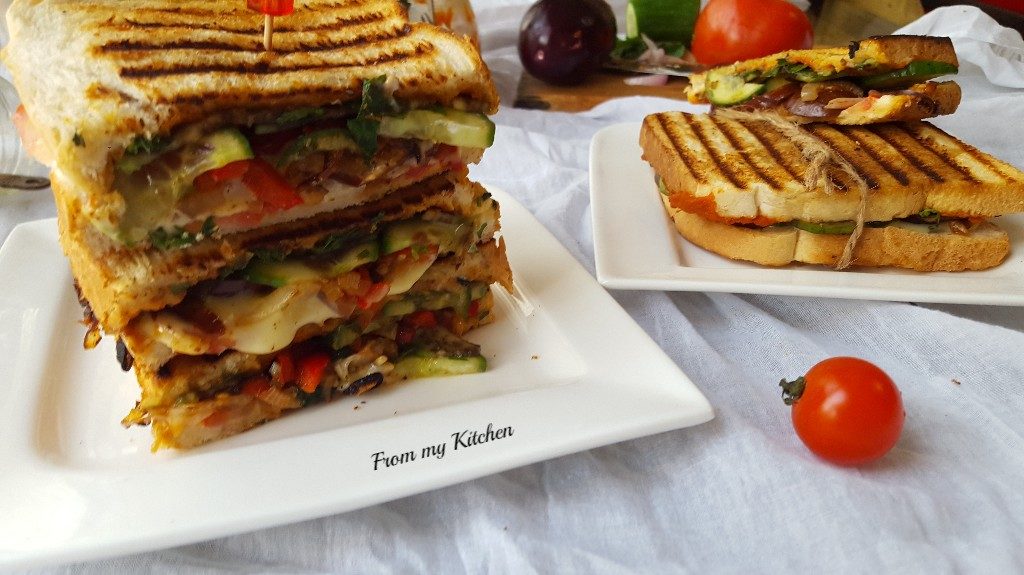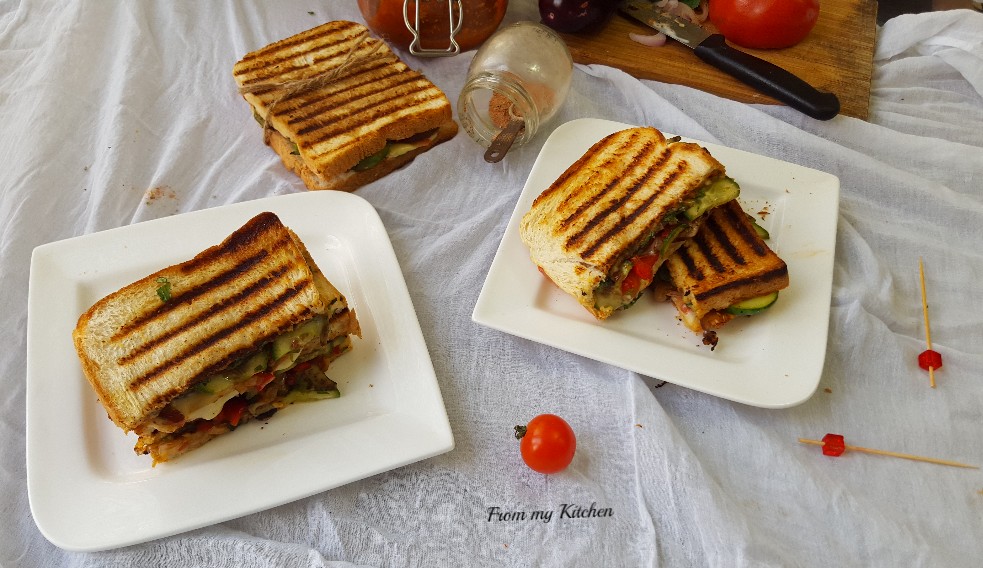 Relish the yumminess loaded with full of healthy veggies!