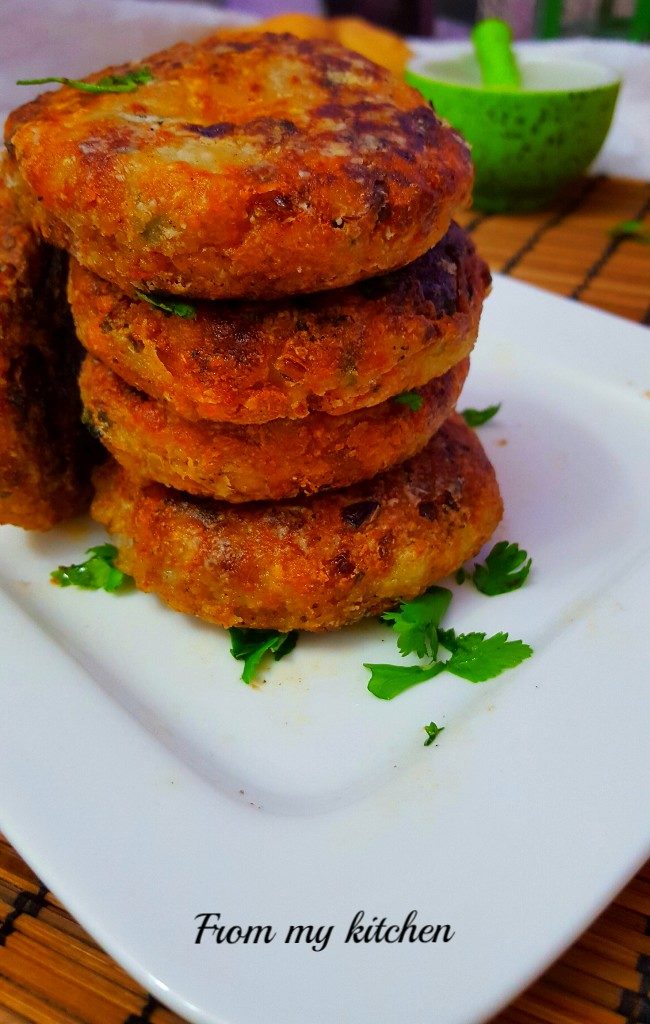 Aloo TIkki is a famous North Indian snack!Its made of boiled potatoes,onions and some spices.Aloo means potato and tikki means cutlet.Aloo tikki itself is a very flavourful snack and if its stuffed with some chicken filling can u imagine the taste?It was just wow!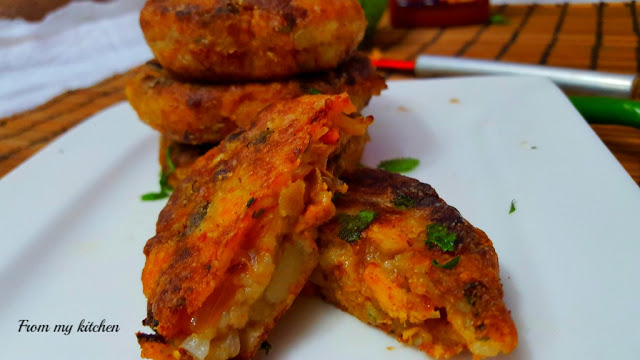 Chicken in chaat!It is just like a fusion cooking.Some chinese style stuffing with these tikkis.Not fully Chinese some flavours of chaat and some Indian spices are used here.The taste is just awesome.The outer layer is lightly crisp and the inside is soft,juicy and succulent.You can see it here!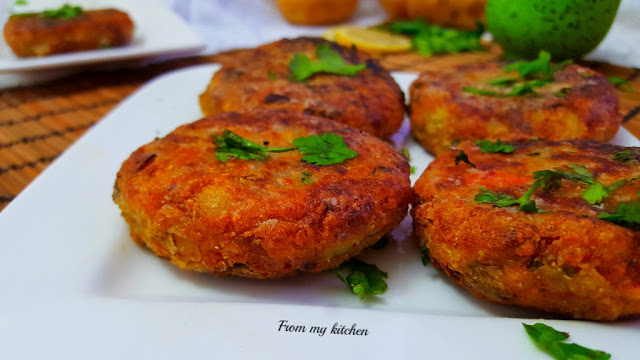 To prepare this just boil the potato with some salt and then mash it and flavour it with some spices,onion and coriander leaves.For filling boiled and shredded chicken,onion.garlic,carrots and capsicum with a dash of lemon and tomato paste and for spiciness green chillies!Yummy and perfect tea time snack .

Ingredients
3 medium potatoes
Salt to taste
Water to boil
One medium onion
1 green chilly
1 tblspn or more chaat masala
Lots of coriander leaves
For Filing
1 chicken breast boiled with garlic,salt, chilly powder and salt.
1 large onion
2 or 3 green chillies
1/2 of a carrot
Small piece of capsicum
1 clove garlic
1 tspn tomato paste
2 tspn lemon juice
1 tspn cumin powder
Lots of coriander leaves
Some cornflour to dip the tikkies
Some oil to shallow fry
Method
Boil potatoes with salt and enough water.Very important to note that don't overcook your potatoes(that will make difficult while stuffing).Drain the water mash it and add finely chopped onion,green chilly and coriander leaves with lots of chaat masala and keep it aside.
For filling
Boil the chicken shred it and just saute it in oil and keep it aside.
In same oil add chopped garlic,onion and green chillies and cook for a while.Then add veggies chopped cook for some time add tomato paste,lemon juice,cumin powder and mix well.Add shredded chicken and coriander leaves,Check for seasoning and add.It is a tangy and spicy filling(chat pata!)
Your filling is ready now.
Take a lemon size ball of potato .spread it a little and stuff the filling and give it a tikki shape.Do it with all and then in a bowl take some cornflour and coat it well on both side of the tikkies.
In a pan pour 4 to 5 tblspn of oil and shallow fry it.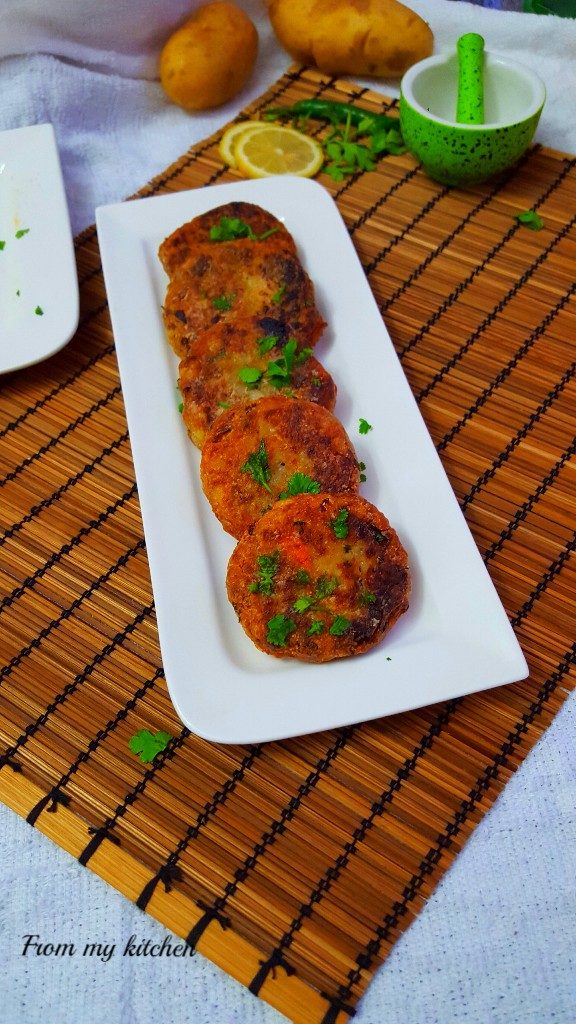 Note ;Flip it only when one side is done otherwise it will break.
If you feel like your pattie is very soft keep it in refrigerator for some time after coating it in cornflour and then cook it.
If you are using left over chicken from curries just rinse it and shred.Then in a pan add a clove garlic,1/2 tspn chilly powder and some salt saute and add the shredded chicken and saute for a while..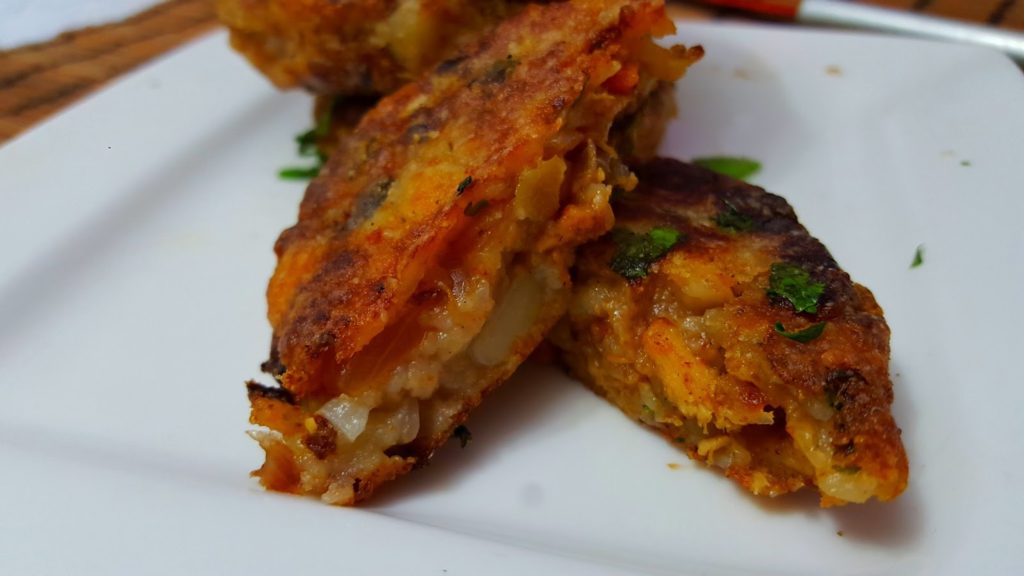 Spicy,tangy soft yet crispy stuffed aloo tikki is something great for evening snacking!Try it out and you will love this for sure(potato lovers and chaat lovers will definitely do!)