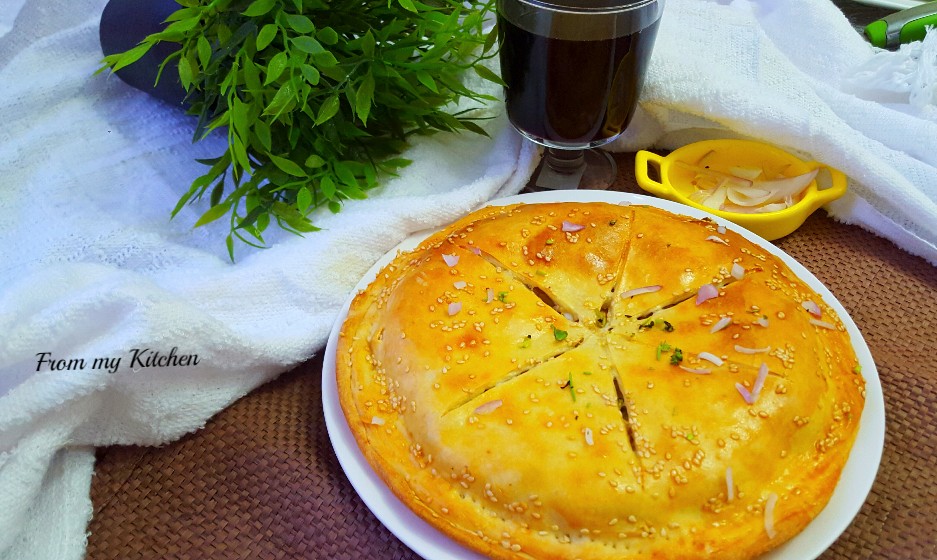 Savoury pie with the filling of mince and potatoes are absolutely a comfort food!Nothing can beat such an amazing home made pie!It's perfect for light dinner,lunch or even to be packed in tiffin.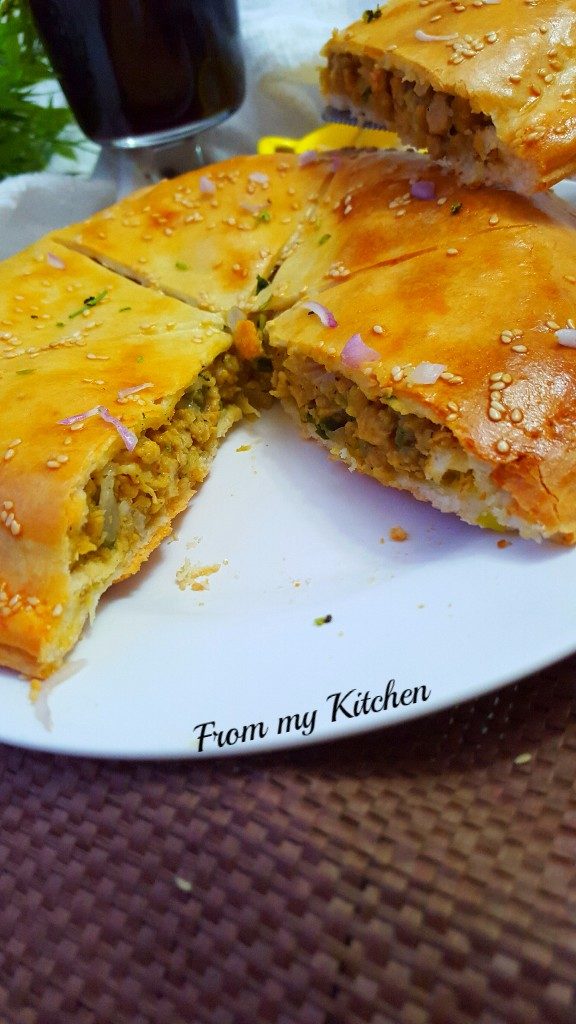 Baking is a passion for me!And baking savoury meals is really what i enjoy the most!It does not need much oil or fat, so its a healthy and a better option !I think this can be done in a pan too!In low flame,as the crust is too thin it will cook fast and then just flip it over!(this option is for those who don't have oven)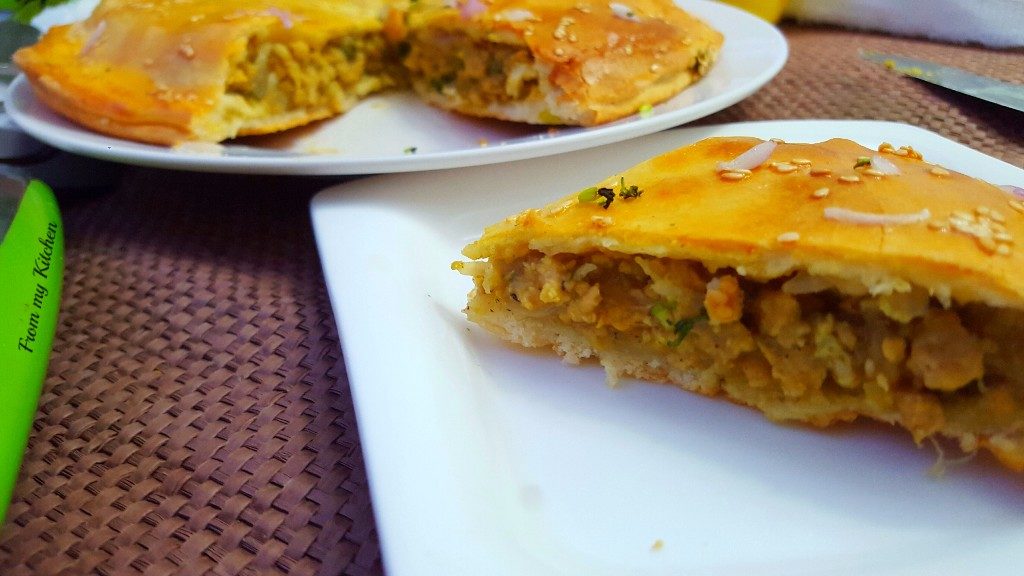 To make this, the dough does not need to rest first,After preparing this let it rest for 1 hour.For filling i used chicken mince!(u can use any of your choice or even shredded chicken)Make a filling with the mince and potatoes in this also will add some sliced seasoned onions.
Ingredients
2 chicken breast fillet
1 tsp garlic paste
1/2 tsp ginger past
salt to taste
2 tsp black pepper powder
2 small onions, chopped fine
1 potatoes,
1small capsicum, chopped
2 0r 3 green chillies, chopped
2 tbsp oil
1/4 tsp turmeric powder
1 tsp cumin powder
1/2 tsp garam masala
lots of coriander leaves, chopped
juice of half a lemon
1 egg, lightly beaten
For Dough
2 cups all-purpose flour/maida
1 tsp salt
1 tbsp milk powder
3/4 tsp instant yeast
3 tbsp oil or melted butter
water mixed with milk, warmed…for kneadin
Method
For filling
Take an onion ,peel and slice it .soften these by sprinkling some salt over it and and leave them for 15 minutes.
Boil and mash potatoes keep it aside.
Heat the oil, then add the onions and saute until soft. Add the ginger, garlic pastes followed by the capsicum. Cook for a minute, then add the mince and the turmeric and cumin powders, plus salt. Once you've broken all the lumps cover and cook it until the chicken are done, add the potato and green chillies. Cook until the mince is almost dry, then add the lemon juice and coriander leaves.Finally when mince is completely dry, sprinkle the garam masala and set aside to cool
Dough
Put all the dough ingredients in a bowl and knead into a soft dough. Immediately, divide the dough into 4 equal-sized balls. Roll each ball out to about 7 inches diameter (it will be thin but that's fine).
Grease two pie-plates or any round pan.
Place one rolled out disc in each pan, this will be the base of your pies.
Then divide the mince between the two pies and put it over the bases.
Take the beaten egg and divide it between the two pies by drizzling it on each pie very neatly all over the filling.(reserve some for egg wash)
Sprinkle the onion all over the top of the filling, then add a dash of black pepper powder over everything.
Cover each of the pies with the remaining rolled out disc.
Press the edges with a fork or your fingers, to seal well.
Now using a blunt knife, make marks dividing the pie into 8. Don't cut through, just lightly form the pattern.
Cover the dishes and set aside to rise for about an hour. Apply egg-wash on the pies and sprinkle sesame seeds if desired.
Bake in a preheated oven at 180 degrees until tops are golden.
Cut the sections through following the marks you made previously. This time use a sharp knife
Bake in a preheated oven at 180 degrees until tops are golden.It will take about 20 minutes.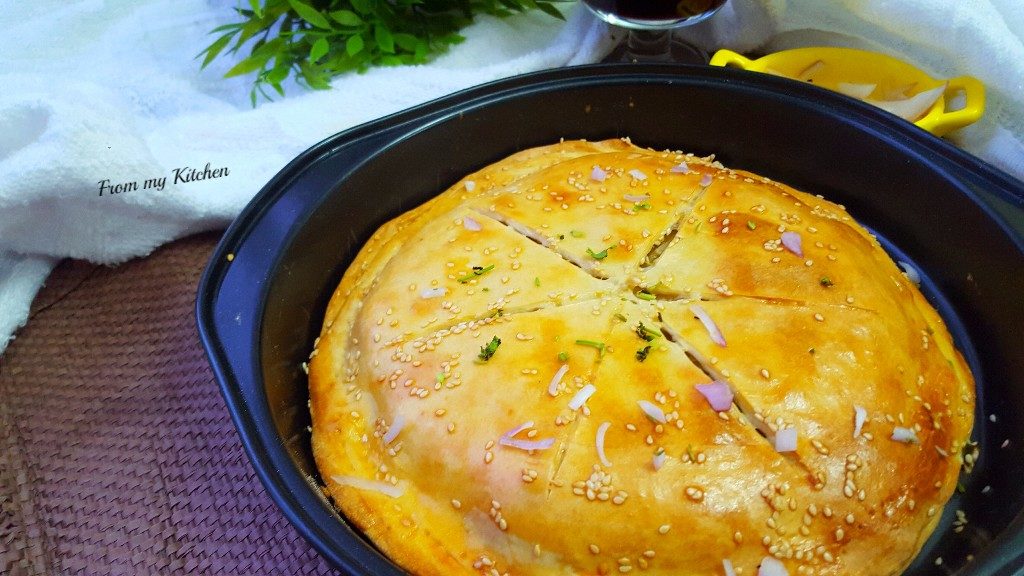 Have it hot hot hot!!I am sure you will enjoy each and every bite of it!It's packed with full of flavours!