A cheesy filling with crispy crust!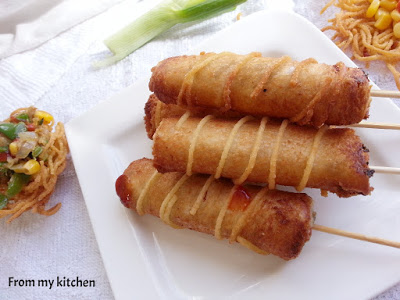 A yummy starter/snack whatever it is,a must try recipe!Best way to make kids eat the veggies hiding through this lollipop.Yes kids love to eat lollipops if its sweet or savoury they will give it a try,right?Here children and grown ups both will go crazy for this cute lollipop!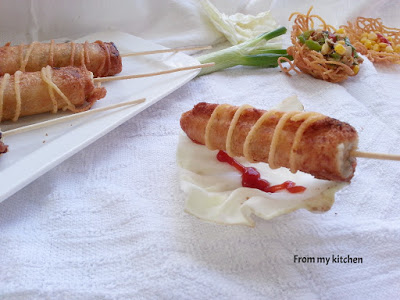 A healthy interesting snack!Crispy coated bread and noodles filled with some cheesy chicken and veg filling.I used corns,capsicums,onions and all.Roll the bread with filling and wrapping it with boiled noodles and shallow frying it!Walaa.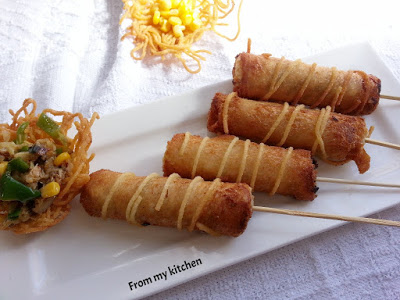 Ingredients
8 to 10 slices bread
Some boiled noodles
Oil for frying
Filling
2 tblspn butter or oil
1 small onion
Some spring onions
2 cloves garlic
1/2 green chilly
1 capsicum
1/2 cup boiled sweet corn
1 tspn pepper
1/2 cup mozzarella cheese
Some parsley or cilantro
Some boiled and shredded chicken with salt,pepper&garlic
Method
In a pan pour butter then add finely chopped garlic and green chilly saute then add onions caps and mix well and cook for a while don't over cook it as we need that crunch of the veggies add pepper corn and chicken mix well add parsley and mozzarella .Now your sticky cheesy filling is ready.
Make glue out of flour and water keep it aside
Take your bread and roll it thin using a rolling pin put your stuffing evenly roll it and seal the end with the flour glue.Then wrap it with the boiled noodles and keep it aside.If its not sticking dip the noodles in some water and wrap it.
Now heat a pan pour some oil and shallow fry it on all the side until it becomes crispy and golden brown.For plating insert a long wooden stick inside the rolls to make pops out of it.The delicious crispy cheesy pops are ready to serve now.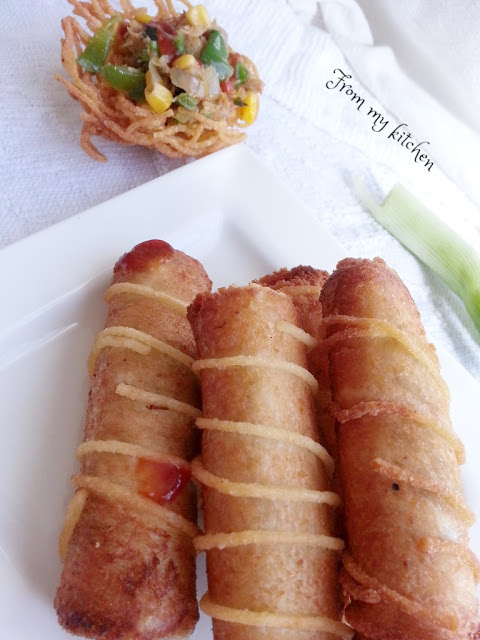 I am sure it will be loved by you and kids for sure.Serve it with ketch up.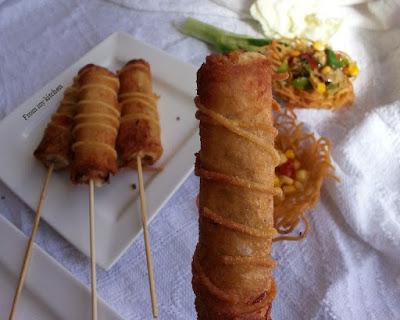 Its crispy,its cheesy its yummy!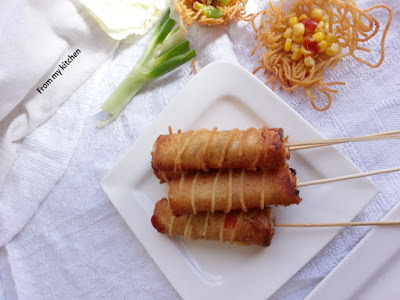 Enjoy perfect for the winter tea time!
Recipe Idea :Kanak's Kitchen.