No bake swiss rolls!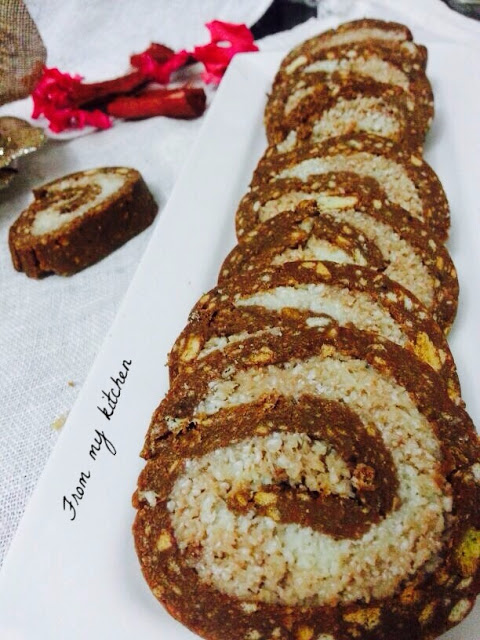 Are you craving for something sweet?But you don't have to work a lot?Here is the recipe for bounty rolls,very easy to make.In other words No Bake Swiss Rolls!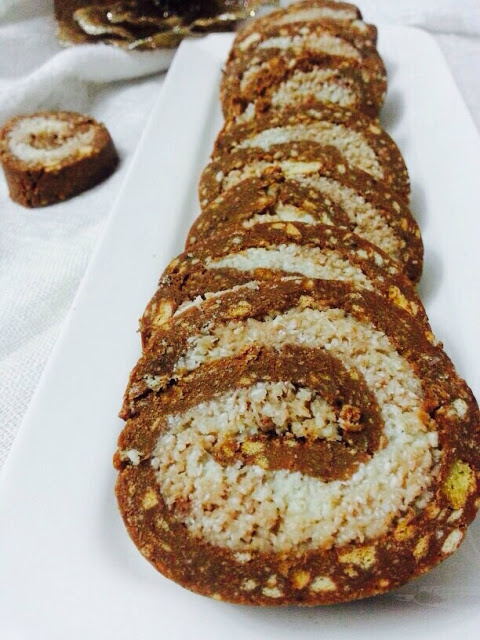 Hmm its very easy to put together few simple steps and your rolls are ready!I always love to give the credit for the person who share recipes to me,This yummilicious recipe introduced to me by my cousin Rishana Firoz(thank you shanithatha)for this awesome recipe,she has lots of such easy peasy recipes,More to come :)My hubby loved it. I made slight changes but almost same as she shared.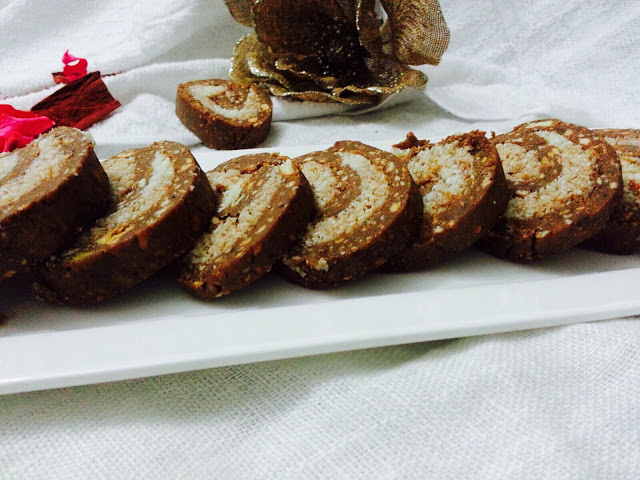 This beauties have two simple steps first biscuit coco mix to make a soft dough then coconut & milkmaid mix for filling!And then roll it out then filling and roll to a tight log and let it set for 2 hour in the refrigerator and its done.


Ingredients
For biscuit base
1 packet marie biscuit
1 tspn coco powder
3 tblspn nutella
2 tspn sugar
3 tspn ghee/butter
Some milkmaid/milk(pour it until the dough come together)

Filling
1 cup desiccated coconut
Some milkmaid
1/2 tspn vanilla essence
Method


Crush the biscuits to powder some chunks are ok(I put it in a zip lock bag and hit it with a rolling pin)
then mix all the ingredients and knead it to a soft dough.
Be careful with liquids you are pouring!Make it to a soft dough as we want to roll it to a rectangular shape.
If u dont want too much sweetness u can skip condensed milk and pour milk.But this one taste yumm!
For filling just mix both coconut n milkmaid until u get a sticky sweet filling!I also added a tblspn of nutella in this(without nutella you will get a nice white colour,so its your choice)
Now with the help of a cling film or butter paper roll out the chocolate biscuit dough to a rectangular shape.Make sure it has a 1 inch thickness,then spread out the filling evenly and roll it to a tight log with the help of a cling film cover it and refrigerate it for 2 to 3 hours and cut it and you can see the wonderful colours of chocolate and coconut.Its really yum!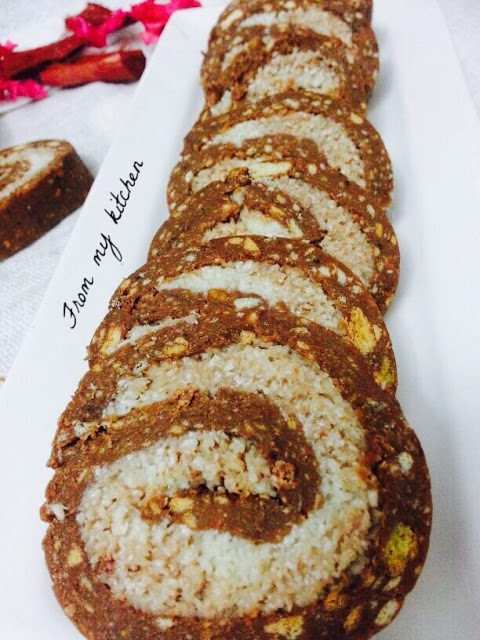 Those who loves bounty will enjoy it!Its really a very quick easy and yummy recipe!Hope you guys will enjoy this nutella bounty swiss rolls!
Happy cooking!
Stay tuned for more such easy and yummy recipes.