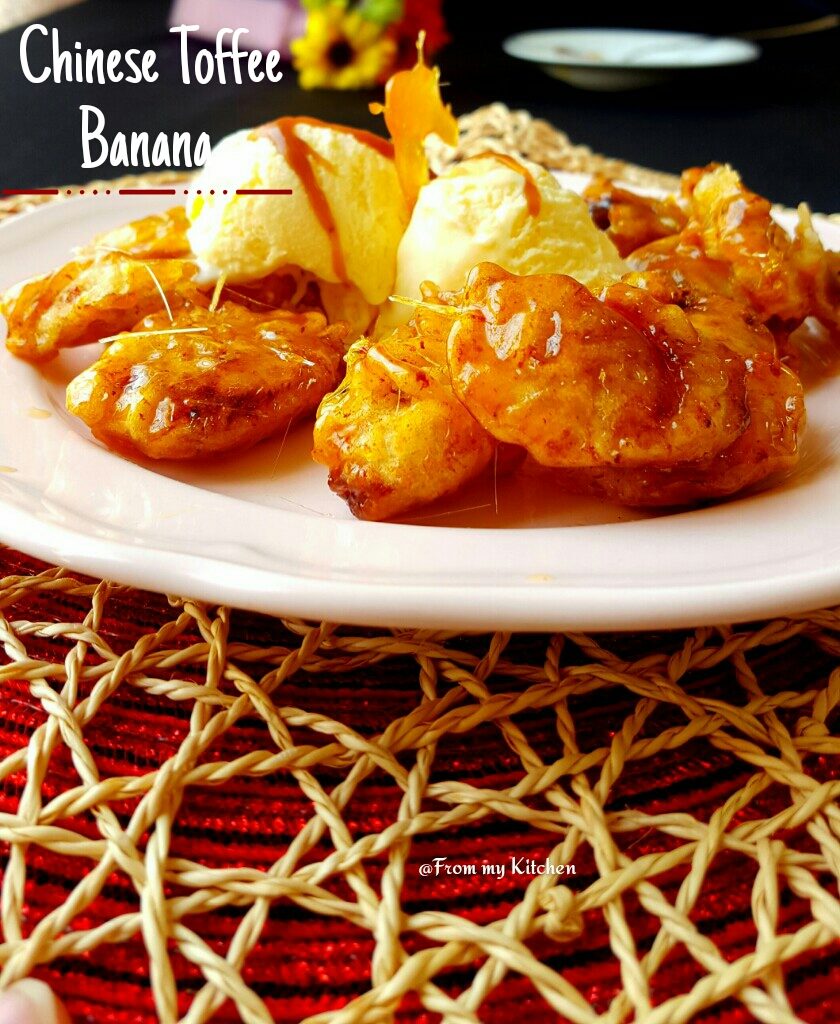 Toffee banana is a classic Chinese dessert. Batter fried bananas in crispy caramelized coating served with a doll-up of vanilla ice cream!This is such an amazing dessert that prepares in no time!Trust me it's too good!Melt in mouth bananas and crispy caramel combination is just woow!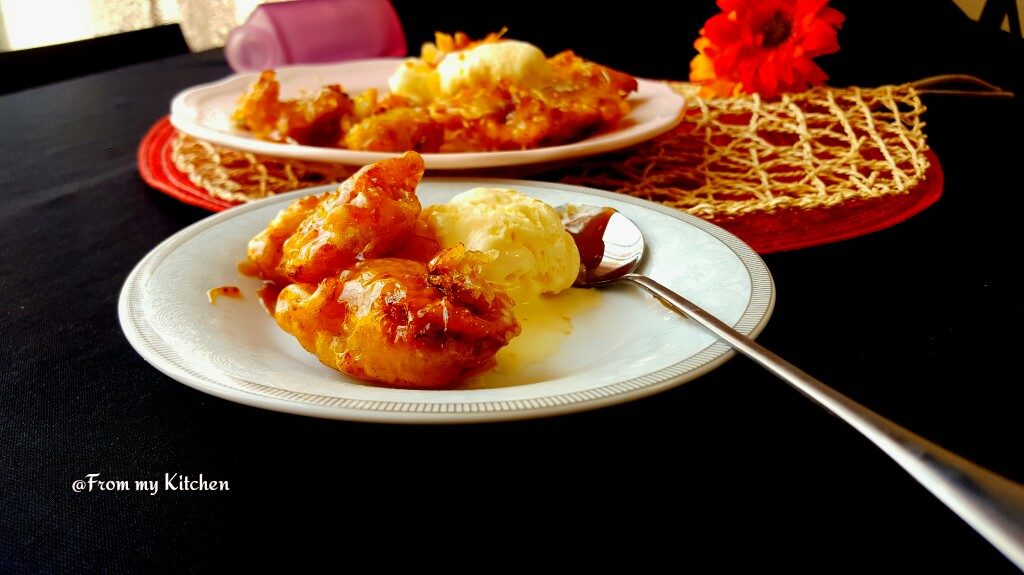 Yes once more this is UAE food guide's cook along event recipe and the host is Shinaz who used to try many of my recipes and makes me happy with her valuable feed backs !So how can i miss her cook along and i'm glad i tried it Shinaz!This dessert is too good that i can't resist myself from sharing it with my readers ! This group (uaefg)brings out some amazing foodies to the board every week!Kudos to the entire team!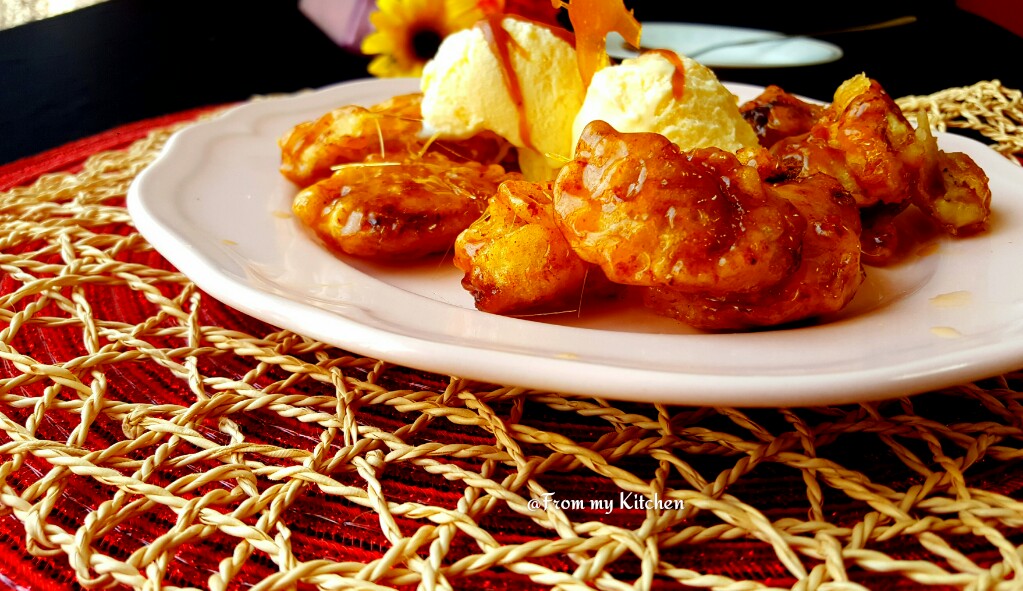 I know the pic is not doing any justice to the dish,but it was super yum!I was in a hurry and some how managed to click the pictures!This is an apt dessert if you have a surprise guest!I'm sure banana is one such ingredient that's handy in all the pantries !So go for it guys!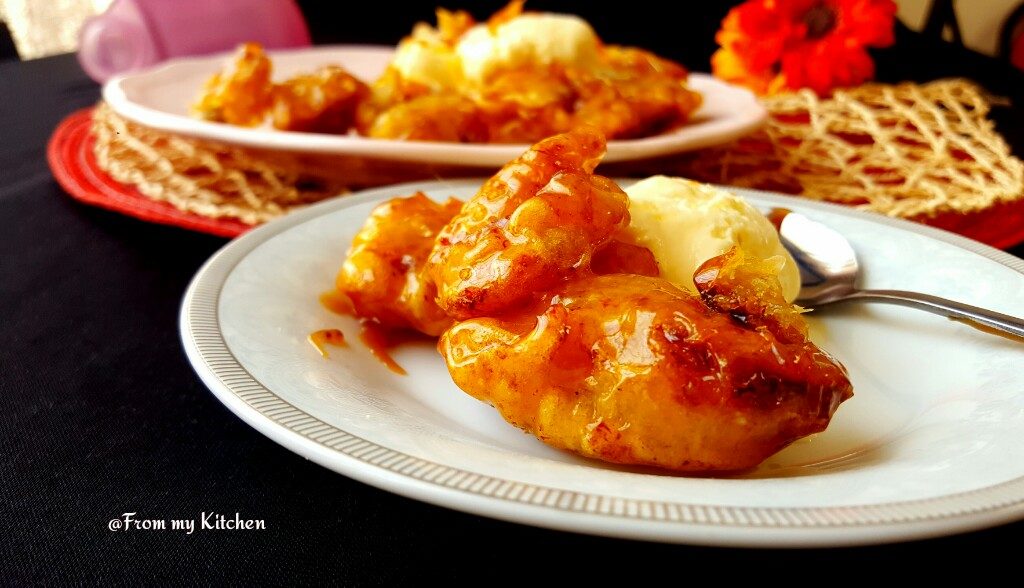 This sweet has a combination of textures- the batter frying makes the fruit soft and sweet, toffee coating makes it brittle and sesame seeds give it a crunch. You can also use other fruits like apple or pineapple for an added twist. Toffee Banana recipe served with vanilla ice cream makes for an unusual indulgent dessert.
Ingredients
Oil for deep fry
2 Ripe Bananas
4 tbsp All purpose flour
4 tbsp Corn flour
1/4 Tsp baking powder
Some Sesame seeds
3/4th cup Sugar
Some ice cubes to set the caramel
Directions
To make the batter whisk together equal quantity of corn flour, all purpose flour and baking powder then add the water and mix until smooth.
Cut the bananas in to roundels, and dip it in the batter and deep fry the bananas.
For caramel
Take a pan add sugar, little water cook for medium heat until caramel forms(take care not to burn the caramel it will turn your dessert bitter),
Remove from the heat then working quickly one at a time, add the fried bananas to the caramel and turn to coat,
Drop into ice water to set the caramel.(you need to be really quick after coating the bananas)
Drain immediately then sprinkle with sesame seeds, serve with ice-cream