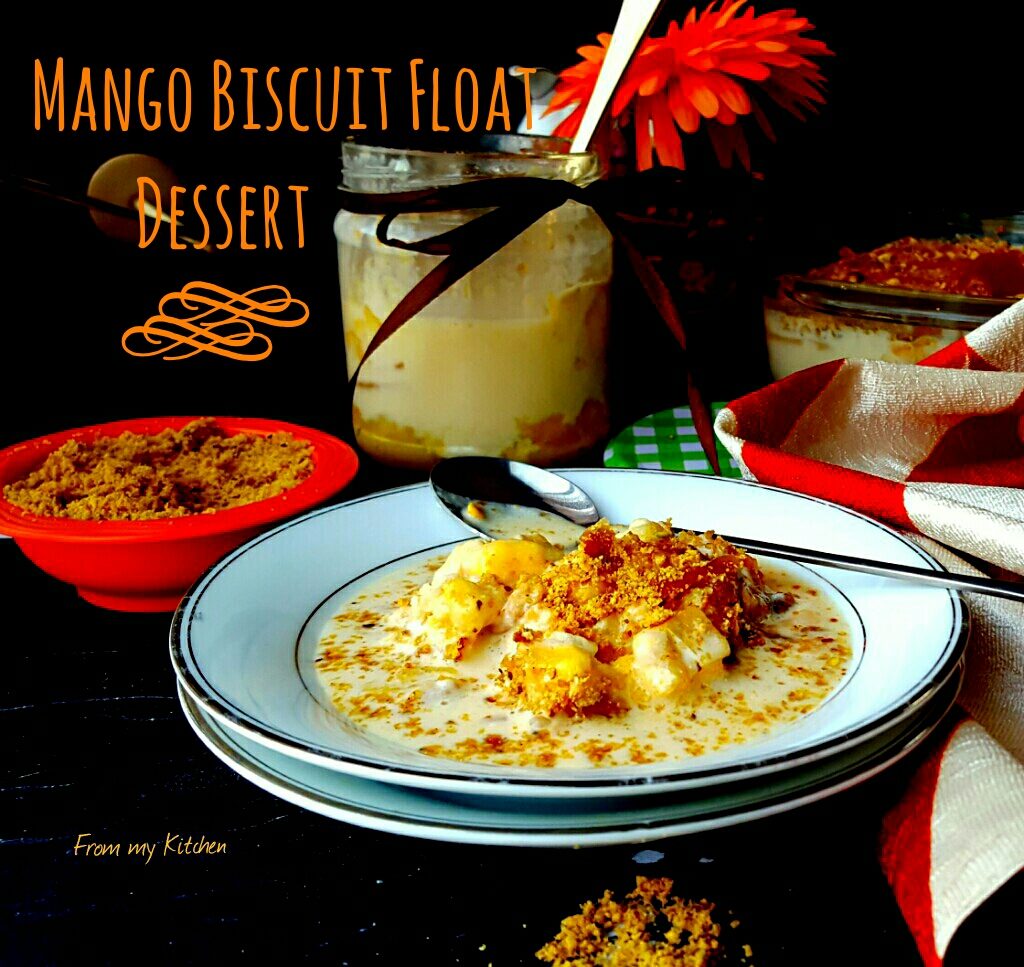 Mango season is back and the recipes with mangoes are on full swing in social medias and blogs!So here i'm with my favorite mango dessert .This is one pudding that wipes in no time.The two favorite desserts of my family is this one and do you remember my Nutty Parfait! Creamy, deliciousness !!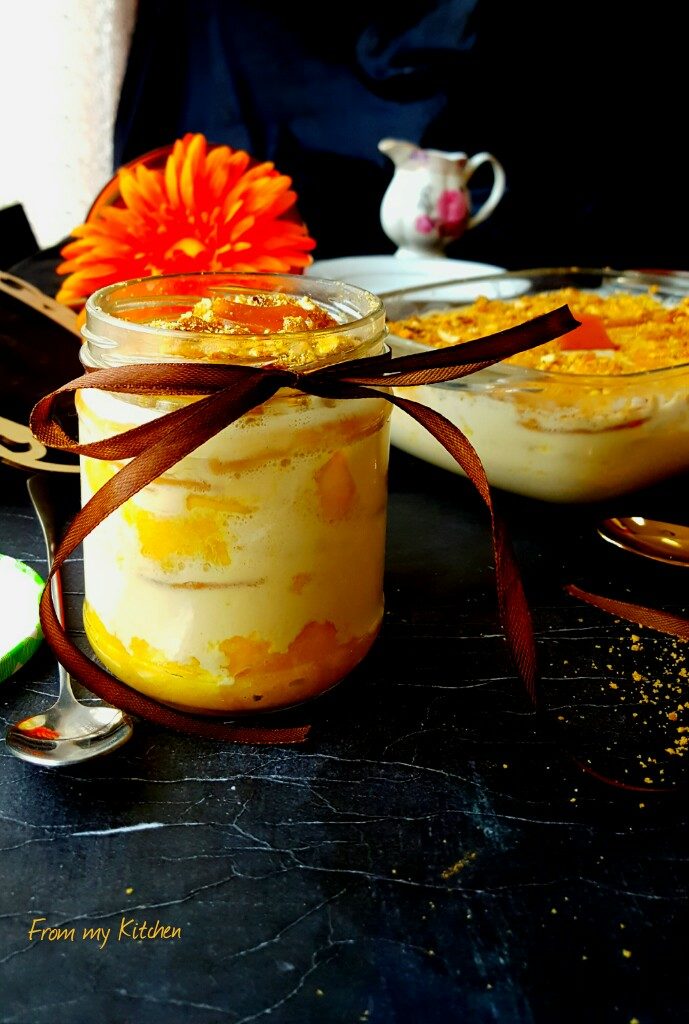 The layer of delicious buttery mangoey pulp as base,topped with biscuits and a rich vanilla cream on top followed by caramelized nuts.This is as simple as 1,2,3 and the taste is out of the world.If you are a mango lover you will fall in love with this pudding on a single bite.As you can see the name it's a floating pudding,will not set it's liquidy but believe me it's worth trying!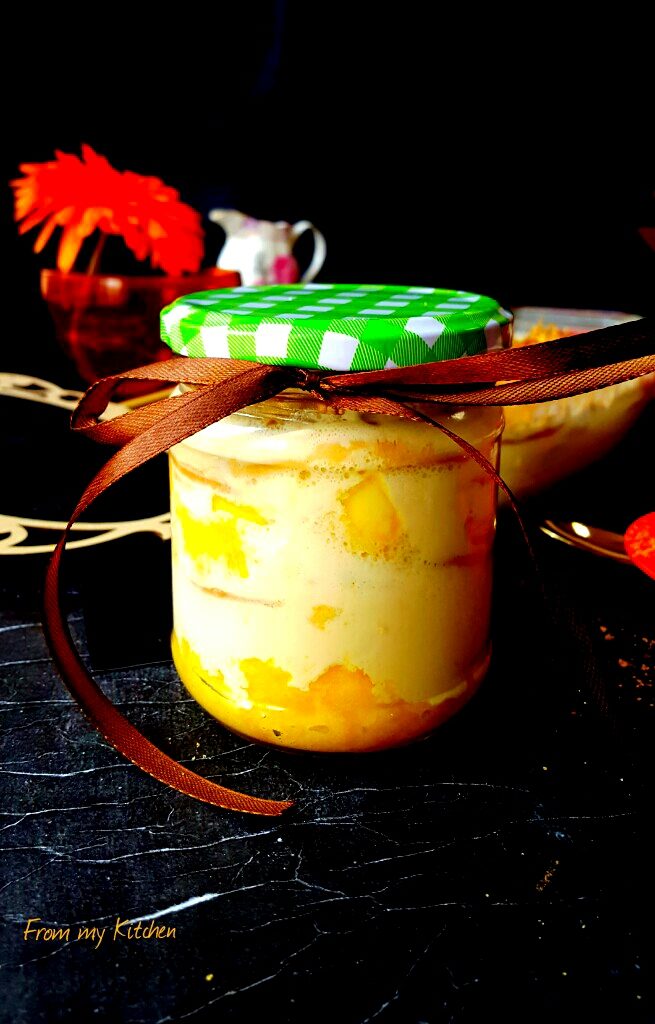 This pudding was introduced to us by Shabnam my aunt(shabu ammayi) who is a master chef . She used to bring a big bowl of this pudding if there is any potluck party and we wipe it off every single bit.The recipe shared to me by my cousin Raisa till then it's our favorite. Make it your favorite too,If mango is not in season you can make it with pineapple too,But if you are making with pineapple you have to cook it with butter and sugar.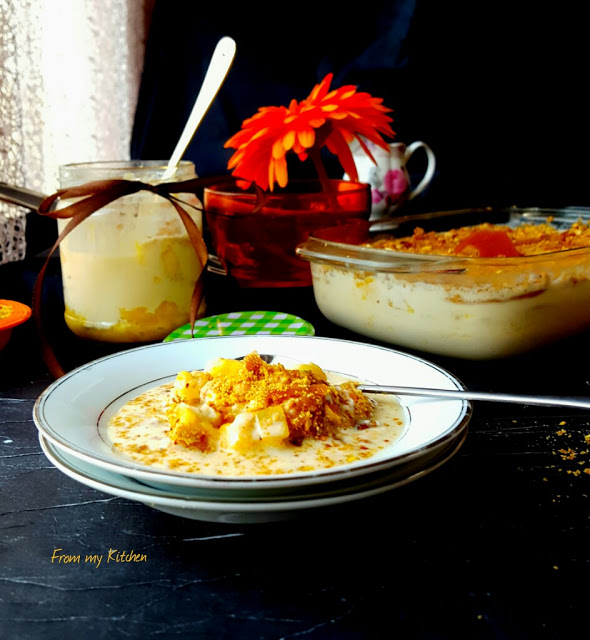 It's a real creamy indulgence with mango,biscuits and a crunch from nuts.There is one Philippine dessert similar to this called mango float dessert.In that they are using vanilla sponge cakes and for the crunch Amaretti cookies instead of caramelized nuts.Hope you guys will like it.If you don't want it so liquidy try to set in a large pudding bowl or in individual short glasses.So that cream will spread widely and the some of the liquids are soaked by biscuits.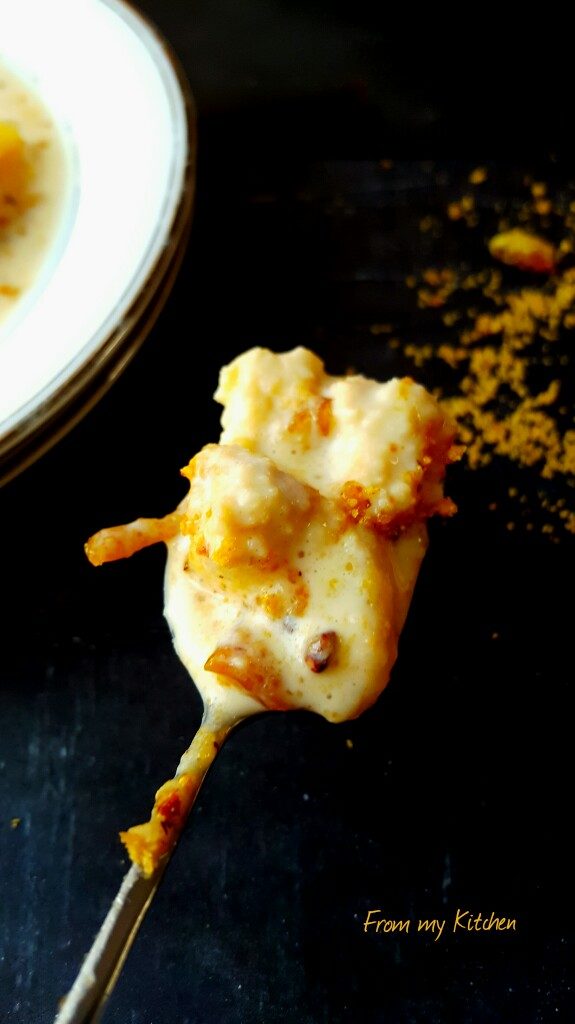 Over to the recipe
Ingredients
2 big ripe sweet mangoes
20 to 25 gm butter
2 or 3 tbsp powdered sugar or icing sugar
For Cream
2 tins nestle cream(340 gm)
1 tin condensed milk
1 tsp vanilla essence
Other Ingredients
Marie biscuit approximately 1 n 1/2 packets
Some milk to dip the biscuits
For Caramelized nuts
5 tbsp sugar
Handful of cashew nuts
Melt sugar when it started to change the color add nuts and caramelize it..When it cool down crush it to a coarse crumbs and keep aside.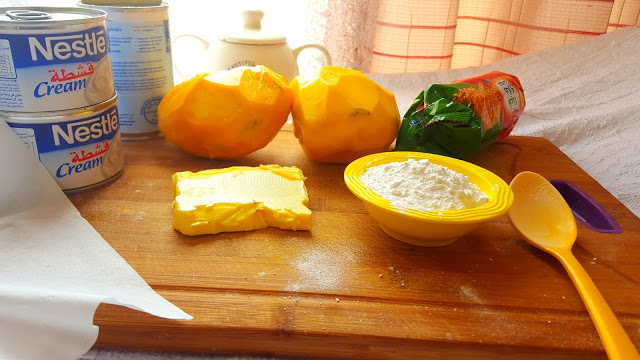 With this much ingredients you can make a delicious and simple pudding.
Method(step by step)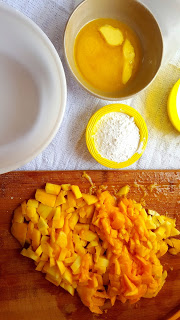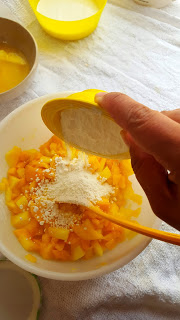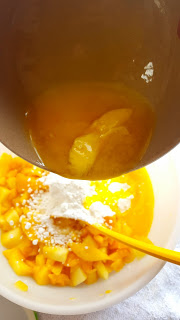 1.Chop mangoes finely 2. Add powdered sugar 3. Add melted butter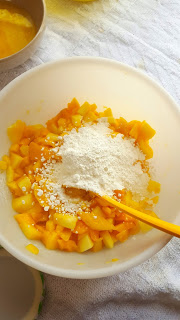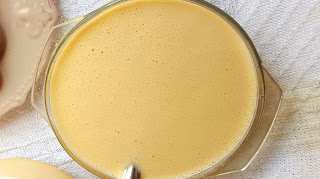 4.Mix together well. 5. Mix together cream condensed milk and vanilla essence.If you beat it you will get more thicker than putting in a blender.(i blend it in a mixer)
Here ready all the ingredients let's assemble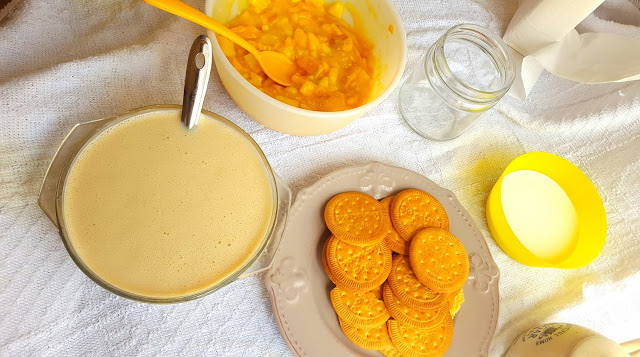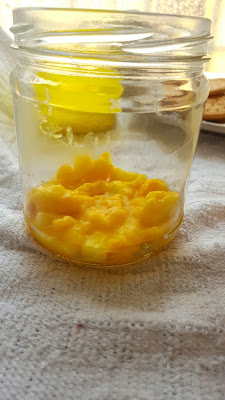 1st layer Mango butter mix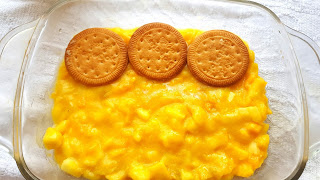 2nd layer dip the biscuits in milk and layer it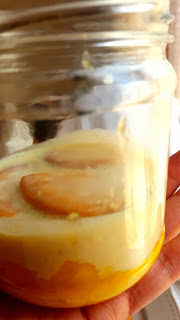 3rd layer Pour some of the cream mix and repeat the layers if you are serving in a jar or short glasses.
Then last add crushed caramelized nuts on top.Add Caramelized nuts only just before serving to retain its crunchiness.
Note:If you are setting it in a pudding bowl use a large square dish and pour it gently over the top.
Add more biscuits by inserting it inside the cream.
In large dish i used to add everything as a single layer.(like first mango,then biscuits and then pour cream.Then just insert some more biscuits to the cream )If you want you can repeat the layers.
(sorry i forgot to take the final product before setting)
If your mango is sour add sugar accordingly.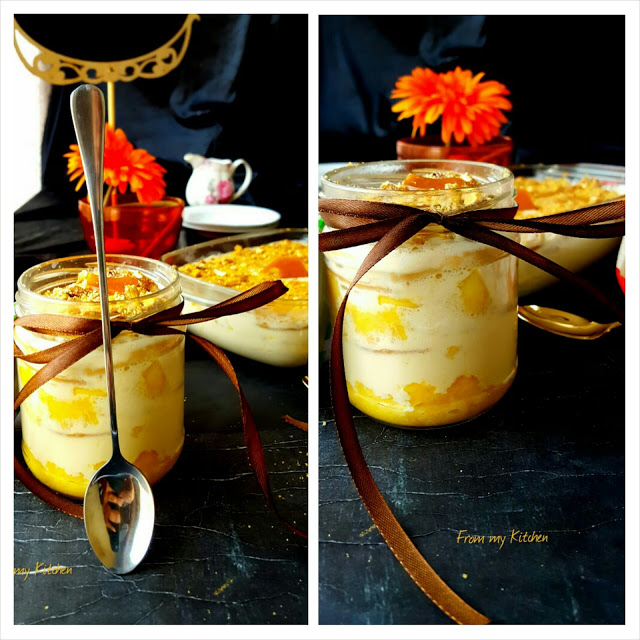 Creamy,delicious mango pudding with the caramel crunch is ready to serve.Try to serve it in deep bowl as it's a floating dessert!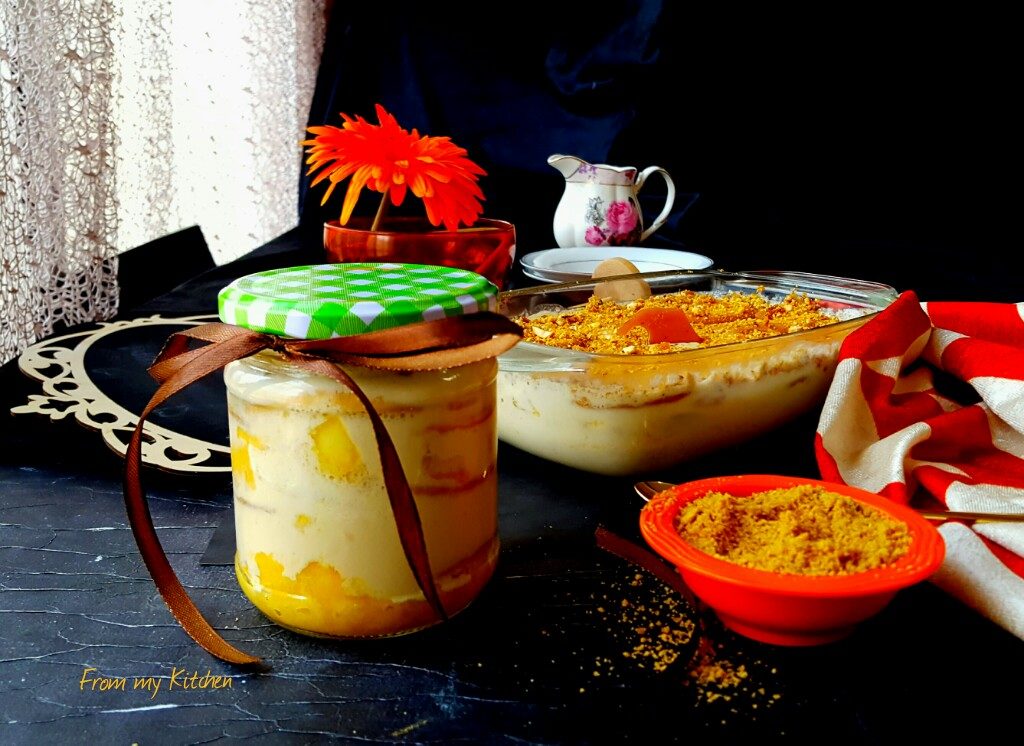 And you know what? this one i served for my hubby's colleague from Switzerland and he said this dessert is one of the best he had,Yay i was flattered!hehe!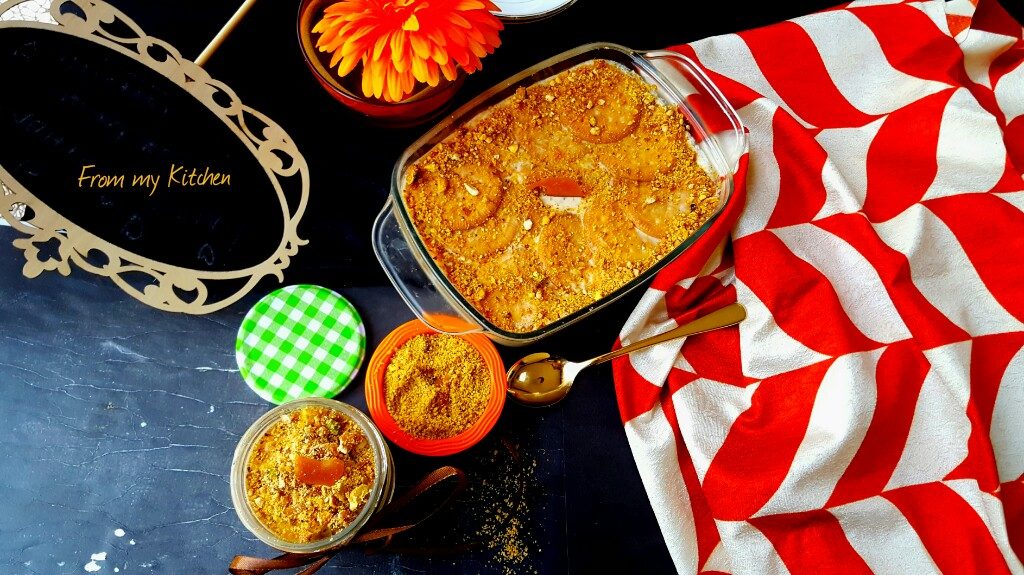 Happy Cooking!!