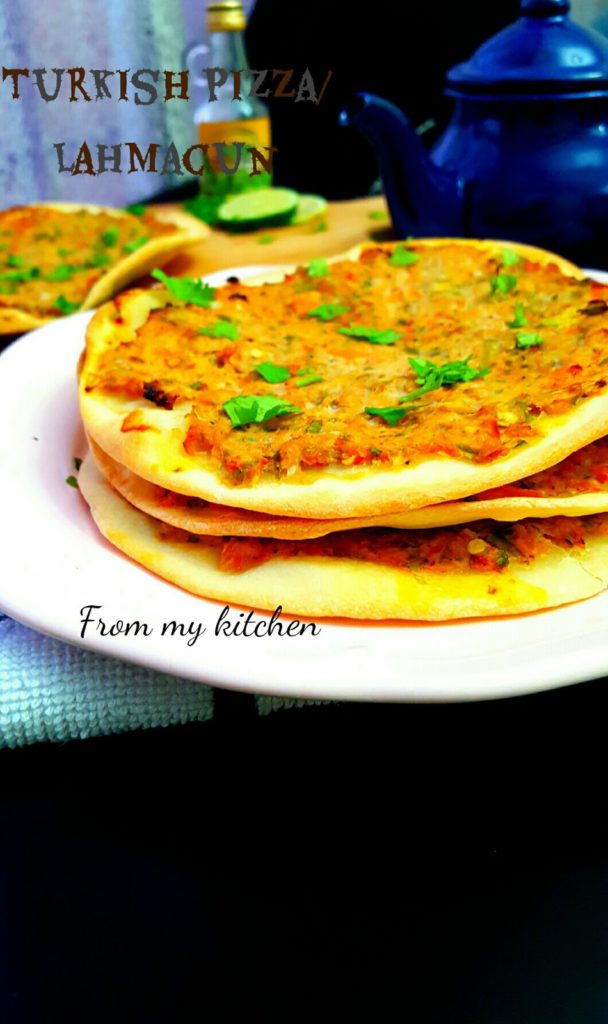 This is a pizza with delicious minced meat topping in it with an unique flavor .In this they don't use cheese in it.But when we were in Jeddah hubby used to bring the same with cheese on top. Manakish by that name it is known.We love it like crazy.Also only 5 riyal.So it's my lazy day option 5 riyal pizza.hehe!!But now here we miss that so much as we couldn't find the similar tasted one here.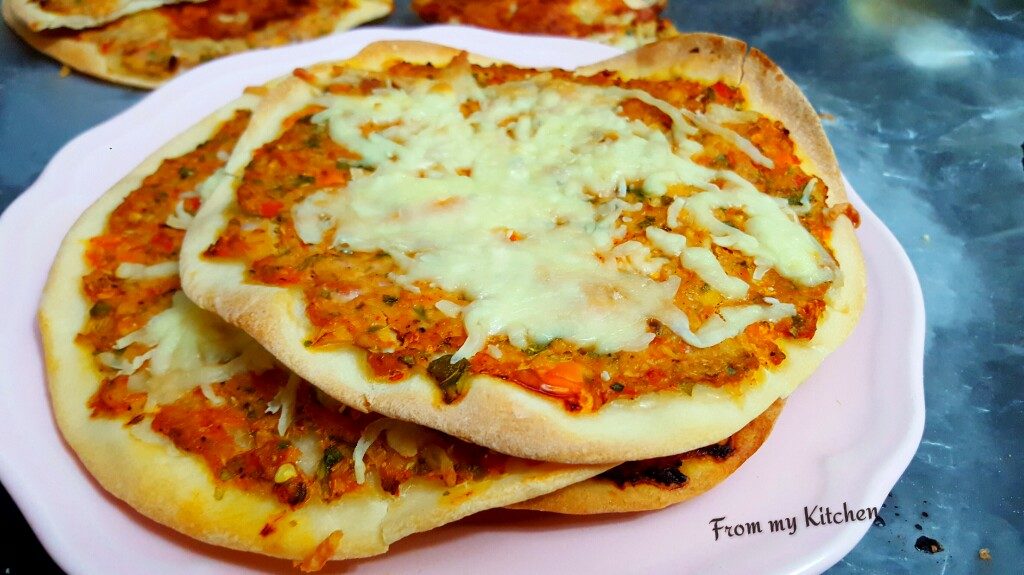 Here is it! It is a round, thin piece of dough topped with minced meat, minced vegetables and herbs including onions, tomatoes and parsley, and spices such as cayenne pepper, paprika, cumin and then baked.When we were in Jeddah my friend Sana introduced me this and we are then regular customer for this Turkish Pizza.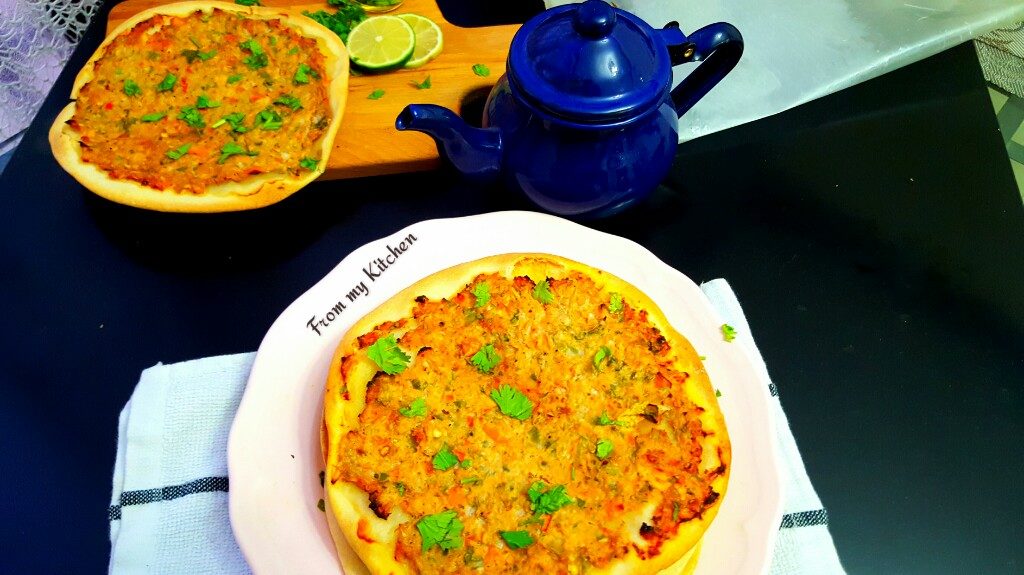 While baking this whole house smells like that bakery and i was eagerly waiting to taste it. Tada!!I got that exact flavors and very glad with that.Hubby too give me a thumbs ,he said it has got that exact flavors.that makes me so happy!Yyyay!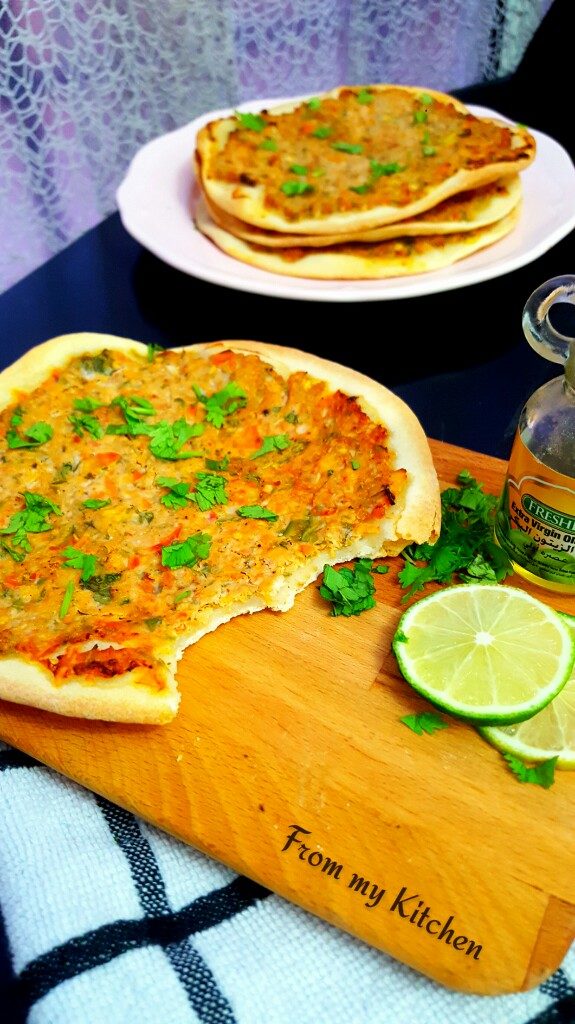 It is basically a very thin base with a thin layer of mince mixed veggies and herbs. The crust is crispy around the edges yet soft and delicate in the middle.It taste awesome with salad, but I love having these just as they are!Try it with cheese for sure they are yummy and Crunchy
So here is it!Recipe for Manakish
Ingredients
For Dough
2 n 1/2 cups all purpose flour
2 tsp instant yeast
Salt to taste
1 tbsp sugar
3 tbsp olive oil
3/4 cup milk
1/2 cup water or less
For Mince
3 chicken breast fillet/mince meat(400 gm)
2 small onions
1 green bell pepper
1 yellow or orange bell pepper
1 tomato
3 cloves garlic
A handful of parsley
Some cilantro
Some mint leaves
Salt to taste
1 tsp pepper powder
1 green chilly
1 tsp paprika / chilly powder
1/2 tsp chilly flakes
2 tsp tomato paste
2 tbsp olive oil
Method
For dough
Mix together all dry ingredients and make a well in the center and pour in the wet ingredients(warm the water and milk)You may not need that whole water check and add.But remember the softer the dough outcome will be as good.
Knead it for good 8 to 10 minutes.
Set it aside for proofing in a warm place.
For filling
Here is the pictorial demo
Put together all the veggies ,spices,tomato paste,olive oil in a blender
Blend it to a coarse paste
If you are using breast fillet mince it with some salt in the same blender
Then mix together all the veggies and chicken very well with your clean hands and keep aside.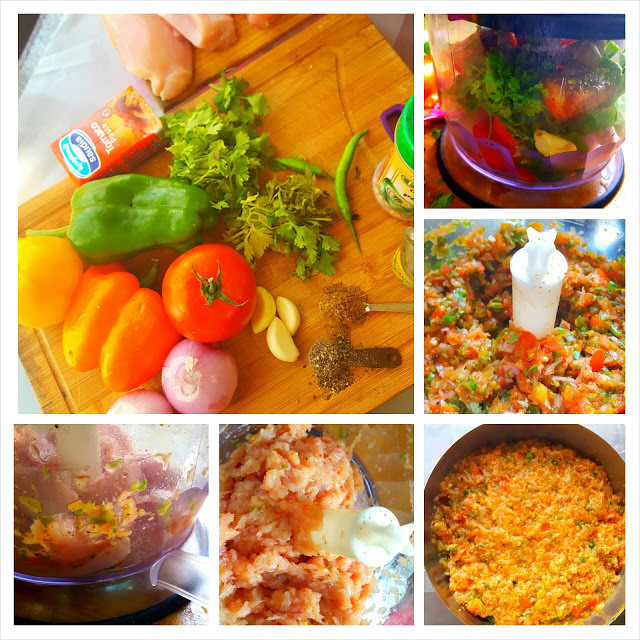 For Assembling
Preheat your oven to 190 degree.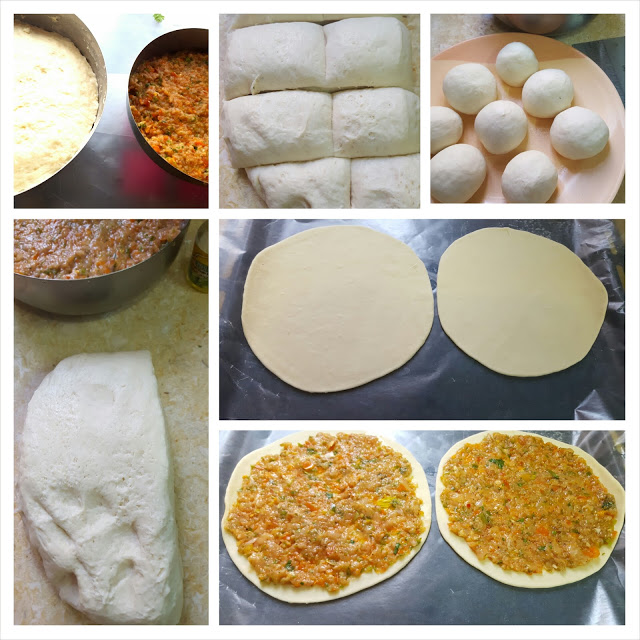 You will get 8 small balls out of it.
Roll it into thin rounds
Apply a spoon full of mixture and spread it evenly
Bake it for 20 minutes.
If you want to apply cheese take out the pizza after 10 minute and then top it up with Mozzarella and bake it for another 10 minutes.
Note; The chicken cooks in the oven!No worries about it!Mince will cook faster.
Don't overcrowd the chicken filling and cheese,Apply it evenly for the even cooking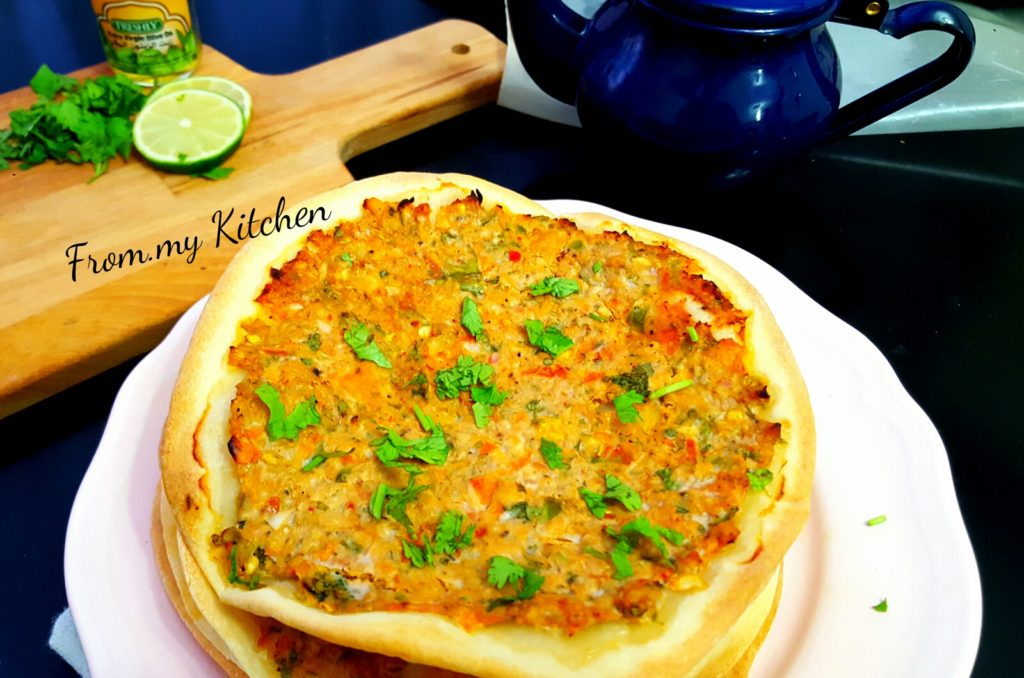 Liked both with and without cheese, It's a real yumminess!Have it straight out from the oven with some lemon tea!Even my toddler enjoyed it!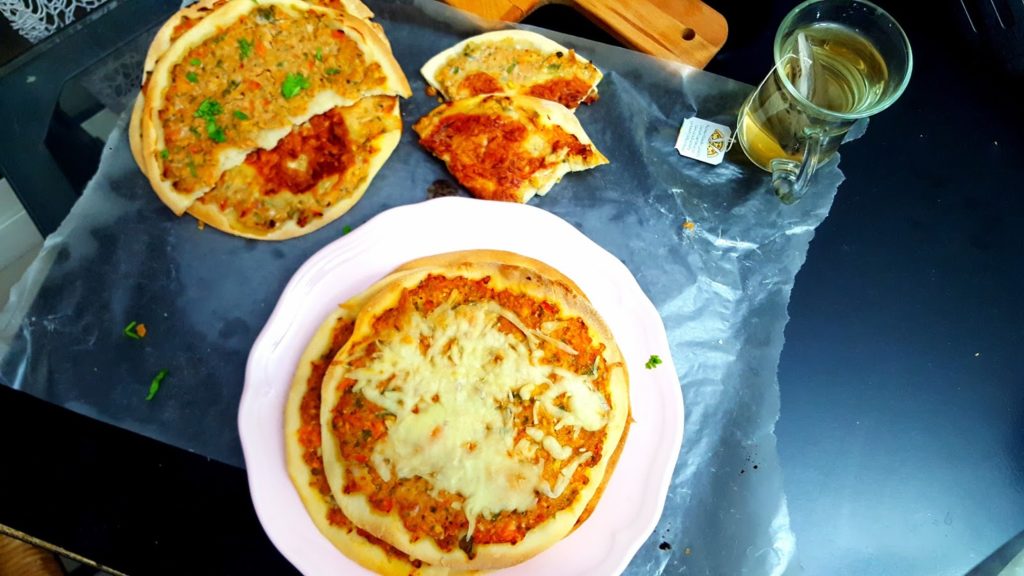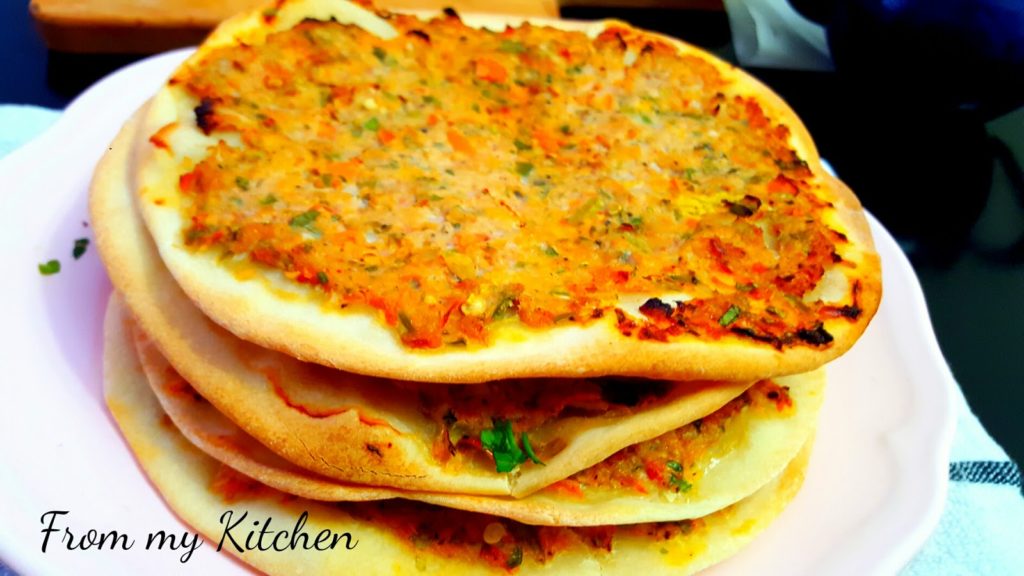 Hope you guys will like it!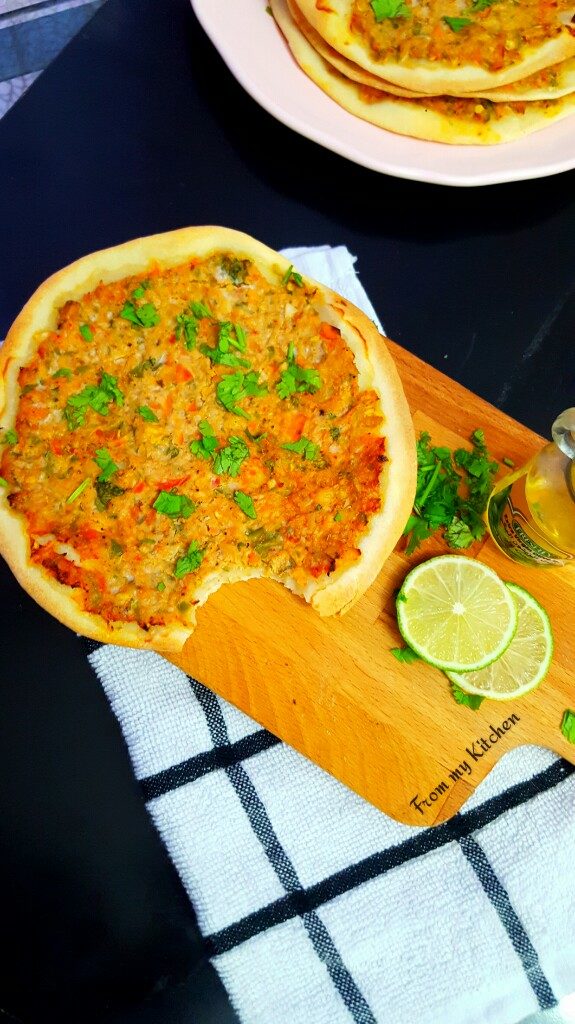 Relish!
Happy Baking!