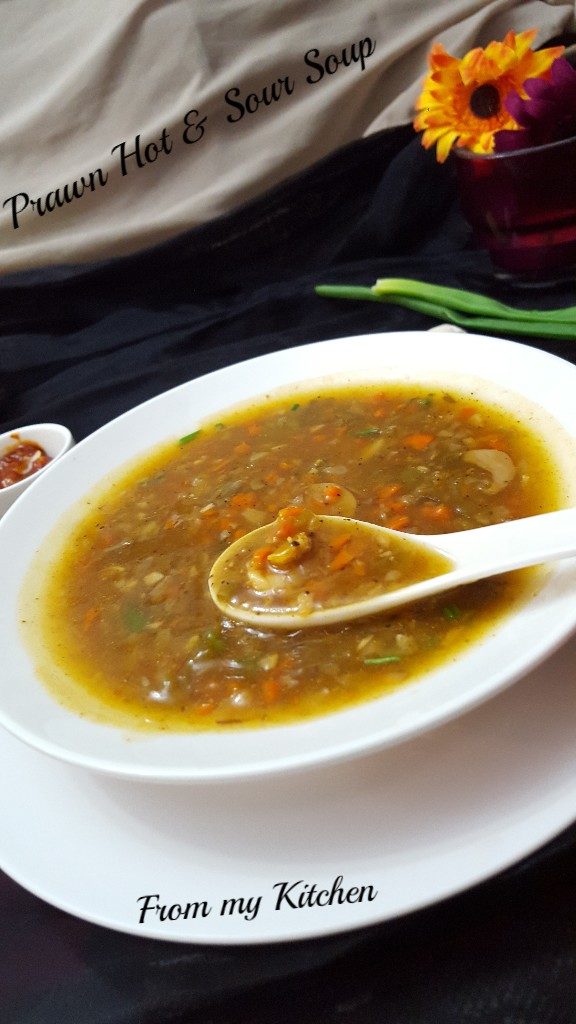 Hot & Sour a well known Chinese soup which is favourite for all! It's truly a comfort food!Hot and sour filled with lots of healthy veggies and full of flavours!It gives immense pleasure when something we made taste like restaurant,isn't it ya?Here i'm sharing such a recipe!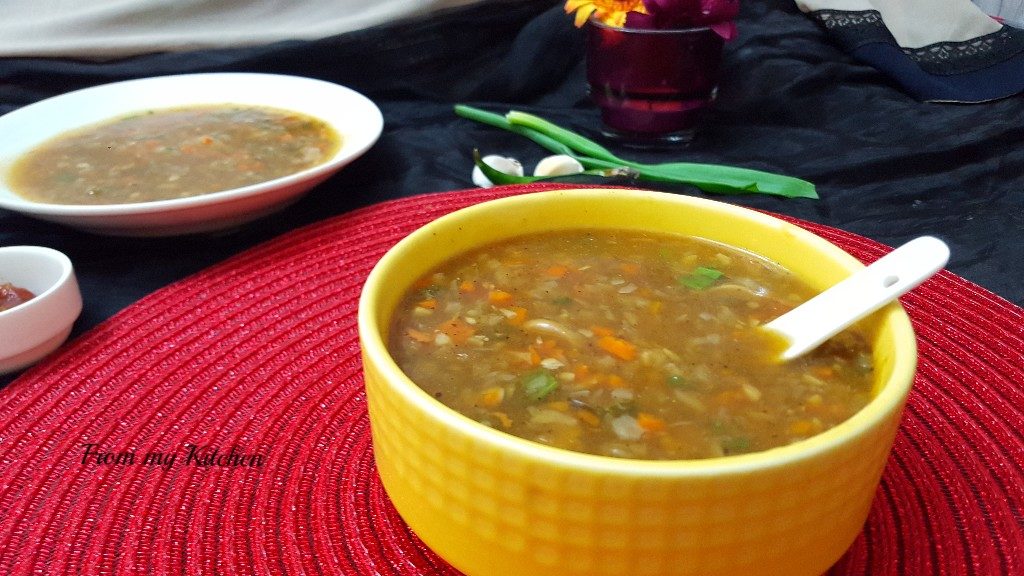 Soups are always a delight for my hubby and son!Now my toddler too enjoying it :-).Actually it was our saturday dinner!Yes a bowl full of piping hot "hot and sour soup"made our dinner!hehe!He said he want something light and cozy!So nothing better than these!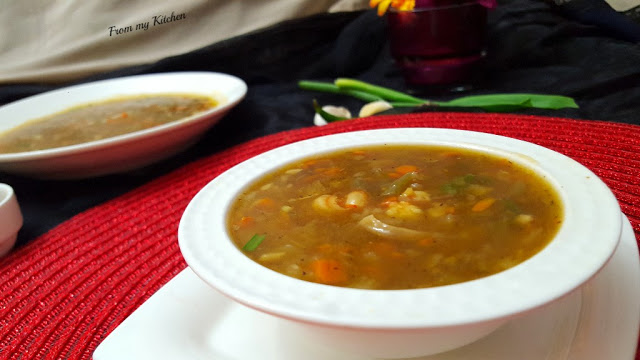 This will be ready in no time!I used chicken broth here!First sauted veggies in some oil,then added sauces and broth then prawns and boil.That's it!
Ingredients
8 to 10 prawns
5 cloves garlic
1 small carrot
1/2 capsicum
5 to 6 beans
Some mushrooms
1 green chilly
spring onion
1 tspn sugar
1 tbsp soya sauce
1 tsp pepper
1 tspn chilly sauce
1 tbsp hot sauce
1 tspn vinegar
1 tbsp oil/butter
1 tbsp cornflour
3 tbsp water
For broth I used
2 chicken cubes
4 n 1/2 cup water
Boil it both together and keep aside.
Method
Finely chop all veggies and keep it aside.
In a pan pour oil add garlic, chilly and saute,then add all veggies except mushroom and cook for few minutes.
Add soy sauce & sugar mix and cook for a while then pour the stock and let it boil.
Add prawns and mushrooms and pepper.Let the prawns cook.
Add chilly sauce,hot sauce&pepper.Check for salt and add.
When the prawns are done add cornflour slurry and mix.Let it boil and thicken.
Lastly add vinegar and spring onions and serve the soup piping hot
Note : If you don't want to use chicken broth make veg stock by boiling veggies in lots of water ,salt and pepper!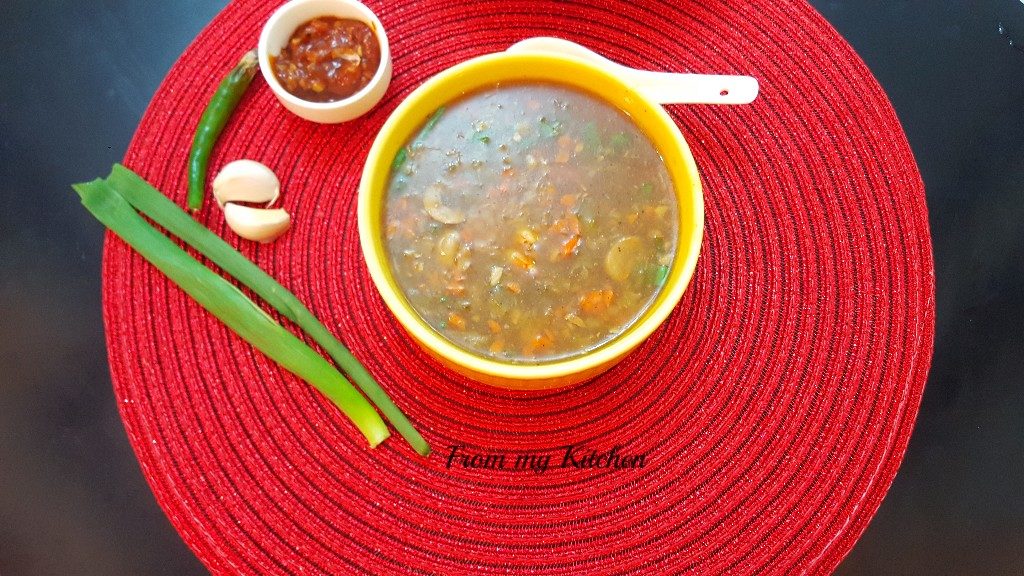 Hope you all will enjoy it as we did!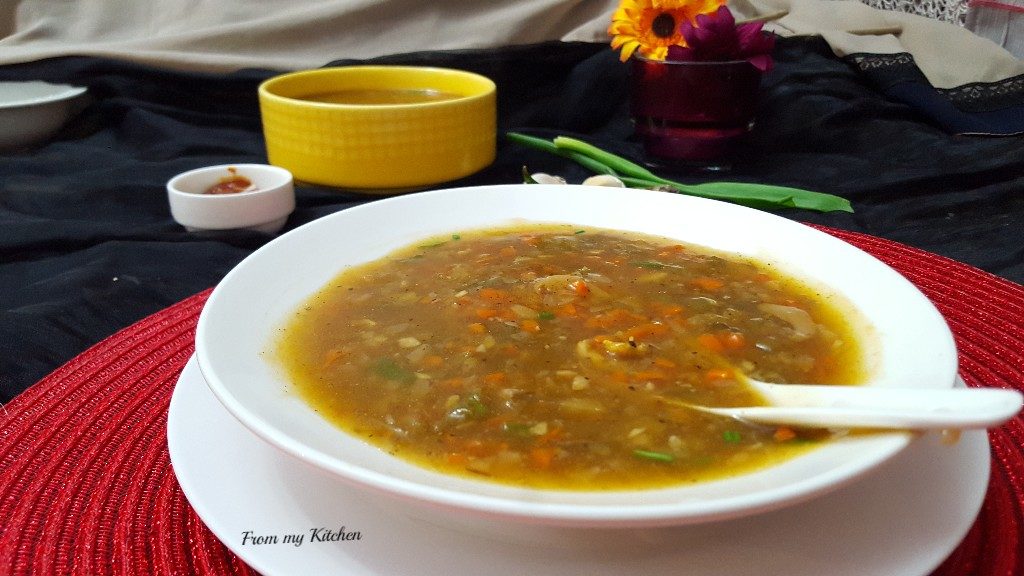 Relish !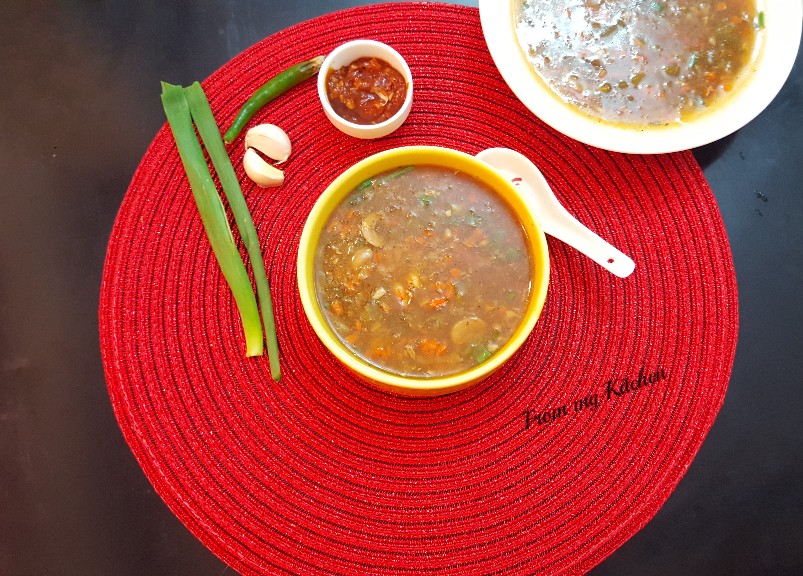 Happy Cooking!