Perfect Bowl of Soup For a Chilly day!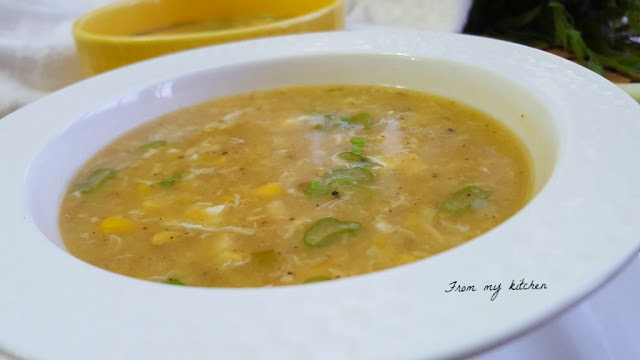 A bowl of piping hot soup is really a comfort during this winter!Sweet Corn soup is a favourite for all.Here is the perfect healthy restaurant style recipe for the soup.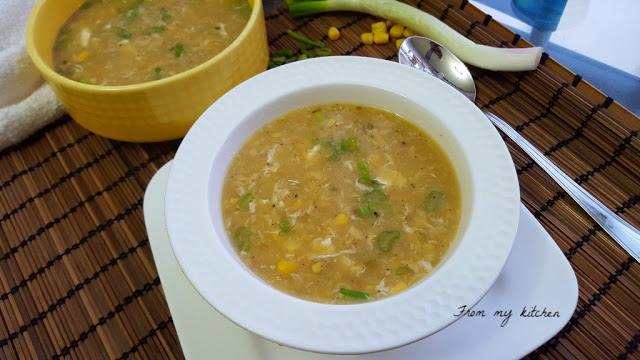 We really enjoyed it even my toddler hehe!This soup is originated from China and of course Chinese food are loved by majority of people!Enjoyed making and having this soup in this chilly weather.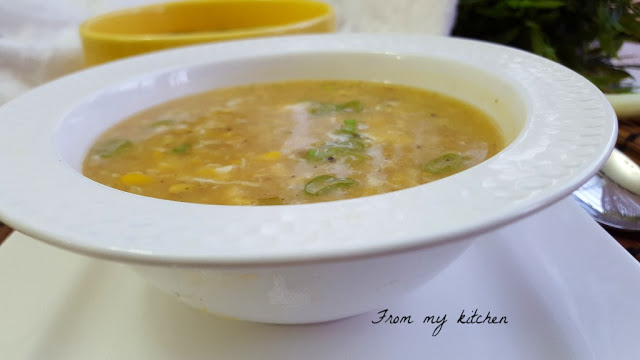 Here I used garlic, spring onions ,corn& chicken.I crushed some corns and added in this it helps to thicken the soup and also give a nice corny flavour.Healthy bhi or tasty bhi!
Ingredients
For stock
Chicken 2 or 3 pieces with bones
Water 4 cups
Salt
1 tspn pepper
Other ingredients
1 tspn oil
2 cloves garlic
2 large strings of spring onion
1 can medium sized corn
1 to 2 tspn pepper
1 tspn vinegar
1 tblspn cornflour in 4 tblspn water (to make a slurry)
1 egg white lightly beaten
Method
First make chicken stock.
Take half of the corn and just crush it using a grinder mixer.
Then in a pan pour oil or butter add chopped garlic saute,then add spring onion whites and greens saute for a while then add this crushed corn cook for 2 to 4 minutes and then pour chicken stock in this and mix everything well and let it boil for 5 minutes add shredded chicken and remaining corn some pepper.Pour the slurry and boil.Last add egg white in this slowly pouring and stirring at the same time.And your soup is ready garnish it with some more spring onions.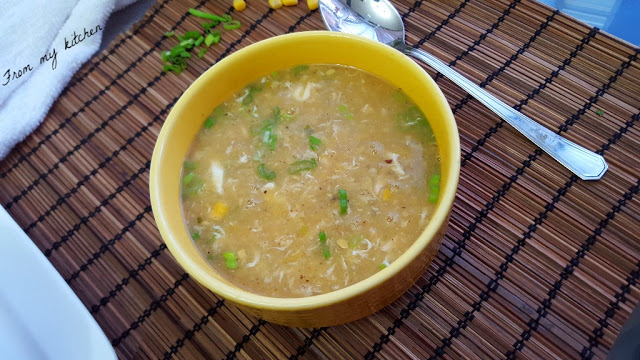 For sure it will make you feel warm in this wintery cold weather!Its a healthy option for your kids and even for a toddler if its spicy you can add some water and feed them too I am sure they will enjoy it.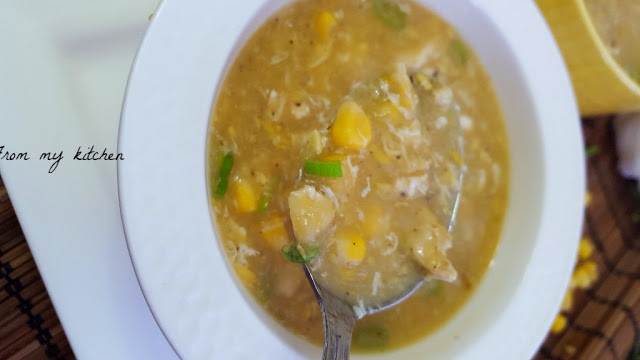 You can add more water if you want but add chicken cube so that it will taste better.
I added a maggi chicken cube along with the crushed corn for extra flavour and the soup was perfect for me!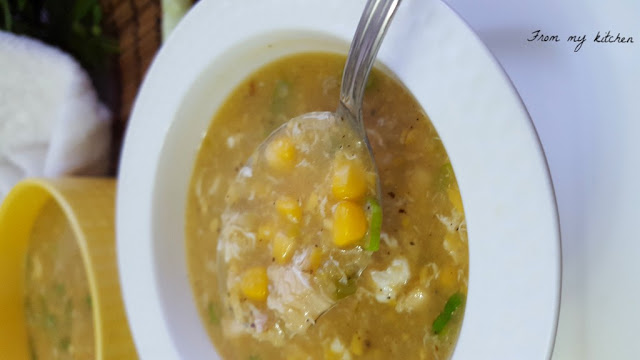 Happy Cooking!